Cornell Companions - Facilities
Cornell Companions - Facilities
Our program of animal-assisted activities and therapy involves members of both the Cornell and the Ithaca area communities. Volunteers and their pets make regular visits to the organizations listed below. At these facilities we engage in a variety of activities ranging from informal "pet-the-pet" classroom activities to individualized therapeutic regimens (e.g. speech therapy, physical therapy) involving the human/animal team and a trained therapist.
We welcome volunteers with and without pets. All volunteers are committed to regular visitations with participating facilities. The Volunteer Training prepares members for visits by addressing the principles and process of animal-assisted activities/therapy and the details of what to expect on a visit. Participating pets should be calm, reliable, and healthy. Animals must be vaccinated, and free of external and internal parasites and declared healthy by a veterinarian. Animals must pass the Cornell Companions Animal Certification Assessment, that evaluates how the animal relates to people, other animals, unfamiliar situations, and mildly noxious stimuli.
Cornell Companions - Alterra Clare Bridge Cottage - Visiting on hold for Fall 2022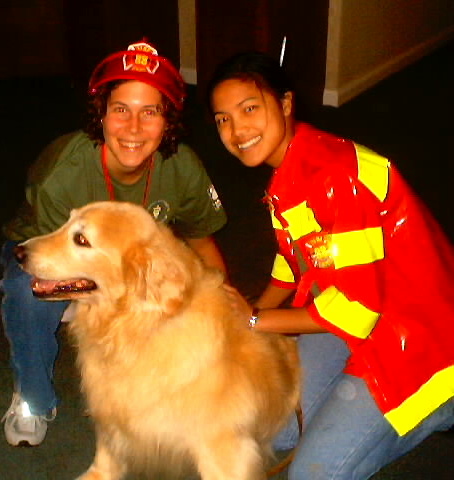 Clare Bridge Cottage is a residential facility for people with Alzheimer's disease and other dementia conditions. The facility, which overlooks Cayuga Lake in Ithaca, opened in 1999. It has several pleasant sitting areas along with an enclosed patio for the warmer months. Alterra has a diverse population of residents. Most are in their eighties. Some are fairly mobile and can communicate reasonable well, whereas others have very limited mobility and/or have limited communication skills. The caregivers at Alterra work diligently at making it a good environment for the residents. Cornell Companions volunteers are always given a warm welcome when they visit and the animals have been enjoyed by residents and caregivers alike since 1999.
---
Distance from Cornell: 3.9 miles, or about 9 minutes
101 Bundy Rd.
Ithaca, NY 14850
607-256-5094
Cornell Companions - BOCES, Northeast - Visiting on hold for Fall 2022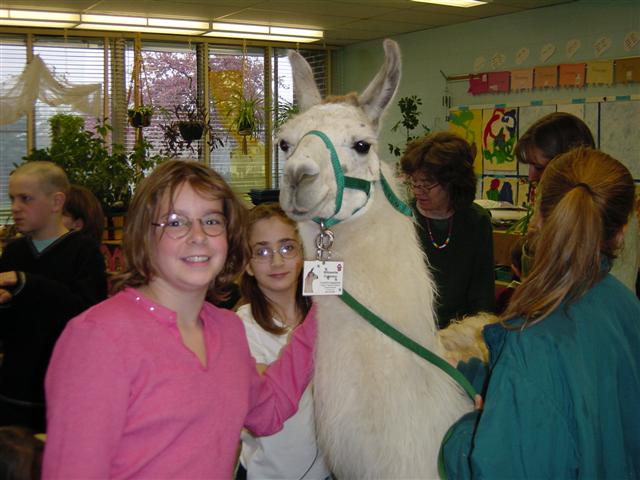 The Northeast School is part of the Ithaca School District and the BOCES system. Cornell Companion has been visiting special education classes of children who are deaf or hard of hearing since the Fall of 1998. Visits are held twice monthly for about 30-45 minutes. No knowledge of sign language is required to volunteer at Northeast; there are plenty of teachers and interpreters around to assist in the visits. The children are active, curious, and delightful!
---
Distance from Cornell: 3.05 miles, or about 7 minutes
425 Winthrop Drive
Ithaca, NY 14850
http://www.tstboces.org/
Cornell Companions - BOCES, Darwin C. Smith
Darwin C. Smith School is part of the BOCES complex on Warren Road in Ithaca. The school's population consists of approximately 300 severely handicapped children ages 5 to 21. Cornell Companions visits eight classrooms twice monthly. The llamas visit in the atrium once a month, when the entire school has the opportunity to visit with them. Every year on Earth Day, volunteers work with the entire school on various projects related to how animals fit into our environment. These projects can be demonstrations ranging from dog agility to spinning wool and have been met with a great deal of success as students learn even more about the animals they hold, walk and play with on a regular basis.
Team Leader: Marg Pough- mbp1@cornell.edu
Distance from Cornell: 2.97 miles, or about 7 minutes
555 Warren Rd.
Ithaca, NY 14850
607-257-1551
http://www.tstboces.org/
Cornell Companions - Cayuga Medical Center at Ithaca - Visiting on hold for Fall 2022
Cornell Companions has been visiting CMCI, the hospital serving the Ithaca area, since May 1999. Currently, volunteers visit three different units at the hospital: the Mental Health Unit, which is divided into adult and adolescent sections, the Rehabilitation Unit, and the Pediatrics Unit. Two volunteers are assigned to each unit per visit. Volunteers may visit on Saturday afternoons or on Thursday evenings. On Tuesday afternoons, one volunteer and her cat participate in an Animal-Assisted Therapy program that has been incorporated into the treatment protocol of the Mental Health Unit.
Because of New York State Board of Health regulations, there is a strict protocol for the visits. For quality assurance purposes, documentation of immunizations and a physical is required of all volunteers, as is documentation of vaccinations, safety, and suitability of pets. Volunteers must attend a hospital volunteer orientation in addition to Cornell Companions training sessions.

Volunteers have developed a wonderful rapport with the patients and staff. The staff looks forward to Cornell Companions' visits just as much as the patients, as it is "therapy for [them] as well."
Cornell Companions - Kendal at Ithaca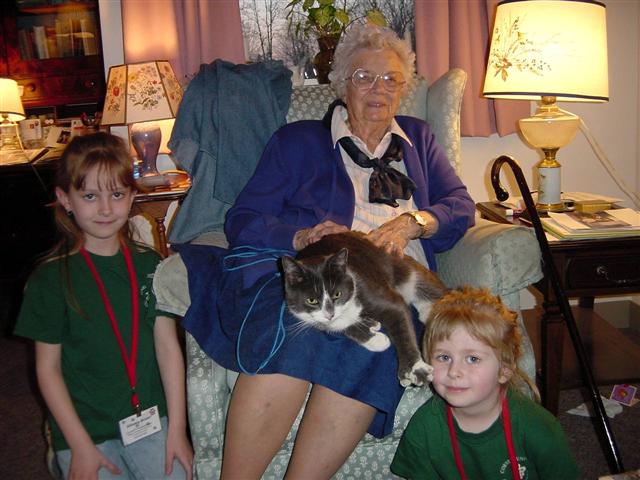 Kendal at Ithaca is a life care retirement community that offers a wide range of health care services to its residents. Cornell Companions visits the residents that live in the Health Center, where they receive either assisted or skilled care from the Kendal staff. Volunteers visit either individual rooms or common areas throughout the facility. They often visit individually, but often pair up and visit a room as a "team". They are treasured volunteers at Kendal and the residents look forward to their visits each week. Since visits take place right after the dinner period ends, volunteers often hear of residents rushing back to their rooms right after dinner so they don't miss the pets!
Team Leader: Steve Hall- steve.hall001@gmail.com
Distance from Cornell: 3.68 miles, or about 9 minutes
2230 North Triphammer Rd.
Ithaca, NY 14850
607-266-5300
http://www.kai.kendal.org/
Cornell Companions - Oak Hill Manor - Visiting on hold for Fall 2022
Cornell Companions began visiting the residents at Oak Hill Manor, a residential nursing facility, in the Spring of 2002. The population is composed of approximately eighty residents. The facility is also home to several cats, a dog, and many birds and fish. With the exception of the dog, who is sequestered during visits, the resident animals get along well with the visiting Cornell Companions petsThere are two floors with approximately twenty rooms per floor. . Residents' activity levels range from very active to bed-ridden. Visits are one-on-one and take place in the halls, dining room and residents' rooms.
Distance from Cornell: 1.76 miles, or about 4 minutes
602 Hudson St.
Ithaca, NY 14850
607-272-8282
Cornell Companions - Lansing Residential Center
Lansing Residential Center is a medium secure correctional facility for girls ages 11-17 who have been adjudicated by New York State family courts for various criminal offenses. Cornell Companions visits one residential unit at a time, usually one for the first portion of the visit and another for the second. Visits are held in the facility gymnasium, or when the weather cooperates, outside in a field. Cornell Companions has been visiting Lansing since the Fall of 2001. The response from both the residents and staff has been extremely positive. Staff and volunteers noted that the girls' behavior improved significantly after the inception of the pet visitation program, so much that they say "it's like the difference between night and day."
Team Leader: Gail Fulkerson - pots@lightlink.com
Distance from Cornell: 8.85 miles, or about 17 minutes
270 Auburn Rd.
Lansing, NY 14882
607-533-4262
Cornell Companions - Racker Center
The Racker Center's Early Childhood Services Program consists of children 3-5 years of age. This is an integrated program in that children with special needs are schooled along with children who do not need special attention. Cornell Companions have been visiting the Racker Center since the Summer of 1997. Volunteers visit as one large group, and when weather permits, visits are held outside. 
Team Leader: Jean Snow- snowmom7452@gmail.com
Cornell Companions - The Hospicare Residence
Although most of their patients are cared for at home, the Hospicare Residence offers accommodations for:
Patients whose caregivers are no longer able to care for them or who must be out of the home for long periods
Patients who live alone without adequate support or the availability of a suitable caregiver
Patients who no longer have a home.
Patient comfort is the most significant goal of the Residence staff, and the hospice medical director is available for consultation if the patient's physician is unable to visit. With two staff members attending no more than six patients 24 hours a day, personal care and attention are assured.
There are no restrictions on visiting hours, and family members may remain overnight if they wish. Meals are prepared on site, and efforts are made to accommodate individual preferences. Residents are invited to bring in paintings, a favorite chair, or other possessions to make their room feel like home. Numerous beautiful plants and a kitty named Gracie also live at the residence.
Since there are only six rooms, visits to the facility take place on an individual basis, with only one volunteer and pet visiting the facility at one time.
Team Leader:Marg Pough- mbp1@cornell.edu
Cornell Companions - Beechtree Center
Residents at the Beechtree Center first saw the bright faces and wagging tails of Cornell Companions volunteers in the Fall of 2002. The Beechtree Center has three floors of about 40 residents each. Some are coherent and relatively active people; others can neither communicate clearly nor get around easily. The first floor houses the Alzheimer's special care unit. Each floor has a lounge where some residents gather excitedly on nights when Cornell Companions visits are scheduled. Volunteers also visit residents in their rooms before they settle down for the night.
Team Leader: Ann Manzano-  am225@cornell.edu
Distance from Cornell: 1.75 miles, or about 4 minutes
318 South Albany St.
Ithaca, NY 14850
607-273-4166