Southside Community Clinic
Southside Healthy Pet Clinic: service learning at its best
History:
Founded in 1996 at the Southside Community Center (a nonprofit organization dedicated to celebrating African American culture), the Southside Healthy Pet Clinic is a monthly walk-in clinic run by veterinary students from the Cornell University College of Veterinary Medicine.
Originally organized by Cornell parasitologist Dwight Bowman and veterinarians Daniel Fletcher and William Hornbuckle, the clinic allows first- and second-year veterinary students to hone skills that are used during typical wellness visits. "Students come to veterinary school to touch animals," said Bowman. "We wanted to give them that opportunity as soon as possible, so we developed a community practice training program that immediately allows students to make a difference. They handle everything from interacting with clients to examining patients. As supervisors we watch and assist only when needed, while older students mentor the younger students and manage the clinic."
Impact: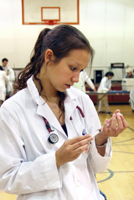 The outreach program provides health-care for about 600 pets annually in an under-privileged section of the Ithaca community, and about 200 pets in surrounding central New York communities during traveling clinics. Through the collaboration of students, faculty, and veterinarians in the surrounding area, the Southside program provides routine veterinary care for pets owned by families whose income is less than twice the national poverty level. Clients pay a nominal fee for the services provided. This income is invested in the Southside Community Center's programs – not the Healthy Pet Clinic.
First- and second-year veterinary students provide veterinary care to animals that may otherwise not have access to life-enhancing and preventative medical care, supervised by advanced student mentors, volunteer veterinarians from the community, and College faculty.
In recent years, the Southside Healthy Pet Clinic has taken its services on the road, offering day-long clinics in Troy, Utica, Binghamton, Buffalo, Rochester, Syracuse, Albany and other locations around the state.
An Example of Learning by Doing:
The students at the College of Veterinary Medicine have regular opportunities to deal with adults who are caring for the family pet. While these interactions are rich with opportunities for technical learning, they can fall short in opportunities to understand the true value that the animal patient brings to the emotional and physical well-being of the family unit and, in particular, the children. It is rare, for instance, that our students have an opportunity to clearly witness the pride that children feel when they are involved in caring for their pet or the overwhelming compassion family members experience when an animal is not feeling its best. The Southside Healthy Pet Clinic provides this essential experience for our students. Through the service-learning opportunity, students gain an appreciation for the need to sustain the human-animal relationship.
Help us Ensure the Future:
The Southside Healthy Pet Clinic could not thrive without the help of multiple student volunteers as well as companies. Industry support comes in the form of product donations, for example flea, tick, and heartworm preventatives. The Clinic would like to thank the following companies for their generous donations:
Merial
Bayer
Elanco
Hills
Zoetis
IDEXX
Savethislife
Dominos
Southside Healthy Pet Clinic in the news: