Faculty honored with award for service to the veterinary profession
Monday, June 3, 2013 - 12:00am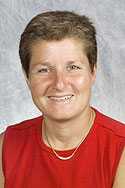 Dr. Susan Lawson Fubini has received an award for alumni of the University of Georgia (UGA) College of Veterinary Medicine recognizing her long history of wide-reaching service to the veterinary profession. Several awards were presented in April 2013 by the college's Veterinary Alumni Association during its 50th Annual Veterinary Conference and Alumni Weekend held in Athens, Ga.
The UGA Veterinary Alumni Association recognizes a few distinguished alumni each spring. Fubini was one of three recognized in 2013, and was selected for contributions in professional and health-related service and involvement in veterinary educational service.
"I am honored to have been recognized by this organization for my efforts in veterinary medicine," said Fubini. "I hope that I have been as successful at mentoring my students and residents at Cornell as the faculty at Georgia did for me."
Fubini, who earned her veterinary degree in 1980, is a professor of and section chief for large animal surgery at the Cornell University College of Veterinary Medicine and has been named the associate dean for academic affairs, effective July 1. After completing her large animal surgery residency at Cornell, she joined the College's faculty in 1983. Her gifts for teaching and service were recognized almost immediately, as Cornell's veterinary class of 1983 awarded her the Outstanding House Staff Award. Seven years later, her teaching efforts were recognized again with the Norden Distinguished Teacher of the Year Award.
An accomplished writer and researcher, Fubini has co-authored a leading farm animal surgery text, authored or co-authored nine book chapters, and lead or co-authored 79 published studies. On dozens of occasions, she has accepted invitations to share her expertise at regional, state, national, or international conferences. She has served as a reviewer to multiple veterinary journals and has been an active member of the American College of Veterinary Surgeons, serving on multiple committees. In 2013 she joined its Board of Regents, which sets the standards that guide the future of veterinary surgery.
Share this: