College launches new seed grants for cancer research
Friday, January 31, 2014 - 12:00am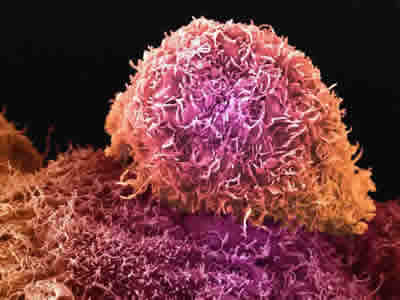 Scientists seeking to push forward the cancer research frontier have a new springboard from which to launch projects at Cornell. The Comparative Cancer Biology Training Program (CCBTP) at Cornell's College of Veterinary Medicine has opened the doors to a new competitive grants program supporting hypothesis-driven pilot research projects in cancer biology.
Applications will be accepted until March 3, 2014. Several awards are expected to be funded starting April 2014 in the range of $5,000-10,000 each. Proposals' principal investigator must be faculty members at the College of Veterinary Medicine, but researchers across and outside Cornell can participate as collaborators.
"This will be an important way to support new research endeavors and promote new collaborations," said Dr. Bob Weiss, the director of CCBTP. "We're especially keen for proposals from junior faculty members, people new to cancer research, or projects involving collaboration between basic science and clinical applications. We hope to help launch young faculty and others new to the field and build bridges between basic and clinical cancer science."
The grants extend the CCBTP's mission to provide comprehensive interdisciplinary training and facilitate rigorous research in comparative cancer biology by bringing together clinical and basic scientists at the College of Veterinary Medicine and other investigators throughout Cornell University.
Applications will be judged based on several key criteria: the significance of the problem, the prospect that the proposed study will provide definitive answers, the strength of the experimental approach and the basis for evaluating results, the proper use and explanation of statistical methods, whether the proposed investigations are realistic, qualifications of the investigator, and junior faculty status.
Funds will come in part from the Sandra Atlas Bass Endowment for College launches new seed grants for cancer research, a $1 million endowment for cancer research across the College of Veterinary Medicine. The endowment was established with a $500,000 gift from Ms. Sandra Atlas Bass matched with an additional $500,000 gift from the Judy and Fred Wilpon Family Foundation. Additional support may come from the CCBTP's annual training grant program, which has used internal funding from the College to support the research of graduate students, postdoctoral fellows, and veterinary residents since 2008.
"As securing federal funding grows more challenging, seed funds like these can have a big impact now and down the line," said Weiss. "They let researchers kick off new projects that can help them grow more competitive when they seek external grants. We're looking forward to seeing the ideas for new cancer research projects this program will elicit."