CVM is Nat Geo WILD's Vet School
Tuesday, August 25, 2015 - 12:00am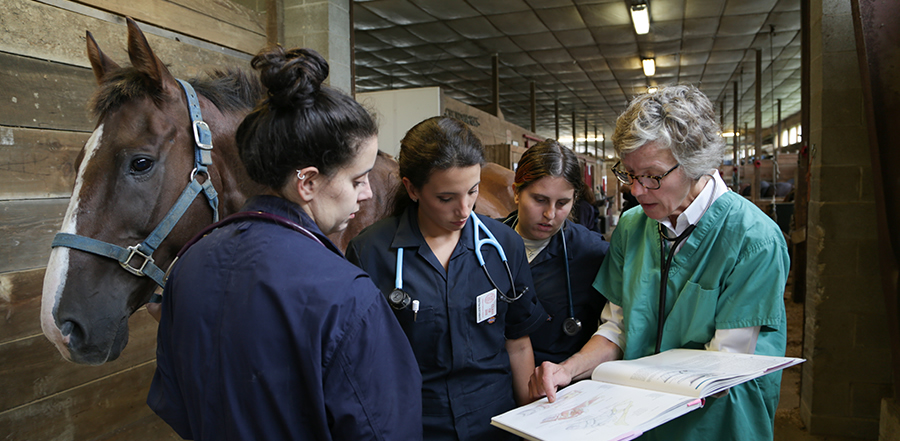 After months of filming at the College of Veterinary Medicine (CVM) complex, Nat Geo WILD presents Vet School, a new series that follows first- and fourth-year students over one academic year. The show premieres Saturday, Sept. 19, at 10/9c on Nat Geo WILD.
The show highlights the experiences of three first-year students (Hannah Brodlie, Cristina Bustamante and Dan Cimino) and four fourth-year students (Sam Dicker, Singen Elliott, Aziza Glass, and Aria Hill). As the first-year students wrestle sheep for a blood sample and the fourth-year students learn how to handle life-and-death surgeries and emergencies, the camera captures the pressures, rewards and occasional sadness of life as an aspiring veterinarian.
"We viewed this show as a fantastic opportunity to raise the profile of the veterinary profession and to help the public understand the rigorous education leading to a veterinary degree," explains Interim Dean Lorin Warnick. "We were honored to be asked to participate in the production and happy to showcase the experience of our students as they work to become veterinarians."
CVM will host a premiere party for the entire Cornell community on Saturday, Sept. 19. starting at 9:30 pm in Biotech G-10.
Vet School Episodes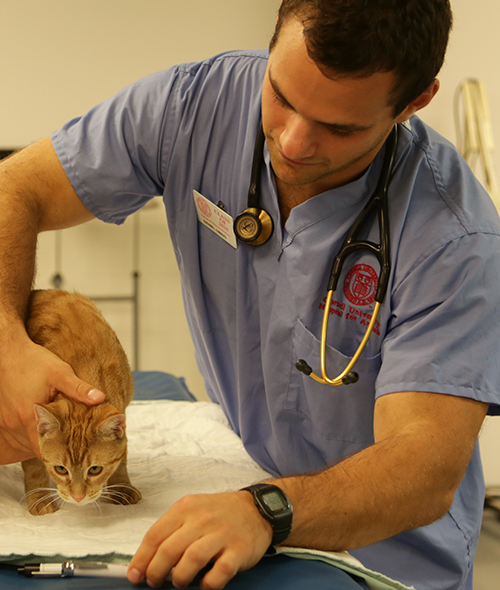 Crash Course (Sept. 19)
For first-year student Dan Cimino, an evening in the ER begins slowly but before long there are two serious emergencies. Fourth-year student Aria Hill performs some hands-on work during dental surgery for a cat. Fourth-year student Singen Elliott, who is interested in large animal practice, is reminded by an orthopedic surgeon to treat a kitten with gentler hands.
Day One (Sept. 26)
The first-year students begin their veterinary school career by … dancing? Singen loves large animal practice, but veterinary students must learn to treat all animals. Will Sophia the cat be his undoing? Millie, a 3-year-old bulldog with congestive heart failure, has come to Cornell in a last-ditch effort to save her life. Fourth-year student Aziza Glass, in her first cardiology rotation, is part of the team that hopes to save Millie.
In Need of a Miracle (Oct. 3)
Canine patient Lewis has a suspected breathing issue, but the docs can't recreate his problem; so Singen is assigned to run Lewis around the hospital hallways in hopes of getting him to cough. Aziza's rotation in large-animal medicine has been fairly quiet except for Leslie, a vociferous miniature donkey with a mind of her own.
Lethal Ingestion (Oct. 10)
Singen performs surgery on a West Highland white terrier to prevent her from going blind. Aria is in the ER when an Alaskan malamute with suspected antifreeze poisoning is brought in. Aziza assists with an unusual cardiology patient, and the first-year students learn where their ice cream comes from.
The Big Rotation (Oct. 17)
Aria begins her large-animal rotation with a blind cow -- so much for starting with something easy to handle! Sam Dicker is in oncology with a puppy named Chance who might have cancer. The first-years learn how to draw blood from a herd of uncooperative sheep.
Midterm Madness (Oct. 24)
The fourth-year students continue their rotations with Singen treating a dog that can't see, Sam Dicker working in anesthesiology and a terrified Aria working with horses for the first time. Meanwhile, the first-years learn how to handle a horse for a basic mouth exam.