Cornell veterinarians help horse, rider return to ring
Monday, September 9, 2019 - 11:04am
When Wrangler, an 11-year-old quarter horse gelding, bolted at a horse show in 2018, owner Anjanette Nicolazzo knew something was amiss.
"I was baffled," Nicolazzo said. "I had ridden him for eight months prior to this, and he had never done anything of the sort. I knew his bolting was a cry for help because it was so out of character for him."
In fact, this smart, show-winning horse had been hiding a painful condition known as "kissing spine" – a condition in which the vertebrae touch or grind against each other. Eventually, a trip to Cornell University Hospital for Animals' equine hospital led to a diagnosis, and relief for horse and rider.
Prior to the show, Wrangler showed other signs of discomfort – acting sensitive around his girth and flank area, pawing holes in his stall floor and refusing to back up. Nicolazzo initially suspected stomach ulcers but wanted to find out for sure. Her local veterinarian in Springville, New York, referred her to the Cornell animal hospital for an evaluation and a gastroscopy – an evaluation of the stomach with a flexible camera.
Wrangler was first evaluated by the Large Animal Internal Medicine specialty service, but when the stomach scope did not show any evidence of ulcers, Cornell clinicians took a team-based approach to helping find a cause for Wrangler's discomfort.
Dr. Elaine Claffey, a surgeon with Cornell's Equine Hospital, and Cornell Ruffian Equine Specialists in Elmont, New York, saw Wrangler for an orthopedic exam to look for any lameness or pain associated with his muscles or bones.
"These cases of behavioral problems or poor performance can be tricky to sort out," Claffey said. "Fortunately at Cornell we have the strength of multiple different specialty disciplines, so we can work together to solve the problem from many different angles."
Wrangler wasn't lame but had back pain when he was evaluated by Claffey. Cornell's Diagnostic Imaging service was called on to acquire high-definition X-rays of Wrangler's back vertebrae.
The X-rays revealed that 11 of Wrangler's vertebrae suffered from kissing spine; four were so severe, they had fused together. It was one of the worst cases Claffey had ever seen.
Nicolazzo began giving Wrangler back injections to alleviate his pain, but after a week, Nicolazzo knew surgery was the answer.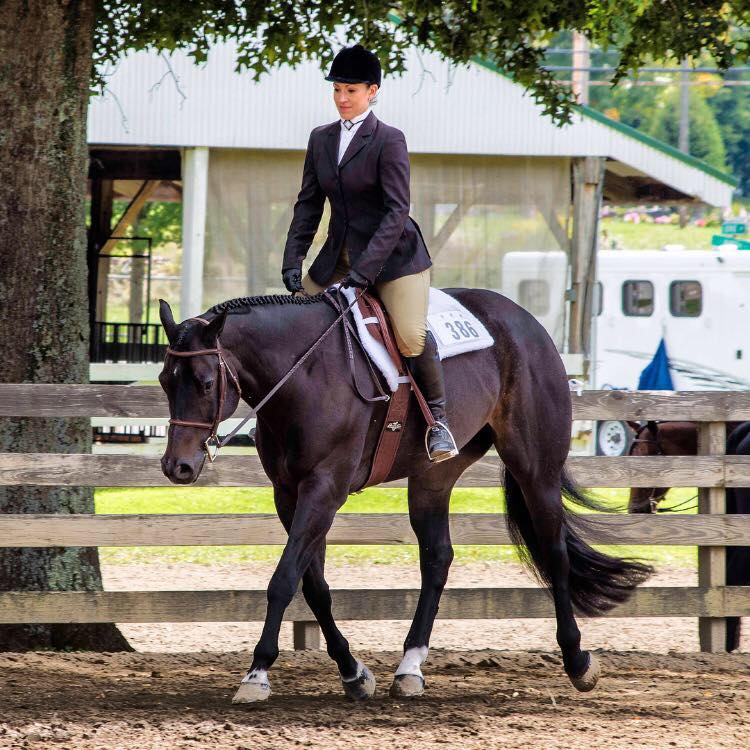 Claffey performed the complicated, four-hour-long surgery with colleagues Dr. Jackie Hill and Dr. Norm Ducharme. Using X-ray guidance, the team cut parts of the vertebrae that were touching to provide more space for comfortable movement.
Following surgery, Wrangler had a yearlong recovery period. Nicolazzo decided to spend between two and three months on each stage of his rehabilitation, slowly working on building the horse's muscles, strength and endurance before finally putting him under saddle again.
"The first day I decided to ride him, he walked around like nothing had happened over the last year – he didn't skip a beat," says Nicolazzo. "My heart was so full. It was one of the best feelings and days I have ever had."
Nicolazzo and Wrangler returned to CUHA for a recheck orthopedic exam roughly 10 months after the surgery. Wrangler's incision had healed perfectly, and he had no signs of pain through the area that was treated surgically.
Approximately a year after his surgery, Wrangler and Nicolazzo were back in the show ring. The duo competed at the 2018 all-American Quarter Horse congress in Columbus, Ohio, winning the championship in the hunter under saddle division and placing in the Top 10 in all other divisions. But just being back together as a team after such an ordeal is enough for Nicolazzo.
"I can't believe I've been gifted such an incredible horse – with such a will to win and survive. I learned so much about myself during this process. I learned what the true meaning of dedication was, perseverance, how to keep going when the going gets tough, commitment, true love. Once you start you can't give up, because one thing I know for sure, this horse never gave up on me. Having him at shows in general, win or lose, we've won," Nicolazzo said. "I will forever be indebted to the Cornell team for literally saving my horse's life."
-By Lauren Cahoon Roberts