Everything is awesome: Student creates LEGO replica of veterinary college
Thursday, October 17, 2019 - 4:16pm
The Cornell University College of Veterinary Medicine now exists in miniature. A to-scale LEGO® replica of the college is currently on display in the Flower-Sprecher Veterinary Library, and includes administrative and hospital buildings, a courtyard topiary, B-Lot and even cars driving along Campus Road. Fourth-year student Samuel Burkhardt, D.V.M. '20, spent six months and several hundred hours perfecting the challenging build.
"I started by putting Schurman Hall together, and once I had it the way I wanted it, I scaled the rest of the model based on that," said Burkhardt. All together, the replica contains approximately 20,000 pieces across a two-foot by three-foot stand.
Burkhardt is a LEGO brand enthusiast who has built dozens of models, but this is his first replica of buildings and landscape. When he first had the idea to build the veterinary college, he reached out to Katherine Edmondson, M.S. '85, Ph.D. '89, assistant dean for students and instruction, who loved the idea.
"I thought it would be a fun conversation piece to have a model of the college that might also help visitors understand the layout of the building and find their way through the complex," said Edmondson. "Based upon the prototypes he showed me early on, I was confident Sam was up for the challenge." The college offered to fund the project so that the finished replica could be displayed in the library.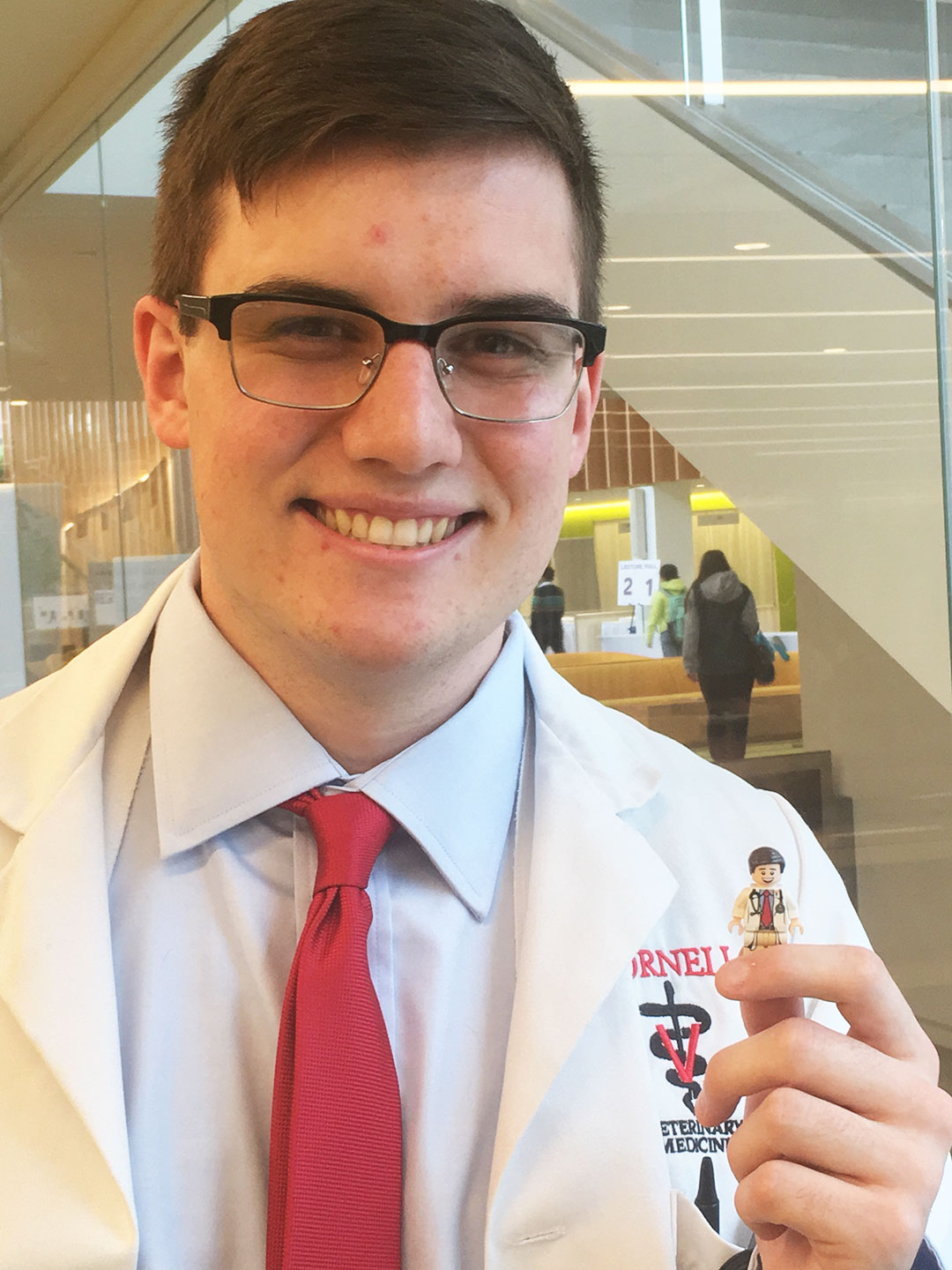 Burkhardt worked on the build in between classes and clinics. "I fit it in whenever I could," he said, initially using Google Earth for satellite imagery that would help him lay out the facilities. "Unfortunately, Google Earth wasn't updated after all the new construction at the college, so I did a lot of walking around taking pictures and video."
He also had to puzzle out what the buildings looked like from above. "This was by far one of the most complicated parts, because the new buildings are so modern and there are all these fancy angles." There were several times when Burkhardt would finish a building, notice the size or angle was amiss, and have to tear it down and start over.
Burkhardt has turned his passion for LEGO builds into a side business; selling various projects helps fund his veterinary education. He sees it as a way not just to combine his hobby and love of veterinary medicine, but also as a way to decompress from the stresses of school. "I find it very relaxing and enjoyable," he said. "There's a great community of other enthusiasts, too. It's good to keep the stress of the program from getting to me — I can just take some time to do some planning and building."
According to Makenzie Peterson, wellbeing program director at the college, having detailed hobbies or interests during a stressful schedule is an effective form of divergent thinking that subconsciously allows a person to untangle complex topics, oftentimes having an "aha" moment through the exercise of distracting one's self. "This is why people build little ships inside glass bottles as a way of unwinding. When you can occupy that conscious side of your brain and allow the more intuitive creative processes to occur, that's often going to be a lot more relaxing mentally," said Peterson.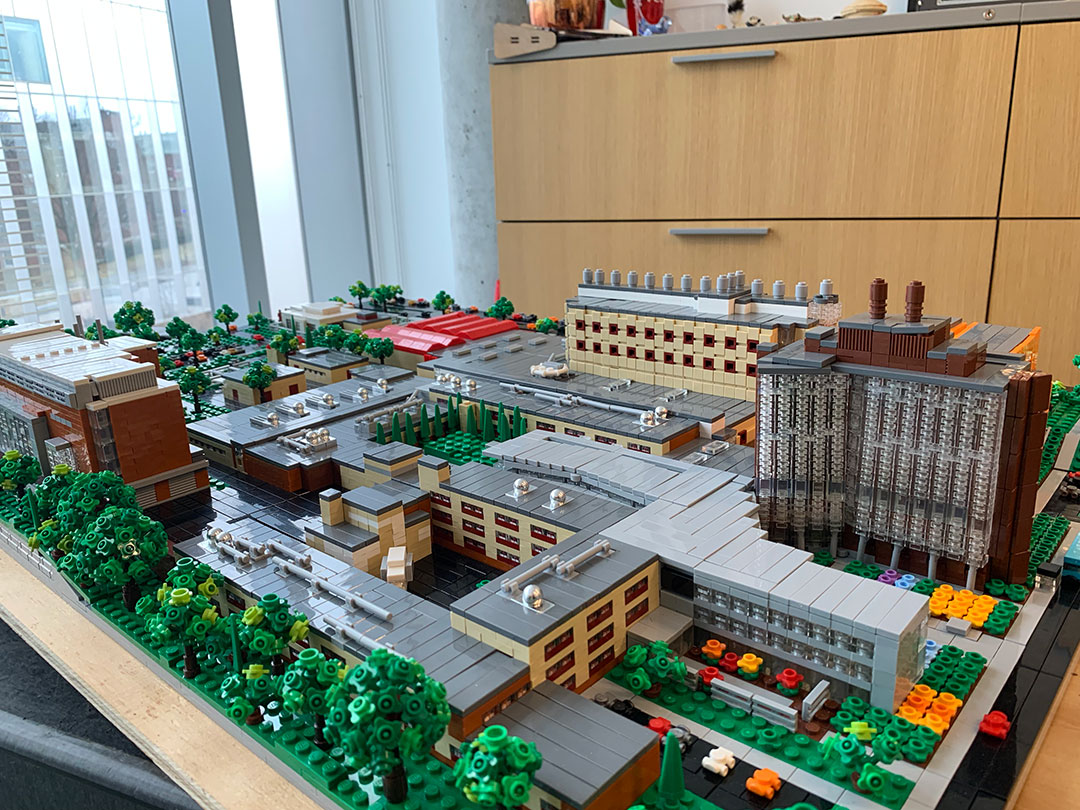 Now that Burkhardt is on clinics at the Cornell University Hospital for Animals, he has less free time to work on LEGO builds but more to explore the different career tracks within veterinary medicine. The Lexington, Kentucky, native was initially pursuing equine medicine, but recently switched his focus to small animal surgery and neurology. "Being on clinics has cemented that being a veterinarian is absolutely what I want to do with my life," he said. "Clinics are even more enjoyable that I thought they would be — getting on the floor and working with a team is a whole different experience."
As for the LEGO replica, it will be on display to the public at the Flower-Sprecher Veterinary Library for the foreseeable future. "Sam didn't disappoint. The final product is magnificent," said Edmondson. While there are no imminent plans for more Cornell-related LEGO projects, Burkhardt anticipates working on builds related to veterinary medicine and possibly even more facility replicas depending on where he practices after his graduation in 2020.
By Melanie Greaver Cordova