Comprehensive caring: The Cornell University College of Veterinary Medicine takes community health approach to wellbeing
Monday, October 28, 2019 - 4:39pm
Wellbeing in the human and veterinary healthcare professions has sparked national discussions in recent years, with broad recognition that more must be done at every level. Veterinary colleges are answering the call with varying approaches; over the past year the Cornell University College of Veterinary Medicine (CVM) has begun to address wellbeing with a comprehensive, unconventional approach.
Recent studies show the veterinary profession faces a similar uphill battle for wellbeing as other healthcare industries. According to the 2017 Merck Veterinary Wellbeing Study, one in 20 respondents were experiencing serious psychological distress, and only half of those were seeking treatment. Even veterinarians who were mentally healthy and had high levels of wellbeing experienced feelings of depression, anxiety, compassion fatigue or burnout. A recent SAVMA survey found that anxiety and depression tend to begin in veterinary school.
Like most institutions of higher-education, veterinary colleges have responded to the rising rates of student mental health concerns by increasing the number of counselors to exclusively serve the needs of students. While a step in the right direction, increasing the number of counselors has not alleviated the ever-growing need for mental health supports.
Looking through a different lens
Cornell CVM leadership evaluated the students' diverse needs as well as the college environment and decided to take a holistic approach to foster wellbeing at the community level. "While our college continues to utilize on-site counseling to support student mental health, we quickly recognized we had to look at the big picture in order to tackle this complicated and important issue facing our entire community," said Katherine Edmonson, M.S. '85, Ph.D. '89, assistant dean for students and instruction. "This is why we decided to focus on a broader, preventative, community health approach for our students, faculty and staff."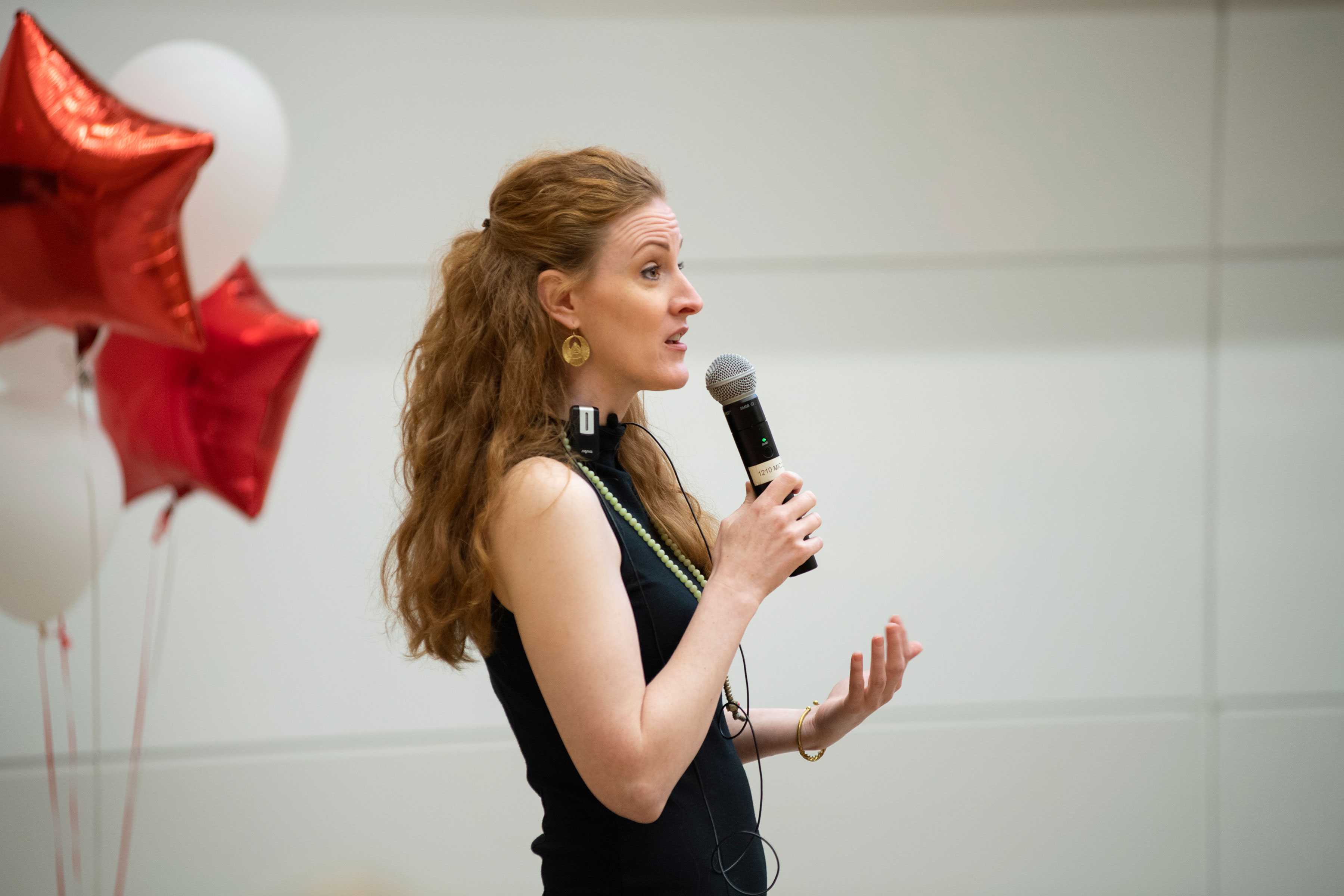 To develop a community-oriented, holistic approach that was also evidence-based, the college hired Makenzie Peterson as CVM's first wellbeing program director. With an advanced degree in health promotion and education, as well as a decade of experience in the field, Peterson felt drawn to Cornell by the college leadership's vision for wellbeing that encompasses both the whole person and the entire community. "The traditional approach in higher education is to have wellbeing programs that focus solely on the welfare of students, with human resources taking the responsibility for faculty and staff. What makes my role unique is that it's entire focus is on collectively improving the interconnected community wellbeing of faculty, staff and students as a whole," says Peterson.
CVM's approach has two goals: helping individuals learn evidence-based ways to improve their personal wellbeing, and helping to build an academic and workplace environment where personal wellbeing efforts can take root. "We are fortunate to have leadership who support the vision of educating all our community members on cultivating wellbeing, and also providing them space to access those resources. They are willing to provide funding to create and sustain this program," says Peterson.
Building wellbeing at CVM
"As a strategic plan priority, wellbeing is integral to our mission and goals, and it goes beyond just the veterinary profession. Many other professions share our concerns of compassion fatigue and burnout and we hope to work collectively to find solutions," says Lorin D. Warnick, D.V.M., Ph.D. '94, the Austin O. Hooey Dean of Veterinary Medicine.
Dr. Augustine M.K. Choi, the Stephen and Suzanne Weiss Dean of Weill Cornell Medicine and provost for medical affairs of Cornell University, recently penned an op-ed about the importance of supporting medical students and preventing burnout: "Schools should integrate comprehensive wellness and mental health support into the learning environment… we need to do much more to reform the medical education system."
Jai Sweet, P.h.D.'96, senior director of student development and academic services, states that, "As a college we felt it was valuable to consider people outside of veterinary medicine to find remedies to these broad-reaching issues. Public health and social work professionals can help veterinarian communities develop and lead wellbeing programs."
To begin this process, college leadership conducted a community-wide needs assessment to get a baseline of wellbeing. Next, Peterson cultivated extensive collaboration across CVM – between the deans, community members on the wellbeing advisory council, staff council, the student wellness initiative, human resources, and the diversity and inclusion committee – to develop a cohesive, collective approach. Peterson and college leadership hope to see measurable results – and collect feedback – in recurring wellbeing surveys.
Some wellbeing initiatives can seem small, but still create a big impact. Cornell CVM's Paw Walk is an indoor-mile loop that guides people throughout the college by following paw prints on the floor. With the Ithaca, New York, weather being unpredictable at best, an indoor exercise option was a perfect fit for the community. Leslie Planck, a staff member in accounting services and a member of CVM Staff Council, states, "The Paw Walk may seem like something very simple, but it has really brought a sense of lightness into our heavy, rigorous academic environment."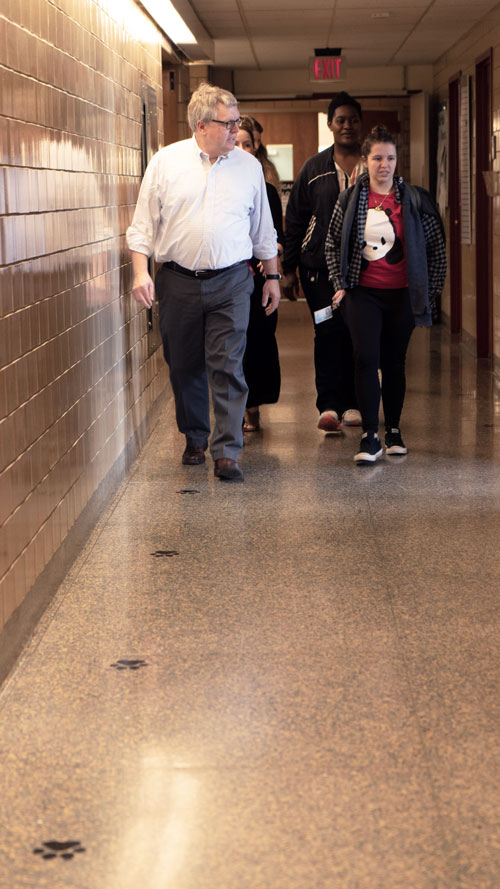 The Paw Walk is just a piece of a multi-dimensional puzzle. CVM's wellbeing programming focuses on seven complementary dimensions: mental, relationship, physical, cultural, environmental, occupational and financial. New programming elements include a revamped wellbeing webpage for the college; a monthly e-newsletter with articles and resources; a community wellbeing speaker series; integrating wellbeing topics into freshman/new employee orientation for all new staff, faculty and students; and a dedicated space opening in 2020 that will host fitness classes, meditation, support groups and more. Each year, new initiatives and programs will be rolled out that build upon the previous year's programming. "Scaling up and out is the goal," says Peterson.
Even Cornell's D.V.M. curriculum is changing; wellbeing concepts are being integrated throughout the core curriculum. Jodi Korich, D.V.M. '97, associate dean for education, says, "The type of interpersonal training veterinary students need goes beyond client communications. We are incorporating competency-based wellness training throughout all four years of the DVM curriculum to provide our students with the tools and skills that will help them launch and sustain their careers."
Impacts across the college
Dr. Erin Epperly, assistant clinical professor in the Department of Clinical Sciences, hopes to pass on wellbeing principles in her teaching. Like many faculty members, she finds herself pulled in many directions – providing speedy service for clients while teaching students effectively, for example, in addition to making time for science and research. But she has developed a self-care routine that includes daily forays into nature and prioritizing being with her family. "The college's wellbeing initiatives have opened the dialog," says Epperly. "Now I discuss wellbeing with my residents and encourage them to make simple choices that previously would have felt difficult for them to do, such as going to a doctor's appointment, picking up a child from daycare, or taking a lunch break during clinic rotations."
"It is exciting to work towards building an environment where faculty and staff actively modeling wellbeing practices is also a natural part of the student experience," Peterson explains. "Everyone needs to see that personal and communal wellbeing, even in high-performance environments, is not only possible, but crucial."
Lili Becktell, a third-year D.V.M. student and the president of the student wellness initiative, is on board with a proactive approach to wellbeing. "I've seen tremendous growth at Cornell in helping students define themselves by things other than their academics," Becktell says. "We are so much more than just students or veterinarians." The student wellness initiative is proud to partner with the wellbeing office and human resources to bring events like the CVM Wellbeing Fair to the community. This annual event allows college members to visit with experts in every dimension of wellbeing – from exercise and ergonomics to financial advising and mental health counseling.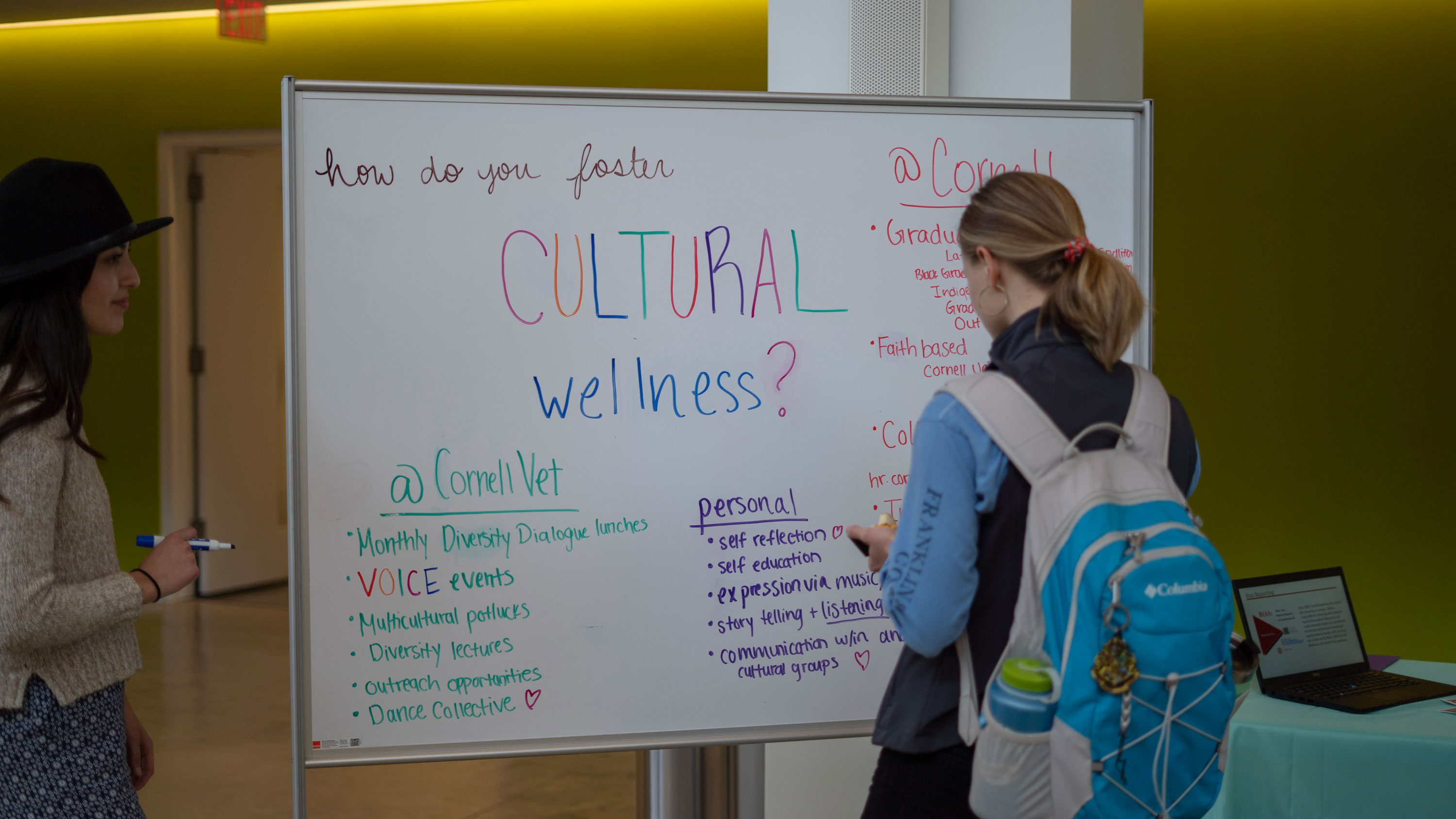 "Wellbeing looks different for everyone," says Peterson. "It's valuable to empower our community members by providing options to fit their needs. That may seem daunting, but fortunately we have resources at Cornell that we can amplify and work to build greater access to while developing new resources to fill any gaps."
"Vet students tend to be very Type A," Becktell says, "but we're also problem-solvers. If an institution can provide the tools for us to bring wellbeing into our own lives, we'll put our heart and soul into it." Becktell is dedicated to her self-care – setting aside time for her relationships and health. "But if I ever have a crisis of wellbeing, I have a lot of resources at my disposal to fall back on besides my therapist and psychiatrist," she says. "Students initially feel reluctant to seek out supports if they're struggling, because that feels like admitting defeat or failure. Since I've been at Cornell, there's been a significant increase in the community having the 'it's OK to say you're not OK' talk and openly discussing supports."
Healing the system
Ultimately, CVM is playing the long game. "Our overall approach will require a culture change where everyone feels like a valued member of our community – a sense of belonging," Peterson says. "We will continue to provide resources for many wellbeing concerns but will also develop initiatives that focus on the root of the issues instead of the symptoms. While mental health services are necessary, we will also be looking more deeply at the systems, policies and environments that may be unintentionally causing the mental distress in the first place."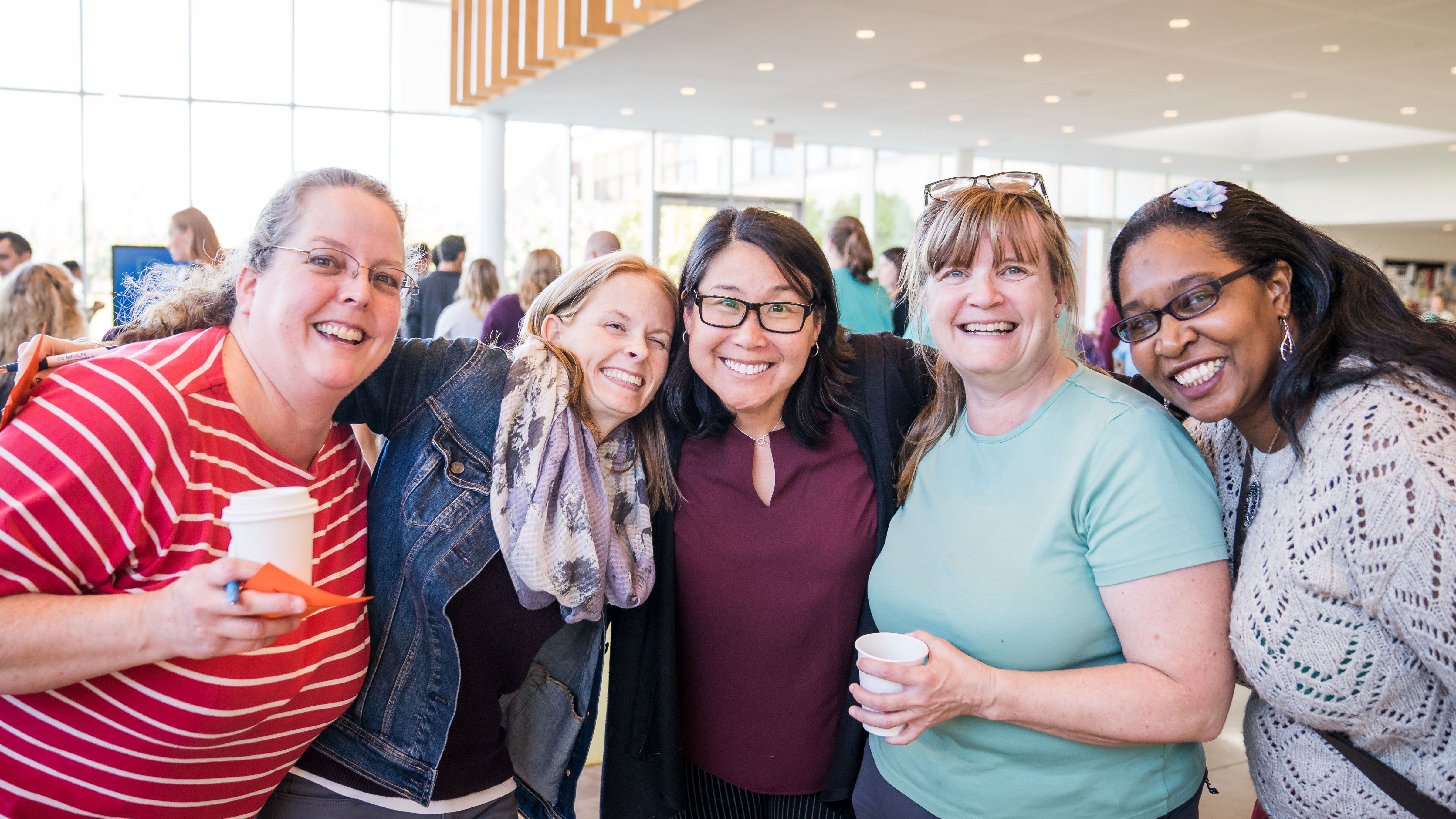 Planck, who has been at Cornell University for over 20 years, states, "It has been powerful to see the direction that CVM leadership and the Wellbeing Office are taking. This has been one of the most positive culture shifts that I've seen thus far in all the time I've been here, and I'm excited to see what's next."
When asked how this approach will impact the veterinary profession outside of Cornell, Peterson says, "To change a profession, we need to start with how we train those professionals. Teaching students about community wellbeing will impact how they treat technicians, front office staff and their colleagues. They are learning to tend to their own wellbeing and consider the wellbeing of others. The students we train today will be the compassionate leaders of veterinary medicine in the future."
Reporting by Olivia Hall