Hackathon awards teams for their creative solutions
Tuesday, January 28, 2020 - 11:49am
Last weekend was the fourth annual Animal Health Hackathon. Co-hosted by the College of Veterinary Medicine (CVM) and Entrepreneurship at Cornell, the event brought together students from diverse degrees, majors and schools to address current needs in veterinary healthcare.
The hackathon is one of several initiatives spearheaded by the new Center for Veterinary Business and Entrepreneurship. This year, 153 students in 28 teams competed for awards in four categories, assisted by 35 mentors from veterinary medicine, research and industry who advised them over the course of the Jan. 24-26 weekend.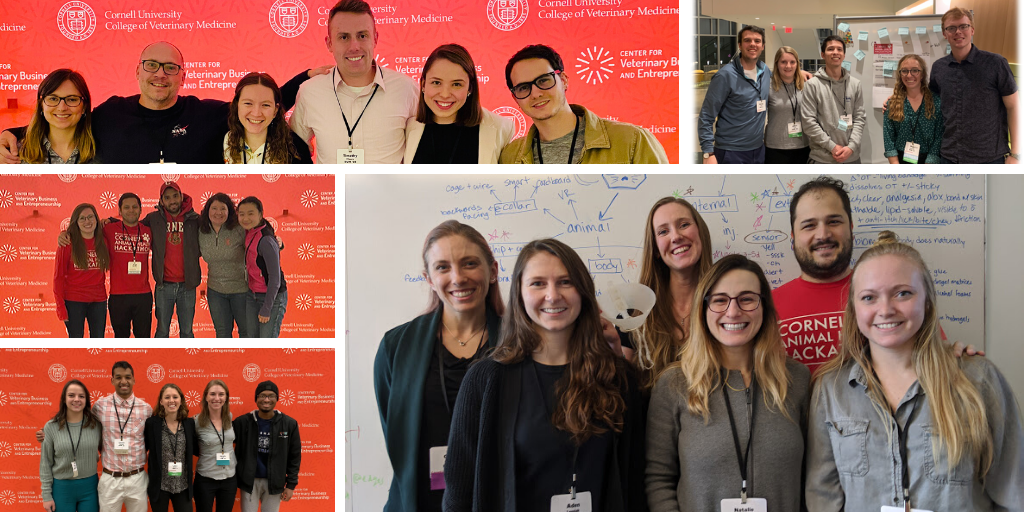 The winners in each category include:
CowPals won the Best Market Ready Solution category with their product Cavalry Support Services, a one-stop support service to help independent veterinarians focus on pets instead of losing time on processes and compliance. Team members: Katherine Avery, Adan Gonzalez, Pamela Graybeal, Jorge Morales and Shirley Huang.
BeeHealthy won the People's Choice Award with their product of the same name. BeeHealthy is a diagnostic testing service based on mass spectroscopy to quantitatively monitor Varroa destructor mite levels in honey bee hives. Team members: James Cockey, Namir Dobbs, Laine Feller, Natalie Zatz and Jalisa Zimmerman.
The Goofy Gubernaculums won the Most Innovative Solution category with their product Desconacion, which uses biomedical technology to reduce the need for e-collars post-surgery. Team members: Karianna Crowder, Federico Fernandez Sada, Genna Hartung, Kelly Hider, Aden Lessiak and Natalie Katz.
TAIL-ored Solutions won the Best Veterinary Healthcare Solution category with their product TeleSavERs. TeleSavERs is a solution for after-hours triage at the general practice level. Team members: Mary Hannon, Anthony LaBarbera, Woody Peek, Brady Sites and Jillian Yant.
Team Equilibrate won an honorable mention for their product of the same name. Equilibrate is a method that weighs horses in a way that specifically focuses on weight distribution. Team members: Juan Boza, Michelle Greenfield, Emma Kline, Sarah Kopa, Timothy Moore and Jake Simmons.
The hackathon divided $8,000 in prizes evenly between each winning team. Past hackathons took place at eHub in Collegetown. This year was the first time the event was hosted in CVM's renovated Shurman Hall facilities.