Golden retriever "tripawd" benefits from Cornell's unique treadmill and soundwave therapies
Tuesday, September 29, 2020 - 8:56am
The following account was written by Mary Monopoli, whose golden retriever Marshall is a patient at the Cornell University Hospital for Animals.
"He has a lot going on," said Christopher Frye, D.V.M. '11, who was assessing Marshall, my golden retriever rescue, to determine whether he was a candidate for therapy offered at the Cornell University Hospital for Animals (CUHA). Frye, who is chief of the sports medicine and rehabilitation service, quickly followed up that comment with another: "But I think we can help him."
Marshall came to live with me in upstate New York in June of 2019. I had applied for one of the beautiful dogs of Golden Retriever Rescue (GRR) after learning about their work from my Canadian sister and brother-in-law, whose rescue Clover had worked her way into my heart. Once the paperwork was submitted, the home study done and the application approved, I settled in for a long wait, knowing it often takes a while to match the right dog with the right family. However, two weeks later I received a phone call from GRR: A five-month-old golden puppy was arriving soon from Cairo and needed a home. Would I take him? One caveat: His right front leg was congenitally malformed, making him what is known as a "tripawd" dog.
My answer? "Of course. When will he arrive?"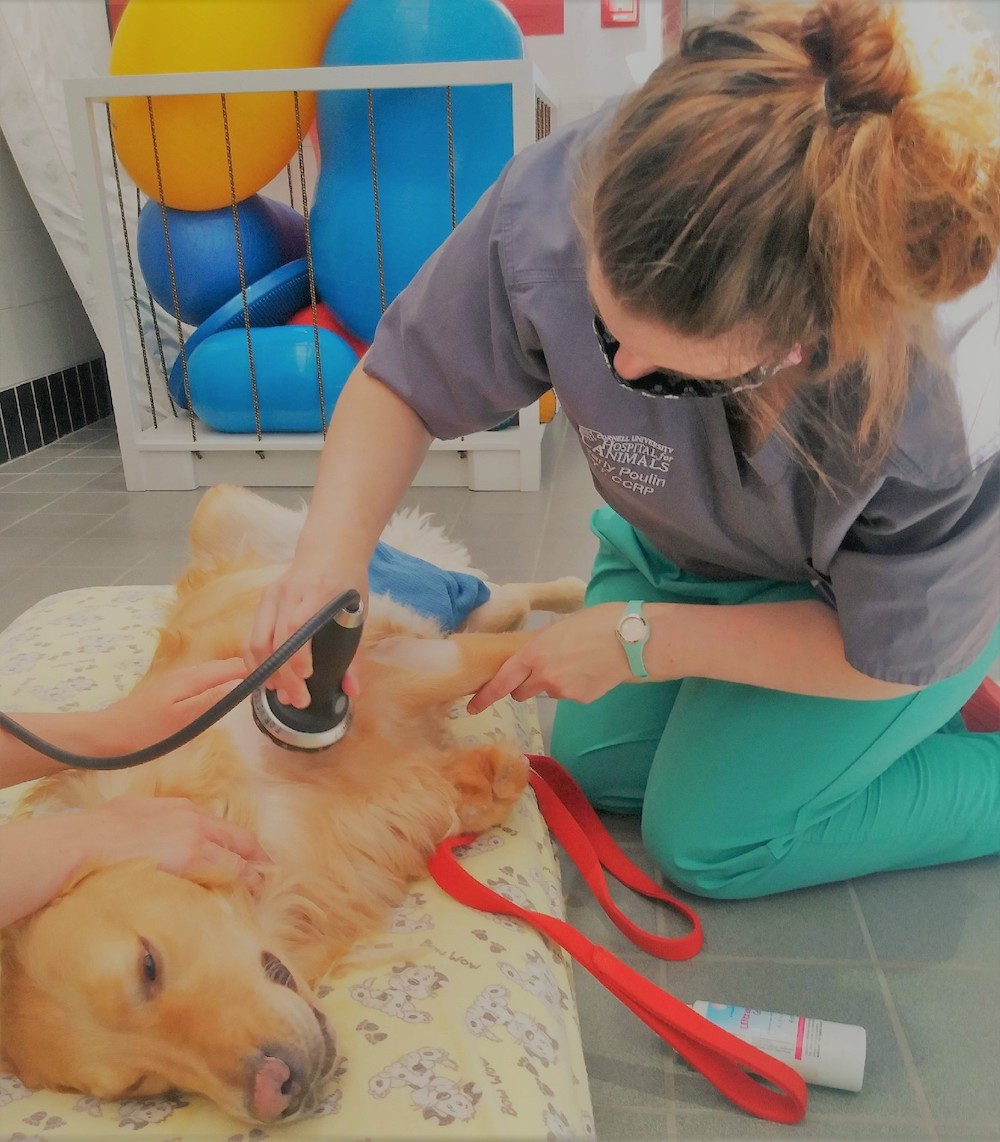 Fast forward to January of 2020. Marshall has turned out to be a wonderful dog, full of life and love. He has what people refer to as the "typical golden personality" and is a bundle of happy energy with the occasional mischievous streak. However, X-ray imaging at our local veterinarian's office indicated osteoarthritis in his left foreleg. A referral was made to Frye at Cornell, who is a veterinary specialist in sports medicine and rehabilitation and a board-certified diplomate of the American College of Veterinary Sports Medicine and Rehabilitation. I live an hour's drive from Cornell and knew of its reputation for this sort of specialized and state-of-the-art veterinary service.
Marshall indeed has a lot going on. He has "significant" elbow dysplasia as well as arthritis in the weight-bearing front leg, including the shoulder, and both hips have dysplasia as well. While Marshall was not a candidate for surgery, Frye identified options to maximize his mobility and minimize his pain. In addition to basic exercises, joint supplements and pain medication, Frye recommended shockwave and underwater treadmill therapies.
Shockwaves are painless, high-energy soundwaves that are directed to the target treatment area (in Marshall's case, his elbow), stimulating blood flow, reducing pain and helping repair damaged tissue. This therapy is quick, requiring the treatment area to be shaved but otherwise leaving no trace. Three shockwave treatments, plus several underwater treadmill workouts, have made a noticeable difference in Marshall's stamina and strength. He has gone from being able to swim for less than 10 minutes to a half hour. During that time, fully supervised by a veterinary technician who gets into the pool with him, Marshall's focus is truly impressive. The words that come to mind are intensity and determination.
And his hard work is paying off. His activity level at home has increased. He is once again bounding up the stairs and playing with his German shepherd housemate and my (sometimes reluctant) cat. He continues taking joint supplements and is an eager participant in his daily exercises. While Cornell's treatment regimen is not curative, I am grateful for its therapeutic effects otherwise. It has enhanced Marshall's quality of life, without a doubt.
Marshall and I were lucky in so many ways — in having a primary veterinarian who knew that Cornell offered these treatments, and in having Frye and his team share their skill, knowledge and encouragement. We are also fortunate to be the recipients of a generous grant through the Remington Fund, established by the family of a dog who benefitted from these therapies at Cornell. This grant helped make the therapy financially feasible. I am grateful that all of these pieces have come together to help my beautiful, brave boy live as full a life as possible. This debt of gratitude also extends to the people at GRR who brought Marshall from Cairo and continue to provide support and encouragement, my family who helped me complete the adoption and are totally in love with Marshall, and mostly, to Marshall himself, for showing me every day what unconditional love looks like.
Marshall continues to charm, entertain and bring smiles to every single person who enters his orbit. He is a gift and an inspiration. When people tell me how lucky he is, I have to smile. Marshall gives me far more than I can ever give him.
For further information on pain management and rehabilitation such as shockwave and underwater treadmill therapies, visit the CUHA website.