Sports Medicine and Rehabilitation
Canine, Feline
The Sports Medicine and Rehabilitation Service at the Cornell University Hospital for Animals assists dogs, from elite champions of the sporting circuits to old dogs who enjoy casual walks, in returning to their feet and getting back to functioning within their families again.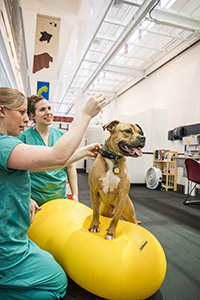 Specializing in rehabilitation, the service will treat canine athletes, as well as other companion animals including cats, to recover from injuries or surgeries where rehabilitation is indicated to improve function and recovery.  The service works heavily with orthopedics and neurology services in the hospital to expand upon current treatment options depending on the ailment of your pet.  Whether serving athletes or everyday companions, the service focuses on helping animals recover performance abilities and stay active at any age.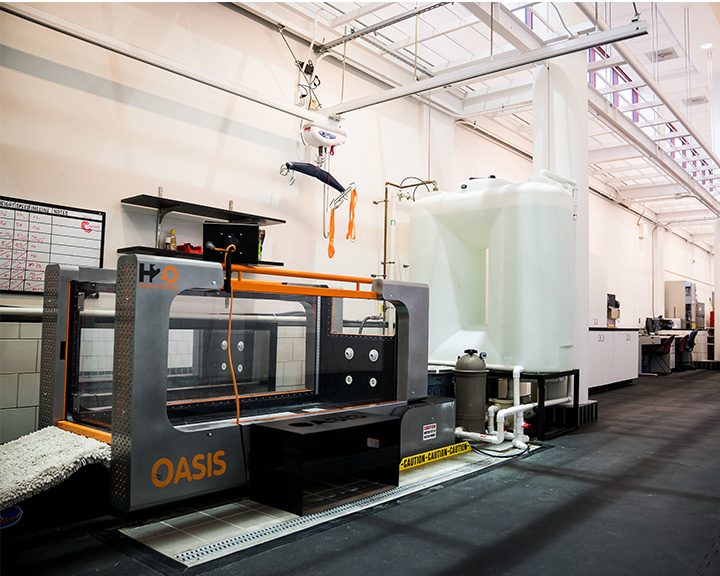 Sports medicine for animals is an interdisciplinary field that integrates several modalities to help patients in ways one specific service may be limited. Sports medicine also offers an extra level of expertise and some procedures that typically can't be found in most general veterinary practitioners'offices.  The program offers several treatment modalities, including extracorporeal shockwave therapy for certain orthopedic conditions, platelet rich plasma therapy for osteoarthritis and tendon ailments, therapeutic ultrasound for deep tissue heating, transcutaneous electrical nerve stimulation (TENS), acupunture and electro-acupuncture for pain relief, underwater treadmill for strengthening and muscle memory, and class IV laser therapy for wound healing and certain osteoarthritis conditions. Access to a force plate, a rare piece of equipment that can objectively measure how well an animal uses a limb, can provide true validation of whether, and to what extent, a treatment is effective for your companion.
What to Expect During Your Appointment
Your scheduled visit to the Sports Medicine and Rehabilitation Service at the Cornell University Hospital for Animals begins with check in at the reception desk. Preferably if any diagnostic imaging is necessary it is a good idea to not feed your dog or cat in the morning before the appointment in the event that sedation is needed for imaging.  Following a small amount of paperwork, you will be greeted in the waiting room by our resident or technician and brought to a private examination room.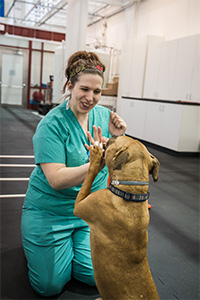 Your pet's history and a physical examination will be perform by either a student or technician and further assessment of the cursory physical exam by  resident or faculty member will occur before a full orthopedic and soft tissue examination of your dog happens from the resident or faculty member.  We may recommend further testing, and will discuss with you potential diagnosis, next steps, cost and logistics.
Often, you will be asked to leave your pet in our care for the day so that we can begin appropriate testing, which can include blood tests or diagnostic imaging.   Given our busy schedule and consultations with other specialists regarding your pet's care, you may be asked to return to discuss our findings later in the day.
Depending on the outcome of the appointment we will discuss many therapeutic options and will help you choose the best course of treatment for you and your companion.
Medical Conditions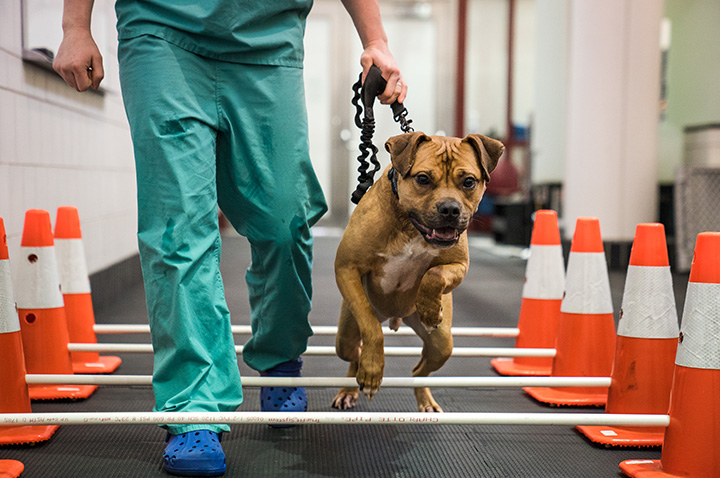 Treatment specialization revolves around an integrative approach to treating a variety of disorders pre and post surgically including elbow dysplasia, cruciate ligament tears, intervertebral disc disease, calcaneon tendon rupture, intervertebral disc disease, degenerative myelopathy, other neurological impairments, hip dysplasia, osteoarthritis, sporting injuries of joints, tendons and muscle including iliopsoas strain.
Related Information
American Association of Rehabilitation Veterinarians
The American Association of Rehabilitation Veterinarians (AARV) is a national association of veterinarians and veterinary technicians dedicated to improving the quality of life in animals through physical medicine and rehabilitation.
American College of Veterinary Sports Medicine and Rehabilitation
The American College of Veterinary Sports Medicine and Rehabilitation advances the art and science of veterinary medicine by promoting expertise in the structural, physiological, medical and surgical needs of athletic animals and the restoration of normal form and function after injury or illness.
Cornell University Hospital for Animals Companion Animal Nutrition Service
The Cornell University Hospital for Animals is among a small number of animal hospitals across the nation that offers comprehensive nutrition services provided by boarded specialists in the area of veterinary nutrition for hospital and clinic patients, as well as nutrition consultations for animal owners across the country.