Cornell veterinary students take a deep dive into Finger Lakes dog show world
Tuesday, October 19, 2021 - 10:32am
On a clear Saturday morning in early October, a caravan of veterinary students winds its way through vineyards and the lush Finger Lakes National Forest, heading from the Cornell College of Veterinary Medicine to Romulus, New York, where this year's Wine Country Circuit dog shows are on the third day of exhibitions.
The event is a unique opportunity for students to refine their understanding of dog breeds and explore how veterinarians intersect with the American Kennel Club (AKC) dog show world. Their objective for the day is to listen, watch and learn.
"Few veterinary students have a chance to work at a dog show like this," says organizer and event judge Susan Hamlin, who has been judging dog shows for 50 years.
The Wine Country Circuit is one of the largest dog show circuits in the country. Four independent kennel club shows happen over four days at this yearly event at Sampson State Park: Elmira Kennel Club, Finger Lakes Kennel Club, Kanadasaga Kennel Club and the Onondaga Kennel Association. Each of the four shows feature conformation, obedience and agility, and averages a daily total of over 1,400 dogs. Many go on to compete at the Westminster Kennel Club Dog Show.
The 19 Cornell students arrive bright and early for their Saturday Elmira Kennel Club event. Students are assigned a mentor, and they spend the day getting an inside look into the world of breeders, exhibitors, field veterinary care providers and more.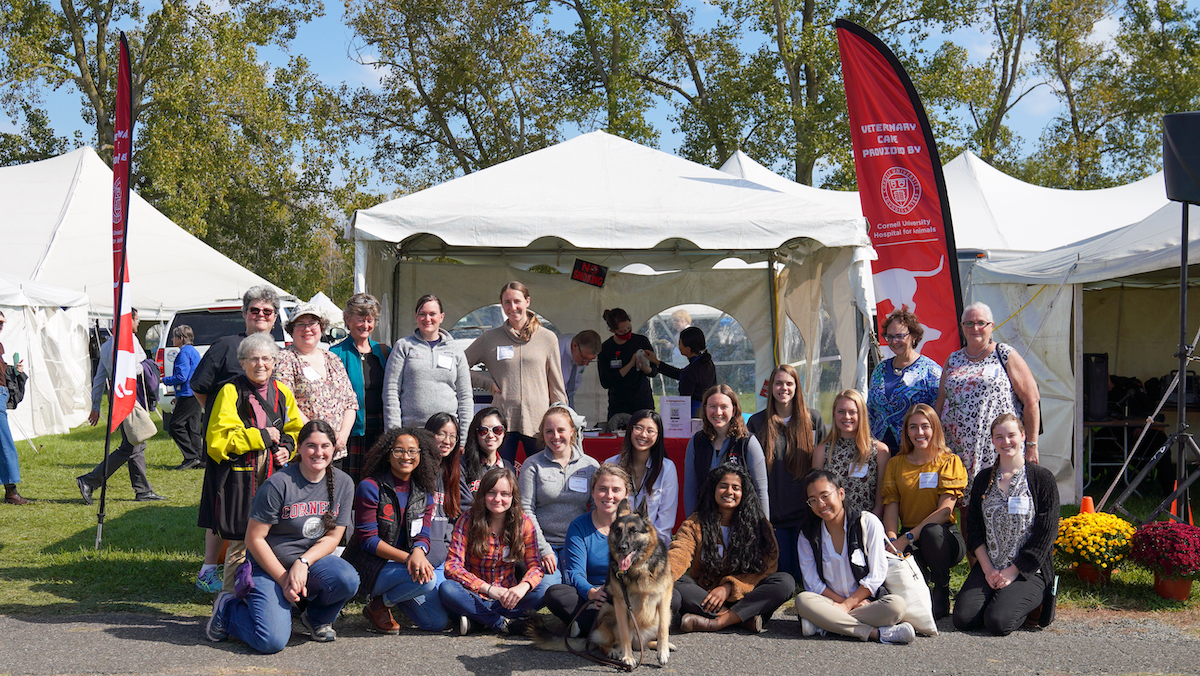 "We were pleased to be able to send students to advance their understanding of different dog breeds and interact with the dog show community," says Dr. Meg Thompson, director of the Cornell University Hospital for Animals.
"I hope that this is the beginning of a long-term relationship, benefiting not only dog sports, but also canine health providers," says Carol Srnka, event liaison and agility coordinator for all four days. Srnka currently sits on the board of directors for the Finger Lakes Kennel Club and has been involved with the event since 1986.
Although this is the first year with student involvement, Cornell has had a presence at the circuit for a long time. Retired ophthalmology professor Dr. Thomas Kern runs an eye exam clinic for the dogs on the show grounds, and Dr. N. Sydney Moise, M.S. '85, retired CV Starr Professor of Cardiology, holds a cardiovascular clinic. Not only did Cornell clinicians provide the on-site veterinary care, but Hamlin herself retired from the Cornell College of Veterinary Medicine.
Watchful observers
There are students present from each class year in the veterinary program. The event also functions as a way for them to get a fuller picture of what path — large or small animal — they might like to take when they're done with school. For many, the Wine Country Circuit will be the first shows they've ever seen.
"I had only watched the national dog show on television Thanksgiving Day, so I had no idea what to expect," says Michelle Greenfield, D.V.M. Class of 2023.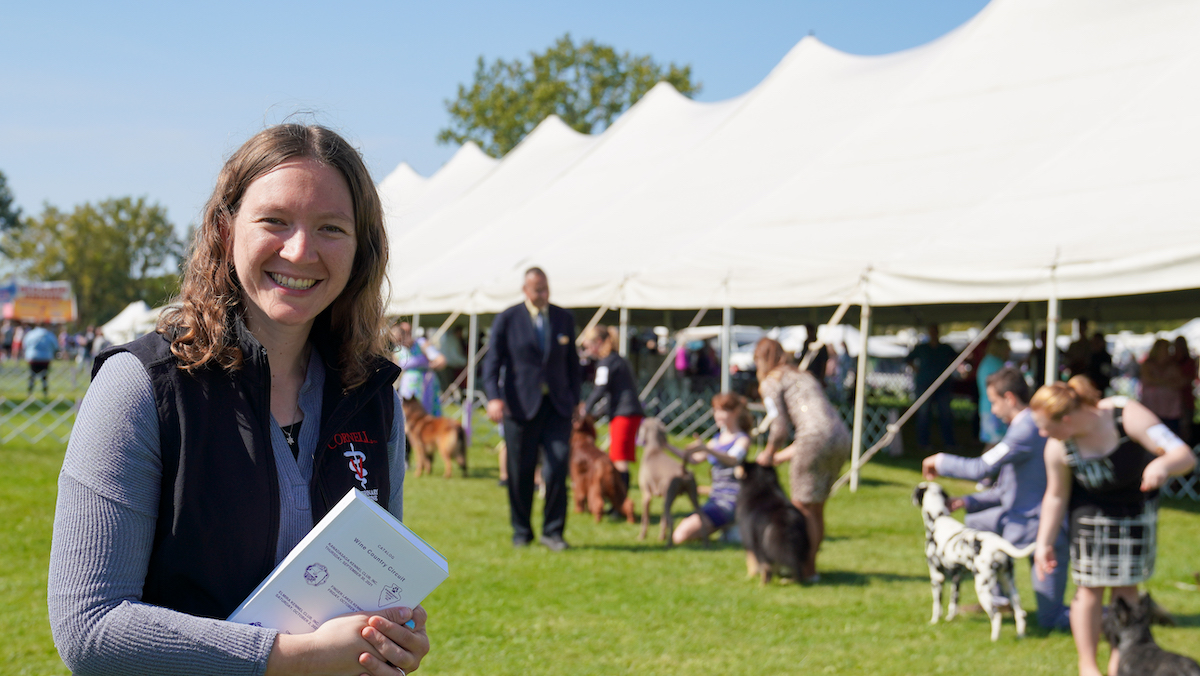 For Greenfield, the high point of the day was soaking up knowledge from her mentor, Ereign Seacord, president of the Finger Lakes Kennel Club and chief ring steward for the Friday show. "She was phenomenal," Greenfield says. "She not only took the time to explain all the intricacies of winning points and becoming a champion, but she also pointed out the various dog breeds so I could become more familiar with them — and there are so many." Indeed, there are 197 breeds recognized by the American Kennel Club that participate in these shows.
Seacord also enjoyed the mentorship experience. "We visited the performance venues to see how much fun owners can have with their dogs," Seacord says. "I'm hoping that Michelle and the other students appreciated the bonds that exist between handlers and owners and their purpose-bred dogs."
Although Greenfield wants to become an aquatic veterinarian, she found there were principles from the show she could apply to other situations. "It was a unique experience to have as a veterinary student, and I'm truly thankful for the opportunity," Greenfield says.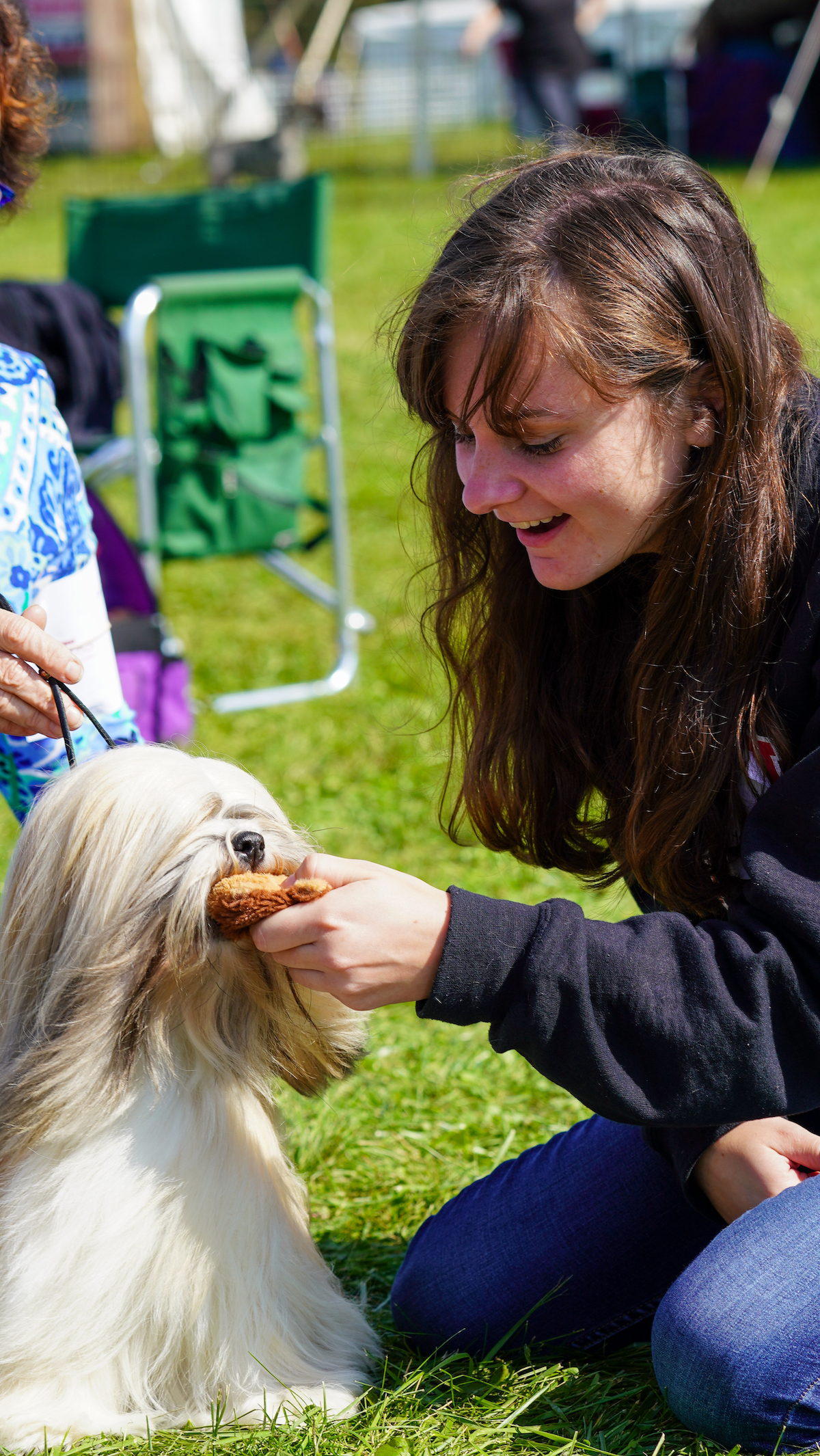 Alanna Horton, Class of 2024, also had limited experience with dog shows. She says her mentor's enthusiasm was similarly contagious. Horton was partnered with mentor Julie Luther, Hamlin's daughter, who introduced her to fellow exhibitors and let her shadow the preparation process. "It was very clear to me how passionate the people at the dog show were about their dogs — and how much they loved talking about them!" Horton says.
Talking to the exhibitors about their motivation to enter dogs into shows like this was also a high point for Vivian Shum, Class of 2023. "I was surprised to find how much of a time and financial commitment it is to participate, and many of them do so because they love the entire process, from training to qualification," Shum says.
Hamlin likewise has been passionate about dogs since a young age, starting a junior kennel club at age 13. She says she was happy to facilitate this opportunity for the Cornell students. Over lunch, students were also able to meet with Kern as well as Sandy D'Andrea, the American Kennel Club field representative. "They were able to ask lots of questions and get a really good feel for the whole thing," Hamlin says.
Brushing up on breeding
While students basked in the excitement of the event and met an array of unique people, they also saw a door to a wider world open — a deeper understanding of dog breeding.
The show's mentors gave students an inside look at their own motivations and goals for breeding. Srnka, for example, notes that health, structure and temperament are equally important in a performance dog. "As a breeder and exhibitor, it's important to me to have all the genetic testing done for my breed to ensure that my dogs lead as long and healthy lives as possible," Srnka says.
Shum's biggest takeaway was hearing about responsible breeding, especially for breeds with a limited gene pool in the United States. "Their voices are largely overshadowed by less responsible puppy mill operations that dominate the news," Shum says. "I became more knowledgeable about the steps responsible breeders take, such as genetic testing their dogs and breeding to animals worldwide, in an attempt to maximize diversity."
Greenfield says that, after experiencing the show, she recognizes the love and care these owners have for their dogs. "I also can appreciate that the dogs have to fit certain standards, and many of these standards are developed for form and function," Greenfield says. "For example, we saw brachycephalic dogs — breeds with shorter skulls and snouts, like pugs and Boston terriers —  breathing easily while competing in the show, which as the show mentors explained is critical since, if you're going to breed them, your goal is to provide them the healthiest and highest welfare situation."
Horton is ready to take what she learned about the breeders she interacted with into her career. "At times we may see very irresponsible breeding practices in veterinary medicine and assume all breeders are like that, but I think it is important to take a step back when we have breeder clients and try to avoid pre-determined judgments," Horton says. "At the end of the day, responsible breeders and veterinarians all want healthy dogs."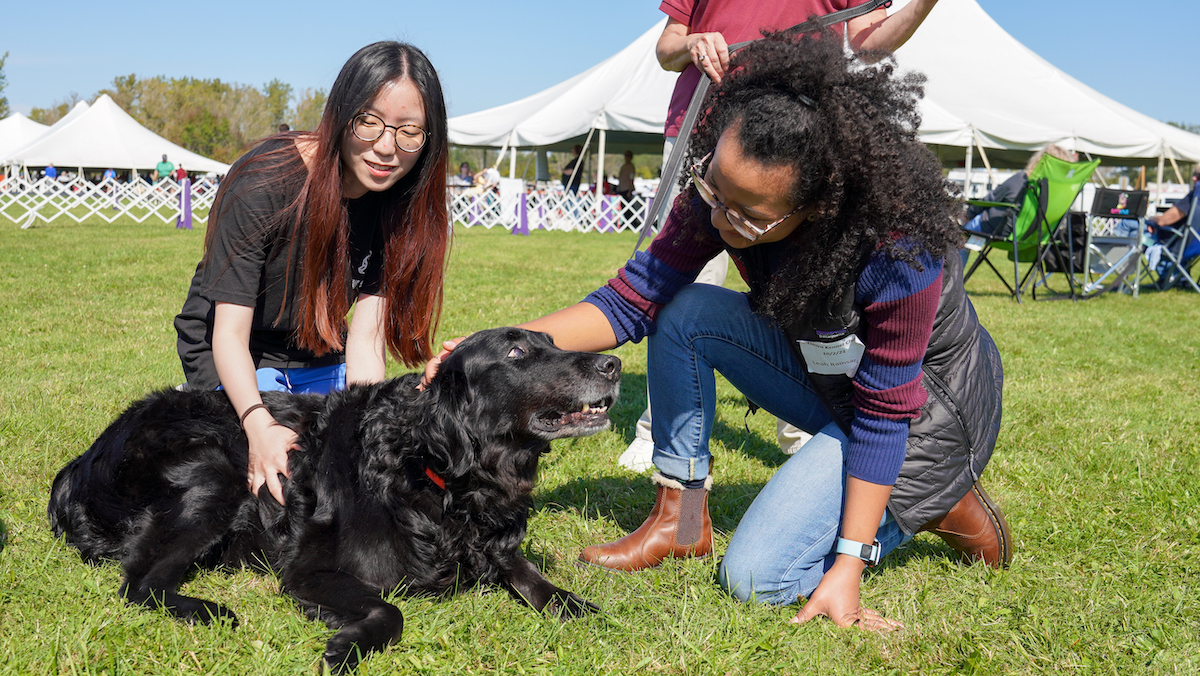 Gearing up for next year
Even as the students drive home to Ithaca that Saturday evening, plans for next year are in the works. A few of the students even hope to dip a toe into the dog show world with their own dogs. "My crew was planning to register their own animals, investigate their next breed, set goals to trial their own dogs," says mentor and judge Amanda Pough. "They were hoping and planning to attend other dog shows, and learning where to go for resources for healthy purebred dogs, now and in the future."
"I would love to stay involved in veterinary care at dog shows as a veterinarian eventually. It's a great way to get involved in the community," Horton says. And while she would enjoy training her (future) dog in agility after seeing them have so much fun on the course, meeting the people at the show was still the best part. "The best experience was to not only go to watch the dogs in the show, but also talk to a lot of people who have very interesting life experiences and perspectives."
With this first successful kickoff, this new partnership between Cornell veterinary students and the Wine Country Circuit dog shows promises to be an enriching opportunity for students to deepen their knowledge and professional skills.
"Their education is already so varied," Hamlin says. "They learn about dogs, cats, cows, horses, swine, birds, sheep, wildlife — our show is a deep dive into one species with 197-some breeds."
The unique learning opportunity wasn't lost on any of the students. Says Shum, "My time at the Wine Country Circuit dog show was absolutely fantastic and I couldn't have asked for a better experience."
Written by Melanie Greaver Cordova