Decoding dementia in dogs could help fight Alzheimer's
Monday, December 13, 2021 - 11:28am
By the time Carolyn Chow learned that her father had Alzheimer's, he would only have five years before succumbing to the disorder in 2017 at the age of 86.
It was devastating to see her father, Joshua Chow, MBA '64, deteriorate so quickly. "He was highly educated, brilliant and highly sociable, and Alzheimer's took that all away," said Chow, a staffing consultant for the Division of Human Resources at Cornell.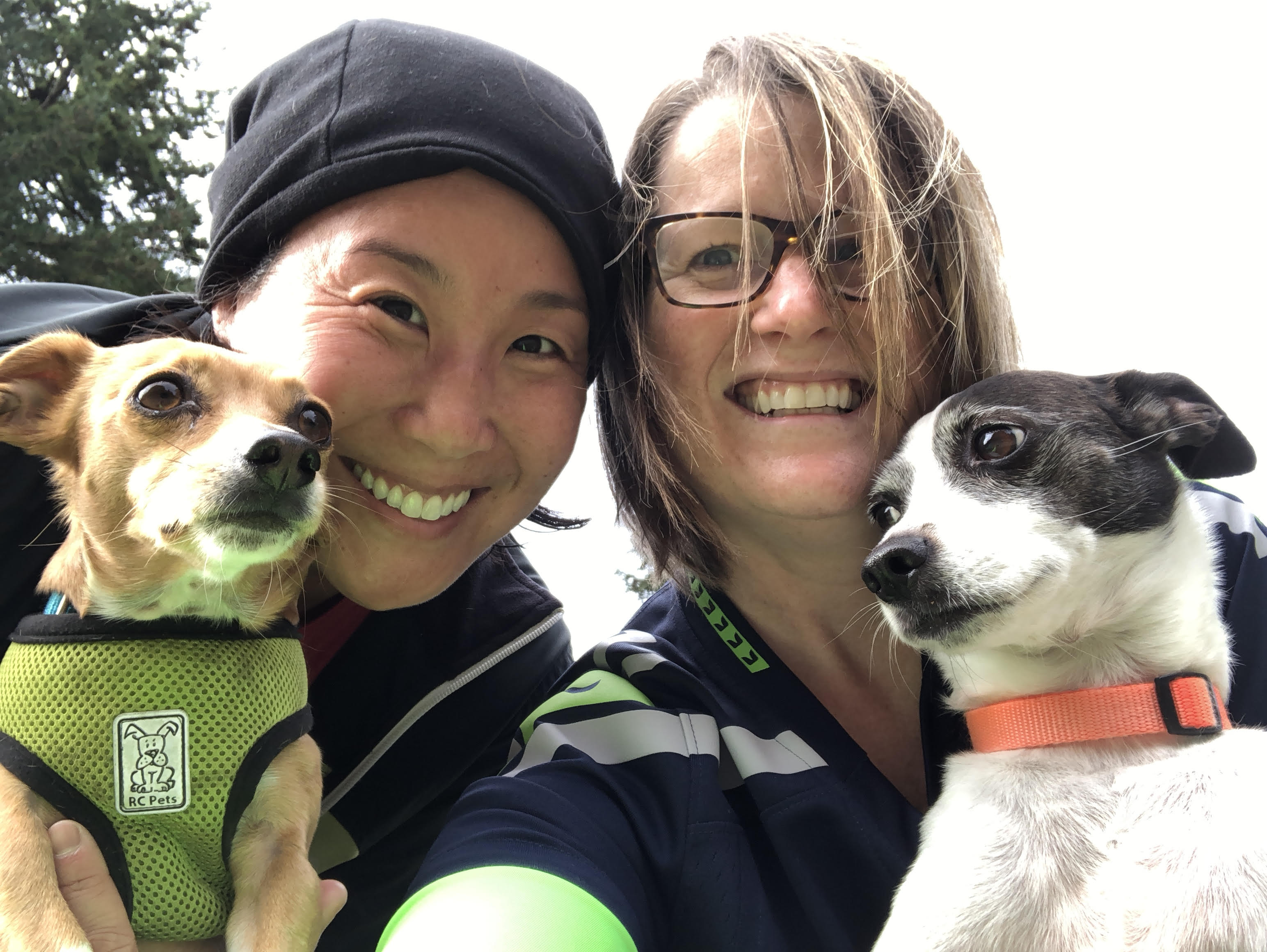 Chow is now supporting research into Alzheimer's disease by bringing her dog Nora, a seven-year-old Chihuahua mix, to the Cornell Veterinary Biobank to contribute to the Dog Aging Project. The nationwide study is an essential part of a $5.1 million research project recently launched at Cornell University, the University of Washington and the University of Arizona to investigate the potential links between Alzheimer's disease and a similar condition in dogs called canine cognitive dysfunction (CCD).
"What we're trying to do is find a better understanding of the disease in dogs and translate those findings to humans," said Dr. Marta Castelhano, director of the biobank and Cornell's principal investigator on this grant.
Comparing CCD and Alzheimer's
The four-year-project, funded by the National Institute on Aging, is the first large-scale research study to compare CCD and Alzheimer's disease to determine whether they are triggered by the same genetic and environmental factors.
"It's still a little bit of an open question to what extent is CCD in dogs the same as Alzheimer's disease," said Dr. Matt Kaeberlein, a professor of laboratory medicine and pathology at the University of Washington and project leader. "But I think there's no question that CCD in dogs is caused by some of the same biology as dementia in people so I would be shocked if both at the genetic and environmental level there aren't overlaps."
Researchers in the study will analyze biological samples of hundreds of dogs to identify the biomarkers for CCD and bank those samples for future research. Discovering the specific factors that cause CCD will help advance our understanding of Alzheimer's – a rapidly growing disease in the United States. Currently, an estimated 6.2 million Americans 65 and older live with Alzheimer's, and by 2050, that number is expected to reach nearly 13 million, according to the Alzheimer's Association.
Alzheimer's and CCD share many similarities: Both are incurable and both are difficult to diagnose until behavioral changes emerge. Dogs with CCD, for example, do not recognize familiar people and may stare blankly into space and wander aimlessly.
Just like the cognitive tests used to diagnose Alzheimer's, a similar type of screening has been developed to detect CCD. A questionnaire and assessment can be completed by dog owners after  putting their pets through a series of exercises that researchers can score to determine whether their dog has this disease.
At the cellular level, however, the origin of each disease and the pathway it takes through the body are still mysteries.
"It's not that easy to figure out who has Alzheimer's and when it started," said Jan Krumsiek, an assistant professor of physiology and biophysics at Weill Cornell Medicine who researches the metabolism of the disease. "And when you know that an individual has symptoms, it might be 15 to 20 years into the disease and the brain has just been coping with this."
Identifying the features of CCD
The study of CCD, a disease that may be as prevalent as 35 percent in dogs over eight years of age, will use biological samples of canine participants enrolled in the Dog Aging Project, a nationwide large-scale longitudinal study of aging in dogs. The biobank at Cornell has been receiving samples from hundreds of participants in the project since the collections started earlier this year.
"Cornell's biobank is, without question, the leading veterinary biobank in the world," Kaeberlein said. "We couldn't have found a better partner."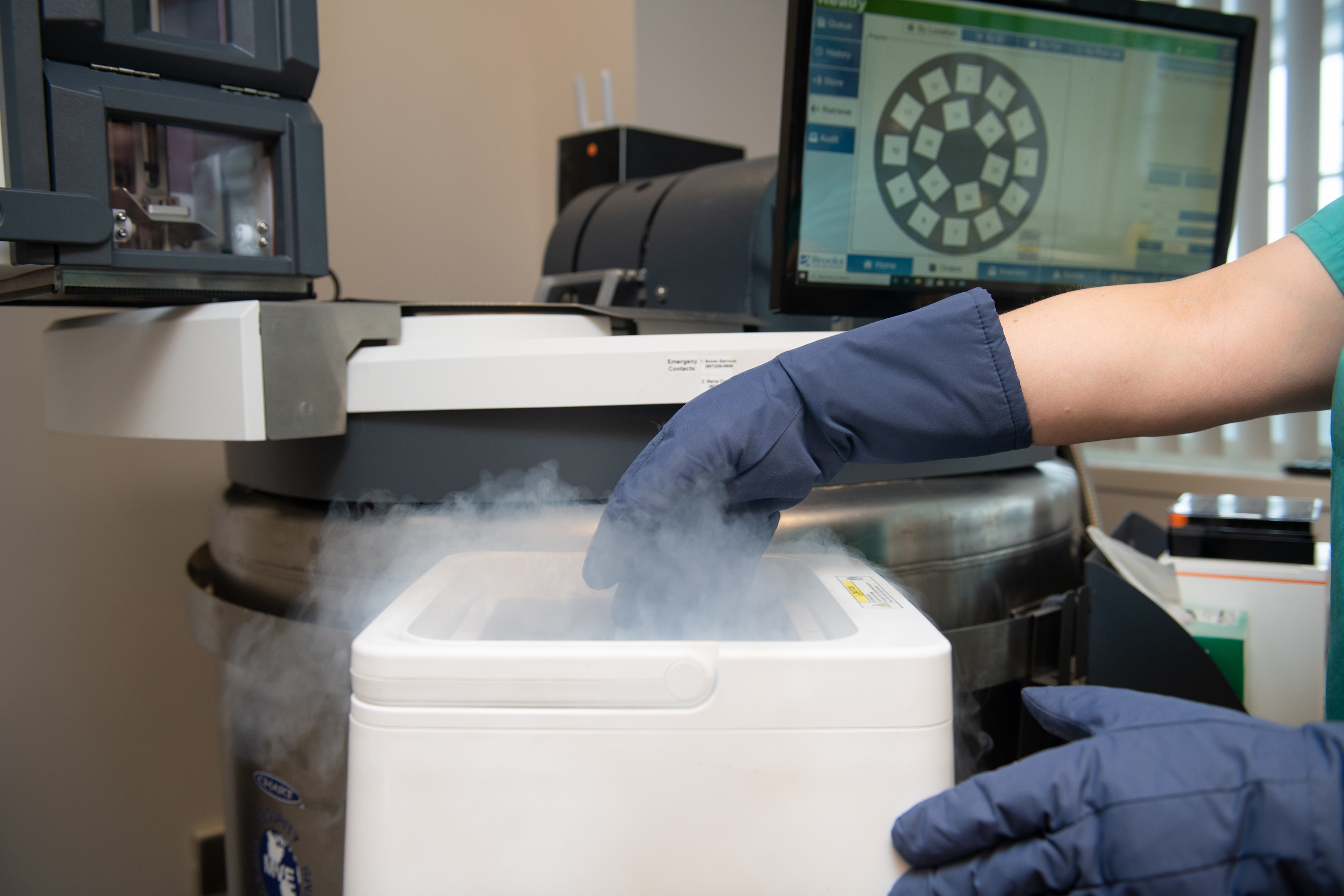 In the first phase of the Alzheimer's study, researchers will identify 200 dogs that have CCD, based on their scores on a questionnaire the owners complete when enrolling their dogs in the Dog Aging Project. As the canines reach the end of their natural lives, researchers will then examine 100 of the dogs that pass away to identify the neuropathological markers of CCD.
Identifying the biomarkers of CCD could then be applied to research on Alzheimer's to determine if the same cellular changes are associated with the disease in humans. 
"We hope to have findings that translate into better diagnostics and treatments for both dogs with cognitive dysfunction and humans with Alzheimer's," Castelhano said. "This is what our real hope is — to have an impact on families."
Castelhano notes that the collection at the biobank will be made available for future research on Alzheimer's disease and related dementia, as new tools are developed to deepen our understanding of these conditions.
Impact on researchers and families 
One advantage of using dogs to study Alzheimer's is that the progression of CCD occurs much faster than its counterpart in humans, simply because dogs have shorter life spans. "There are certain diseases where in humans we have to wait 5 years, 10 years, 20 years to really see something, which will happen in a year or two in a dog," said Jan Krumsiek, an assistant professor of physiology and biophysics at Weill Cornell Medicine who researches the metabolism of Alzheimer's.
Dogs are also a better animal model to study Alzheimer's than mice, which have traditionally been used but do not develop a similar type of dementia naturally, Kaeberlein said. "Companion dogs living with their owners live in the human environment," he added, "and that's something we really just can't recapitulate in the laboratory."
Lisa Mitchell, a licensed veterinary technician at Cornell, said the study offers hope to dog owners like herself who have pets with CCD. Dante, her ten-year-old Bernese Mountain Dog, was diagnosed with the disease last February and now often stares blankly at walls, spends time by himself and barks for no reason.
"I always have hope about curing disease, even one as complex as this one," she said. "The brain is a complicated organ, but we're learning more and more every day."
Written by Sherrie Negrea