Milo's gift: Local stray's rescue and healing featured in children's book
Tuesday, December 21, 2021 - 10:38am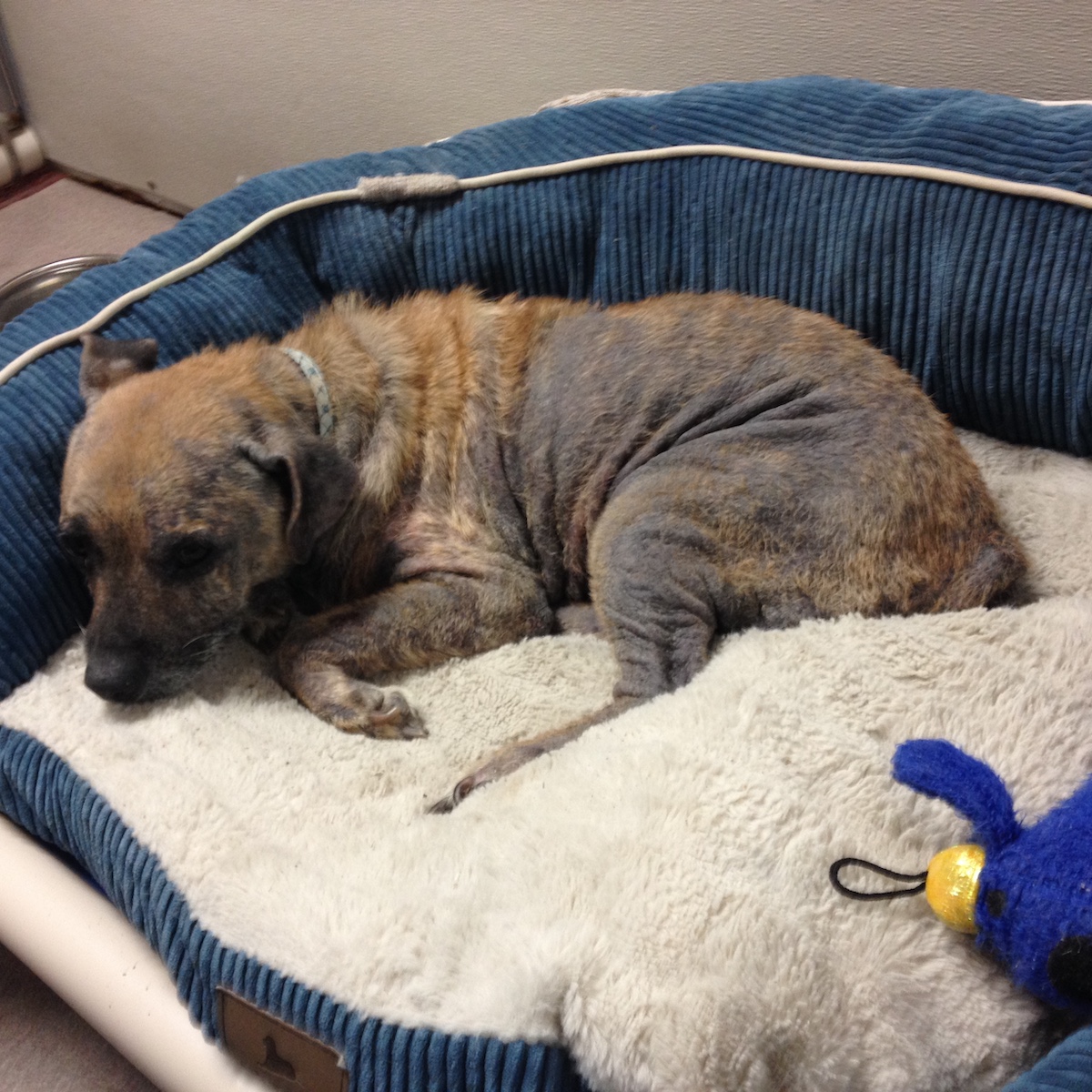 By the time Milo arrived at the SPCA of Tompkins County in the summer of 2016, the elderly terrier mix was nearly bald. A local couple out for a walk in Caroline, New York, came upon the small, lonely stray curled up at the base of a tree. The SPCA consulted with its partner veterinarians from Maddie's ® Shelter Medicine Program at Cornell, who discovered that Milo's skin problems were just the start of his medical issues. Months of treatment and a loving home eventually inspired a children's book celebrating his resilience.
"When Milo first came to us, he had a diffuse skin disease which left him mostly bald, as well as dental disease and a heart murmur," said Elizabeth Berliner, D.V.M. '03, the Janet L. Swanson Director of Shelter Medicine. "The skin disease made him super itchy, and he was depressed at the shelter — he sat on his bed and didn't do much."
Veterinarians estimated Milo to be about 10 years old. They diagnosed him with compounding skin conditions: Two different types of mange and a secondary skin infection. Once a skin infection takes hold, without treatment, scratching will only make it worse. Outdoor dogs like Milo may encounter sarcoptic mange, also known as scabies, in rural areas where foxes are present.
"Mange is very itchy, so there's a loss of fur, and then a secondary bacterial and fungal infection will set in without active treatment," Berliner said. And, while Milo's heart murmur did not require treatment, he needed extensive dentistry, including the removal of six teeth.
At this point, no owner had come to claim Milo, which left the SPCA and his veterinarians in a complicated position. In Tompkins County, senior pets are often adopted, but Milo would need several months to heal and reach a reasonable quality of life to enable his adoption.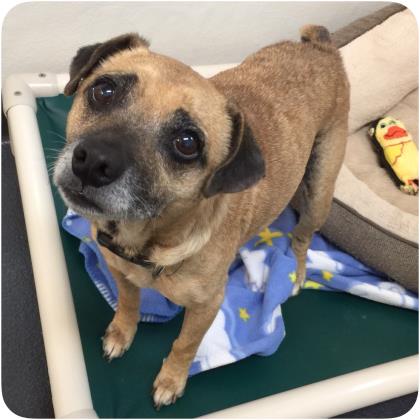 "Sarcoptic mange is treatable, periodontal disease is treatable, but neither are quickly, easily or cheaply treated," Berliner noted. Veterinarians also consider the quality of life for an animal who might linger in the shelter. "In spite of our best intentions and our work to make their shelter stay humane and comfortable, it's always a concern. All of this, and you have to have a community that's willing to adopt a dog that's 10-plus years old and maintain ongoing treatments and evaluations."
Ultimately, it took two months of treatment for Milo to be in adoptable condition. After dental procedures and steady skin treatments, he was in much better shape. In September of that year, nearly 80% of his fur had returned, and the SPCA team members continued to focus on enriching his life in the shelter to improve his depressed mood.
Milo's magic
Although Milo was ready for adoption, it took some time for any individuals to show interest — until a volunteer at the shelter met him, and instantly fell in love.
"I started volunteering at the Tompkins County SPCA at a low point in my life, and I wanted to do something meaningful," said Susan Engelmore. An animal lover, Engelmore had volunteered at shelters in the past to give back to her community, but didn't intend to adopt a dog at the time. "I can't fully explain it, but I looked into his room and this beautiful little creature looked back at me with big brown eyes, and I immediately fell in love. That truly is all it took."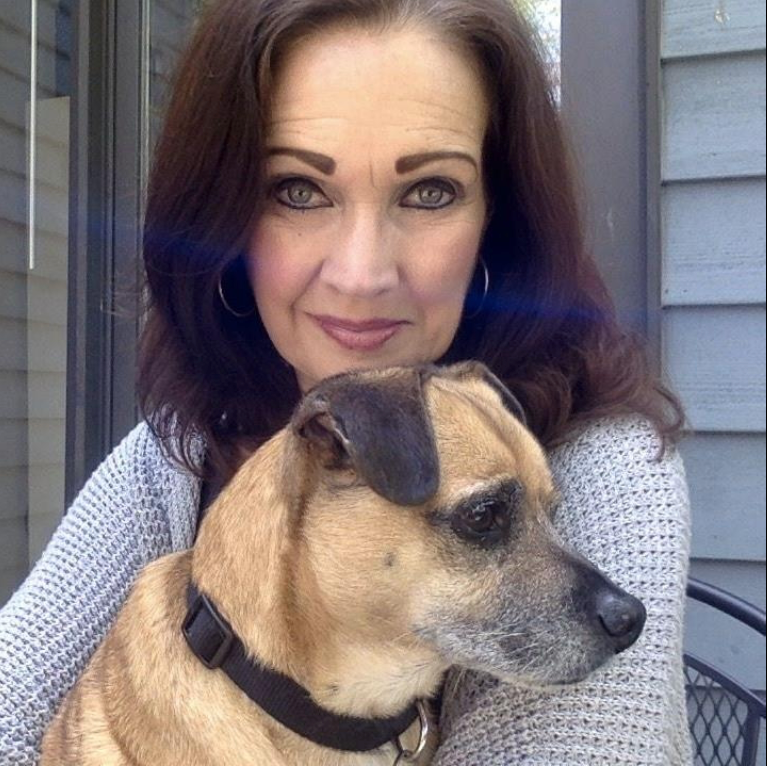 Knowing that Milo would have ongoing health problems didn't deter her. What cemented her decision was coming into the shelter one day and discovering him upstairs "at work." Milo was greeting new strays; since he was calm and friendly with other animals, the SPCA often used him to see if new intakes were dog-friendly. "And I knew then, he was everything I thought he was," Engelmore said.
In the ensuing years, the two bonded deeply. Engelmore's steady, consistent care gave this senior dog an extra five years of healthy life.
"Despite what he went through, he still had such a good attitude. I could see that he was thankful for life every day. He loved everybody," she said. Engelmore notes how his joy was infectious and that strangers they encountered on walks always stopped to greet him. In addition to enriching her life, Milo was also a great comfort to her father, who had severe dementia. "He might not have remembered my name sometimes, but he always remembered Milo's," Engelmore said.
A year after his adoption, he developed severe osteoarthritis in one leg, which limited some of his favorite pastimes, including breaking out into a run on walks "with pure joy on his face," Engelmore said. "You could see he was determined to run, even if it was only for 30 seconds."
Early on in the pandemic, Engelmore wanted to use time in lockdown productively. Milo was with her for the duration, and she wanted to share his inspirational story of resilience and grace with the world. She decided to do this by fulfilling her lifelong dream of writing a children's book. "His sweetness touched so many and I wanted to pay tribute to him," Engelmore said.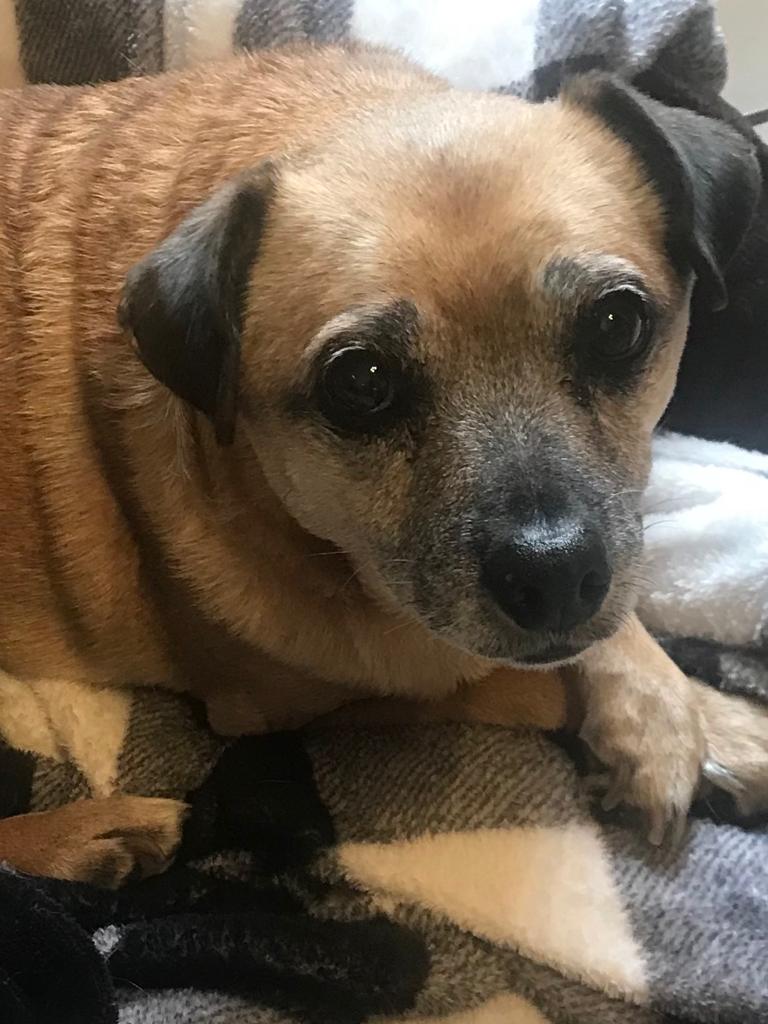 The book, Milo's Gift: A True Story, published June 2021 with Gatekeeper Press. It follows Milo's journey — from being lost, alone and sick in the woods to his adoption and life in a loving home. "He was such an inspiration to me," Engelmore said. "I wanted kids to see that you can be sad and go through tough times, just like Milo, and survive and be resilient and love life. He did that for me, and he can do it for others."
When Milo passed away in November of 2021, Engelmore says the decision was painful but that she knew it was his time. "Everyone at his local veterinarian's, all the technicians and staff, everyone loved him, and we were all crying," she said.
Berliner arranged to have copies of Milo's Gift given to shelter staff who had supported Milo during his time with them. Engelmore credits them with giving Milo a second chance at life and deeply appreciates them. It was a gesture, Berliner said, that meant a lot to everyone who had treated him so many years ago. "For veterinarians to hear positive feedback, to know that they've made a difference not just in a pet's life, but in an owner's, it means so much. It's so important, especially now," Berliner said. "Being able to bring Milo around so that somebody like Susan can give him another five years of high-quality life, that's just exceptional."
Reactions to the book have been similarly positive elsewhere. Engelmore has received notes of thanks and personal reactions across the board to Milo's Gift.
"I wanted to pay it forward," she said. "They say I rescued Milo, but he really rescued me. It means a lot to me that his story has touched so many people."
Written by Melanie Greaver Cordova