Basset hound beats back persistent skin troubles, cancer scare
Tuesday, January 11, 2022 - 10:17am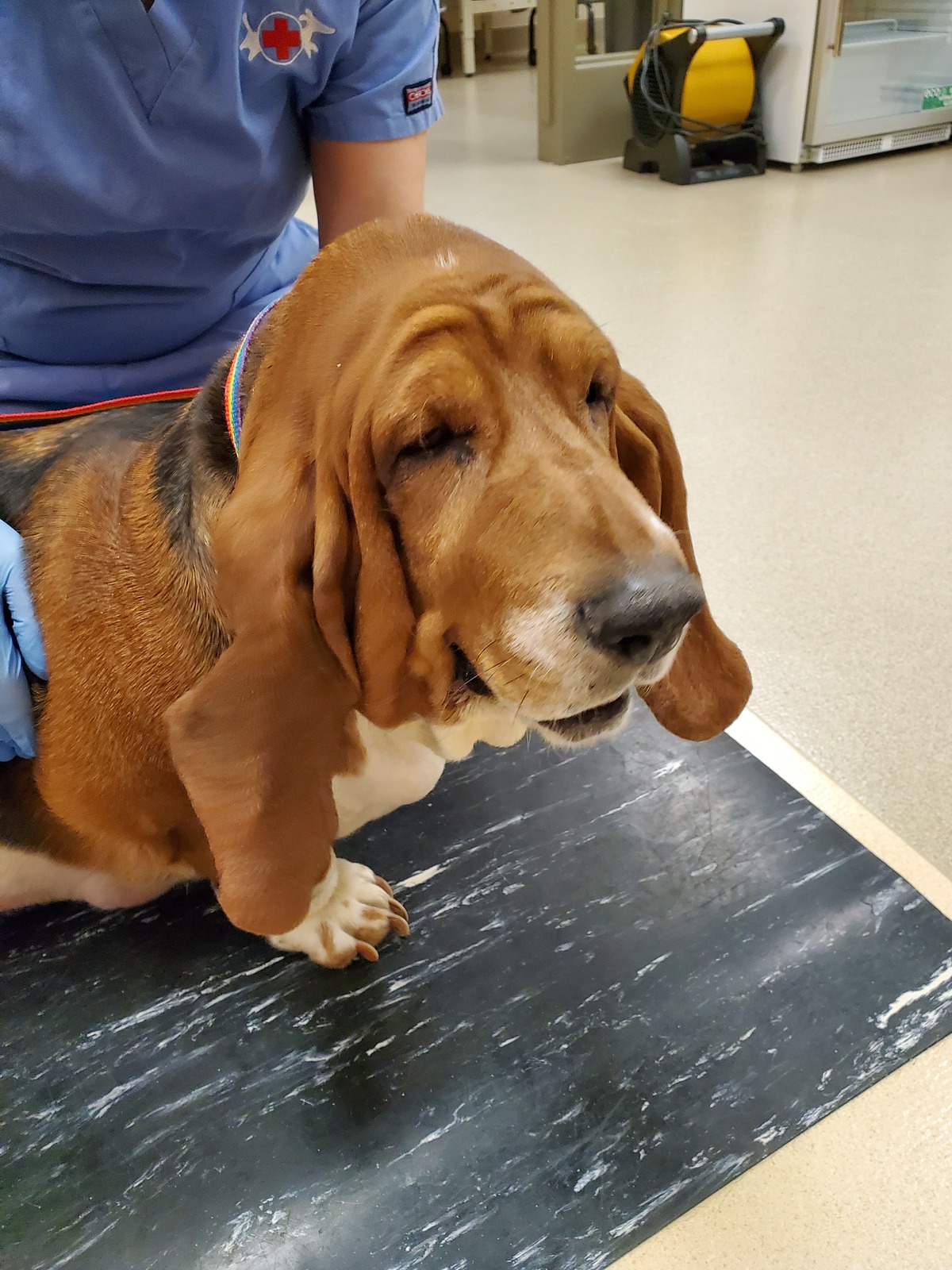 The folds in a basset hound's face are a hallmark of the breed's droopy charm, but for six-year-old dog Daisy, an allergic reaction changed those folds from adorable to painful.
When rashes popped up across Daisy's ears and body, owner Linda Hayden worked with her local veterinarian to treat the issue. After some trial and error with shampoos, antifungal medications and steroids, Daisy's veterinarian referred her to the Cornell University Hospital for Animals for specialized treatment.
"She was crying, scratching. It was just awful," Hayden said. "It was a nightmare for her and for me."
Veterinarians in the dermatology section of the animal hospital diagnosed Daisy with a yeast infection and bacterial overgrowth on her skin. "Basset hounds are predisposed to ear infections because their ears trap moisture," said Dr. Kaitlyn Peden, veterinary resident in dermatology who treated Daisy.
Peden and the dermatology team addressed Daisy's ear infection with an ointment containing an antifungal, antibacterial and steroid. They instructed Hayden to treat Daisy's ears twice a week with another solution to help prevent future infections. Treating her overall yeast infection required long-term systemic anti-fungal therapy — a combination of prescribed medication and over-the-counter powder. They also collected and analyzed a bacterial culture to determine the best antibiotic for Daisy.
"When she returned for a recheck, Daisy was much improved," Peden said. "She still had some spots of inflammation on her belly and bacterial overgrowth in places, so we recommended a cream and ear cleanser for continued maintenance."
With careful treatment by dermatologists and watchful monitoring from Hayden, Daisy's skin issues began to clear up. It was around this time, however, that Daisy's veterinarians discovered a tumor in her mammary glands.
"My heart just dropped," Hayden said. "She came so far with her skin issues, and now she has a tumor. I was devastated."
Veterinarians measured the tumor, and on a subsequent visit, found that not only was it growing, but more had appeared. Mammary gland masses are most commonly found in older dogs like Daisy who aren't spayed, or who were spayed at a later age. Since approximately half of such masses turn out to be malignant, her care team wanted to remove Daisy's as soon as possible.
Spaying is beneficial to a female dog or cat at any age, and not just to prevent breeding. It will also greatly reduce a pet's risk of cancer and life-threatening uterine infections if done before their first heat cycle. "Pet owners might have heard about breast cancer in human women, but this type of tumor development is actually more likely in dogs than humans," said Michelle Moyal, D.V.M. '07, assistant clinical professor in primary care surgery, who performed Daisy's surgery.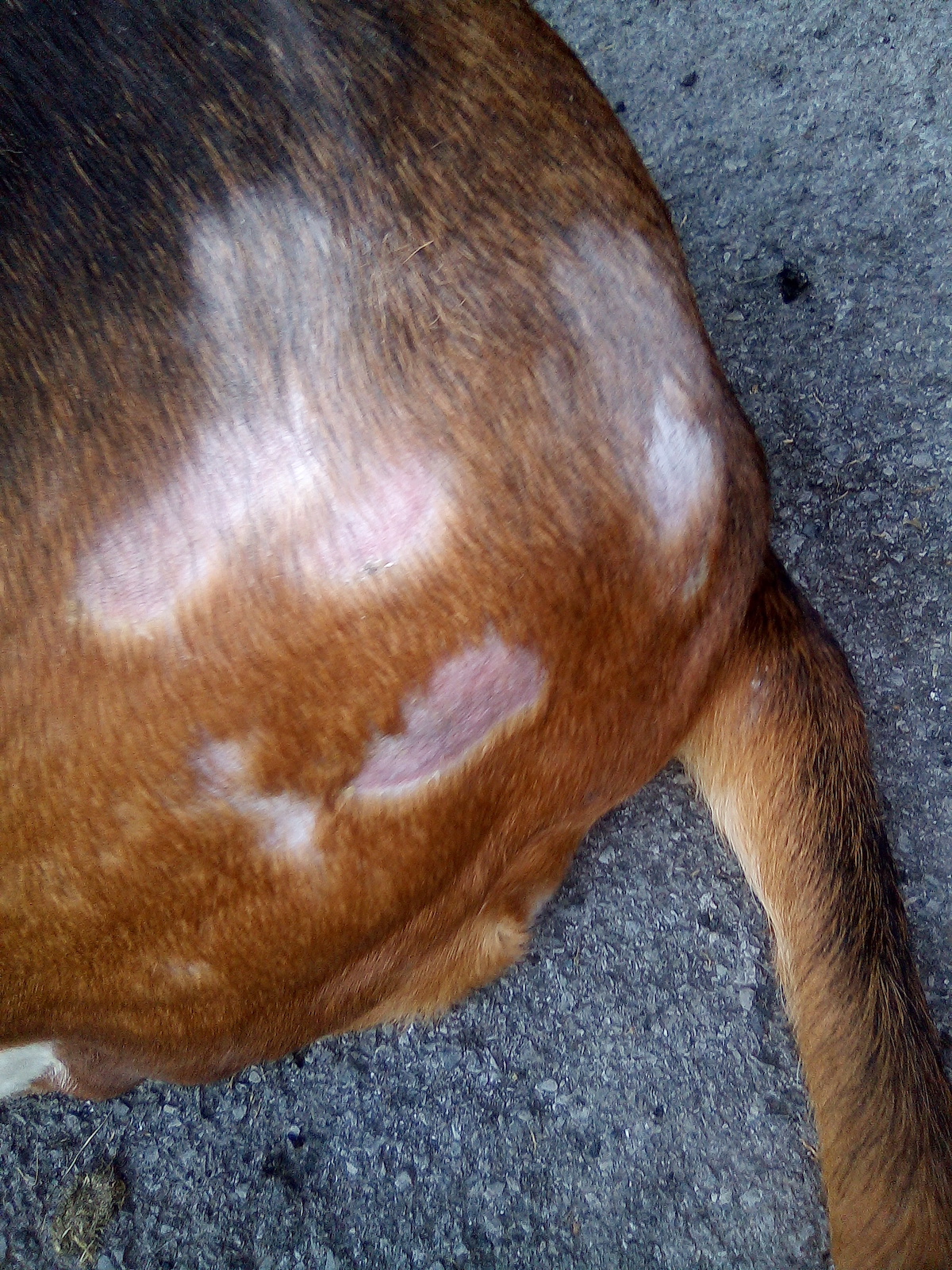 Treatment in Daisy's case was a little more complicated since she was on a long-term steroid medication for her skin issues. "While the steroids were necessary to help with her chronic skin condition, high dose or chronic steroid administration can affect the body's ability to heal," Moyal said. "Healing is especially important after surgery!"
Moyal and the dermatology team weaned Daisy down to the lowest dose that would keep her comfortable but still allow her to heal. Her surgical treatment would be two-fold — spay and then remove the mammary glands with tumors.
"I was a nervous wreck," Hayden said. "I got up the courage and took her in, and just kept thinking, 'Please let her be okay, please let her be okay.'"
The cost of surgery can often be prohibitive, and Hayden had already spent a lot on Daisy's skin treatments. Veterinarians determined that Daisy was a good candidate for funding made possible by PetSmart Charities, which established a two-year, $200,000 grant to support initiatives at the Cornell Small Animal Community Practice that broaden wellness care, spay-neuter services, as well as urgent medical and surgical procedures for pets in Ithaca and the Finger Lakes Region. The grant helps faculty and students provide veterinary care for more than 1,500 animals, and was instrumental in getting Daisy the help she needed, said Hayden.
Fortunately, Daisy's surgery went well, and she was able to go home the same day with pain medications and strict instructions for rest. After analysis, the removed masses were found to be benign.
"To me, this case stands out because of all of the wonderful people collaborating to make it a success," Moyal said. "When Dr. Peden approached me about performing surgery, she was looking into any options to help Daisy. That persistence is the perfect example of what veterinarians do to help their patients." The dermatology section, primary care surgery and Cornell's Small Animal Community Practice technicians did the pre-operative preparation, monitored anesthesia and made sure that Daisy's recovery was safe and smooth. "This collaboration is a great example of what happens in primary care, or general practice, every day," Moyal said.
Daisy might have had a bumpy road to recovery, but Hayden says that she's back to her normal self again: "She's a big troublemaker!" Hayden is keeping an eye on her skin issues to make sure nothing new pops up, and Daisy is now on a diet to avoid joint issues and canine diabetes.
"I'm so grateful to Cornell and to PetSmart," Hayden said. "I can't thank them enough. Everyone from the receptionist to the students, to the nurses and the doctors, they were wonderful."
Written by Melanie Greaver Cordova