Aquadocs: Veterinary student puts passion into podcast
Wednesday, February 9, 2022 - 1:02pm
Aquatic animals have always fascinated Michelle Greenfield. From childhood summers by the ocean to college internships working with dolphins in managed care facilities, she knew a career involving aquatic animals was in her future.
Now, as a third-year veterinary student at the College of Veterinary Medicine, she's leveraged that passion to produce Aquadocs – the No. 1 aquatic veterinary podcast as well as a top 50 life sciences podcast on iTunes. The first episode of Aquadoc's new season aired Feb. 1.
Since its first episode in September 2020, Greenfield has hosted and published 48 shows, each one diving into a different facet of the marine and aquatic veterinary health world. Episodes cover topics including artificial insemination of captive sharks, ultrasounds in dolphins and sea star welfare. Each episode reaches roughly 450 listeners from 95 countries. In addition to veterinary students, the show has a following among high school and college students and professionals in the aquatic medicine field.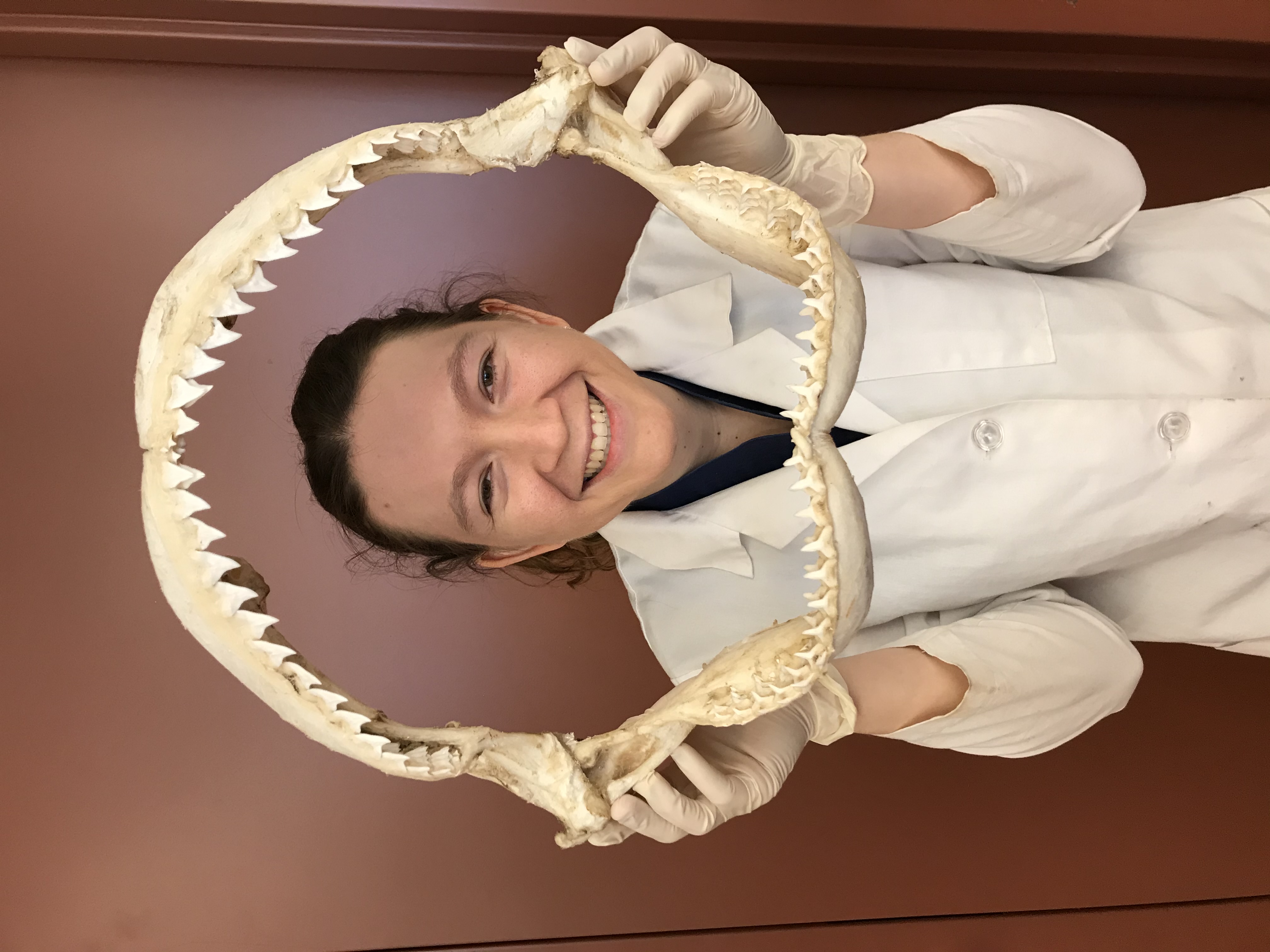 Currently, few opportunities exist for veterinary students to learn about aquatic animal medicine. Greenfield started her podcast to change that.
"There are a few summer programs and clinical externships, but outside of that, there aren't many opportunities for those interested in pursuing this as a career," she said.
When one of those opportunities – the Cornell-run AQUAVET summer program – was canceled due to COVID in 2020, Greenfield took action. "I don't want to give COVID credit for jumpstarting this project," Greenfield said, "but I was left wondering how I was going to learn about my chosen future career – and I decided I was just going to do it myself."
With each guest interview, Aquadocs takes a deep dive into aquatic animal clinical cases, biological research, career exploration and beyond, providing a fun, free and informative resource for those looking for a full picture of the aquatic veterinary medicine field.
With audio editing and production help from her fiancé, Zach Feig, and marketing help from Binghamton undergraduate student Cassie Demola, Greenfield's podcast has blossomed beyond her hopes.
"The community that's been formed has been one of the best things about doing this podcast," she said. "I'm connecting with such incredibly talented professionals in this field, and at the same time, giving them another outlet to share their research and ideas with a broad international audience."
Connections are also being created between listeners. After hearing each other's episodes, two former guests connected and are now collaborating on a research project.  "It's this beautiful, interconnected, transcontinental community of people helping each other," she said.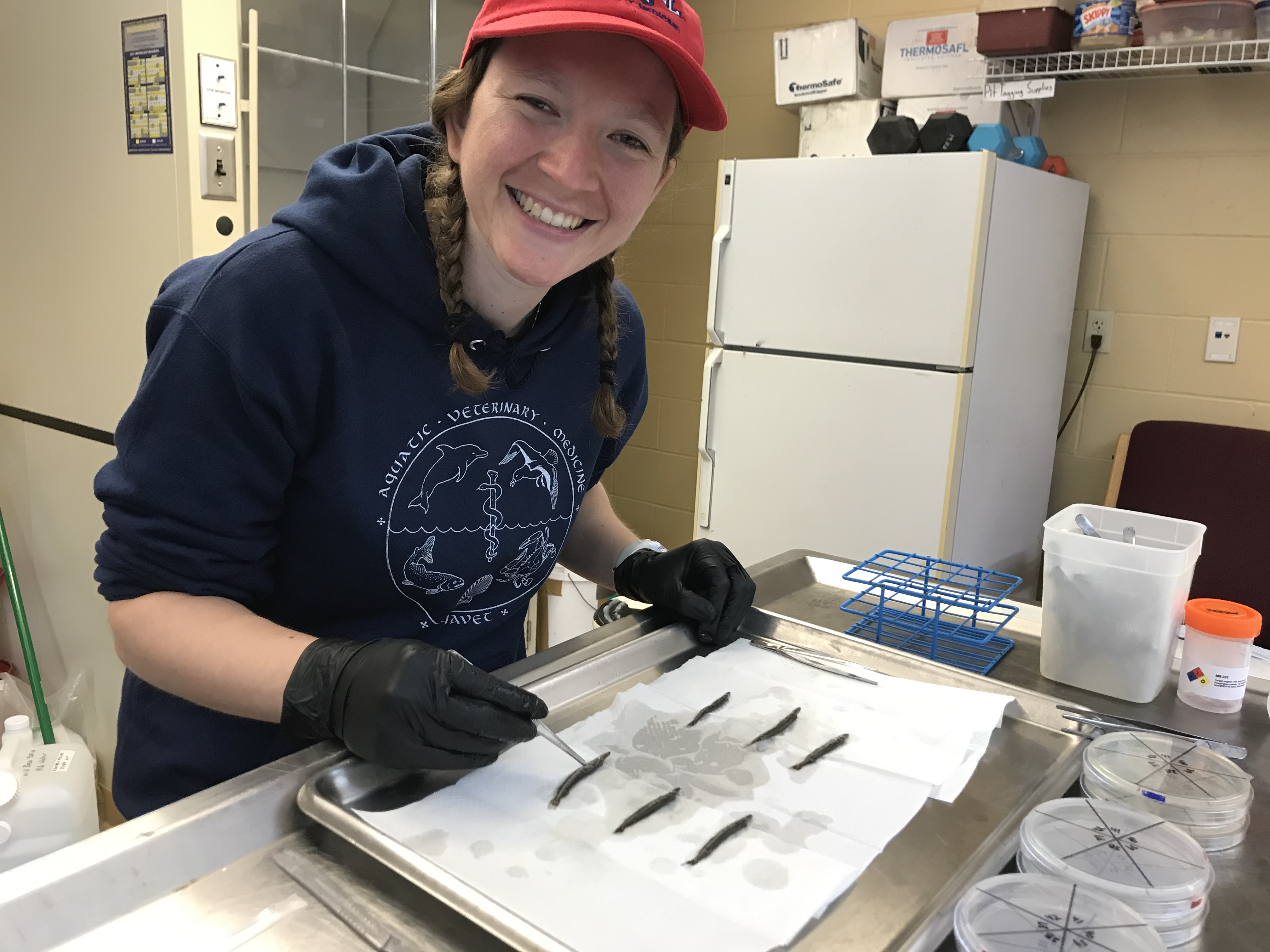 Greenfield has loved learning about science communication. "Every episode, I'm enthralled by the person I'm interviewing," she said. "They're just incredible human beings, and I'm so honored to share their story with the public."
Greenfield has also received a grant from the Morris Animal Foundation for another Aquadocs project, which will showcase the steps of conducting a research project. Using published National Oceanic and Atmospheric Administration data on sea lion pup surveys, Greenfield will take listeners through every step of the process, from collecting data or obtaining open-source data, to conducting a literature review, to running the statistics, and hopefully – to a published, peer-reviewed paper.
"We want to show everything from ideation to publication," Greenfield said. "It's intended for students who maybe don't have the opportunity or resources to learn how to do their own research project."
Greenfield is still midway through the process of producing the series and hopes to garner more grants to help support it.
As for her future career, Greenfield said that Aquadocs showed her how many possibilities there are to pursue her passion.
"I've found that I really love science communication and teaching," she said. "Right now, I'm keeping my options open. I know I will have a career in aquatic veterinary medicine, but I don't know where that path will take me. Wherever it does, it will be exciting."
Written by Lauren Cahoon Roberts