Cornell's Zoo and Wildlife Society hosts first Wildlife Conservation Day
Thursday, March 17, 2022 - 1:18pm
Cornell's Zoo and Wildlife Society (ZAWS) hosted its first Wildlife Conservation Day Feb. 26, a one-day symposium devoted to education and training for students with an interest in non-domestic species. The event featured speakers at the forefront of their respective fields, with topics ranging from genetic introgression in Florida panthers to aquaculture's place in sustainably producing seafood.
This symposium also marked an opportunity for ZAWS and the broader community to gather in person, a first in over two years. The event drew approximately 100 attendees, including many College of Veterinary Medicine students, Cornell undergraduates and Ph.D. students. Student-led from start to finish, the day was designed to bring the conservation community together in the name of education and inspiration.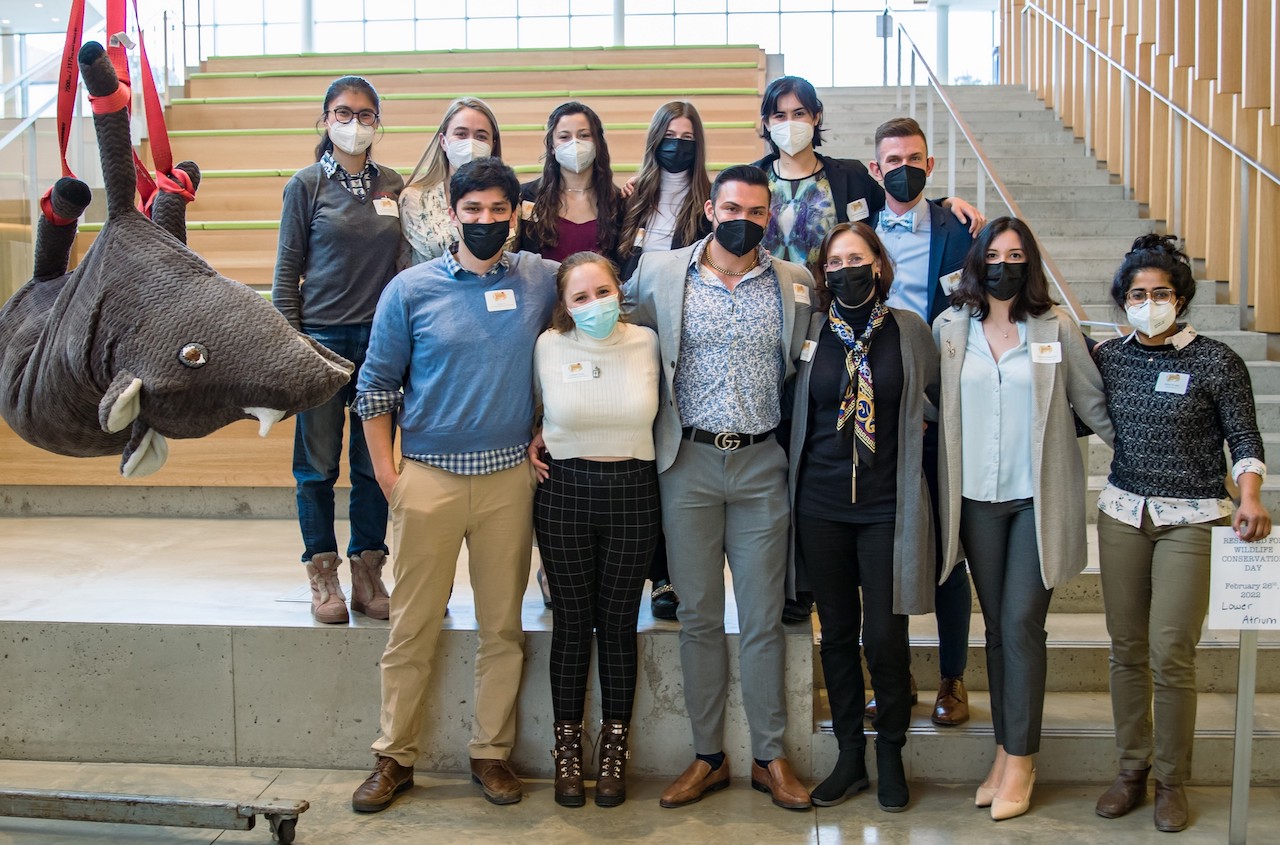 "Wildlife Conservation Day really cemented my desire to have a career in the conservation realm, and it was great to see the diverse contributions being made by researchers and veterinarians at various stages of their careers," said undergraduate student David Dayan '23. "I was inspired to think that I could make an impact not only in my eventual career but also as I journey into this field."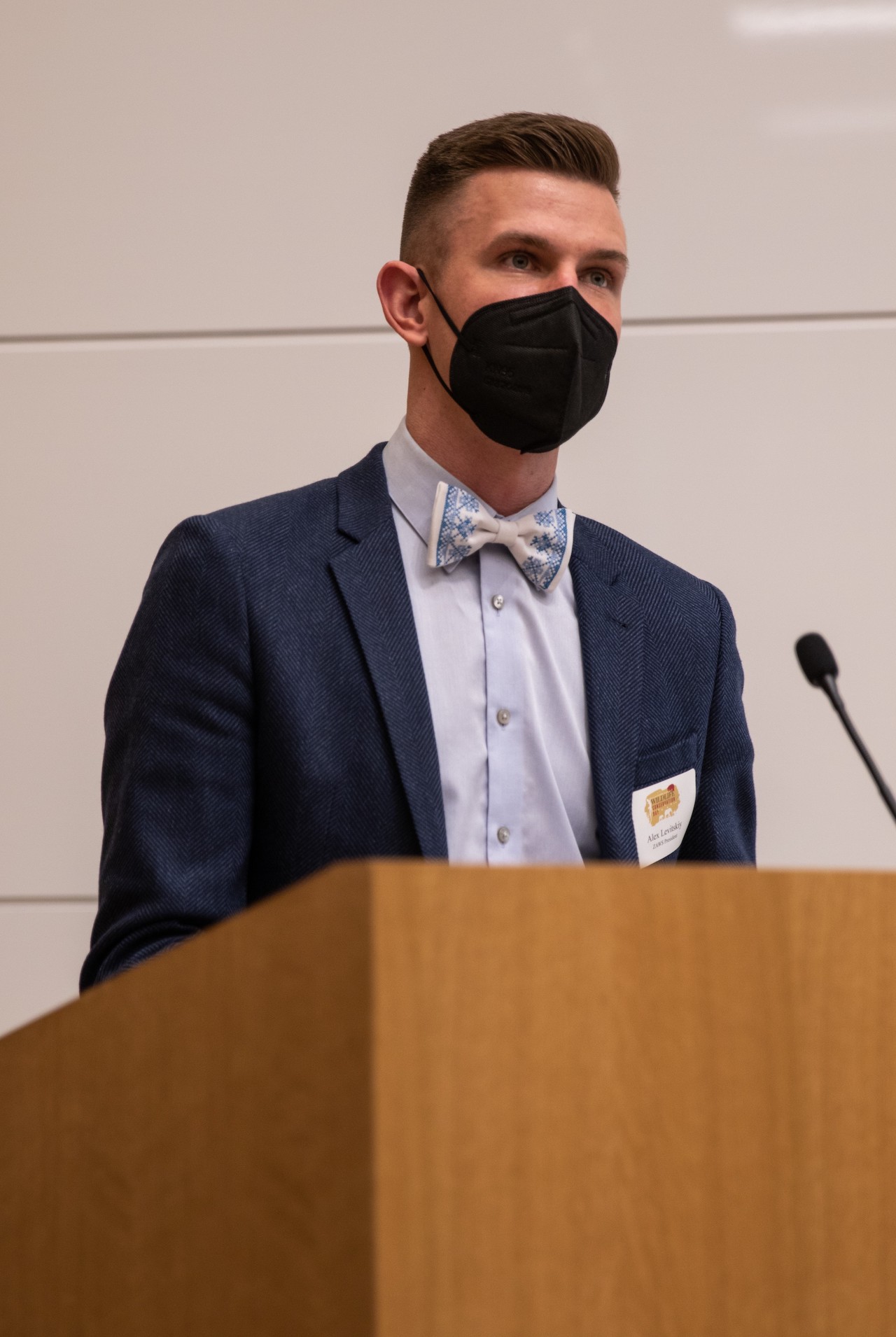 The day began with opening remarks from ZAWS executive board members and advisor Dr. Noha Abou-Madi, associate clinical professor and section chief of the Section of Zoological Medicine. Stressing the need to "work together to heal this world," Abou-Madi set attendee spirits high, acknowledging the many Cornell veterinary alumni who are now pursuing careers in the field of conservation. "For just a few hours we're going to take a break and we're going to fuel the fire of our dreams."
The morning session included keynote speaker Dr. Linda Penfold, director of the South-East Zoo Alliance for Reproduction & Conservation, who discussed how increasing genetic diversity helped support conservation efforts of endangered Florida panthers. Dr. Robin Radcliffe, a Cornell wildlife veterinarian and associate professor of practice in wildlife and conservation medicine in the Department of Clinical Sciences, demonstrated the rhino transport technique that earned him a 2021 Ig Nobel Prize.
During lunch, attendees were free to mingle with speakers and ask questions. Other presentations during the day ranged from sharing conservation success stories on manatees and kiwis to using advanced technologies such as noninvasive surveillance tools to detect wildlife pathogens and assisted reproduction technologies to help preserve genetic diversity in wildlife. The full list of speakers included: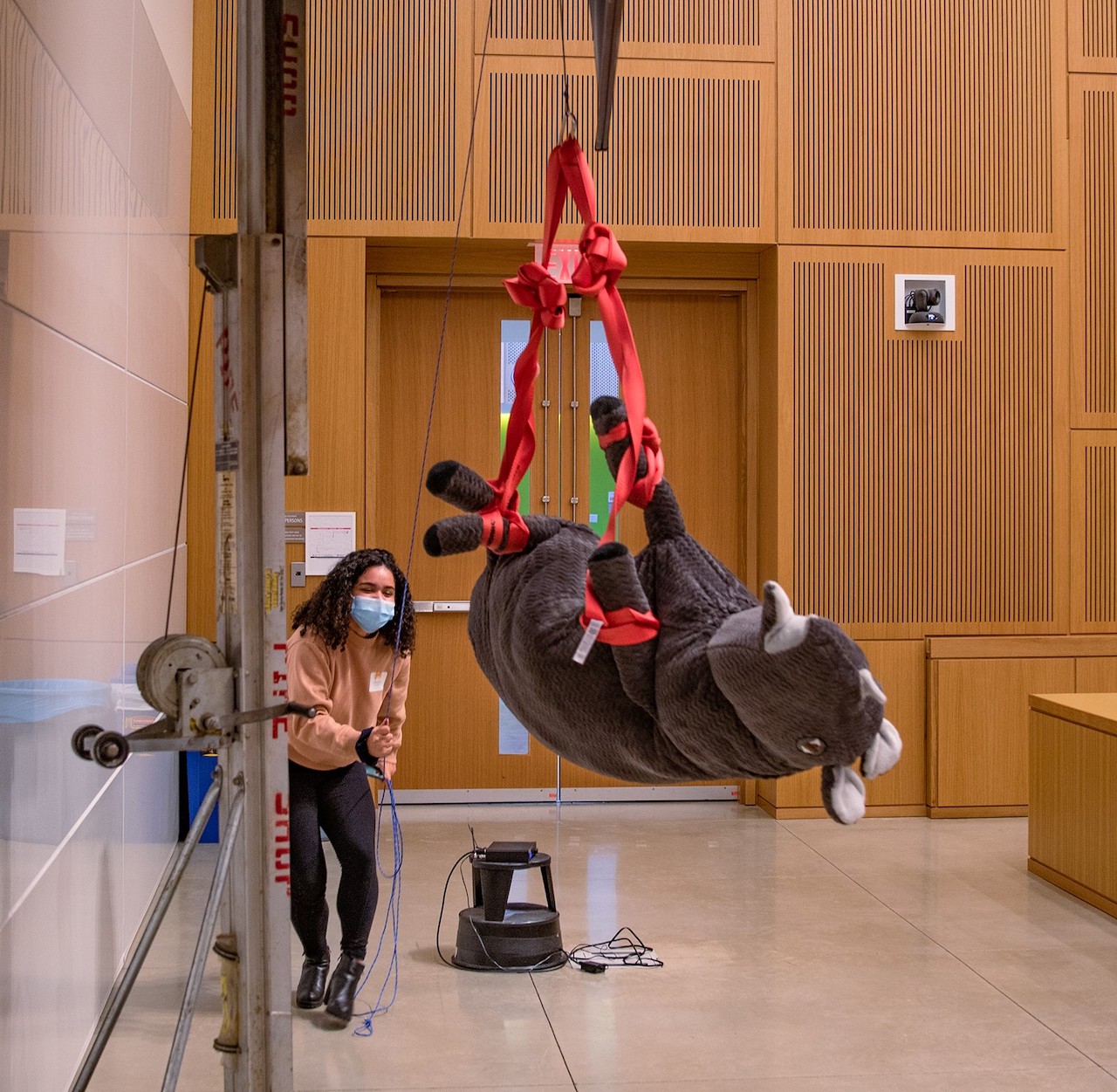 Dr. Linda Penfold, South-East Zoo Alliance for Reproduction & Conservation, "Reproductive Assessments Confirm the Benefits of Genetic Introgression in Florida Panthers: A Conservation Success Story"
Dr. Robin Radcliffe, Cornell University, "Hanging Rhinos: The Science Behind the 2021 Ig Nobel Prize"
Dr. Alyssa Kaganer, Cornell University, "Hands off! Development and Application of Noninvasive Pathogen Surveillance Tools for Wildlife"
Hery Ríos Guzmán, Cornell University, "Caribbean Manatee Conservation Center: Lessons Learned and Experiences Earned"
Danielle Sosnicki, Cornell University, "Identification of Segment-Specific, GM1-enriched Extracellular Vesicles in the Murine Epididymis and Implications for Wildlife Conservation"
Rhasaan Bovell, Cornell University, "Evaluating Anti-Mullerian Hormone as a Predictor of Response to Ovarian Stimulation in Cheetahs"
Dr. Keila Dhondt, Cornell University, "Kiwi Conservation in Aotearoa"
Dr. Eugene Won, Cornell University, "The Role of Aquaculture in Sustainable Seafood Production"
Dr. Steve Osofsky, Cornell University, "Dr. O's First Annual Super-Fun (And Admittedly Somewhat Self-Indulgent) Safe Chemical Capture Lecture"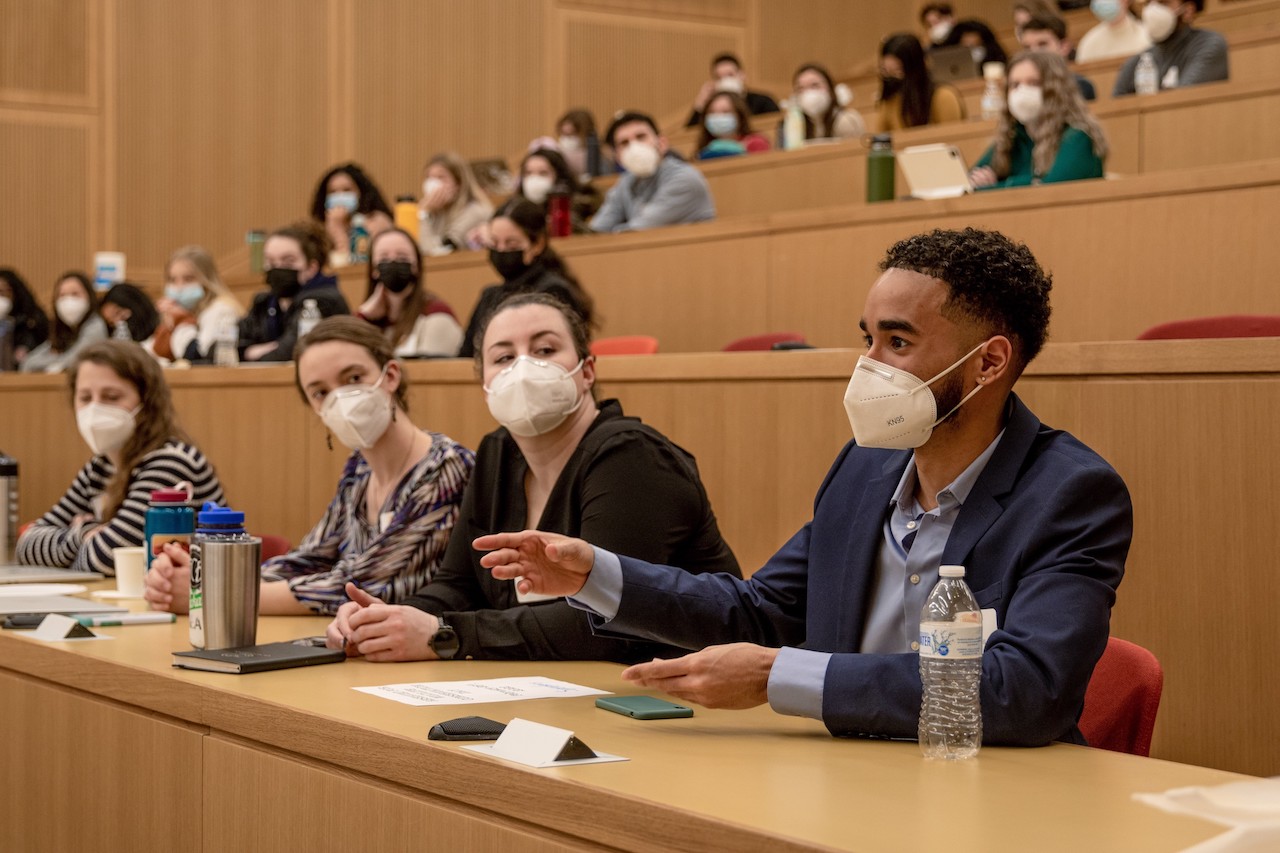 Giving the last talk of the day, Steven A. Osofsky, D.V.M. '89, director of the Cornell Wildlife Health Center and the Jay Hyman Professor of Wildlife Health and Health Policy, emphasized that "the most successful projects are those that involve multidisciplinary teams."
This was certainly true for Wildlife Conservation Day, a labor of love for ZAWS executive board members tasked with planning and executing the event. For ZAWS president Alex Levitskiy '20, D.V.M. '24, the day was an uplifting one, and in his closing remarks he aimed to encourage. "Conservation truly is multi-faceted, and there is room for everyone in this room to become a conservationist," Levitskiy said. "The animals need us. Ecosystems need us. The planet needs us. We need to uplift one another, as the connections you started to make today will undoubtedly be relevant to you in the future."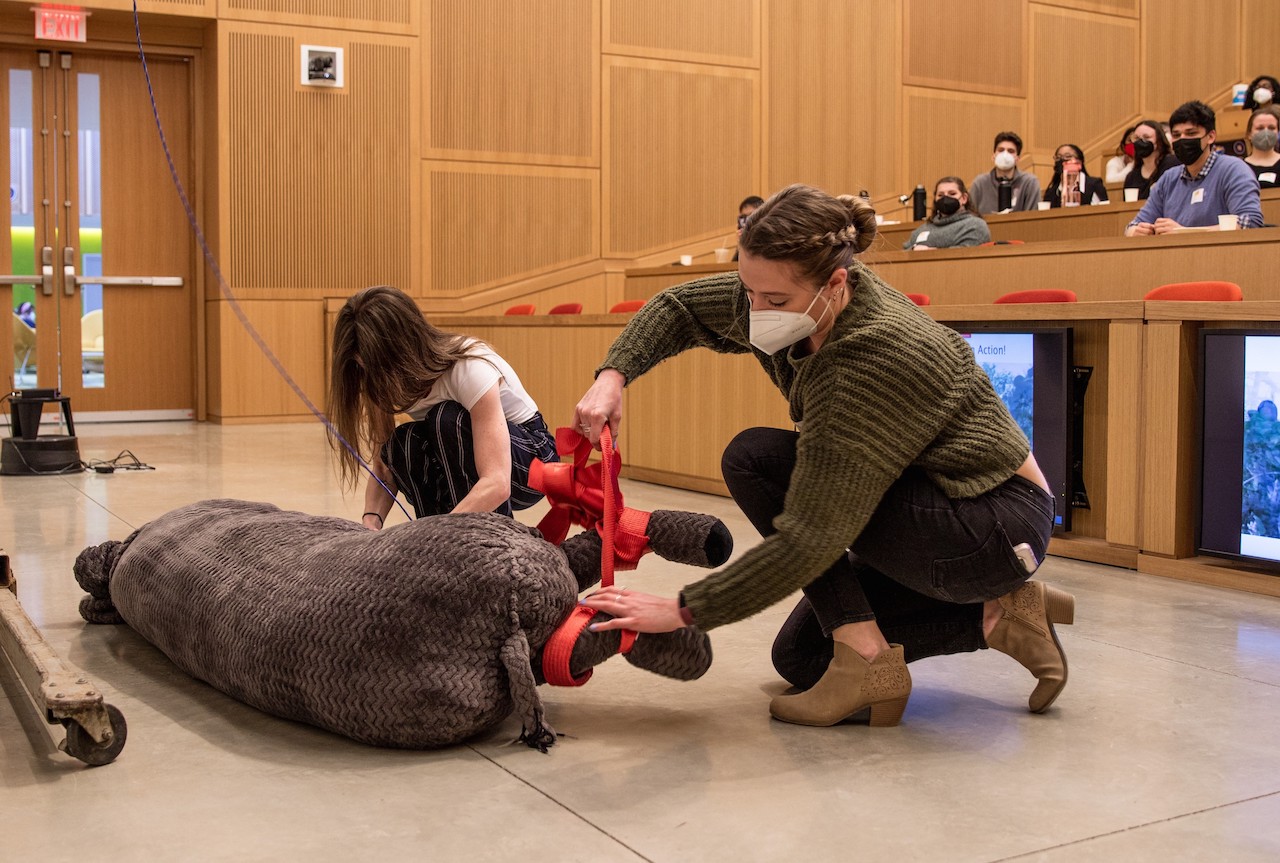 "Wildlife Conservation Day gave me the opportunity to connect in person for the first time since the pandemic started with undergraduates, veterinary students, Ph.D. students, researchers and faculty who all have a shared interest in wildlife conservation," said Kristina Ceres '15, D.V.M. '24, Ph.D. '24. "The day allowed me to learn about interesting research and conservation work being done by the CVM community and prompted me to reflect on how I want to impact the field in my career as a veterinary scientist."
The symposium was sponsored by Blue Buffalo, Lafeber, the Cornell University College of Veterinary Medicine Alumni Association and Antech Diagnostics.
Written by Colleen Sorge '20, D.V.M. '24