Dr. Jonathan Cheetham: Touching a nerve in equine medicine
Tuesday, July 12, 2022 - 10:03am
A passion for horses is foundational for the veterinarians at the Cornell Equine Hospital. It has led to groundbreaking procedures, state-of-the-art techniques and an impressive wealth of knowledge that has saved and improved the quality of life of many animals. Up-and-coming experts are already making waves in the fields that Cornell legends pioneered, fostering an equine surgery frontier that is exciting both for the outlook of horses and the veterinarians who care for them.
Jonathan Cheetham, Ph.D. '08, associate professor in the large animal surgery section, is making important forays into equine airway research, with a clinical interest in upper airway surgery and equine sports medicine. After receiving his bachelor of veterinary medicine and master's degrees from Cambridge University, Cheetham worked in first-opinion and referral equine practices in the United Kingdom for several years. He then came to Cornell for a residency in large animal surgery and completed his Ph.D. in 2008 under the tutelage of equine airway pioneer Dr. Norm Ducharme, the James Law Professor of Surgery Emeritus. He joined the Department of Clinical Sciences as the Harry M. Zweig Research Scientist in 2012, followed by his appointment to associate professor in 2016.
"His research is really top-shelf," says Ducharme. "The work he's doing will have made an amazing difference even five, 10 years from now. It's promising and exciting."
Cheetham's concern is with peripheral nerve repair — specifically, understanding the relationship between the immune response to nerve injury and recovery, and modulating that immune response to improve functional outcome after an injury, as well as restoring laryngeal function using regenerative medicine techniques combined with reinnervation.
"I think of my process as a sort of wheel," says Cheetham. "The wheel can spin around, discovering at one point, modifying and translating at another and finally having the application from those findings spit out in unique ways."
The connective thread that runs throughout Cheetham's many projects — understanding the immune system's initial response to nerve injury and leveraging it to improve patients' outcomes — is proving successful in the equine larynx, as well as canine laryngeal and human peripheral nerve injuries, via collaborations with colleagues at Cornell's Companion Animal Hospital, the Cornell University Hospital for Animals and Weill Cornell Medicine respectively.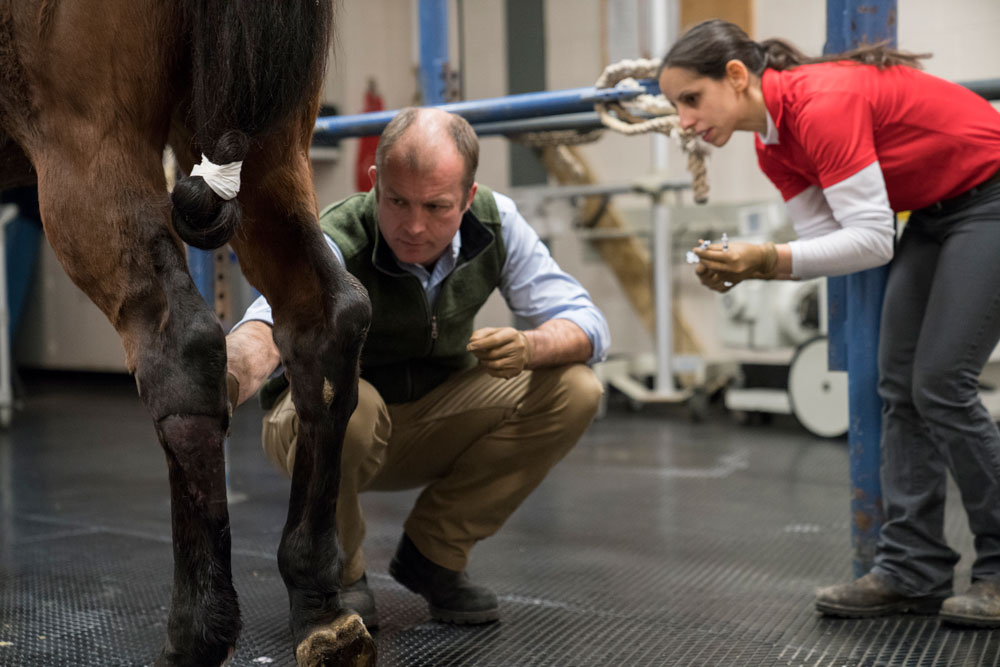 This work on nerve injuries in the lab is approaching the exciting point of application in clinics. "We're working on something that helps promote nerve growth after a nerve graft," Cheetham says. "There are a few promising candidates that have seen success in mice, rats and other species, so we're looking forward to bringing that to the clinic."
This project is building from Ducharme's work. "This would be an addition to the amazing work he has done to encourage those nerves we graft onto the muscle to regrow more quickly," says Cheetham.
Collaborating for clients and patients
From the operating room to work in the lab, Cheetham emphasizes that success relies on trusting team expertise. "Fellow surgeons will share their experience, the residents are great and the overall environment is excellent," he notes. "The technicians in the hospital have a sort of sixth sense about cases and have amazing relationships with clients. They're a core part of the team. And from a research perspective — we have a rich environment that allows and encourages innovation. A strength is knowing that our work is supported by the college."
Cheetham contributes to multiple services at the Cornell Equine Hospital, including the equine sports medicine and rehabilitation service; the soft tissue surgery service; the emergency and critical care service; the orthopedic service; and the regenerative therapies service. The Cornell Equine Hospital is a world leader in its field largely due to the expertise of the veterinarians and team members in each of these services and more.
Cheetham agrees it's a team attitude that creates success. "We all feel free to exchange ideas and support each other."
Whether it's bringing his drive, determination or collaborative attitude to the clinical space or the lab, Cheetham is upholding the Cornell Equine Hospital's commitment to the best possible care for its equine patients now and in the future.
Written by Melanie Greaver Cordova