Inaugural Dean's Leaders reflect on program's impact
Tuesday, November 8, 2022 - 10:35am
Veterinary college is challenging for almost everyone — but can be even more so for students who don't see themselves represented in the veterinary profession. To combat these barriers, the Cornell University College of Veterinary Medicine created the Dean's Leaders Program (DLP) — an immersive summer experience for students before their first year of veterinary college. The first cohort joined the college this past June, kicking off a new era and bringing fresh insights to the college.
Initially envisioned by Lorin D. Warnick, D.V.M., Ph.D.'94, the DLP was designed as a meaningful way to prepare and support students from diverse backgrounds as they embarked on their veterinary education. "It is truly inspiring to see this idea come into reality," Warnick says. "These students embraced the new program and the college with curiosity and courage, and I look forward to watching their journeys at Cornell."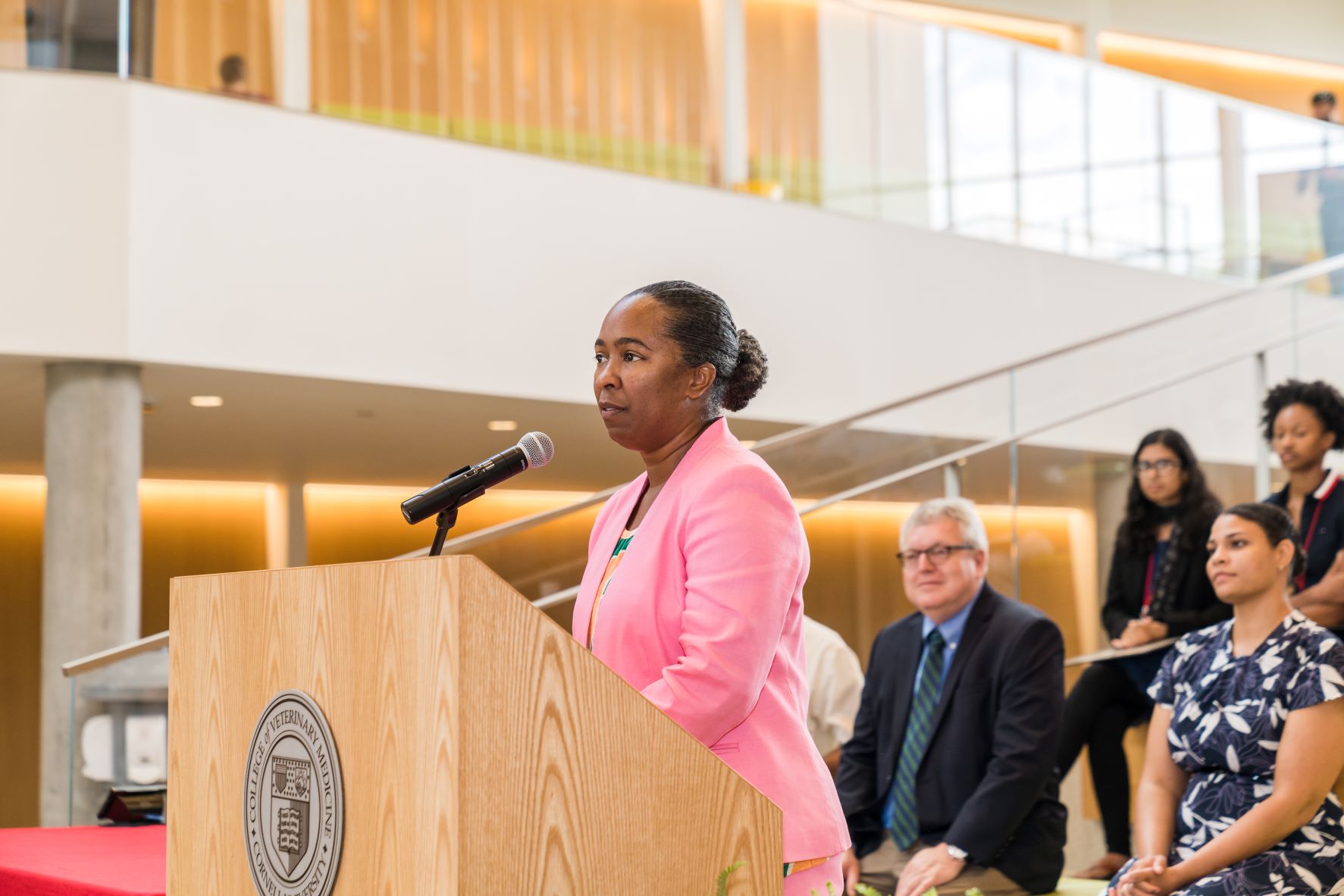 Dr. Melanie Ragin, assistant dean for inclusion and academic excellence, spearheaded the project, and feels that overall the new venture was a success. "I could not have foreseen or asked for a better launch for Dean's Leaders," she says. "I am so grateful and appreciative to everyone in the CVM for investing their time, expertise, and energy in the unknown."
Beyond the DLP cohort, the program promises benefits for the entire college community through mentoring opportunities, diversity support and enrichment, and innovations in fostering representation and diversification at the college and the profession. "While this program helps the cohort directly, it also benefits the entire college," Ragin says. "The diversity, inclusion and wellbeing education that the program develops can be scaffolded to the larger CVM community, and as we involve more senior DVM students and faculty in mentorships and community-building efforts, we begin to create a culture and shared understanding that benefits everyone."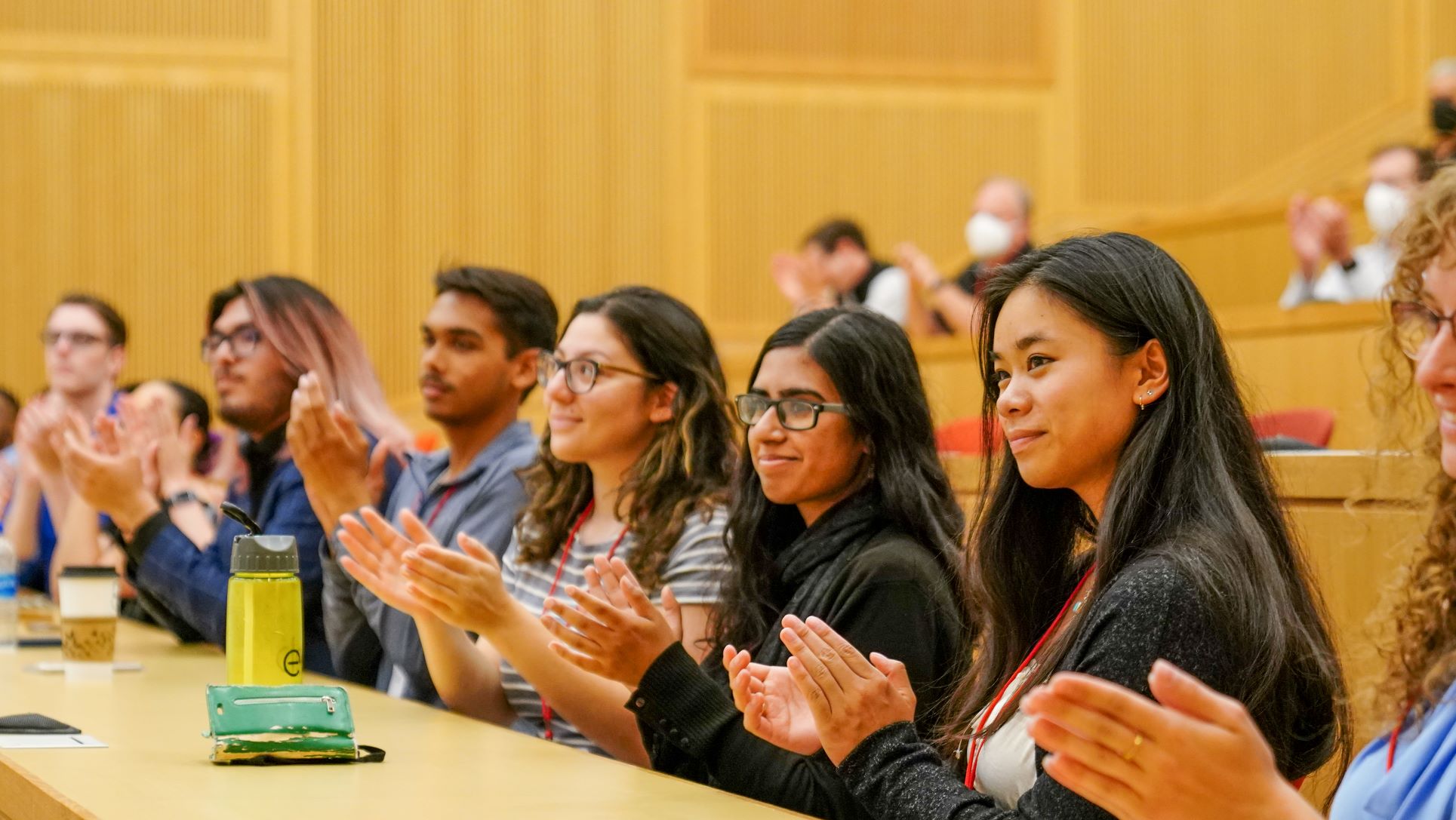 Ragin, along with her team in the Office of Inclusion and Academic Excellence (OIAE), worked to ensure that the students were given a warm welcome and a smooth onboarding experience as they arrived. Students then embarked on nine weeks of immersive programming that wove together practical preparation for the CVM curriculum — such as problem-based learning skills, tutor group cases, and test-taking techniques — while also incorporating crucial well-being and life skills, such as stress management, communication, and mindfulness. Most participants lived on campus in the Anna Comstock Hall, walking to CVM in the morning where they would attend workshops and meet with groups across the college, as well as tour places like the hospitals, the Teaching Dairy Barn, and Animal Health Diagnostic Lab. Their programmed activities typically wrapped up at noon, after which the cohort had a chance to sight-see, relax and get meals.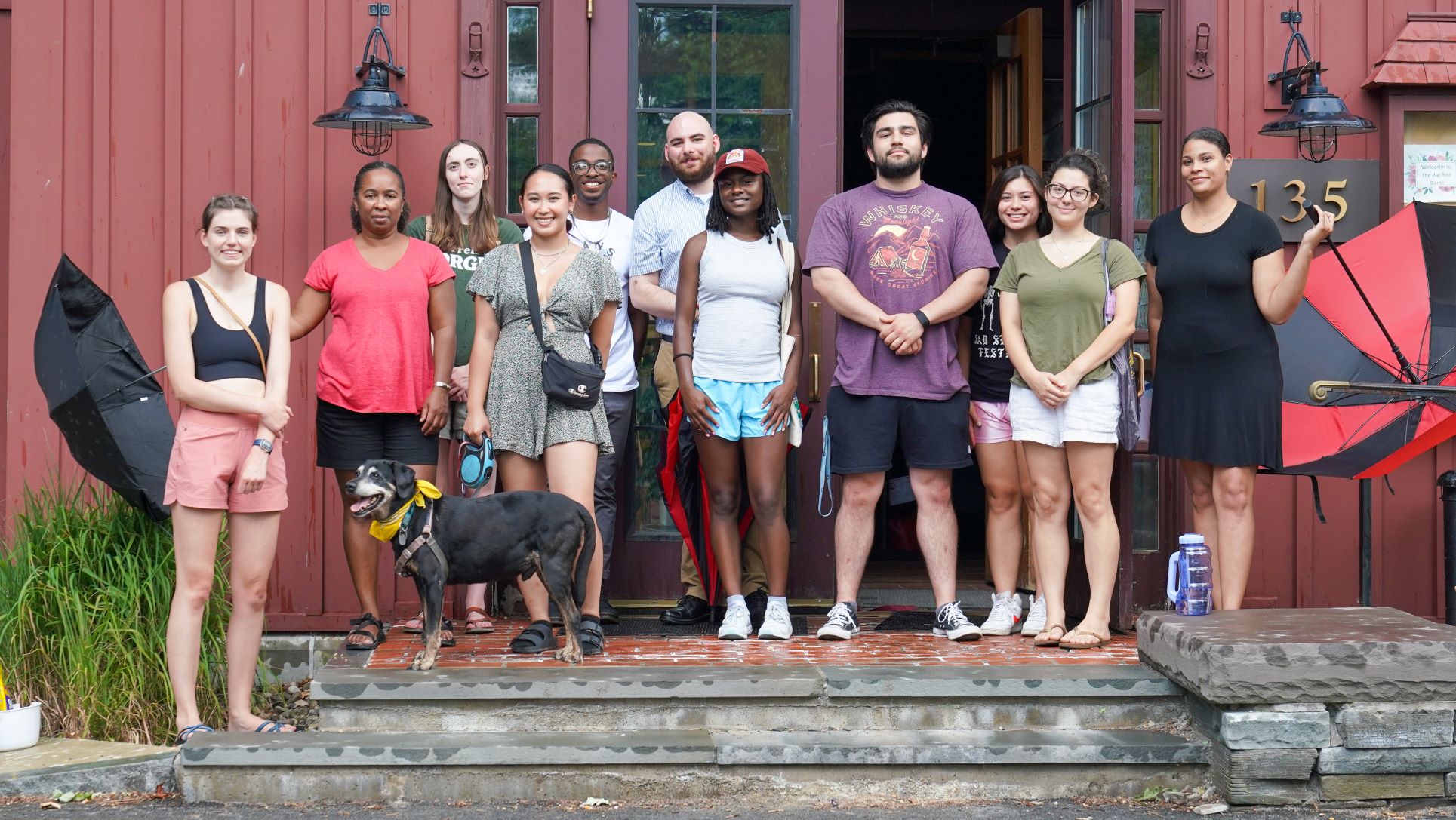 The program culminated in a summer symposium where students presented their capstone project, in which students developed posters showcasing their backgrounds, academic interests, values and keys to success. These posters were presented to an audience of peers and mentors.
"Collectively there was faith in wanting this to be an impactful and transformative experience for the students and the college," says Ragin. "It makes me emotional to think about what we were able to do as a community. Community and support, personally and professionally, are what this life is all about."
The program brought together students from diverse backgrounds and communities. Ashley Stroud, D.V.M. '26, came to Cornell from the Ohio State University. As a first-generation college student, she was drawn to the DLP because she wanted to build a community with other people like her. "I come from a very poor socioeconomic status and the poorest school district in my county," says Stroud. "My financial background has shaped my identity." Stroud says that she came into the program with considerable imposter syndrome—but no longer feels that way thanks to the DLP. "The experience was
wonderful. I would do it over again one hundred percent," noting that even when some issues occurred within the program, Ragin and her team were so responsive and empathetic, she felt completely supported. "I have never felt so heard and seen by an administration in my life. Even Dean Warnick, with the number of responsibilities he has, still remembers our names and makes a point to say hello in the hallway." Rebecca Jaramillo, D.V.M.'26, attended Cornell for her bachelor's degree in animal science, and took a gap year after graduation to work at a local animal shelter and clinic to make money and get clinical experience before embarking on veterinary college. She echoes the sentiments about the program. "Dr. Ragin and her team have been incredibly supportive and have proven to be invested in our success as a group and as individuals," she says. "They have spent a lot of time listening and being responsive to our needs before we even started classes as prospective students and now as students in the thick of classwork." 
Joshua Farris, D.V.M, '26, came from Langston University in Oklahoma and had little exposure to the veterinary profession before coming to Cornell. He came to the DLP to build community with others who shared similar backgrounds. "The program has allowed me to smoothly transition into a new setting and build a community with mentors and students," he says. "Throughout the summer months, there were several lectures on how to study, well-being, and personal growth. Every aspect of the program has thus far contributed to my time in veterinary school. Without the exposure I have received throughout my time in the Dean's Leaders program, the transition to the pace of veterinary school would have been much more difficult."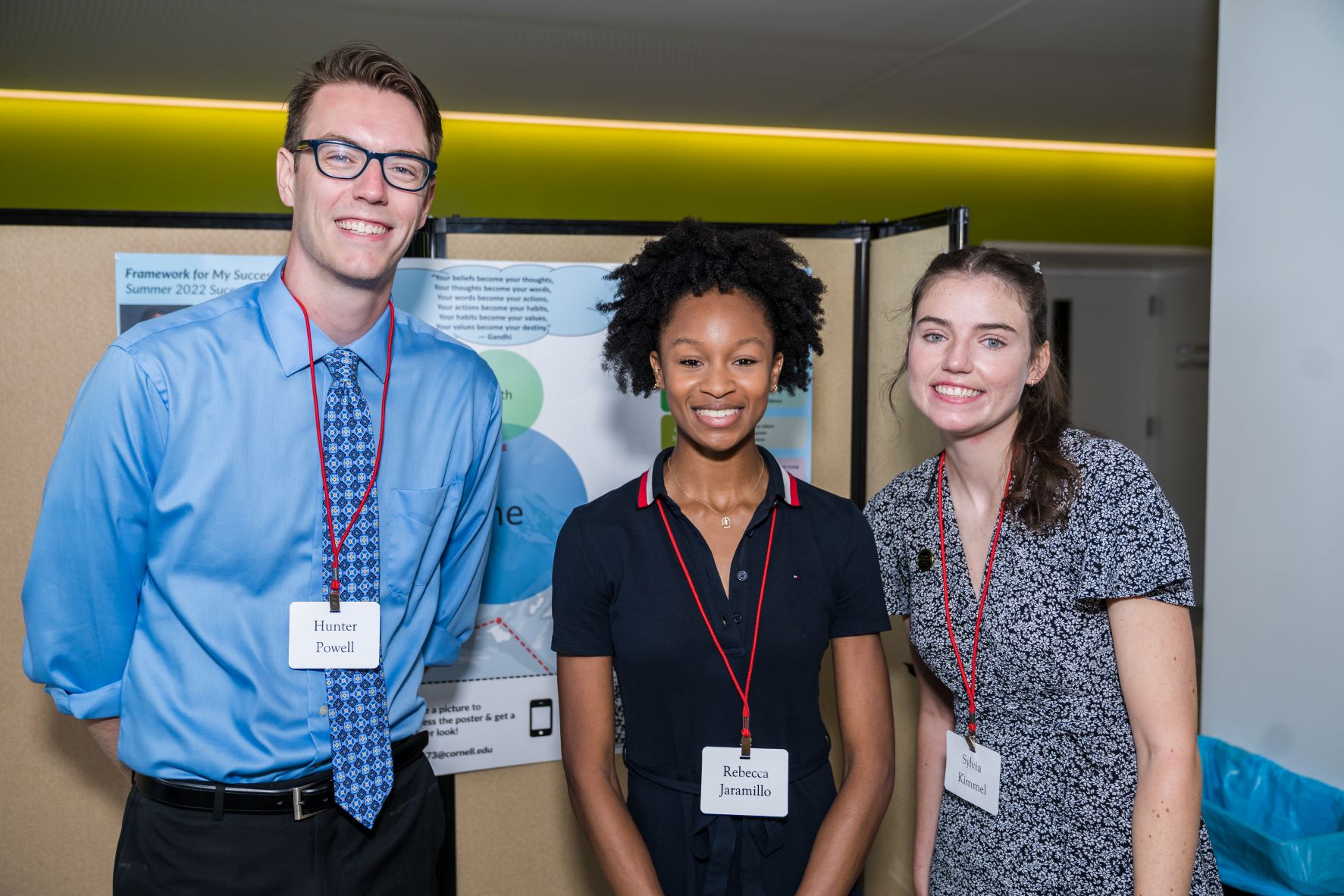 Looking forward, Ragin says this first cohort has already taught them a lot, with her team checking in with the students on how the program was going. "From beginning to end, these students were all in on the programming and provided constructive feedback all along the way," Ragin says.
She notes that reflection, fun and community are essential—as is dedication and consistency. "None of us knew where this would lead, but the faith people had in me, this team, and this initiative is moving," she says. "We are learning and growing together."
Jaramillo hopes to see the program continue to shine for future cohorts. "I hope that people are encouraged to apply to Cornell Vet and are not discouraged for fear of not seeing anyone who looks like them. I believe Cornell Vet is trying very hard to make anyone and everyone welcome to study here, and I hope that initiative continues and the message of inclusion and commitment to diversity spreads and propagates for everyone to know."
Written by Lauren Cahoon Roberts