To do the greatest good: New scholarship makes lasting difference in honor of equine research pioneer
Friday, February 24, 2023 - 9:32am
Not only does a new scholarship at the College of Veterinary Medicine aim to help support equine research students — it's also paying tribute to an enduring friendship fostered over several decades.
The "Doug Antczak '69, VMD, PhD Veterinary Student Scholarship" is an endowed professional scholarship that will provide financial assistance to students interested in pursuing equine medicine or biomedical research.
It was created by longstanding friends of the college Judy Wilpon and Dr. Margaret "Peg" Reed, both members of the James A. Baker Institute for Animal Health Advisory Council. The two were looking for a way to honor their friend — equine research pioneer and dedicated leader Dr. Doug Antczak '69, the Dorothy Havemeyer McConville Professor of Equine Medicine.
"We wanted to recognize Doug's significant impact on the field and the wonderful legacy he's created at Cornell," Wilpon says.
"This scholarship is a testament to Doug's character as an outstanding scientist and thoughtful leader," says Lorin D. Warnick, D.V.M., Ph.D. '94, the Austin O. Hooey Dean of Veterinary Medicine. "We are fortunate to consistently have members of the Baker Institute Advisory Council like Judy Wilpon and Peg Reed, who generously support Cornell. I appreciate their willingness to recognize Doug and provide critical support to veterinary students."
"This scholarship is sure to attract trainees who will continue to advance the field and carry us into the next era of equine health," says Dr. Gerlinde Van de Walle, interim director of the Baker Institute.
Notably, the scholarship qualifies for the university-provided affordability challenge match, which automatically increases the amount of funds that can be applied to scholarship support. It is the latest example of the college's commitment to the Cornell campaign 'To Do the Greatest Good,' particularly in its pledge to increase financial support to students.
A rich history
Antczak first met Wilpon and her husband Fred in the early 1990s through the Baker Institute. They attended many events together, like the Westminster Kennel Club Dog Show and Mets baseball games. A mutual friendship and respect grew, remaining solid even 30 years later. "Judy has always been so supportive of our initiatives and has good ideas to offer," Antczak says. "She's also been a terrific friend, colleague, and Advisory Council member. I value her contributions very much."
For her part, Wilpon knows the value of Antczak's experience — both as a teacher and researcher. "Doug has so much to offer as an educator, especially to these young veterinarians just starting out," Wilpon says. "Thanks to Doug sharing his wealth of knowledge with our students, the scholarship will also magnify the understanding and care provided to the animal world and horses in particular."
Reed has known Antczak for 18 years and has long supported cancer research at the Baker Institute. In 2006, Antczak recruited her to join the Baker Institute Advisory Council. Reed describes him as her go-to person if she has a question about horses and says that he always has a sensible solution to any difficult situation the Baker Institute Advisory Council faces.
"Doug is a humble man who seeks no recognition, and we felt a scholarship would be a positive way to shine some light on his invaluable research to the equine community," Reed says.
Antczak hopes that the scholarship will enable students interested in equine research to pursue that career option during and after veterinary school. "It can be very challenging for students with high educational loan debt to undertake or even imagine careers outside of clinical veterinary practice. A scholarship of this type is a huge boost for them," he says.
Next era of equine health
Antczak first joined the faculty of the Baker Institute in 1978, immediately following completion of his Ph.D. at the University of Cambridge, England. At Cornell, Antczak developed an interdisciplinary research program that has incorporated techniques and expertise from immunology, genetics and reproductive biology to address important issues in equine health. In 1994, Antczak was appointed as Baker Institute Director, serving for 15 years in this role. Not only did he lead efforts to build two new wings and renovate many older lab spaces during this time, but he also oversaw the expansion of research programs in molecular biology and genetic diseases. His own work continued, including crucial contributions to the revolutionary Horse Genome Project and a landmark test for the deadly Lavender Foal Syndrome — to name only a very few — all while serving as director of the Cornell Equine Genetics Center.
Antczak's contributions to veterinary medicine have been recognized internationally through several honors, including the Lifetime Achievement Award in Equine Reproduction, bestowed in 2018 by the International Symposium on Equine Reproduction; the Distinguished Veterinary Immunologist Award in 2010 from the International Union of Immunological Sciences; and induction into the University of Kentucky's celebrated Equine Research Hall of Fame in 2009. His list of distinctions is diverse and extensive.
Antczak describes his tenure as the Baker Institute's director as one of the most important and satisfying phases of his career. Among the most enjoyable elements was interacting with the public in a variety of ways. "It was an enriching part of my life — and it remains so — to have the opportunity to educate the public about the value of scientific research and how it has advanced the welfare of both humans and animals is a great gift," he says.
"In our visits to Cornell during his time as director, we noticed a community whose lives were deeply touched by Doug's commitment to the education of his students and the quiet way he went about his research," Reed says.
"We wanted to ensure that his legacy will forever be linked to the institution to which he is so dedicated," Wilpon adds.
Now, this scholarship is one more entry in a ledger full of achievements.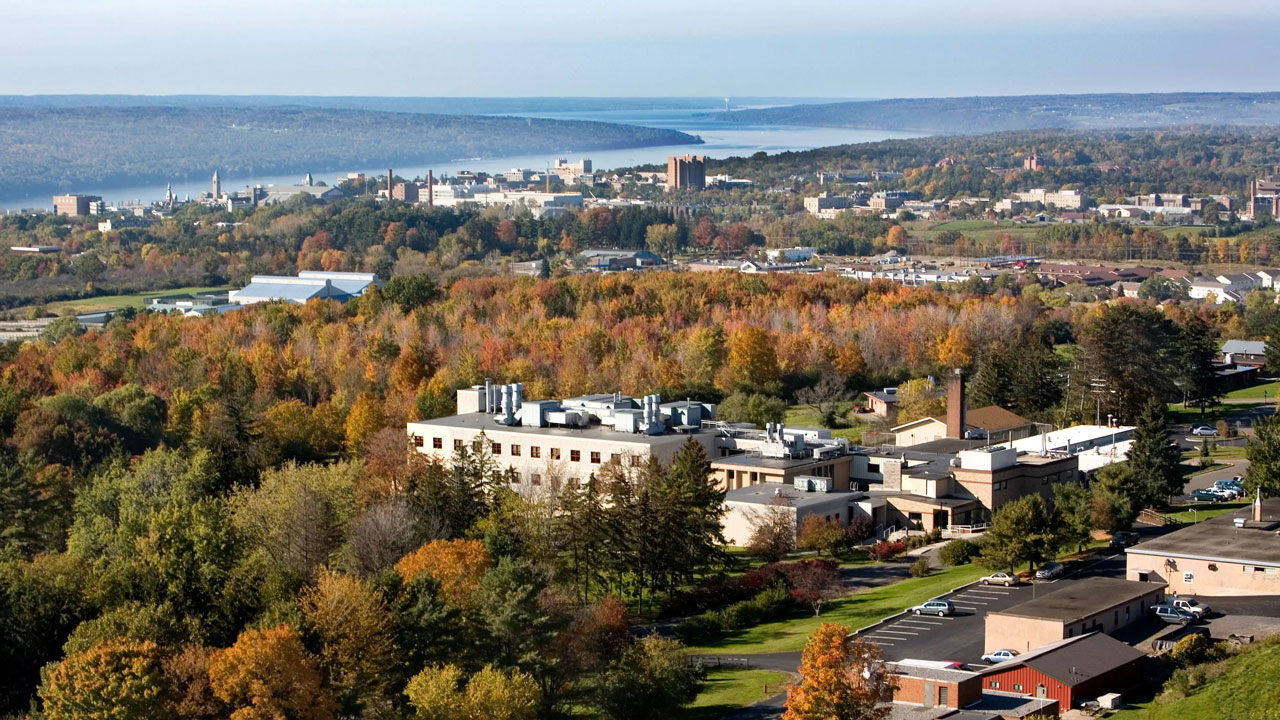 Tireless support
Wilpon says Antczak "gave his entire self" when he stepped in as director of the Baker Institute. She describes his approach to research and leadership throughout his career as tireless. "He's always been so dedicated. I admire him very much," she says. "He's devoted his whole life to advancing equine research at the Baker Institute and Cornell, and his contributions have been phenomenal."
Antczak notes that the Baker Institute has been fortunate to have council members like Wilpon and Reed throughout its history. "People like Judy and Peg help to provide the margin of excellence that has enabled the Baker Institute and the College of Veterinary Medicine to remain at the forefront of animal health research for many decades," he says. "I have enjoyed working with Judy and Peg for many years, and I am fortunate to count them as friends."
In just two years, the Baker Institute will celebrate its 75th anniversary, and Antczak will continue with the phenomenal research and leadership for which he is known.
"So much of what we gain from research are lessons that can't be learned in a book because they are actually being created in real time," Reed says. "They can only be learned from seasoned educators who, like Doug, tell it like it is, are tough when they need to be, and instill in you the desire to be your best. Doug emulates everything a teacher and researcher should be, and I am very proud to call him my friend."
"It was my great good fortune to be able to achieve my dream of becoming a veterinary scientist, and my choice of profession has given me a life of adventure and discovery," Antczak says. "I'm delighted that this scholarship will enable future students to realize their own visions of a career in veterinary research."
An invitation 'to do the greatest good'
The "Doug Antczak '69, VMD, PhD Veterinary Student Scholarship" will continue to accept contributions from those who wish to advance equine health, encourage student research and help the college support the initiatives of the Cornell campaign, 'To Do the Greatest Good.' Anyone who wishes to contribute can visit the college's giving page online and specify the Antczak scholarship. Gifts by check can be made out to Cornell, noting the scholarship name in the memo, and mailed to Cornell University, Box 37334, Boone IA 50037-4334.
Written by Melanie Greaver Cordova