Cornell fetches high praise at Westminster dog show
Wednesday, May 24, 2023 - 5:54pm
Aly Cohen was 11 the first time she went to the Westminster Kennel Club Dog Show.
"As a kid who loved animals, going to Westminster at that age felt like the best day of my life," said Cohen, now an extension veterinarian for the Cornell Richard P. Riney Canine Health Center (RCHC) and clinical instructor for Maddie's Shelter Medicine Program at Cornell.
"Joan Rivers was there interviewing people. Martha Stewart was there with her Chow-Chows," she recalled. "I remember walking by a Neapolitan Mastiff that was probably two-and-a-half times my weight at the time, and he just laid there in his wrinkly glory and looked at me like I was lunch."
This year, Cohen was part of an 11-person team of experts from the Cornell University Hospital for Animals, Cornell University Veterinary Specialists, the Duffield Institute for Animal Behavior and the RCHC who came to provide veterinary care for the 4,000 canine competitors at the show, held May 6-9 at the USTA Billie Jean King National Tennis Center in New York City.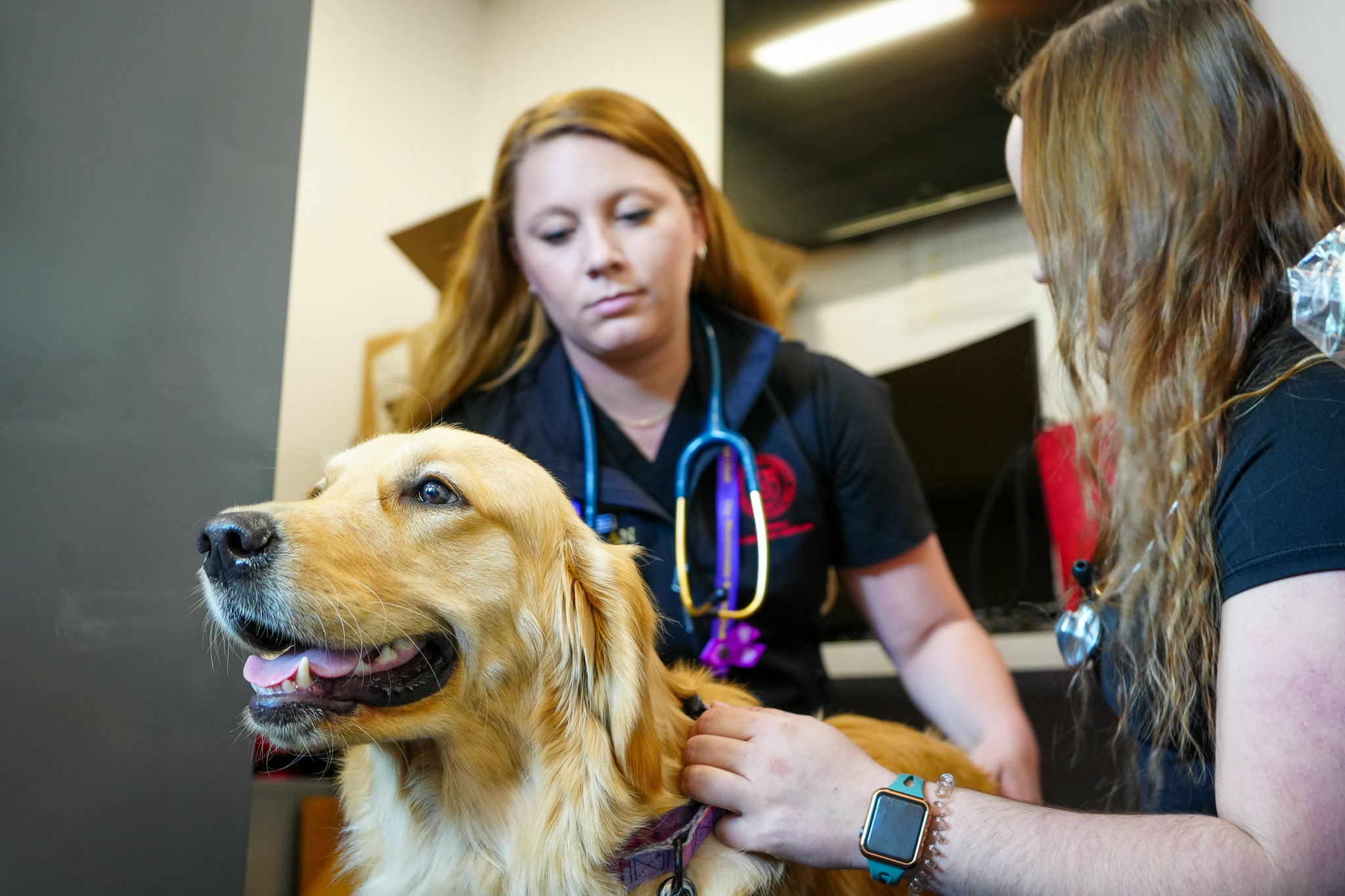 "It's such a historical and big event that it's very special for Cornell to be chosen as the show's veterinary care providers," she said. "It felt special that we could be there, and you could tell that people appreciated it."
While all the dogs arrived in peak condition, just like in human athletes, occasional injuries still occur. Most were minor, but when cases looked a little more severe, the Cornell vets helped owners determine whether it was still safe for their dogs to compete.
On the final night of the competition, the RCHC was recognized with a $10,000 gift from show sponsor Embark Veterinary, Inc. to support their work for advancing studies that have the potential to improve the overall health and wellbeing of dogs' lives.
"Our strength in genetics and genomics research – combined with our college's research partnership with Embark and the help of responsible dog breeders – provides unprecedented synergy to reduce the prevalence of canine genetic diseases," said David Lee '88, D.V.M. '94, M.B.A. '99, RCHC interim director and associate dean of external programs for the College of Veterinary Medicine.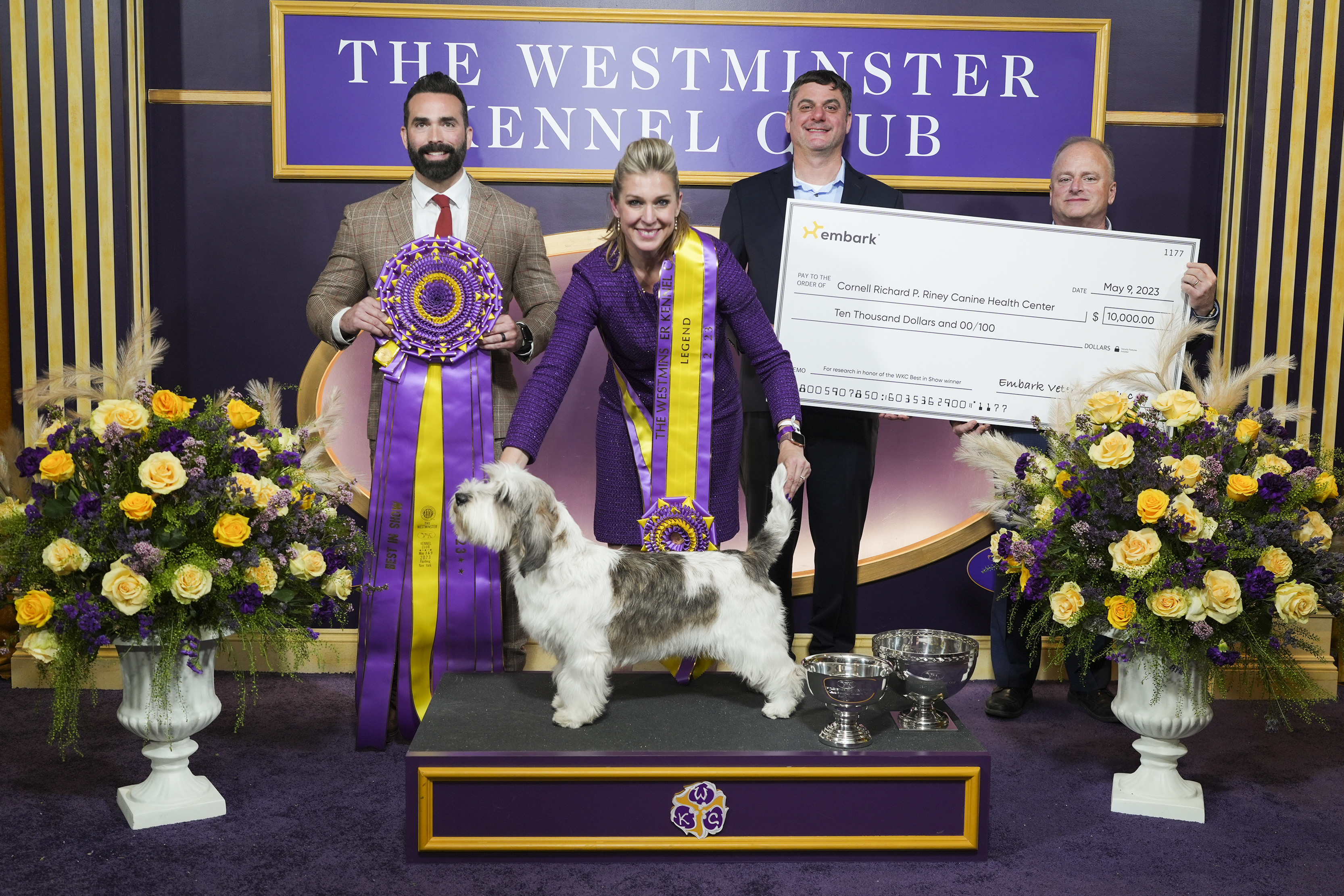 Currently, the RCHC is supporting a variety of studies that range from identifying the genetic origins of different diseases, to detecting them sooner and treating them faster. Understanding some of these conditions, including cancer, has the potential to transform what we know about human health care as well.
Throughout the event, Cohen said that many people came with questions about the genetics that affect different breeds. As part of the ongoing collaboration between the RCHC and Embark, she has also been working with veterinary geneticist Dr. Jenna Dockweiler to publish more resources about the hereditary origins, signs and treatment options of genetic diseases.
"Support from dog lovers and industry leaders like Embark help the Riney Canine Health Center in its mission to help give dogs longer, healthier, happier lives," Lee said. "By investing in faculty research, we're accelerating the speed at which scientific discoveries can turn into real hope for the dogs we love."
Jana Wiegand is a communications and marketing specialist for the Cornell Richard P. Riney Canine Health Center in the College of Veterinary Medicine.