College honors new graduates at hooding ceremony and graduation celebrations
Wednesday, May 31, 2023 - 9:47am
The last weekend in May saw graduates of the Cornell University College of Veterinary Medicine's educational programs take final steps in earning their degrees. Among these celebrations was Friday's hooding ceremony for the D.V.M Class of 2023 at Bailey Hall.
There, Lorin D. Warnick, D.V.M., Ph.D. '94, the Austin O. Hooey Dean of Veterinary Medicine, addressed the graduates.
"As you complete your D.V.M. education, you will join the ranks of approximately 125,000 veterinarians in the United States," he said. "That may seem like a large number, but compared with the critical veterinary roles in animal health care, food production, biomedical research, wildlife conservation, government and military service and public health, we are a relatively small profession. With growing demand for veterinary services during the last few years, there is more need than ever for new graduates, and your skills and energy will be welcomed."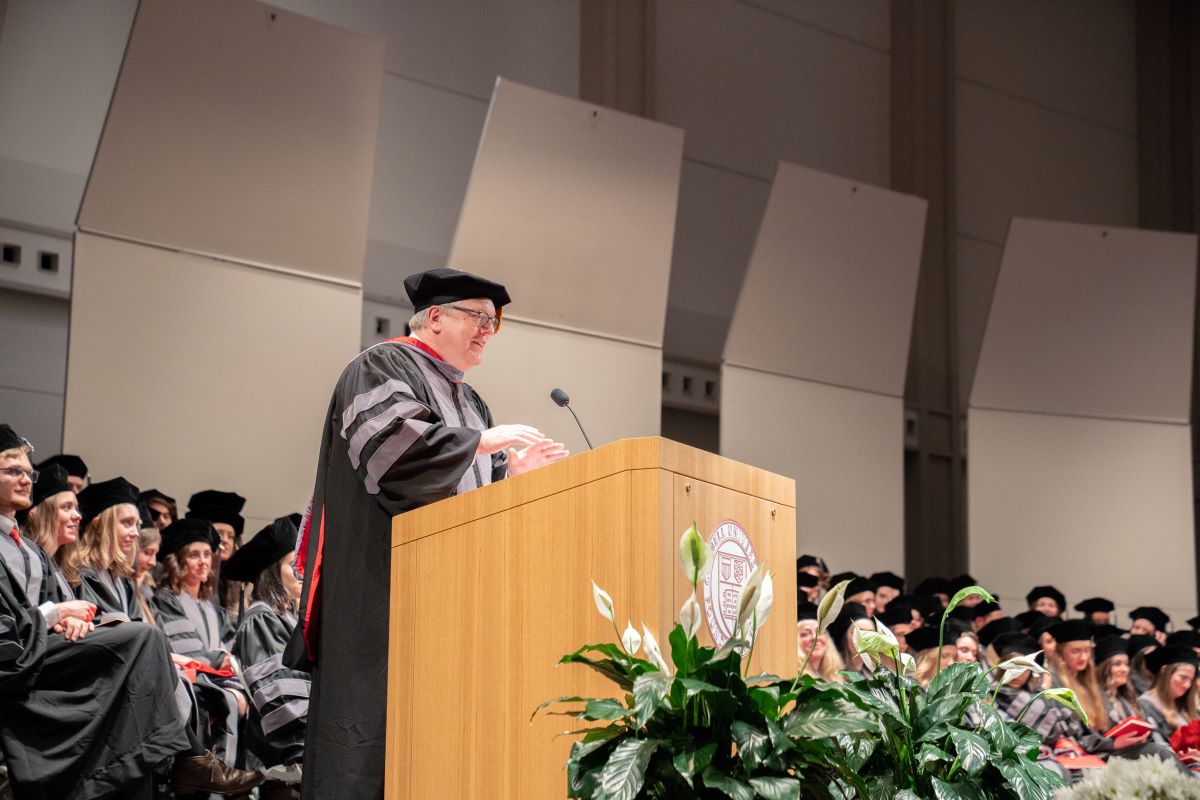 Warnick went on to share how the Class of 2023 endured the COVID-19 pandemic, and how they and the rest of the college community rose and adapted to its challenges. He then shared some wisdom with the new veterinarians. "Though you are finishing your D.V.M. degree, your education will continue," he said. "This is not just a trite phrase we say at graduation, but rather an imperative, especially in the health professions. Medical knowledge is advancing rapidly, and you will need to keep pace through continuing education, journal articles and collaboration with colleagues. Scientific discovery and rigorous peer-reviewed research should form the foundation of your lifelong education."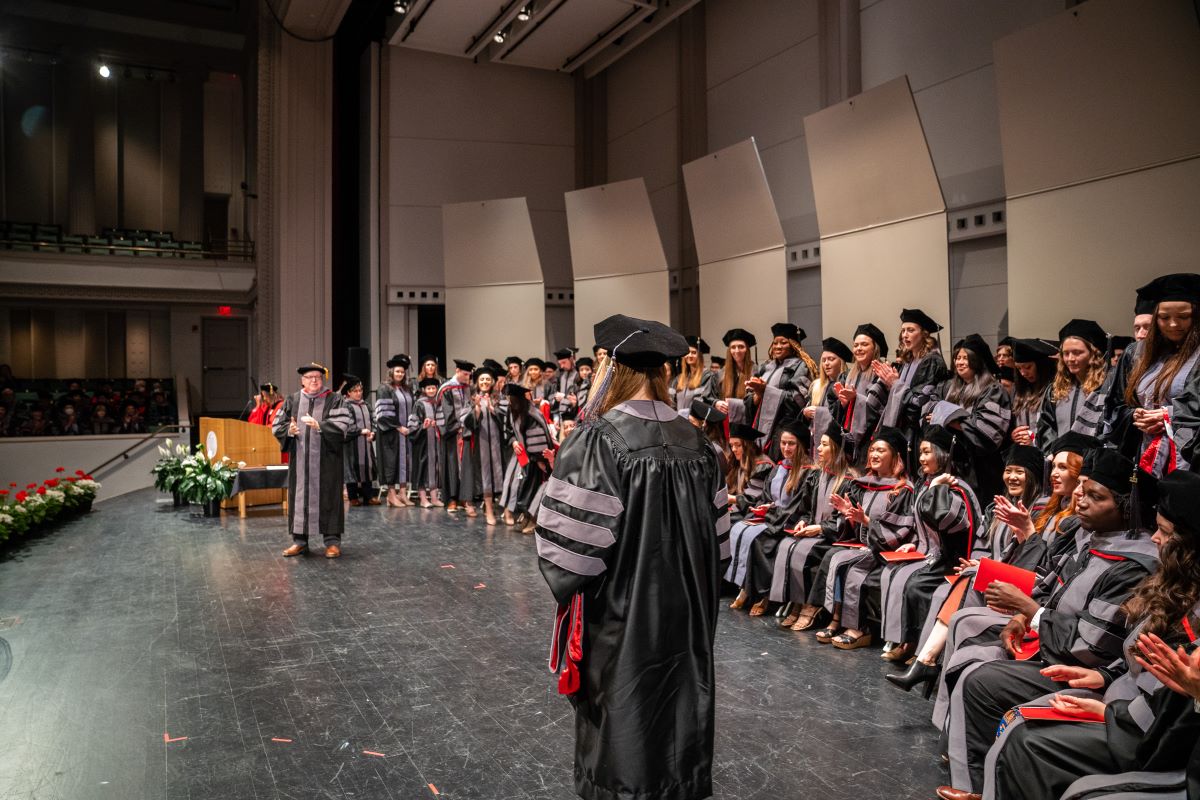 After the dean's remarks, Dr. Paul Amerling, president of the New York State Veterinary Medical Society, led the graduating class in taking the Veterinarian's Oath, followed by Jai Sweet, Ph.D. '96, assistant dean of student services and admissions, who took to the stage to call forward each graduate to be formally hooded by Warnick.
Following hooding, Mary Smith '69, D.V.M. '72, ambulatory medicine clinician and professor in the Department of Population Medicine and Diagnostic Sciences, gave the charge to the Class of 2023. Smith is the inaugural recipient of the Alexander de Lahunta Teaching Award, in which candidates are nominated by all D.V.M. classes and selected by fourth-year students.
Smith, known for her matter-of-fact manner, gave a wry welcome to the Class of 2023. "It's a great honor to receive this award and a great pleasure to have the entire class here, and on time."
She went on, "You're going to learn by listening, by looking, by asking questions and of course by doing. If a client has discovered a neat way of doing something, you can share that with the next client, and by sharing it you'll remember and it will build your knowledge."
 "You're going to have to try things you haven't done before," she said. "But, with a YouTube video and a little guts, yes, you can do it."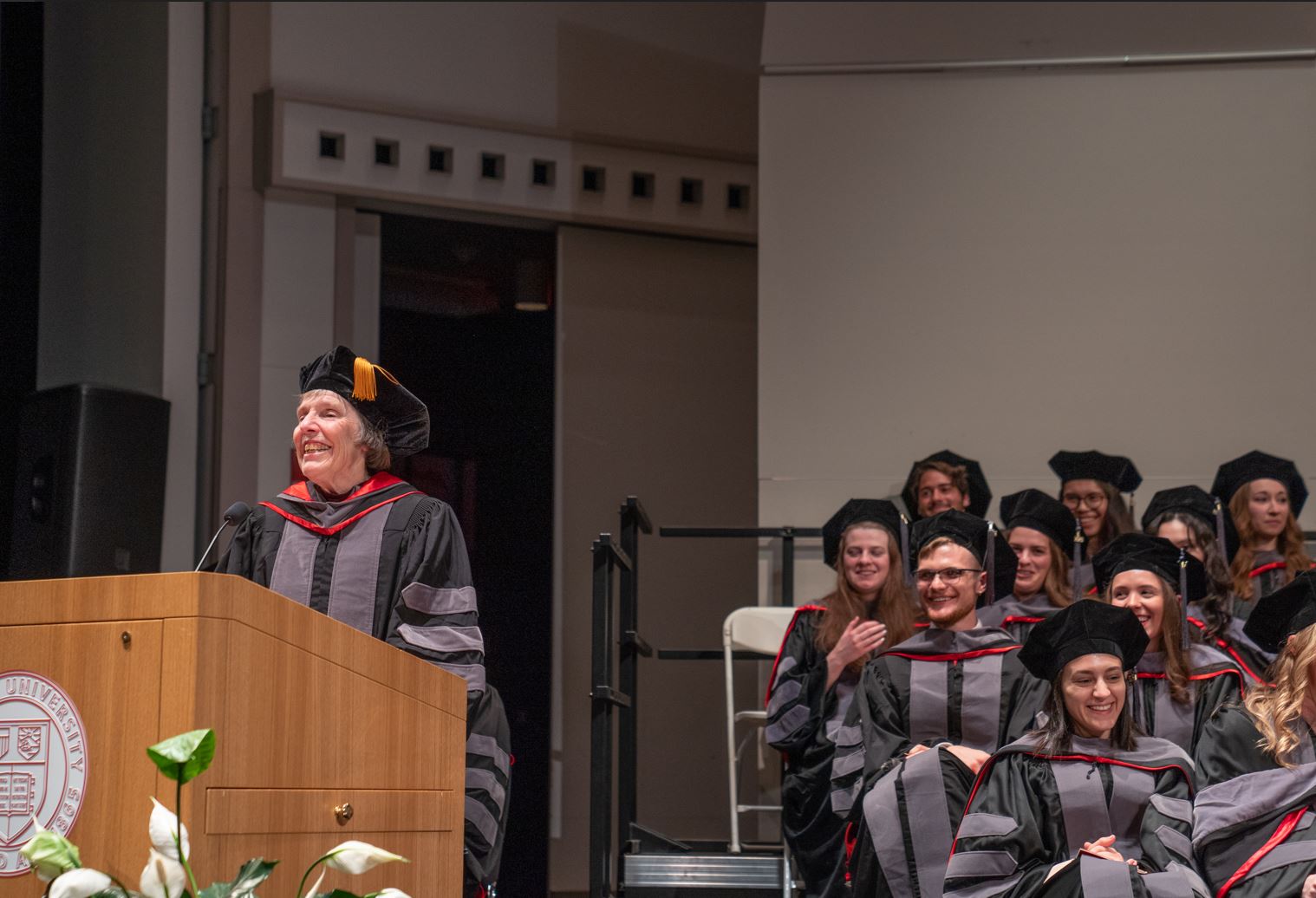 Warnick then welcomed Jodi Korich, D.V.M. '97, associate dean for education, who presented awards to three fourth-year students:
The Horace K. White Prize, awarded to the graduate with the highest academic record during their entire veterinary training, to Meghan Rose, D.V.M. '23
The Malcolm E. Miller Award, awarded to a graduating student that demonstrates perseverance and scholastic diligence, to Pamela Day, D.V.M. '23
The Leonard Pearson Prize, awarded to a student most successfully demonstrating potential for professional and/or academic leadership in veterinary medicine, to Elsbeth Kane, D.V.M. '23
As part of the ceremony recognizing the completion of key stages of veterinary education, Dr. Meg Thompson, associate dean for hospital operations and director of the Cornell University Hospital for Animals (CUHA), next came to the stage to congratulate hospital's interns and residents who had completed their training at CUHA and would be moving on to new stages of their career.
To close the event, all attendees were encouraged to stand in singing the Cornell Alma Mater before filing out into the welcoming sunshine for photos and hugs from enthusiastic friends and family.
More celebrations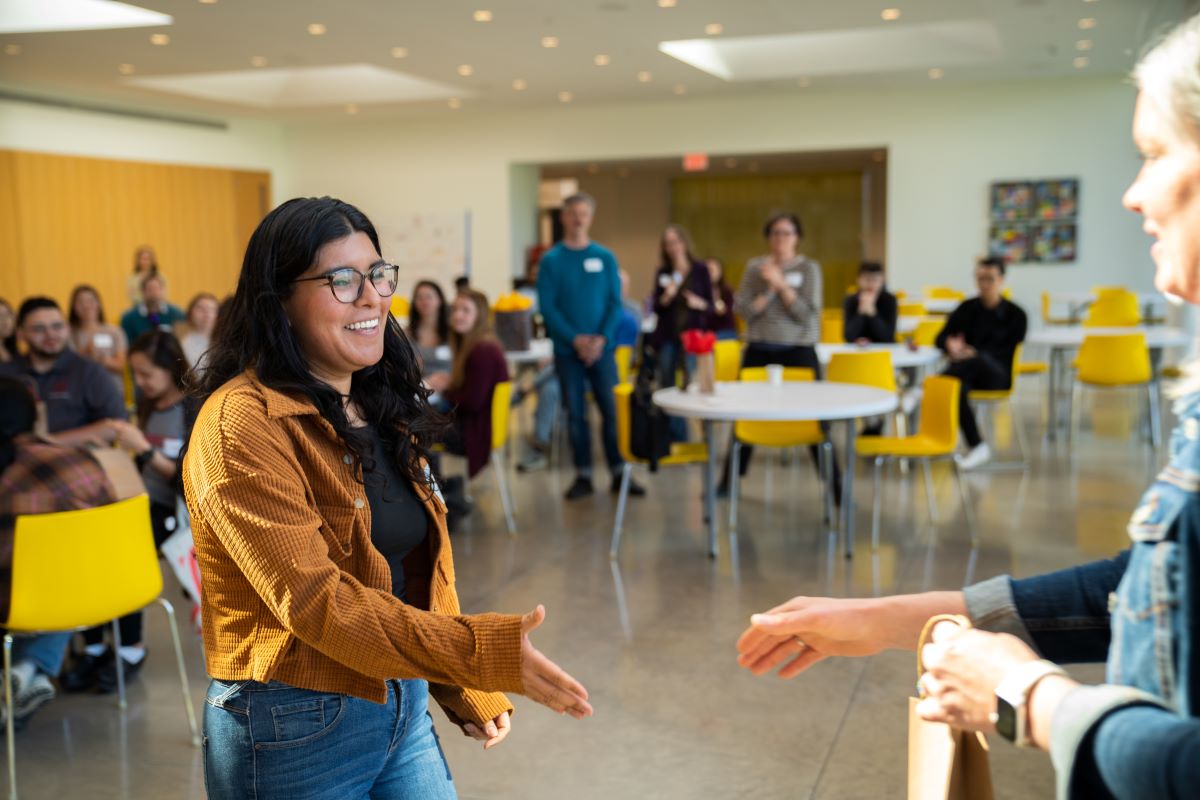 Ph.D. students with the Biomedical and Biological Sciences Program also marked the completion of their studies at an event in the College of Veterinary Medicine's atrium earlier in the week before attending the university's Ph.D. hooding ceremony in Barton Hall Saturday. The more intimate celebration honored each graduating student. Speakers at the event included Dr. Mark Roberson, professor of physiology, Dr. Robert Weiss, associate dean for research and graduate education, combined-degree student Kieran Koch-Laskowski, and Ph.D. graduates Dr. Jonathan Villanueva and Dr. Karla Garcia-Martinez. The event also honored Dr. David Lin, director of graduate studies and associate professor of neurobiology, for his years of mentorship of the program. 
Saturday also saw Cornell's M.P.H. graduation, which similarly took place in the atrium and recognized the new graduates of the program. Johanne Morne, deputy commissioner of health equity and human rights for the New York State Department of Health, was the keynote speaker.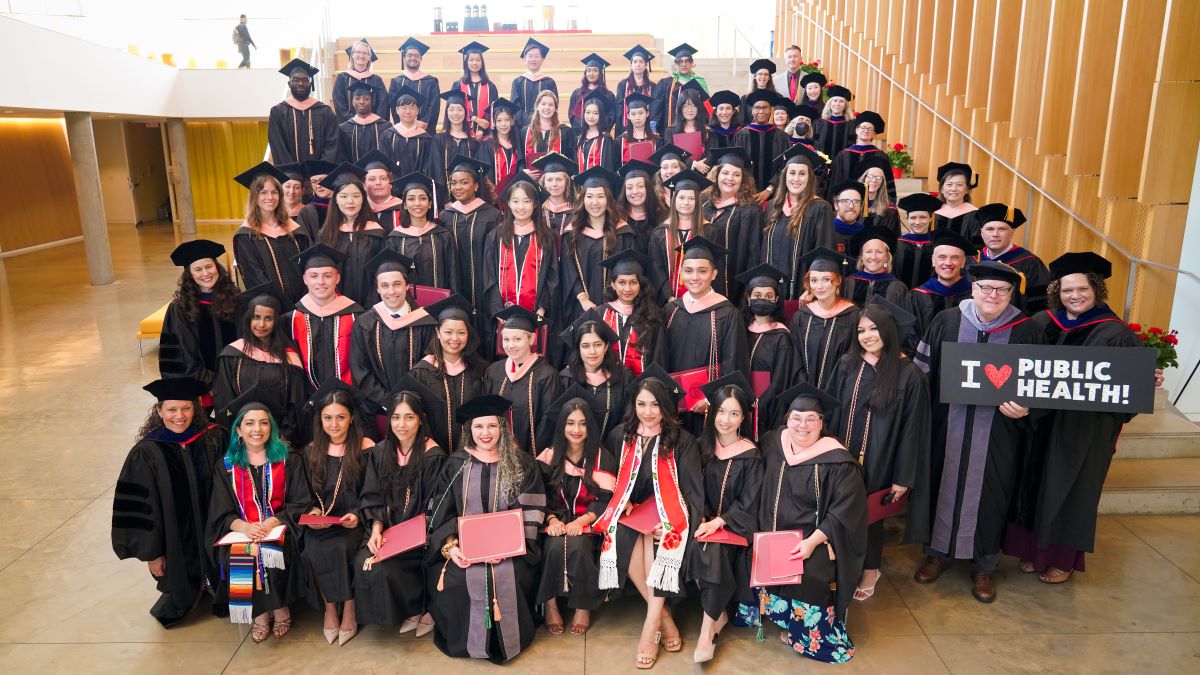 Warnick addressed the graduating members of the M.P.H. Program. "In this digital word, I hope that you can preserve the personal element of public health — in the end success depends on helping individuals. And that depends on personal relationships, effective listening and of taking time to truly focus on others in a way that conveys empathy and compassion," he said.
As the weekend of festivities came to a close, the college hallways rang with the bittersweet joy of journeys completed, and new ones beginning.
Written by Lauren Cahoon Roberts