Future of vaccine science explored at inaugural intercampus vaccine symposium
Tuesday, September 12, 2023 - 11:32am
On Aug 28 and 29, the Cornell University College of Veterinary Medicine (CVM) hosted the first ever intercampus vaccine symposium. The theme of this inaugural event was "Vaccine Innovation to Protect the Next Generation," a topic co-chairs Dr. Hector Aguilar-Carreno, professor of virology in the Department of Microbiology and Immunology at CVM, and Dr. Sallie Permar, chair of the Department of Pediatric Infectious Disease at Weill Cornell Medicine (WCM) and the Nancy C. Paduano Professor in Pediatrics at WCM, are both intimately familiar with.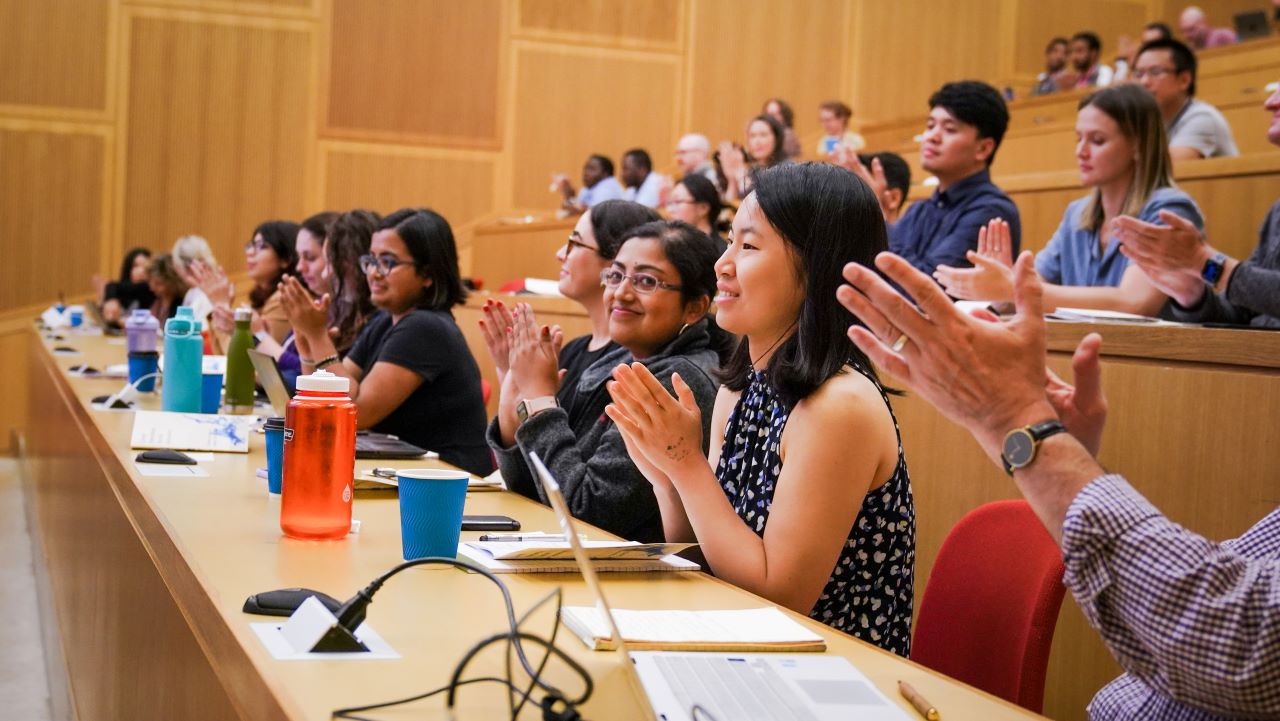 "Vaccines have been something I was interested in from the very beginning of my career," said Permar. "Dr. Aguilar-Carreno and I had this shared vision for how we could leverage the resources, expertise and unique opportunity Cornell presents, having top-tier schools of medicine, veterinary medicine, engineering and policy, to create an active community around vaccine development and how they are rolled out to the public."
The keynote speaker was Angela Hwang, M.B.A. '94, chief commercial officer and president of the global biopharmaceuticals business at Pfizer and a member of its executive leadership team.
"Angela holds a key position at Pfizer that goes beyond just developing vaccines. Once a vaccine has made it through all the hoops and gets approved, she is tasked with bringing it to the world," said Permar. "I learned so much from Angela, especially on how we can achieve equity, not only in the science and development of vaccines, but also how to roll out the vaccines to all countries and peoples."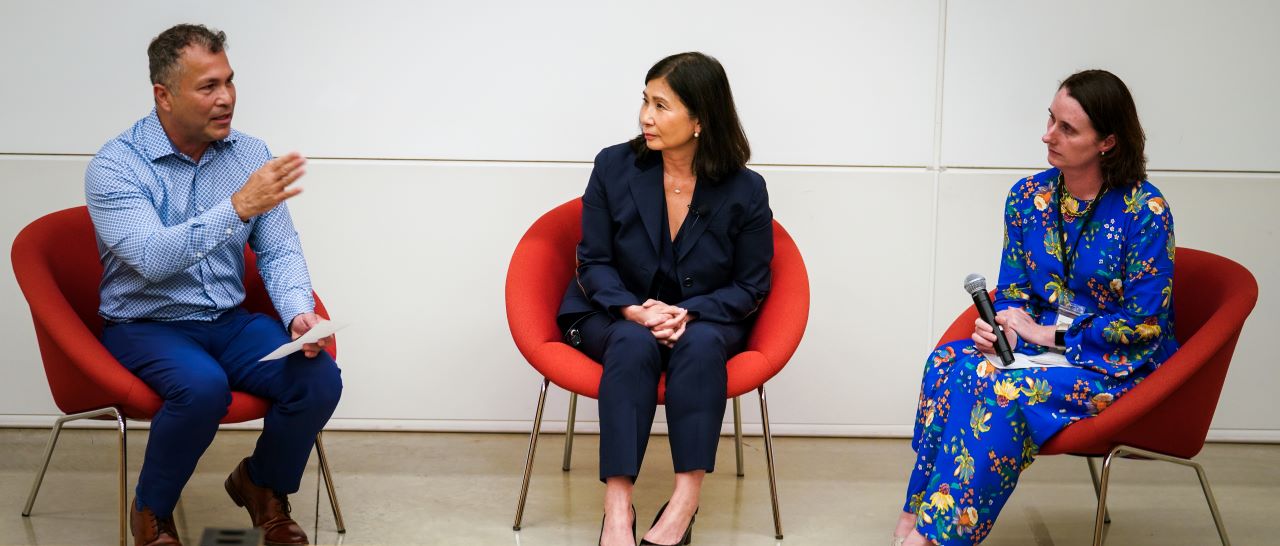 Cornell president, Dr. Martha E. Pollack, Cornell provost, Dr. Michael I. Kotlikoff, and Lorin Warnick, D.VM., Ph.D. '94, Austin O. Hooey Dean of Veterinary Medicine, all spoke at the conference and had a significant role in bringing Hwang to the Ithaca campus. "Having these four influential leaders attend and support the symposium made such an impact and left attendees electrified and empowered," said Aguilar-Carreno.
"Angela emphasized how, to get to the best vaccines of the future, companies such as Pfizer must work in conjunction with academia," said Aguilar-Carreno. "We are the ones doing the basic and translational science that will inform the new practices of the future. The partnership between academia and industry is absolutely key."
Jennifer Hilliard led the organization of this symposium, with about 100 attendees from both the Ithaca and the WCM campuses. Students, post-docs and faculty alike joined together to discuss three main topics surrounding vaccine science. Over the course of the two days, sessions focused on vaccine technology, host immunology, and vaccine policy and communication.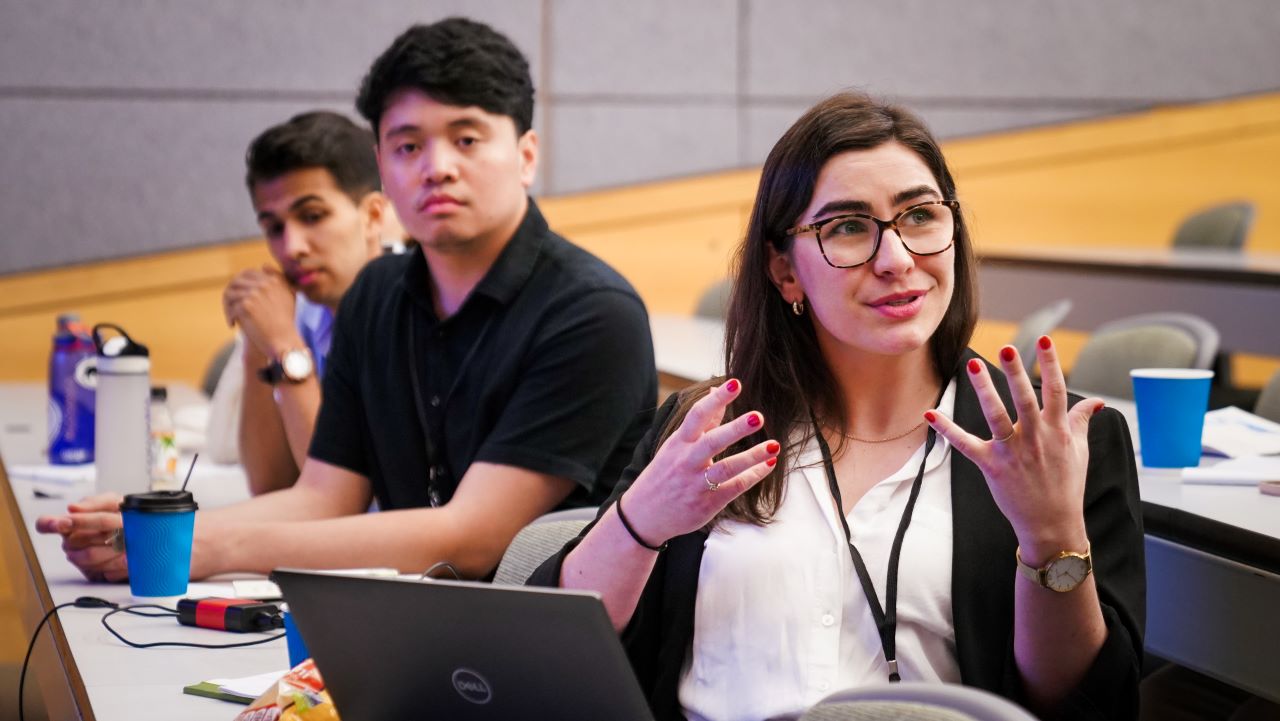 "There are three important aspects of vaccine development," said Aguilar-Carreno. "The first is the technology of making an effective vaccine and what components are incorporated in it. The second is our immunology, how our bodies respond to the vaccine, what antibodies and immune cells play important roles. The last is vaccine policy and communication, something that is often left out in vaccine development science."
"The symposium was so well organized and showcased the different and important areas of vaccine development and implementation," said Camille Holmes, Ph.D. candidate in the Biomedical and Biological Sciences program, who also gave a short talk on her work involving equine host immunology. "It brought together individuals from both campuses for great discussions, not only regarding how the individual host responds to vaccines, but also how we as a society respond to them."
Presenters included faculty from CVM, WCM and faculty from the departments of Engineering and Communication. Science trainees gave short talks and posters, and workshops involved rich discussions, fostering new initiatives and goals for the future of vaccine science.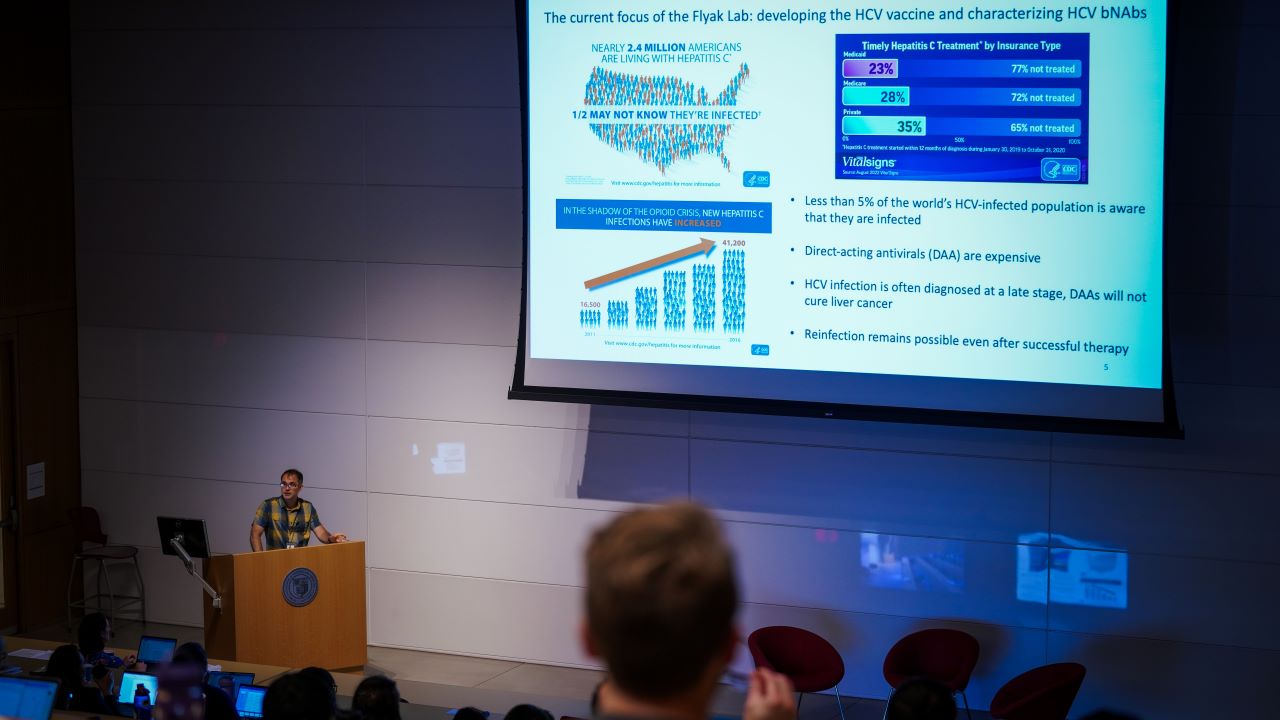 "I felt so fortunate to have the opportunity to present amongst such a talented group of scientists," said Holmes. "The symposium was such a welcoming space to share ideas and reflect on collaborations that might facilitate further advances."
Permar and Aguilar-Carreno recently submitted an NIH grant application for the establishment of a Vaccine Center at Cornell. They envision the center hosting annual meetings and providing researchers the opportunity to collaborate on innovative technologies and share expertise across campuses. They hope to invite not just the immunologists and virologists, but also those in the social sciences that are just as critical in the delivery of new vaccines.
"We must approach vaccine science differently than we ever have before," says Permar. "Having an effective vaccine simply isn't just developing a safe and protective vaccine. In the age of disinformation, misinformation, and distrust, vaccine scientists need to develop new ways to reach people and provide the confidence in these live-saving technologies."
By Megan Keller
Photos by Carol Jennings