Francis A. Kallfelz, DVM, PhD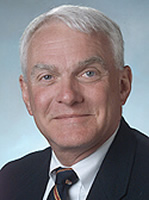 Diplomate - American College of Veterinary Nutrition
James Law Professor Emeritus, Sections of Medicine, Nutrition
---
Dr. Francis "Fran" Anthony Kallfelz, the James Law Professor Emeritus in the Sections of Medicine and Nutrition, passed away April 5 in Ithaca.
A Cornell alumnus, Fran earned his D.V.M. with distinction in 1962, followed by his Ph.D. in 1966, earning multiple awards for his studies. After graduation he joined the CVM faculty in 1966, conducting research in the areas of clinical nutrition, mineral metabolism, metabolic diseases of domestic animals, and veterinary nuclear medicine.
He also served as a courtesy radiology faculty member at the Upstate Medical Center and Health Science Center at Syracuse, New York He oversaw studies on mineral and animal metabolism as an expert consultant with the International Atomic Energy Agency. Due to his prominence in the field of veterinary nutrition he became a founding Diplomate of the American College of Veterinary Nutrition in 1989.
In 1990, Fran was appointed as director of the Veterinary Medical Teaching Hospital, serving in that role for eight years. In 1997, he was named the James Law Professor of Medicine, a distinction given to a select few faculty since its creation. During his impactful career, Fran authored or co-authored several hundred scientific publications in his research fields.
Fran was a dedicated member of the profession at large, having served on the executive board of the New York State Veterinary Medical Society, on the New York State Board for Veterinary Medicine, the National Research Council Subcommittee on Nutrient Requirements of Dogs and Cats, and on the Council on Education with the American Veterinary Medical Association. He was also past-president of both the American College of Veterinary Nutrition and the American Academy of Veterinary Nutrition.
Since his retirement in 2009, Fran worked as a counselor for Cornell students applying to medical school, and spent many years traveling the world with his wife Heidi.
Research/Clinical Interest
Mineral Metabolism, Clinical Nutrition of Companion Animals, Metabolic Diseases of Domestic Animals, Companion Animal Nutrition.
Education
1966, Cornell University, PhD
1962, Cornell University, DMV with Distinction
Biography/Professional Experience
American College of Veterinary Nutrition, Charter Diplomate
Publications

    Please select the PubMed link for a list of Dr. Kallfelz' publications.
Professional/Academic Affiliations
2004-2010     Council on Education, American Veterinary Medical Association
2000-2005     National Research Council Subcommittee on Nutrient Requirements of Dogs and Cats
2001     President, Executive Board, New York State Veterinary Medical Society
1997-2007     New York State Board for Veterinary Medicine
1991-1998     Executive Board, New York State Veterinary Medical Society