Gerlinde Van de Walle, DVM, PhD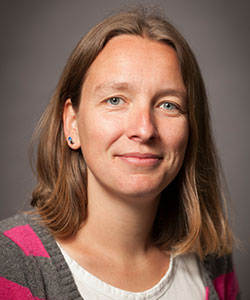 Research Interest
The objective of Dr. Gerlinde Van de Walle's research is to open up new avenues towards therapeutic intervention by better understanding the pathogenesis of diseases important to veterinary and human medicine. To this end, our lab uses various model systems, including in vitro 2D cell cultures, ex vivo 3D explant and organoid models, and in vivo rodent and large animal models.
Viral pathogenesis: Many veterinary species are naturally susceptible to pathogens closely related to those that infect humans.  Since these animal and human pathogens frequently share similar pathogenesis profiles, animal diseases might be considered translational models for their human counterparts. The viruses we currently study are equine hepatitis-associated viruses, equine herpesviruses, and feline herpesvirus type 1.
Stem cell biology: Our research group studies the basic physiology of adult stem cells as well as their potential in regenerative medicine. For example, we use a unique tool set consisting of mammary stem cell/progenitor cells (MaSC) from a variety of mammalian species, for comparative studies on the underlying molecular basis of susceptibility and resistance towards mammary/breast cancer. Stem cells also secrete a collection of bioactive factors, referred to as "the secretome", which represents a new source to identify molecules with therapeutic potential. We are exploring the potential of the adult stem cell secretome to promote wound healing and fight infections.
Education
1999 - DVM, Ghent University, Belgium
2003 - Ph.D., Ghent University, Belgium
Biography/Professional Experience
2000–2003 Graduate Research Assistant in the laboratory of Dr. Hans Nauwynck, Department of Virology, Parasitology & Immunology, Ghent University, Belgium
2003–2005 Postdoctoral Researcher in the laboratory of Dr. Hans Deckmyn, Laboratory of Thrombosis Research, University of Leuven, Belgium
2006–2008 Postdoctoral Associate in the laboratory of Dr. Nikolaus Osterrieder, Department of Microbiology & Immunology, College of Veterinary Medicine, Cornell University
2008–2011 Postdoctoral Research Fellow in the laboratory of Dr. Hans Nauwynck, Department of Virology, Parasitology & Immunology, Ghent University, Belgium
2010–2012 Assistant Professor (docent), Department of Comparative Physiology and Biometrics, Ghent University, Belgium
2013–2018 Assistant Professor, Baker Institute for Animal Health, College of Veterinary Medicine, Cornell University
2019-present Associate Professor, Baker Institute for Animal Health, College of Veterinary Medicine, Cornell University
Selected Publications
Awards and Honors
2006 Stephen Straus travel Award for the 31th International Herpes Workshop (IHW), Seattle
2008 – 2011 Postdoctoral research fellowship from the Research Foundation Flanders
2014 Burroughs Wellcome Fund for the Merial-NIH Veterinary Scholars Symposium, Ithaca
2014 – present Atkinson Center for a Sustainable Future Faculty Fellow
2016 Zoetis Award for Excellence in Veterinary Research
2016 Excellence in Teaching Award for Outstanding Teaching in Veterinary Medicine
2017-2019 Endowed Harry M. Zweig Assistant Professor in Equine Health, College of Veterinary Medicine, Cornell University
Professional/Academic Affiliations
2010 - 2012 Belgian Society for Microbiology
2010 - 2012 Belgian Environmental Mutagen Society
2010 - 2012 Belgian Society of Physiology and Pharmacology
2010 - 2012 European Society for Veterinary Virology
2013 - present American Society for Microbiology
2013 - present American Society for Virology
2013-present International Society for Stem Cell Research
2013 - present Cornell University Stem Cell Program
2014 - present Cornell Comparative Cancer Biology Training Program
2015 - present New York State Veterinary Medical Society
2015 - present Meyer Cancer Center at Weill Cornell Medicine