Heidi L. Reesink, VMD, PhD, DACVS-LA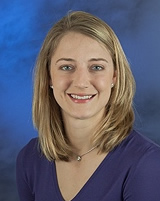 Diplomate - American College of Veterinary Surgeons—Large Animal
Harry M. Zweig Assistant Professor in Equine Health,
Section of Large Animal Surgery
 
---
Department of Clinical Sciences
Cornell University College of Veterinary Medicine
930 Campus Road, Box 32
Ithaca, NY 14853

Phone: 607-253-3100  Equine/Nemo Farm Animal Hospital
Email: hlr42@cornell.edu
Research/Clinical Interest
Research: Pathophysiology, epidemiology and treatment of orthopedic disease—osteoarthritis and fracture.   
Osteoarthritis—The Reesink laboratory is actively investigating how synovial fluid glycans and glycoproteins, including lubricin and hyaluronic acid (HA), are altered in osteoarthritis (OA) and traumatic joint injury.  The aim of this work is to understand how lubricin and HA synergistically enhance joint lubrication, mitigate inflammation and promote cartilage health, with the ultimate goal of developing novel therapeutic strategies for OA. 
Fracture—The Reesink laboratory is examining the pathophysiology of fetlock fractures in racehorses through quantitative CT imaging and bone quality assessment.  Long-term goals of this work are to develop clinically relevant methods of assessing fracture risk in equine athletes and to determine what epidemiologic factors are associated with increased fracture risk.
Clinical: Equine and farm animal orthopedic surgery; equine sports medicine and lameness.
Education and Training
2016     Cornell University, PhD in Comparative Biomedical Sciences
2008-2011     Cornell University, Residency in Large Animal Surgery
2007     University of Pennsylvania, VMD (Summa Cum Laude)
2003     Iowa State University, BS in Zoology (Honors)
Biography
Dr. Reesink received her veterinary medical degree (VMD) from the University of Pennsylvania in 2007.  She came to Cornell for a large animal surgery residency from 2008-2011 and worked part-time as an Emergency Surgeon from 2012-2016 while completing her PhD in Comparative Biomedical Sciences.  She was appointed Assistant Professor in the Department of Clinical Sciences in 2016.
Dr. Reesink is a Diplomate of the American College of Veterinary Surgeons with clinical interests in equine and farm animal orthopedic surgery, sports medicine and lameness.  She is interested in translating novel research discoveries, including regenerative medicine and lubricin therapy, to equine clinical patients with musculoskeletal disease.  Her laboratory investigates the pathophysiology, epidemiology and treatment of osteoarthritis and racehorse fractures.
In her free time, Dr. Reesink enjoys outdoor activities, including running, cycling, and horseback riding.
Publications

    Please select the PubMed link for a list of Dr. Reesink's publications.
Honors and Awards
2017     Phi Zeta Clinical Manuscript Award, Cornell University

2016     Dante and Sharon Ferrini Award for Veterinary Thoroughbred Horse Racing Studies

2015     Kappa Delta/Orthopaedic Research Society Travel Award

2014     Grayson-Jockey Club Research Foundation, Storm Cat Career Development Award

2011-14     NIH Comparative Medicine Training Grant

2012     Diplomate, American College of Veterinary Surgeons—Large Animal

2010     American College of Veterinary Surgeons, Outstanding Large Animal Surgical Resident Research Presentation—2nd Place
Professional/Academic Affiliations
AAAS/Program for Excellence in Science                                                                
American Association of Equine Practitioners                                                          
American College of Veterinary Surgeons    
American Veterinary Medical Association                                                    
Biomedical Engineering Society                                                                                
Biomedical Engineering Society SIG—Cell and Molecular Bioengineering
Orthopaedic Research Society
Orthopaedic Research Society Preclinical Models Section
Phi Zeta Veterinary Honor Society