James Casey, PhD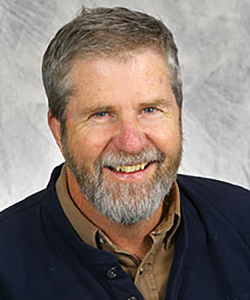 Research Interest
Research in the Casey lab focuses in two lines of investigation. Oncogenesis in wild populations, primarily in fish and marine turtles, is an understudied field that has provided new insights into viral agents responsible for this disease. Secondly, we have turned our attention to the recent outbreak of viral hemorrhagic septicemia (VHSV) in the great lakes an agent that is having a major impact on numerous species that inhabit these waters.
1. Viral Oncogenesis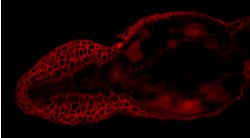 Tail section of a transgenic zebrafish expressing walleye dermal sarcoma virus (WDSV) HA tagged OrfA . Skin specific expression in red is detected with anti HA, rhodamine label. 
Our work has focused on understanding the molecular mechanisms by which the piscine retroviruses walleye dermal sarcoma (WDSV) and salmon swim bladder sarcoma virus (SSSV) induce cancer. To accomplish this, we have begun to developed transgenic zebrafish models in which retroviral genes with proposed oncogenic activity and their corresponding promoters can be assayed in a biologically relevant system. The established genetics and genomic resources of the zebrafish system provide an attractive model to understand the genetic pathways involved in documented cases of tumor progression and regression of walleye dermal sarcoma (WDS). 
We have recently isolated a novel piscine retrovirus found associated with an outbreak of leiomyosarcoma in the swim bladder of Atlantic salmon (Salmo salar). The sequence of an endogenous retrovirus, zebrafish endogenous retrovirus (ZFERV), isolated as a highly expressed sequence in a subtracted thymus cDNA library from zebrafish (Danio rerio), has a high degree of similarity to SSSV. We are currently studying the SSSV promoter and have generated transgenic zebrafish that express GFP under the control of the SSSV LTR. Two lines of transgenic zebrafish demonstrate differing patterns of tissue-specific GFP expression, one in the epithelium of the head and one in the heart cavity. This data implies that cis-acting host sequences at the site of integration affect the expression level and tissue-specificity of the SSSV LTR promoter. This may prove to be an important general mechanism for persistence in retroviral pathogenesis.
2. Viral hemorrhagic septicemia
In the summer of 2005 VHSV was diagnosed in a fish kill of freshwater drum and from diseased muskellunge in the great lakes. VHSV is a highly pathogenic rhabdovirus that can cause heavy losses in wild and cultured fishes. Since then we (see Dr. Bowser's page) identified VHSV in ten additional species, signaling an early invasion in freshwater fish that inhabit the Great Lakes. We have developed a qRT-PCR approach to measure the prevalence of VHSV in fish and in water samples from the Great Lakes Basin. Our long-term goal will be to identify VHSV carrier fish and investigate the mechanisms of viral persistence.
Education
PhD (University of Chicago)
Biography/Professional Experience
Dr. Casey is an Associate Professor in the Department of Microbiology and Immunology and has been associated with the department since 1988. He received the BS degree in Biology from Wayne State University in 1966 and his PhD from the University of Chicago in 1973 studying Biology. Dr. Casey was a postdoctoral fellow at Cal Tech from 1974-1980 where he studied molecular virology in the laboratory of Norman Davidson.
Publications
Professional/Academic Affiliations