Julia Felippe, MedVet, MS, PhD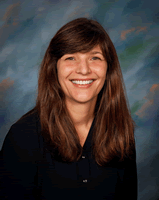 Diplomate - American College of Veterinary Internal Medicine

Professor, Section of Large Animal Medicine
Provost's Fellow for Public Engagement
---
---
Department of Clinical Sciences
Cornell University College of Veterinary Medicine
930 Campus Road, Box 34
Ithaca, NY 14853

Office: 607.253.3119
Fax: 607.253.3534
Email: mbf6@cornell.edu
Research/Clinical Interest
Development of the immune system in foals; clinical immunology including equine immunodeficiencies, immunomodulatory therapies and response to vaccines.
Education
2002     New York State College of Veterinary Medicine, Cornell University, PhD in Immunology
1995-1998     Kansas State University College of Veterinary Medicine, Residency in Equine Veterinary Internal Medicine
1997     Kansas State University College of Veterinary Medicine, MS in Veterinary Science
1994-1995     Kansas State University College of Veterinary Medicine, Internship in Equine Surgery & Medicine
1989     Universidade Estadual Paulista - UNESP, Faculdade de Medicina Veterinaria e Zootecnia, Campus de Botucatu, Brazil, MedVet
Biography/Professional Experience
Julia Felippe's academic appointment includes large animal clinical care and DVM-student/resident training in internal medicine at the Cornell University Hospital for Animals; teaching in the DVM, graduate and undergraduate curricula; and a research program in the field of immunology. The major thrust of her research and training has been developmental immunology and immunodeficiencies. Her laboratory studies immune competence in the equine neonate and response to vaccinations; and common variable immunodeficiency (CVID) in horses, a fatal, non-familial, late-onset condition that leads to impaired antibody production and recurrent infections. Her research group demonstrated that the antibody-producing cells (known as B cells) become absent in the bone marrow, blood and peripheral tissues of affected horses, following an epigenetically regulated decrease in the expression of B cell lineage transcription factor genes. Her current research efforts pursue the modification of the epigenetic aberrations in hematopoietic stem cells and lineage precursors in vitro for autologous transplantation to patients.
Publications

Please select the PubMed link for a list of Dr. Felippe's publications.
Equine Clinical Immunology
Felippe, M. Julia B. Equine Clinical Immunology. Hoboken: Wiley-Blackwell, 2016.  Print, E-book.  ISBN: 978-1-118-55887-4
Science Diffusion Scientia Publication
Dr. Julia Felippe and Dr. Rebecca Tallmadge Research Profile: "Antibodies, Epigenetics, and a Bit of Hay."
Awards and Honors
2010     NIH Director's New Innovator Award
2005-2008     The Harry M. Zweig Assistant Professor in Equine Health Chair, Cornell University
2006     Clinical Immunology Society School in Primary Immune Deficiency Disorders-NIH-USIDNET
1999     Diplomate, American College of Veterinary Internal Medicine
1999     Graduate Research Assistantship – College of Veterinary Medicine, Cornell University
1998     Graduate Research Award – Chapter of Gamma Sigma Delta – Kansas State University
1996     Kansas State University & Bayer Animal Health Resident Teaching Award for Outstanding Teaching in Clinical Sciences
1995     Phi Zeta Honor Society of Veterinary Medicine, Sigma Chapter
1989     Euclides Onofre Martins Diploma, ranked first in veterinary medicine graduating class of 1989 (1/40), UNESP-Botucatu, Brazil
1989     Horacio Passos Diploma, ranked first in veterinary medicine graduating class of 1989 (1/40), UNESP-Botucatu, Brazil
Professional/Academic Affiliations
American Veterinary Medical Association
American College of Veterinary Internal Medicine
American Association of Immunologists
American Association of Veterinary Immunologists
Clinical Immunology Society
New York State Veterinary Medical Society
Southern Tier Veterinary Medical Association
American Endurance Ride Conference
Federation Equestre Internationale, endurance discipline