Kenneth W. Simpson, BVM&S, PhD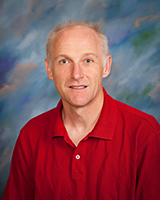 Diplomate - American College of Veterinary Internal Medicine
Diplomate - European College of Veterinary Internal Medicine
Professor, Section of Small Animal Medicine
---
---
Department of Clinical Sciences
Cornell University College of Veterinary Medicine
930 Campus Road, Box 33
Ithaca, NY 14853
Email: kws5@cornell.edu
Research/Clinical Interest
Focused principally on host bacterial interactions in the gastrointestinal tract. Specifically we are interested in the role of Helicobacter in gastrointestinal and hepatic inflammation, and the impact of the intestinal microflora (particularly a novel group of adherent and invasive E. coli) on inflammatory bowel disease.
Education
1991     Ohio State University, Residency in Small Animal Medicine
1989     University of Pennsylvania, Rotating Internship in Small Animal Medicine and Surgery
1988     University of Leicester, England, PhD
1984     University of Edinburgh, Scotland, BVM&S, MRCVS
Biography
Kenny graduated from the Royal (Dick) School of Veterinary Studies, Edinburgh University, in 1984, and gained a PhD in gastroenterology at the University of Leicester in 1988. He hopped the pond for an internship at the University of Pennsylvania (1989), and residency in small animal medicine at THE Ohio State University (1991), then hopped back as a lecturer at the other Royal Veterinary College. He fled the hostile climes of Londinium in 1995 to join the faculty at Cornell University, Ithaca, NY.
He is a Diplomate of the American and European Colleges of Veterinary Internal Medicine and is currently Chief of the Section of Small Animal Internal Medicine at Cornell. He is a recipient of the National Phi Zeta and Pfizer awards for research, and a past-president of the comparative gastroenterology society.
His research interests are centered below the diaphragm, with a focus on inflammatory diseases of the GI tract (including the pancreas and liver), host bacterial interactions in health and disease, and culture independent bacteriology.
Kenny lives with his wife and three children in Ithaca, NY.
Publications

    Please select the PubMed link for a listing of Dr. Simpson's publications.
Honors and Awards
2013     AVMF/AKC Career Achievement Award in Canine Research
2013     Bourgelat Award for outstanding contributions to the field of small animal practice, BSAVA
2009     European Emesis Council Award for Research Manuscript
2008-2011     Crohn's & Colitis Foundation of America Senior Research Award
2005     Coughlin Visiting Professor, University of Tennessee
2005     Review Panel for the Department of Clinical Sciences, University of Pennsylvania
2005     Chairman, Research Assessment Exercise of the University of Helsinki, Panel 19: Veterinary Medicine
2001-2006     NIH / NIDDK. K08 Career Development Award
2001-2002     President of the Comparative Gastroenterology Society
1999     Pfizer Award for Research Excellence, Cornell University
1994     Diplomate, European College of Veterinary Internal Medicine, Companion Animals
1993     Award for Teaching Excellence, Royal Veterinary College, University of London
1992     Diplomate, American College of Veterinary Internal Medicine
1990     National Phi Zeta Award for a research manuscript
1984-1987 Wellcome Trust Research Training Scholarship, The Medical School, University of Leicester, England
Professional/Academic Affiliations
American College of Veterinary Internal Medicine
American Gastroenterological Association
American Society for Microbiology
American Veterinary Medical Association
Comparative Gastroenterology Society
European College of Veterinary Internal Medicine
Graduate Field of Veterinary Medicine