Leni K. Kaplan, DVM, MS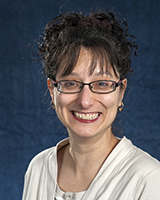 Senior Lecturer, Section of Community Practice Service
---
Department of Clinical Sciences
Cornell University College of Veterinary Medicine
930 Campus Road, Box 33
Ithaca, NY 14853

Email: lkm32@cornell.edu
Research/Clinical Interest
Education and Training
2000     Colorado State University, DVM
1996     University of New Haven, MS in Forensic Science
1991     Cornell University, BS in Animal Science
Biography
Publications
Turner B.C., Zhang J., Gumbs A.A., Maher M.G., Kaplan L., Carter D., Glazer P.M., Hurst H.C., Haffty B.G., Williams T. Expression of AP-2 Transcription Factors in Human Breast Cancer Correlates with the Regulation of Multiple Growth Factor Signaling Pathways. Cancer Research. 58(23): 5466 – 5472, 1998 Dec.
Turner, B.C., Baserga, R., Glazer, P.M., Haffty, B.G., Narayanan, L., Yuan, J., Havre, P.A., Gumbs, A.A., Kaplan, L., Burgaud, J.L., Carter, D. Insulin-like growth factor-I receptor overexpression mediates cellular radioresistance and local breast cancer recurrence after lumpectomy and radiation. Cancer Research. 57(15): 3079 – 3083, 1997 Aug.
Mahadeo D., Kaplan L., Chao M.V., Hempstead B.L. High affinity nerve growth factor binding displays a faster rate of association than p140trk binding. Implications for multi-subunit polypeptide receptors. Journal of Biological Chemistry. 269(9): 6884 – 6891, 1994 Mar.
Hempstead B.L., Rabin S.J., Kaplan L., Reid S., Parada L.F., Kaplant D.R. Overexpression of the trk tyrosine kinase rapidly accelerates nerve growth factor-induced differentiation. Neuron. 9(5): 883 – 896, 1992 Nov.
Awards and Honors
2016     Phi Zeta National Honor Society of Veterinary Medicine

1999     Dr. Timothy Dwayne Muhr Memorial Scholarship Award

1998     Jorgensen Laboratories Scholarship Award
Professional/Academic Affiliations
American Association of Feline Practitioners

American Veterinary Medical Association

Genesee Valley Veterinary Medical Association (Past President)

New York State Veterinary Medical Association

Southern Tier Veterinary Medical Association (Past President)

Veterinary Emergency and Critical Care Society (Past Member)