Lisa Fortier, DVM, PhD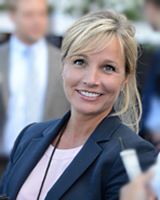 Diplomate - American College of Veterinary Surgeons
James Law Professor of Large Animal Surgery
Associate Chair for the Department of Clinical Sciences Committee on Research and Graduate Education
Cornell Equine Park Faculty Director
---
---
 Cornell Ruffian Equine Specialists
---
Department of Clinical Sciences
Cornell University College of Veterinary Medicine
930 Campus Road, Box 34
Ithaca, NY 14853

Email: laf4@cornell.edu
Research/Clinical Interest
Our laboratory investigates the underlying cellular and molecular mechanisms involved in the development of arthritis with the ultimate goal of identifying novel molecular targets for the treatment or prevention of arthritis.
Cartilage Biology and the Development of Arthritis
Cartilage provides the protective covering on the ends of bones and allows for pain-free joint movement. When injured, cartilage has a very limited intrinsic capacity for repair, and the end result is frequently arthritis. In the equine athlete, arthritis leads to joint pain, lameness, and loss of performance with associated economic losses.
Current laboratory projects include:
Equine embryonic stem cells
The role of Rho-subfamily GTPases in cartilage homeostasis
Tetracyclines as therapeutics for arthritis
Platelet rich plasma for tendon and suspensory ligament regeneration
Education and Training
1998     Cornell University, PhD
1992-1995     Cornell University, Residency in Large Animal Surgery
1991-1992     Illinois Equine Hospital, Internship in Large Animal Surgery and Medicine
1991     Colorado State University, DVM (Cum Laude)
1989     Colorado State University, BS (Cum Laude)
1984-1987     Moorhead State University, Pre-vet
Biography
Publications

    Please select the PubMed link for a list of Dr. Fortier's publications.
Awards and Honors
2018     Award for Academic Service, Cornell University
2014 - present     American Association of Equine Practitioners On-Call Veterinarian
2005     Pfizer Award for Research Excellence, Cornell University College of Veterinary Medicine, Ithaca, NY
2002     New Investigator Research Award Recipient, Orthopaedic Research Society
2000     The Jacques Lemans Best Podium Presentation Award, International Cartilage Repair Society Meeting, Gothenburg, Sweden
1998     1st Place Cornell University Phi Zeta Manuscript Competition, Cornell University, College of Veterinary Medicine, Ithaca, NY
1995 - 1998     SmithKline Beecham Incentive Award in Cellular and Molecular Medicine, Cornell University College of Veterinary Medicine, Ithaca, NY
1996     Diplomate, American College of Veterinary Surgeons
1993     American College of Veterinary Surgeons Veterinary Symposium "Outstanding Resident Presentation-Laboratory Research Division" Runner-up
1991     Cum Laude, Colorado State University, Fort Collins, CO
Professional/Academic Affiliations
2010 - present     International Society for Veterinary Regenerative Medicine
2005 - present     Osteoarthritis Research Society International
2000 - present     International Cartilage Repair Society
1999 - present     Orthopaedic Research Society
1996 - present     American College of Veterinary Surgeons
1993 - present     Veterinary Orthopedic Society
1991 - present     American Association of Equine Practitioners
1991 - present     American Veterinary Medical Association