Improving the health and well-being of cats through education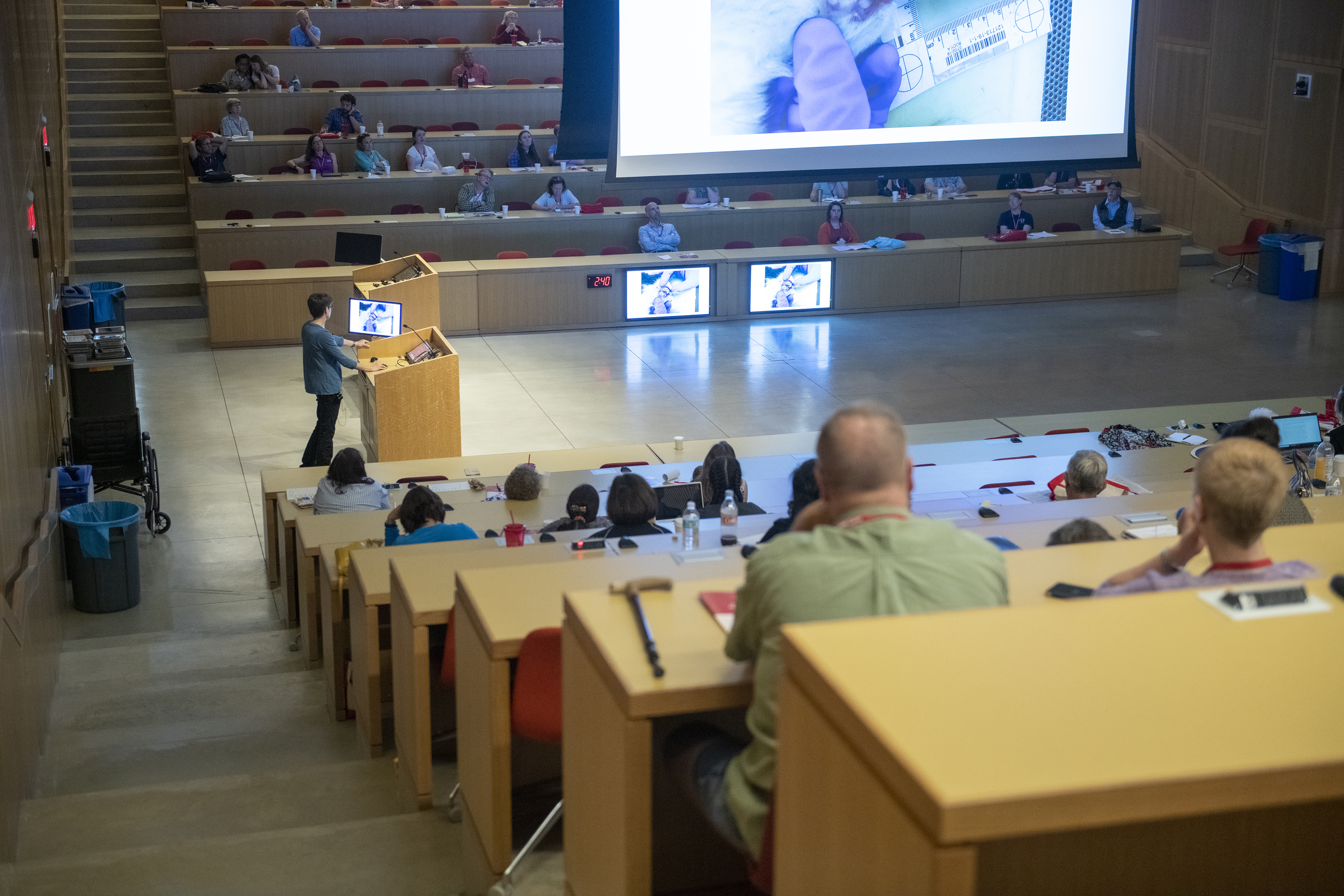 2020 Fred Scott Feline Symposium – Educating Feline Practitioners Far and Wide
2020 marked the 32nd year for the annual Fred Scott Feline Symposium. Initiated by the founding director of the Cornell Feline Health Center, Dr. Fred Scott, this well-known symposium has provided unique professional educational opportunities for practitioners focused on feline veterinary health for over three decades.
The 32nd annual symposium, though, was like no other. In the midst of a world-wide pandemic, the Center, like many organizations, had to adapt to continue to meet one of the core aspects of our mission, that of providing outstanding educational opportunities. Historically, the symposium has been held on the Ithaca, N.Y. campus of Cornell University, providing an opportunity for attending veterinary professionals to be educated by world class clinicians and researchers while reconnecting with old friends, making new ones, and networking while enjoying Ithaca's beautiful surroundings.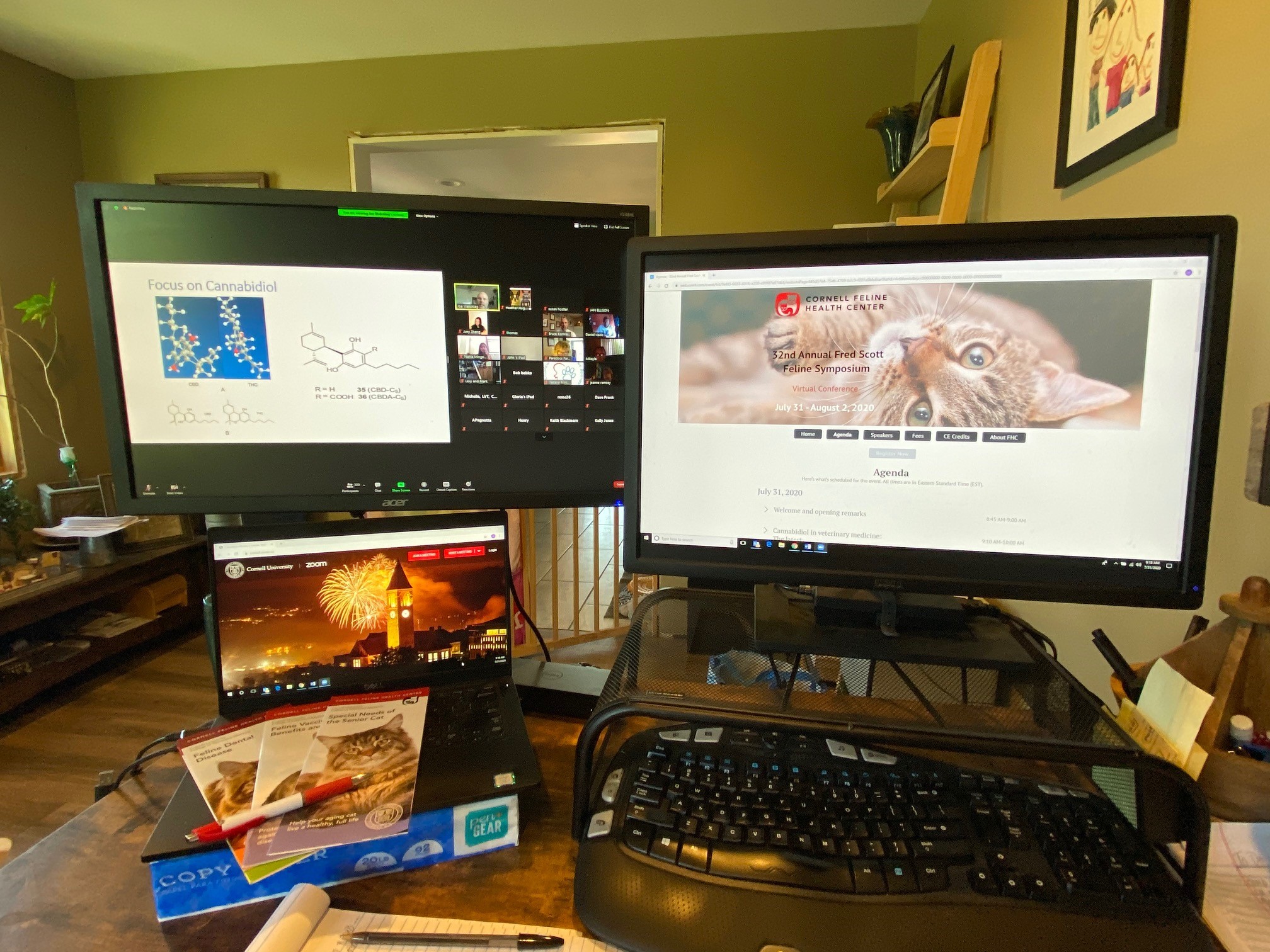 Due to the necessary restrictions imposed on in-person events by the COVID-19 pandemic, the center's team, working closely with the College's office of Continuing Education, had to get creative. How could we create an effective, fun, and unique event that meets our high standards in the post-pandemic world? The answer was to embark upon a new way of doing things, and the idea for our first-ever virtual Fred Scott Feline Symposium was born. 
We are very happy to report that, in spite of our initial trepidation, the 2020 VIRTUAL Fred Scott Feline Symposium was a tremendous success.
Veterinary professionals and students from around the world came together for 13 credit hours of approved CE credits. In fact, we experienced our largest attendance ever, with over 550 registrations. It turns out that the two silver linings in this virtual format were that the conference was made more accessible to an international audience and that we were able to offer free attendance to all veterinary students, no matter where they were enrolled. The latter was particularly gratifying given the pandemic-induced educational challenges that veterinary students from around the world were experiencing.
Sessions included updates on a number of feline-focused topics including oncology, hyperthyroidism, emergency and critical care, anesthesia, and the use of CBD in feline patients.
Joe Wakshlag DVM, PhD, DACVN, DACVSMR, professor of clinical nutrition and sports medicine and rehabilitation at the Cornell College of Veterinary Medicine (CVM), kicked off the symposium with a review of cannabidiol use in companion animal medicine. This was followed by a two-part series on integrative medicine and management of feline arthritis presented by Allison Miller DVM, CVA, CCRP, lecturer in Biomedical and Clinical Sciences here at the College. The latest principles in CPR guidelines were then presented by CVM's Daniel Fletcher PhD, DVM, DACVECC, associate professor of emergency and critical care. The first day was wrapped up with a presentation on the use of endoscopy in feline gastrointestinal disease by Dr. John Loftus PhD, DVM, DACVIM (SAIM), assistant professor of internal medicine here at Cornell.
The annual Jim Richards Memorial Lecture, presented by College alumnus Ann E. Hohenhaus, DACVIM (SAIM, ONCOLOGY), veterinary internist and oncologist at the Animal Medical Center, kicked off the second day of the conference. Dr. Hohenhaus then continued her review of advances in cancer diagnosis in feline patients in a series of subsequent lectures. The final session of day two was offered by Tom Rothwell, DVM, PhD, medical director of the  Paris Hill Cat Hospital, who provided an interesting and stimulating session titled, "Paleontology for the Veterinarian: The Evolution of the Domestic cat."
Although nothing can take the place of gathering together in person as we have for decades, we were very excited to be able to create a sense of personal connection among attendees by offering unique opportunities to gather virtually and unwind during intermittent virtual events that included Breakfast with your Pets, virtual guided yoga sessions, and randomized breakout rooms that allowed attendees to meet and network with their virtual neighbors.
The final day of the symposium consisted of two outstanding, clinically applicable presentations on sedation and general anesthesia in cats with hypertrophic cardiomyopathy and perianesthetic management of nausea, pain, and temperature regulation issues by Manuel Martin-Flores, MV, DACVAA, associate professor of anesthesia and pain medicine at CVM.
Feedback from the attendees was overwhelmingly positive, and they expressed a general desire for more virtual options moving forward. We take such feedback seriously, and we look forward to continuing to innovate and incorporating this input into our planning for future iterations of this outstanding event.