Residency in Clinical Pathology
The clinical pathology residency is a three-year program that provides advanced training in veterinary clinical pathology and laboratory medicine. Residents are trained under the close guidance of three to four board-certified clinical pathologists. The primary objective is to train residents to be outstanding clinical pathologists who are well-versed in all aspects of clinical pathology (hematopathology, cytopathology, clinical chemistry, laboratory management, and applied clinical pathology research) and will contribute to the advancement and future of veterinary clinical pathology. As a result of this training, residents are well prepared for the board certification examination in clinical pathology by the American College of Veterinary Pathologists (ACVP). Throughout this process, we strive to maintain a fun and cooperative learning environment that encourages scientific curiosity, critical thinking, and spirited debate.
Program
During the training program, the resident will attain skills in the different disciplines of clinical pathology through:
Diagnostic service duties
Teaching within the veterinary curriculum and continuing education programs
Hypothesis-driven applied clinical pathology research
A variety of structured activities, seminars, and rounds within the clinical pathology lab and the College of Veterinary Medicine
Additional information on these major areas of study during the residency is given below. A more detailed description of the residency program at Cornell can be found in the Residency Training Guidelines. We follow training guidelines endorsed by the American Society of Veterinary Clinical Pathology (ASVCP).
Faculty
Erica Behling-Kelly, Associate Professor; Laboratory Director
Ashleigh Newman, Assistant Clinical Professor
Tracy Stokol, Professor
Julie Webb, Assistant Clinical Professor; Residency Coordinator
Clinical Pathology Team
In addition to faculty and residents, the clinical pathology team consists of a laboratory manager, eight to ten medical technologists, and two to three administrative assistants. We all work together as a team to provide excellent service to our clients while maintaining a stimulating and fulfilling work environment.
The clinical pathology residency is highlighted in the College of Veterinary Medicine's February 2011 edition of 'Scopes magazine.
Application
There is no open residency application this year. Our next residency position will begin in July 2025, with an application period of August to October 2024.
Diagnostic Service
Residents participate in daily cytology/hematology read-out sessions at least two weeks per month during the first two years of the program. In consultation with the pathologist on duty, residents review and prepare diagnostic reports for clinical cases submitted to the clinical pathology laboratory. We have a rich and varied caseload from the Cornell University Hospital for Animals consisting of 73% small animals, 25% large animals, and 2% exotics, in addition to a large number of cases submitted from national and international sources via the Animal Health Diagnostic Center. Training is also provided on the performance and interpretation of specialized diagnostic testing such as flow cytometry, protein electrophoresis, cytochemistry, and immunocytochemistry. As the training progresses, residents are given increasing responsibility with the goal of independence (assuming full responsibility for laboratory results) during the final year of the program.
Teaching
Residents are involved in a variety of teaching activities, including:
Leading small group teaching sessions for senior veterinary students.
Assisting in the organization and teaching of a comprehensive clinical pathology course. Residents assist in the preparation and delivery of laboratory sessions during the first and second year of their residency. During the second year of the program, residents are given the opportunity to take a more active role in clinical pathology instruction through didactic lectures. In the final year of the program, residents may also moderate a large group discussion.
Assisting in the organization and teaching of continuing education seminars offered at the College of Veterinary Medicine, e.g. New York State Veterinary Conference.
Research
The resident will perform applied clinical pathologic-related research under the supervision of the clinical pathologists beginning in the first year of the program. Prospective, hypothesis-driven research is expected and will culminate in the publication of results in a peer-reviewed journal as well as presentation of results at the annual meeting of the ACVP. During the course of their research, residents will acquire skills in study design, laboratory techniques, and scientific writing. Residents are expected to write a Share the Future grant for the ACVP or apply for other funding opportunities. If available, residents are required to take a statistical course during their training program. Residents are also encouraged to publish individual case reports, submit mystery slide cases or case discussions for presentation at the annual meeting of the ACVP, and participate in collaborative research with other members of the college community. For further information on research interests of the current faculty and research projects undertaken by current and previous residents, click on the faculty names above and refer to information provided under Current Residents and Past Trainees.
Structured Activities, Seminars, and Rounds
The residency training program is structured to allow residents to spend substantial time with all board-certified clinical pathologists. These structured activities are designed to give residents thorough training for success in a variety of career opportunities in clinical pathology by enhancing diagnostic skills, providing access to infrequent disorders that may not be encountered during the residency, and assisting in preparation for the board certification examination by the ACVP. These activities include:
Weekly case seminars: Residents are given cytology, hematology, or surgical biopsy cases for description and interpretation. Starting in the second year, residents are encouraged to write a "board-style" description and interpretation.
Biweekly or monthly chemistry case reviews: Residents are given clinical chemistry data for interpretation and critical discussion. Starting in the second year, residents are encouraged to write a "board-style" interpretation.
Biweekly or monthly cytology-histology correlate sessions: Residents and faculty participate in the review and comparison of cytology and histopathology findings of cases, some of which are controversial and challenging.
Biweekly seminars on special topics in clinical pathology: Each member of the clinical pathology team (residents and faculty) leads discussions, in rotation, on principles of clinical pathology. These seminars may include review of journal articles, methodologies, or other topics relating to laboratory medicine.
Residents are encouraged to participate in a variety of other seminars and rounds held within the College of Veterinary Medicine (e.g. oncology rounds, infectious disease forums).
To facilitate training, residents have access to a wealth of archived resources that are available for directed and self-study. These resources include:
An extensive textbook-based and online library.
An extensive image database, including digitally scanned Aperio slides.
PowerPoint presentations, lecture notes, and course notes from continuing education seminars held at Cornell University or obtained from other meetings
Slide sets:

Resident training slides (hematology, cytology, and surgical biopsy) that encompass interesting or challenging cases.
Extensive archived hematology and chemistry slides from routine diagnostic evaluation including samples from normal tissues.
Mystery slide sets with case summaries from ASVCP meetings (mystery slide cases, chemistry cases, case discussions).

Examples of normal and abnormal results, including artifacts using the following techniques:

ADVIA hematology analyzer
Protein electrophoresis
Flow cytometry
Polymerase chain reaction for antigen receptor rearrangements

Complete case material from interesting cases (representing all species)
Current Residents
Past Trainees (since 1993)
Shelley Chu, 2019-2022
Jose Daniel Cruz Otero, 2015-2019
Daniela Hernandez Muguiro, 2014-2018
Midori Asakawa, 2013-2016

What is your diagnosis? Cutaneous mass in a dog.
Asakawa MG, Lewis SM, Buckles EL, Stokol T.Vet Clin Pathol. 2015 Dec;44(4):607-8. doi: 10.1111/vcp.12280. Epub 2015 Aug 19.PMID: 26288379

Ashleigh Newman, 2012-2015

Reporting and interpreting red blood cell morphology: is there discordance between clinical pathologists and clinicians?
Newman AW, Rishniw M, Behling-Kelly E.Vet Clin Pathol. 2014 Dec;43(4):487-95. doi: 10.1111/vcp.12202. Epub 2014 Oct 3.PMID: 25280365
Cholesteatoma and meningoencephalitis in a dog with chronic otitis externa.
Newman AW, Estey CM, McDonough S, Cerda-Gonzalez S, Larsen M, Stokol T.Vet Clin Pathol. 2015 Mar;44(1):157-63. doi: 10.1111/vcp.12212. Epub 2014 Nov 10.PMID: 25385218

Erika Gruber, 2010-2013

Role of tissue factor expression in thrombin generation by canine tumor cells.
Gruber EJ, Catalfamo JL, Stokol T.Am J Vet Res. 2016 Apr;77(4):404-12. doi: 10.2460/ajvr.77.4.404.PMID: 27027841

Nora Springer, 2009-2012

Flow cytometric detection of circulating platelet-derived microparticles in healthy adult horses.
Springer NL, Smith E, Brooks MB, Stokol T.Am J Vet Res. 2014 Oct;75(10):879-85. doi: 10.2460/ajvr.75.10.879.PMID: 25255176

Seigo Ogasawara, 2007-2010

Effect of recombinant canine interleukin-6 and interleukin-8 on tissue factor procoagulant activity in canine peripheral blood mononuclear cells and purified canine monocytes.
Ogasawara S, Daddona JL, Trimpert J, Stokol T.Vet Clin Pathol. 2012 Sep;41(3):325-35. doi: 10.1111/j.1939-165X.2012.00437.x. Epub 2012 Jun 21.PMID: 22724392
Interleukin-10 inhibits lipopolysaccharide-induced upregulation of tissue factor in canine peripheral blood monocytes.
Ogasawara S, Stokol T.Vet Immunol Immunopathol. 2012 Aug 15;148(3-4):331-6. doi: 10.1016/j.vetimm.2012.04.023. Epub 2012 May 3.PMID: 22609246

Heather Priest, 2006-2009

Transferrin receptor expression in canine lymphoma.
Priest H, McDonough S, Erb H, Daddona J, Stokol T.Vet Pathol. 2011 Mar;48(2):466-74. doi: 10.1177/0300985810377074. Epub 2010 Aug 4.PMID: 20685917

Amy Warren, 2006-2007

Warren A, Stokol T, Hecker K, Nydam DV (2013) Storage-associated changes in the bovine hemogram with the ADVIA 120 hematology analyzer. Comp Clin Pathol. 22:1235-1240.

Chris Mesher, 1993-1996

Alanine aminotransferase apoenzyme in dogs.
Mesher CI, Rej R, Stokol T.Vet Clin Pathol. 1998;27(1):26-30. doi: 10.1111/j.1939-165x.1998.tb01076.x.PMID: 12075557
What is your diagnosis? Subcutaneous nodule from a 14-month-old cat.
Mesher CI.Vet Clin Pathol. 1997;26(1):4. doi: 10.1111/j.1939-165x.1997.tb00688.x.PMID: 12658602 No abstract available.
What is your diagnosis? Liver impression smears from 5 juvenile canaries.
Mesher CI, Mauldin EA.Vet Clin Pathol. 1996;25(4):140. doi: 10.1111/j.1939-165x.1996.tb00987.x.PMID: 12660961 No abstract available.
Intracellular myelin in cerebrospinal fluid from a dog with myelomalacia.
Mesher CI, Blue JT, Guffroy MR, De Lahunta A.Vet Clin Pathol. 1996;25(4):124-126. doi: 10.1111/j.1939-165x.1996.tb00981.x.PMID: 12660957
Useful Links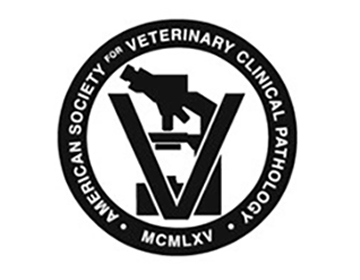 A nonprofit scientific organization dedicated to the promotion of scientific advancement, education, and standards in veterinary laboratory medicine.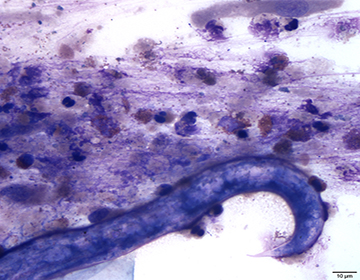 Cases seen by Cornell University's Clinical Pathology Laboratory; test yourself with the questions and photomicrographs and make your own diagnosis!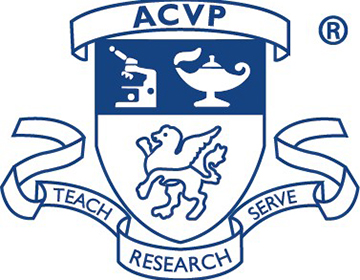 Fostering excellence in veterinary pathology, to protect and improve animal, human and environmental health for the betterment of society, since 1949.