Application & Timetable
Application Information
The DVM program application process typically begins in May, a year prior to enrolling. Only one application is required for admission, provided by the Veterinary Medical College Application Service (VMCAS).   
UPDATE: GRE'S (and MCAT's) are no longer required to apply to Cornell starting with this application cycle and all future application cycles going forward.
REMINDER: You can apply with up to 12 semester credits (or 18 quarter credits) of prerequisite course work pending completion by the end of the spring term prior to enrolling.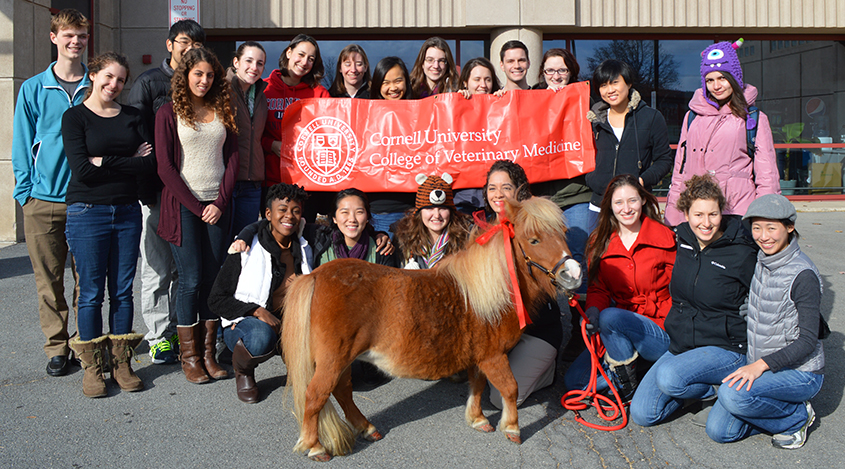 The VMCAS collects:
Biographical data
Academic information
Animal experiences
Veterinary experiences
Evaluator information
Essays, etc. 
Three electronic letters of evaluation (eLors)
Official transcripts
Tracking page:  Once you begin your VMCAS Application, you will establish a Cornell tracking page, where we will communicate with you throughout the application process (including your admissions decision). The tracking page shows:
AP (optional)
Dean's Certification 
NYS Residency Form
Prerequisite Substitution Form (optional)
We recommend you start your Cornell Tracking Page as soon as possible!
How to Apply-At a Glance:
When:

Send To:

What:

January-Sept 15, 2020

May 12-Sept 15, 2020

VMCAS

Delegate Veterinary Colleges

Complete and Submit VMCAS Application

January 22-Sept 15, 2020

VMCAS

VMCAS eLors (electronic Letters of Evaluation)

January 22-Sept 15, 2020

VMCAS

Official Transcripts from All Colleges Attended (note if in college Spring term, have official transcripts sent at end of semester or quarter)

May 12-Sept 15, 2020

VMCAS

Cornell Supplemental section available in the VMCAS application (deadline September 15, 2020).  There is no extra supplemental application fee required (just the VMCAS application fee)

January 22- Sept 15, 2020

VMCAS

May - Sept 15, 2020

Cornell Vet Admissions Tracking Page

New York Residents - NY Residency Form (link on Cornell Tracking Page)

May - Sept 15, 2020

Cornell Vet Admissions

International Applicants- TOEFL

January 22-Sept 15, 2020

VMCAS

WES Credit/Grade Conversion Report if education outside US