Support Services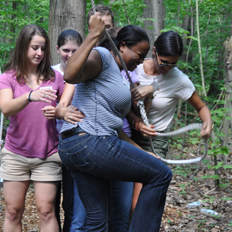 Our students have access to a wealth of resources and support services that help create a pleasant, positive, and productive experience.
Faculty Advisors
All our incoming DVM students are assigned faculty advisors. Newly matriculated students will meet their faculty advisors during orientation. This brief meeting is meant to be a building of a relationship. The faculty advisor's role is to serve as a source of support and guidance for their students.
Peer Mentors
The goal of Peer Mentoring is to help incoming first year DVM students make a smooth transition and adjust to life as a student at the college. Peer mentors are second or third year DVM students and are invaluable resources as they can offer advice based on their personal experience at the college.
Peer Mentors are assigned to all first year DVM students. Incoming students are typically contacted by their peer mentors during the summer before they are scheduled to enter the DVM program.
Class of 2027 Peer Mentors

Kaitlyn Carberry

Hi everyone! My name is Kaitlyn and I am a member of the class of 2025. I grew up in New Jersey and attended the University of Massachusetts Amherst where I majored in Pre-Veterinary Sciences and minored in Biochemistry and Molecular Biology. My interests are quite broad so I'm still figuring out where my DVM will eventually take me, but I am definitely interested in specializing! On campus, I work as a student tech with LA Crew at ENFAH, am a Purina student rep, will be serving as an E-Board member of ZAWS, and am involved with SAVMA as a White-Coat Wellness Co-Chair and Jr. Philanthropy Chair. When not studying, I enjoy hiking, exploring Ithaca, trying new recipes, and playing with my hedgehog, Benny. I am super excited to meet everyone - always feel free to reach out to me any time (krc63@cornell.edu)! 

Emily Davis

Hi Everyone! My name is Emily and I am a member of the class of 2025. I am from New Jersey and graduated from Delaware Valley University in 2021 with a degree in Equine Science and Breeding. Both at home and during undergrad I worked at a small animal emergency and specialty hospital. While balancing work and school, I played collegiate soccer and competed in the hurdles for track. 

At the Cornell University Hospital for Animals I work in the Small Animal Emergency Department. I am still undecided on my professional goals, however I am leaning towards small animal medicine. I continue to leave my options open by taking diverse classes in all specialties. I am the Vice President of Cornell's Veterinary Business Management Association and this is one of my favorite parts of vet school. 

Outside of school, I love going on hikes when the weather allows. There are so many beautiful places to explore in Ithaca. In the colder months, I am into skiing and snowboarding. 

Olivia Perkins

Hi everyone! My name is Olivia Joy Perkins and I am a member of the Class of 2026. I was born and raised in Farmington Hills, Michigan, and graduated from Case Western Reserve University in 2022 with a degree in Biology. Some highlights of my undergraduate career include playing on the women's basketball team for 2 years, serving on the e-board for organizations like the African American Society and Spartans for Special Olympics, and contributing to feral swine research and management using environmental DNA (eDNA).

My veterinary interests include public health, epidemiology, and global health, and I plan on initially working for the USDA post-graduation. Some extracurriculars I'm currently involved in include serving as the CVM Representative for GPSA, Special Events Chair for Omega Tau Sigma (OTS), and working as a Student Milker at the Teaching Dairy Barn. In my free time, I enjoy playing intramural sports with friends, eating my way through Ithaca, and watching cringey reality TV.

Truc Vu

Hi! My name is Truc (pronounced /trook/) and I am a member of the Class of 2025 from Ho Chi Minh City, Vietnam. I came to the US as an exchange student my last year of high school then attended the University of Cincinnati majoring in Biomedical Sciences and Neuroscience. I took a gap year before vet school to work at a small animal general practice, an emergency facility, and another surgical specialist facility. At Cornell, I am working as an Emergency Student Assistant in the ER at CUHA. I am also a rush chair for Omega Tau Sigma (OTS) and the president of the Association of Asian Veterinary Medical Professions (AAVMP). In my free time, I love doing Crossfit, working out of some kind, or feasting in my bed while binging TV shows. I am beyond excited to meet you guys. Feel free to reach out whenever you need a shoulder to cry on, someone to grab food with, or a workout buddy. 

Kimaya Bakhle

My name is Kimaya Bakhle and I am an incoming second-year DVM/PhD student. I am originally from Cleveland, Ohio and went to Purdue University for my undergraduate studies, where I majored in biochemistry and minored in Spanish. My veterinary interests include small animal medicine and translational research. At CUCVM, I am involved in Southside Clinics, AAVMP, LVMA, SAVMA, and Omega Tau Sigma. Outside of school, I enjoy working out, going on hikes,
and trying new restaurants and recipes.

Joyce Lu

Hi, I'm Joyce! I'm in the class of 2026 (rising second year), and I'm from Centreville, Virginia. I went to Virginia Tech for undergrad (go hokies), where I majored in Animal Science. The semester after graduating, I interned at the National Zoo in DC with the primate department, which was such an amazing experience. I'm currently interested in small animal emergency medicine as well as zoo/wildlife/exotics, although I'm still open to the many opportunities that vet school will provide! Here at Cornell, I'm part of the Social Committee of the Student American Veterinary Medical Association (SAVMA) and am Vice President of the Association of Asian Veterinary Medical Professionals (AAVMP). I also work as a student milker at the Teaching Dairy, and I'm a server at the Taverna Banfi at Cornell's Statler Hotel. In my free time, I love going/hanging out with friends, eating out at restaurants, going to the gym, and watching movies. I can't wait to meet you all, and feel free to reach out to me about anything!

Sara Coby

Hi everyone! My name is Sara and I am in the class of 2025. I am from Long Island and graduated from Penn State, where I majored in Veterinary and Biomedical Sciences. Currently, I work as a Nursing Care Assistant in the small animal ICU at CUHA. My professional goals are undecided, however I am very interested in pursuing a career in small animal emergency medicine. When I'm not studying, you can find me hanging out with my cats, at the gym, or exploring Ithaca with my friends!  

Finding ways to balance school while maintaining mental wellbeing is extremely important to me. I am so excited to meet you all and help you navigate your first year of vet school! Please feel free to reach out to me anytime (sc2482@cornell.edu).  

Maryna Mullerman

My name is Maryna (pronounced MAH-RI-NAH) and I am originally from Kharkiv, Ukraine. I immigrated to the United States at the age of fifteen and finished high school in Brooklyn, NY. I received my BS in Biology from Stony Brook University where I also got a minor in Creative Writing. I took a gap year before coming to vet school and worked full-time as a veterinary technician in NYC. I am interested in all things vet med but my current passions are small animal medicine, public health, education, and international work. Here at Cornell I am involved in multiple clubs and work at the Dermatology Service in the Cornell University Hospital for Animals. I am fluent in both Ukrainian and Russian and want to learn more languages in the future. I love live standup comedy (especially in NYC), Mediterranean cuisine, biking, street performers, traveling, and brunch. If I could eat brunch three times a day, I would. I have a ten-year-old cocker spaniel named Persik (which means "Peach" in Russian) who is also, not surprisingly, very passionate about food. Excited to meet all of you!

Katerina Wehe

Hi everyone! My name is Katerina Wehe and I'm a member of the class of 2025. I'm from Niskayuna, New York and attended SUNY Oswego where I majored in biology and had a minor in chemistry. I was involved in many activities including playing on the Women's Club Ice Hockey team, doing behavioral research on bats during summers in Costa Rica, and training two guide dogs through Guiding Eyes for the Blind. I have worked in both equine and small animal practices as a veterinary assistant and plan to pursue a career in small animal private practice. When I'm not studying, I enjoy baking, hiking with my dog, and exploring new restaurants in Ithaca. I am very excited to meet all of you and welcome you to Cornell Vet School! 

John Grealish


I am most interested in small animal specialty medicine, particularly in Cardiology. Before attending Cornell, I received my BS in Pre-Veterinary Science from UMass Amherst and had a variety of opportunities in and out of school. At UMass, I served as a TA for 3 courses and worked at the livestock barn. I also worked as a Cardiology Assistant at MSPCA Angell in Boston and completed an internship at Yellowstone Bear World where I bottle-fed baby bears for 3 months among other amazing tasks. At Cornell, I serve as the SAVMA National Delegate and National SAVMA Wellbeing Committee Chair, President of the Cardiology Club, Nursing Care Assistant in the ICU, Honor Board Representative, and a member of the mental health committee, and am one of the directors of the Southside healthy pet clinic. Outside of vet school, I love hanging out with my 3 dogs and 1 cat, playing music, and going for hikes around Ithaca. Before studying vet med, I toured North America playing bass in a band, and have played in 46/50 states and most of Canada. I am also a first-generation college graduate. I'm eager to share all of the amazing opportunities vet school has to offer!

Mia Jacobson

My name is Mia and I am starting my second year of vet school. I graduated with a Bachelors in Animal Science from Cornell and have lived in Ithaca for the last five years. I am originally from Rochester, NY and I enjoy being only a few hours from my family and my golden retriever, Sully. I am interested in small animal internal medicine with interests in cardiology and oncology. At school, I am part of the internal medicine club and in the past year, I have gained some amazing experiences working as a small animal emergency student assistant at CUHA. In my free time, I enjoy hiking, reading at Stewart Park, and taking my friends to all the amazing spots to enjoy in Ithaca. I am a young adult cancer survivor and I work with an organization called 13Thirty Cancer Connect in Rochester and Syracuse, NY. I am so excited to be one of the peer mentors this year and I cannot wait to meet all of the new incoming students. 

Warren Billard

My name is Warren I am apart of Cornell CVM Class of 2025. I am from Houston, Texas born and raised have lived in Texas all my life except my time in vet school. I attended Texas Tech University for undergrad and received a degree in Animal Science. I'm the youngest sibling and I think I definitely have the personality to match. I am most interested in Public Health and Food Safety/Security and currently am working with the government as an intern over breaks (feel free to ask me any questions related to public health). Food animals are my main squeeze but the occasional puppy or kitten can bring a smile to my face. Being easy going and approachable is something I strive to do so don't be afraid to chat with me any time you see me in the hallways or class. I am excited to meet my mentees and all of the people I can in the class(es) below me during my time here at Cornell CVM! 

Daisy Dai

Hi everyone!! I'm Daisy (Sum Yin) Dai, and I'm a part of class of 2026. I'm a Hong Konger from Chicago, Illinois. I graduated from the University of California-Davis with an animal science major and human rights minor (west coast best coast!!!). I'm interested in small and exotic animal emergency medicine with a focus on providing culturally and linguistically sensitive care to different communities. At Cornell, I'm serving as the president-elect for SAVMA, secretary for AAVMP, student ambassador for vet admission, and rush co-chair for omega tau sigma. I'm also working as the
student technician for the Janet L. Swanson Wildlife Hospital, administrative assistant for the alumni affairs and development, and student ambassador for Royal Canin. When I'm not studying, I love hanging out with my kitten Manu (see in picture :)), spending time with friends, traveling to different places (I love going on foodie trips!!!), and going to
music festivals. I'm so excited to meet everyone and be your resource as you navigate through vet school!

Brenna Lashbrook

My name is Brenna. I am from the Rochester area of New York but went to Michigan State for undergrad and lived in Michigan for several years after that. I have worked as a veterinary assistant for about 4 years full time and plan to pursue a career in small animal medicine after graduation, however I am still unsure on the specifics. I enjoy going to the Dairy Bar on campus, playing ice hockey, riding horses, and reading. I am excited to meet you all!

Ashley Stroud

Ashley Stroud is an upcoming second year student. She is originally from Medina, Ohio. She completed her undergraduate degree in Animal Science at The Ohio State University along with minors in LGBT+ Studies and the History of Women, Gender, and Sexuality. She is a proud first generation student. On campus Ashley is involved in SAVMA, the Dean's Leader's Program, OTS, AABP, and she is also a tour guide. In her spare time she loves to go for walks, cuddle with her cat and her bunny, and sing. After graduation she hopes to become a dairy practitioner with a focus on consulting and productivity management. She is so excited to be a peer mentor and get to know the future of veterinary medicine.

Xin Rou Tan "Natalie"

Hi everyone! My name is Xin Rou Tan "Natalie" and I am so excited to be your peer mentor! I grew up in Singapore my whole life and came over to the States in 2019 to obtain my Bachelor's degree at Stockton University, NJ! My current interests are Small Animal Emergency Medicine (+/- exotics) and International Medicine but I am open to seeing how my interests may change in the next few years. Outside of school, I like to explore the different waterfalls (esp since I'm from the flatlands), paint on canvas, find my motivation for the gym (haha!), try different cafes and all the different combinations of matcha lattes @ CTB, or just spending quality time with my close friends! Look forward to meeting y'all! :-) 

Jonathan Zirkiev

Hey! My name is Jonathan Zirkiev, and I'm a rising second year. I originally hail from Queens, NY and went to CUNY Hunter College for undergrad. There, I majored in Biology and Psychology, and also worked in a lab studying the parasite Trypanosoma brucei. While in school I also worked in a small animal general practice for a couple of years as a vet assistant.

I have not yet decided what I want to do with my DVM as my interests are pretty broad, but I have dabbled in many of the clubs available at the CVM. I currently work as an ESA at the CUHA ER and as a student milker, will be serving as the herpetology rep for ZAWS, am a Pet Loss Support Hotline Officer, and will be serving as a student ambassador and tour guide. Outside of school, I enjoy playing intramural sports, hiking (really original for Ithaca, I know), working out, spending time with my cat, or hanging out with friends.

I look forward to meeting everyone, and please feel free to reach out! (email: Jez27@cornell.edu)
Student Disability Services
It is our intention to provide reasonable accommodations for students with qualifying disabilities who are admitted to the DVM program. The accommodations apply to classroom and examination situations and activities based in the Cornell University Hospital for Animals.
Students who believe they are entitled to an accommodation should contact the Assistant Dean of Student Services and Admissions, Dr. Jai Sweet (jr27@cornell.edu). In order to make decisions based upon an individual's specific situation, it may take some to determine what is appropriate and fair given the nature of the disability as well as the requirements of veterinary education. When possible, a student should initiate the process in the summer before their matriculation, or, if later, as soon as the disability arises.
While your prior history is relevant for determining reasonable accommodations, you should realize that we might not grant the same accommodations that you have received in the past. Your request for accommodations will be carefully reviewed according to what is reasonable and appropriate given the nature of your disability and the essential components of your academic program. The final authority regarding accommodations rests with the Dean of the College of Veterinary Medicine.
Counseling Services
Confidential counseling services are available at the college to all CVM students through Cornell Health.  You can schedule an appointment by logging in to myCornellHealth and selecting Appointments.  You may also call 607-255-5155 during business hours to schedule.
Diverse approaches to personal problem resolution, including short-term psychotherapy, crisis intervention, stress management training, and academic counseling are used. Long-term therapy and psychotherapy can be arranged for those in need of these services. 
Career
Whether helping students create an individualized career plan or prepare to successfully compete for the professional path of their choice, the Office of Student and Academic Services is an active partner in students career development. The office maintains placement and professional development resources for students.  
Family with children
The College welcomes applicants at every stage of their life.  We recognize the importance of family in supporting a healthy student life experience and that families are essential allies in encouraging the academic success and well-being of our students. Ithaca and Cornell have a number of resources and support for students with children.
Life at Cornell
Resources for Partners and Families
Childcare
Education
Parenting 
Recreation