FAQ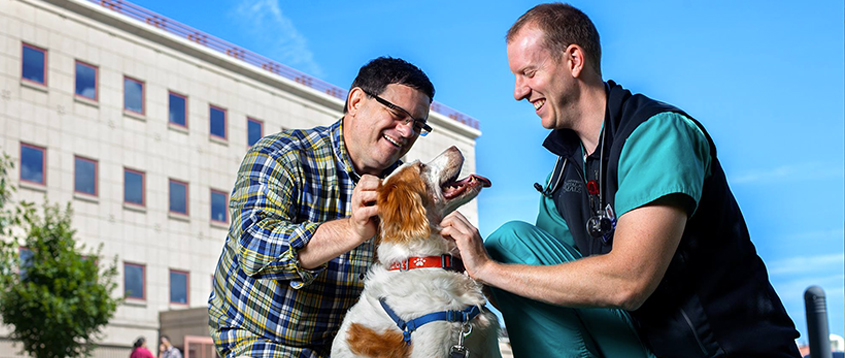 Is veterinary medicine right for me?
Students interested in veterinary medicine should have an interest in animals, science, learning, and academics. It is recommended that you volunteer with a veterinarian to experience what they do and explore the profession. You might also research different opportunities to work with animals in  a formal experience in addition to volunteering with a veterinarian. Examples might include an internship at a zoo, volunteering at a wildlife center, helping out at a humane society and cleaning stables and grooming horses. It is also important to work hard in your studies and spend time researching your college options.
What courses should I take in high school?
Take all college preparatory courses in all major subjects especially biology, chemistry, physics, calculus, trigonometry, statistics, environmental/earth science and English.  Also important are computer science, history, and languages.  Take all at the highest level your high school offers.  New York State students should earn a NYS Regents Diploma. 
Is veterinary experience important?
Yes, you should start at an early age working or volunteering for a veterinarian, zoo, or local shelter.  Try to work with many animal species and not just cats and dogs.  Keep track of the hours of experience you gain, and ask each supervisor for a letter of recommendation from each experience you list on your Cornell Supplemental Application.
When can I enter veterinary college?
Admitted applicants must have at least 60 semester credits of undergraduate course work (the equivalent of two years of full time study) prior to entering our Doctor of Veterinary Medicine degree program along with all our required Prerequisite courses completed. You can enter the DVM degree program as early as the end of your sophomore year in college.
How do I choose an undergraduate college?
Choosing a college is one of the most important decisions you will ever make.  Take your time and research your choices.  Use a college guide and apply to the most competitive colleges into which you believe you can gain acceptance.  Your undergraduate preparation is critical to your success in gaining admission and doing well in our DVM curriculum.
When you apply for admissions to veterinary college we will assign points to the college you attended and compare your college to the colleges of other applicants.  Cornell tends to take its students from the most competitive colleges.  We measure the competitiveness of a college based on "Peterson's Guide to Four Year Colleges" entrance ranking system. 
What should I study in college?
Any major is acceptable, so choose one you enjoy, but your major must allow you to take many science courses during your college program.  Most veterinary colleges require 10-12 college science courses. 
What college courses are required?
We require the following courses (note different sequence recommendations). 
If planning on 3-4 years of college:
1st Year
English Composition or Writing Intensive Courses (2 semesters)
Biology(or Zoology) I and II with labs *
General Chemistry I and II with labs *      
2nd Year
One semester of Organic Chemistry 
General Physics I and II with labs 
3rd Year                                                             
Biochemistry (half-year; lab recommended, but not required; 4 semester credits)
Advanced Life Science Course (half year; 3 semester credits)
If planning on 60 semester credits or two years:
1st Year
English Composition or Writing Intensive Courses (2 semesters)
Biology (or Zoology) I and II with Labs*
General Chemistry I and II with Labs*
General Physics I and II with Labs*
2nd Year
One semester of Organic Chemistry
Biochemistry (4 semester credits)
One semester of an Advanced Life Sciences Course
* If on the quarter system, you would need 3 quarters
When may I apply to the Doctor of Veterinary Medicine (DVM) degree program?
You can apply as early as the end of your freshman year provided you the appropriate number of prerequisite courses completed and a minimum of 30 semester credits in college.  The applications are available online starting in May with deadlines in September.           
Highly qualified students may apply in the spring of their second year of college under our Early Acceptance Program to the DVM degree program after the completion of their third year of college.  This is a separate application process that runs from March 1st to June 1st.
How does Cornell evaluate applications to the DVM degree program?
Veterinary medical education requires strong abilities as well as academic achievement and aptitude.  The Admissions Committee considers the potential for each applicant to succeed in a rigorous academic program as an early step in the review process (50% GPA and 50% Prerequisite GPA).  When reviewing applications, the Admissions Committee uses the formula below:
| % | Evaluation Factor |
| --- | --- |
| 20% | College Grade Point Average |
| 25% | Prerequisite GPA |
| 10% | Quality of the Academic Program (a challenging curriculum, full course load, academic letter or evaluation, transcript review, science courses, academic rigor of college) |
| 5% | VMCAS Essay |
| 20% | Experience working with the veterinary profession and with animals (minimally one letter of evaluation from a veterinarian required) |
| 10% | Non-Cognitive Skills (Cornell short answer questions, letter of evaluation) |
| 10% | All other achievements (community involvement;  non-academic  interests, abilities; personal characteristics such as reliability, honesty, and dedication to service) |
Can I visit the College of Veterinary Medicine and learn more about how to prepare for a future application?
We host an Admissions Presentations and Tour one Friday afternoon a month from March to November.  The presentation is roughly an hour, with the tour guided by a current DVM student that lasts typically 45 minutes to an hour.  Information about upcoming presentations and tours can be found on our web site.
The College also hosts an Open House each year, typically the second Saturday in April.  This is a day long opportunity to attend lectures, go through species exhibits, watch different demonstrations, and attend an admissions presentation.  This day is free and open to the public. Information about the Open House each year can be found on our College web site after the first of the year.
How can I keep up to date about admissions requirements and any possible changes?
Subscribing to the free electronic Pre-Vet Newsletter is a great way to stay current and up to date on what is happening in the admissions process.  This newsletter typically comes out once a semester and once during the summer.   To subscribe to the Pre-Vet Newsletter go to admissions and click on the link for the newsletter.