Events
---
Cornell hosts several time-honored traditions each year for students and their families. Make sure to mark your calendars in advance for these milestones!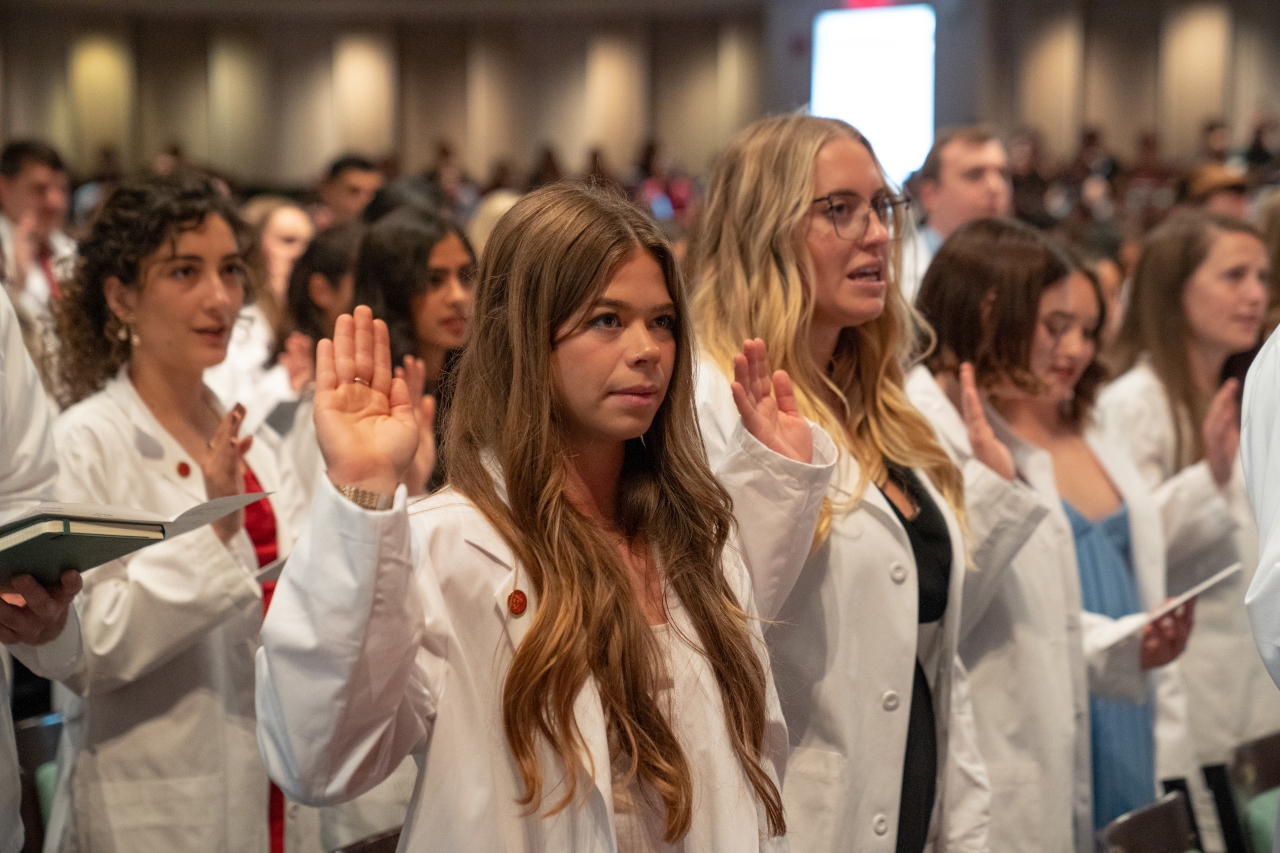 White Coat Ceremony
Held in the spring, this tradition marks the point where our students shift from classrooms to clinics. Hosted in Cornell's historic Bailey Hall, third-year students stand in front of friends and family to have a mentor of their choice coat them with an iconic white coat, the symbol of professionalism and empathy in the practice of medicine. 
Commencement
Invite your loved ones to celebrate the completion of your degree with two time-honored ceremonies: The university-wide event at Schoellkopf Field and the veterinary college hooding ceremony at Bailey Hall, which is followed by a reception at Takoda's Run Atrium at the College of Veterinary Medicine.
Career Connections Event
Held at the College of Veterinary Medicine, this two-day, career fair-style event brings employers and students together to network and discuss future position opportunities, and includes a wine and hors d'oeuvres reception. Recruiting organizations from across the veterinary industry are present, allowing students to match with prospective employers and find career opportunities.
Family Weekend
Show your loved ones what life at the college is like! Events include tours of the Equine Park, the Teaching Dairy Barn and the Cornell University Hospital for Animals. Families can also attend talks and luncheons, visit Cornell attractions like the Lab of Ornithology and Botanic Gardens and get out to the greater Ithaca area to hike, dine and explore.
Open House
This beloved student-run event has been a college tradition for over 50 years. More than 150 student volunteers, along with faculty and staff, host a wide array of activities — including demonstrations from the Cornell raptor and herpetology clubs, petting zoos, wildlife bingo and tours of the animal hospital — and interact with visitors to answer questions about animal health and husbandry.