Cornell Equine Park Stallions
These breeding stallions produce high quality foals that run the sport horse gamut and often produce foals of distinction in their perspective registries. Click on the plus sign next to each name to read more about their pedigree and pre-stud careers.
Seacoast Wonderful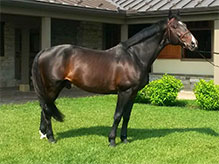 1999 Bay
Belgian Warmblood
Approved: 
Oldenburg (Gov)
American Warmblood Registry (AWR)
Breeding via frozen semen only
Seacoast Wonderful is a strong, well-balanced stallion and sire of athletic foals, adding substance, power and good character using proven European bloodlines. 
He has produced several progeny that were successful in show jumping in Europe, the UK and the US at the 1.40 - 1.60 level, such as HH Whiskey Royale with Quentin Judge and Weize Z for Italy.  Wild Thing Z with the late Benjamin Winter competed successfully in international eventing and Nichole HPF is an up and coming young mare who finished 4th for the 5 year old's at WEF 2019.
Wonderful placed well himself at the FEI level with the following results: 6th CSI3* 2008 - GP 2008 Moorsele (BEL) (1.60m); 1st CSI4* 2008 Chantilly (FRA) (1.50m); 5th CSI5* 2008 São Paulo (BRA) (1.50m); 1st CSI2* 2007 - Grand Prix 2007 Grobbendonk (BEL) (1.45m).
He is approved for breeding with the German Oldenburg Verband and with the American Warmblood Registry.  Please inquire for more information to equinepark@cornell.edu or 607-253-3100.
Pedigree
| | | |
| --- | --- | --- |
| Darco | Lugano van la Roche | Lugano I |
| | | Alderflut |
| | Ocoucha | Codex |
| | | Latoucha |
| TOP CASHGIRL van't Beugelhof Et1 | Cash | Cor de la Bryere |
| | | G-Landgrafin (Gypsy) |
| | Lady Feo Prinsveld | Feo (Feo de Lauzelle) |
| | | Hinde |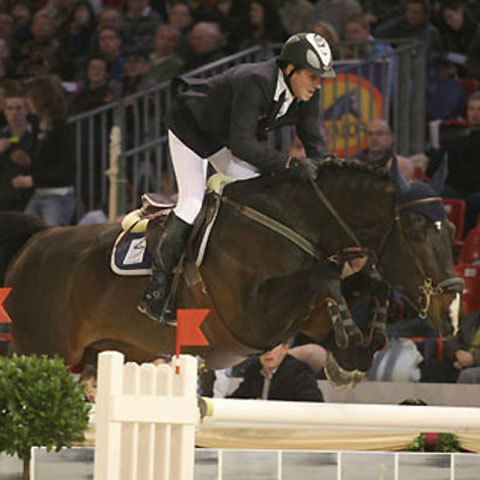 Waterford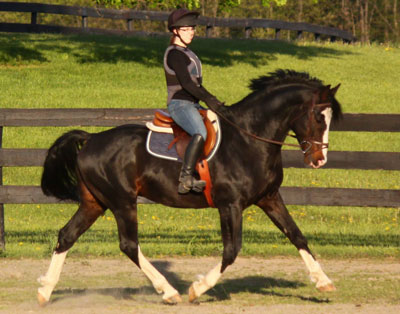 2003 16.1h Dark Bay Sabino
KWPN
Approved: 
American Warmblood Registry
KWPN Register A
Breeding via AI - cooled shipped and on site
Waterford is a beautiful dark bay KWPN stallion with an exceptional pedigree and equally commendable temperament. He is very sensible and easy to handle.  He has a curious, bold personality and is very friendly and people oriented. 
Waterford's sire, Consul, is the USEF top ranked jumper sire for 2004 and sire of top international jumper, Judgment ISF. Nimmerdor is one of the leading producers of jumpers in Holland as well as being high on the index for producing dressage horses.

Waterford's dam, Juventafee, born in 1991, is by the legendary Farmer (by Voltaire). She was imported from the Netherlands. She has been an extraordinary producer:

1995: N-Caprifee Z by Capitol, elite KWPN mare competing in Grand Prix level dressage
1996: Olivier-S by Ahorn, KWPN gelding competing at Grand Prix level jumping
1997: Primeur-S by Emilion, KWPN gelding competing at Grand Prix level jumping
2000: Tarrazu by Cavalier, KWPN mare
2003: Waterford by Consul, KWPN-NA stallion
2004: Zanzibar by Consul, (FULL SIBLING) KWPN-NA stallion competing at FEI Prix St George level dressage with Katie Riley (part of Dr. Cesar Parra's team Piaffe Performance)
Waterford consistently passes on an uphill, compact build, excellent shoulder angle, and neck placement. He is an excellent choice for adding bone, increasing the reach of the shoulder, and shortening the back of the mare. He carries the sabino gene so often passes on white. He has excellent semen quality and has successfully been used on mares who are notoriously hard to settle. He has many offspring under the age of 5 but some notable competition results follow:
C Major– multiple top placings in the Baby Green, Children's and Green Hunters.
Caio- top placings in Children's and Junior Hunters.
Clear Sailing- top placings in the Adult and Pre-Green Hunters.
Llawen Carreg– showing Second Level dressage.
Pedigree
CONSUL     
 Nimmerdor         
Farn                  
Ramonaa
Waloniki
Furioso
Raniki
 JUVENTAFEE
 Farmer
Voltaire
Wulia
 Elfenfee
Saluut
Profee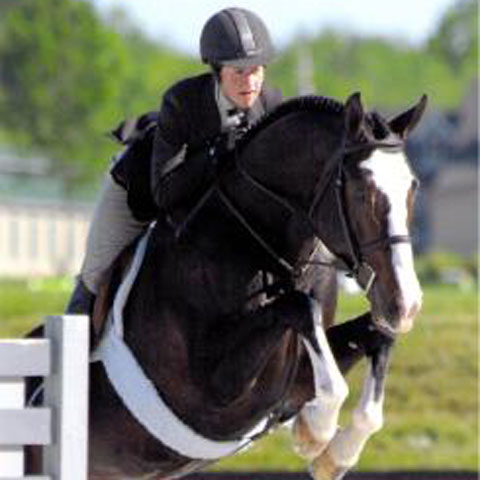 L'Andiamo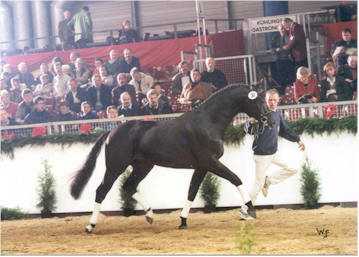 L'Andiamo
1997 16.3h Black
Oldenburg
Foals eligible for Certificate of Pedigree through the German Oldenburg Verband (GOV)
Proven producer of Foals of Distinction through the German Oldenburg Verband
Breeding via AI - frozen semen only
L'Andiamo offspring are known for their correct conformation, beautiful gaits, good bone and style.  They are suitable for dressage but also are athletic and can jump!  In 2019, a L'Andiamo gelding trained and shown by Heather Mason of Flying Change Farm, RTF Lincoln, was the Intermediate II Open winner at the US Dressage Finals.  Trainers and amateurs alike enjoy riding their "Andy" babies and taking them through the levels. 
L'Andiamo's sire, Lord Liberty G (Lord) also produced successful Grand Prix level dressage and breeding sire Liberace (out of Vichy) who stands in the UK.   L'Andiamo's dam, Tandia, is by Andiamo by the great Absatz.  There are three ties to Furioso II in L'Andiamo's pedigree, so the jumping genes are there as well.  We offer frozen semen only and do not have a lot left.  Now is the time to breed to L'Andiamo if you have ever wanted to do so!
Pedigree
Lord Liberty G(Old) 330037691
Lord Liberty (Holst) 210113485
St.Pr/El Freya 330686880
St.Pr.St. Tandia(Old) 330021190
Andiamo (Han) 312300686
St.Pr.St. Tettora 330175581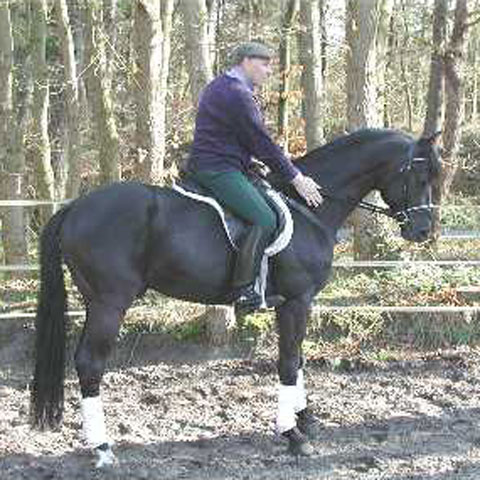 Juventus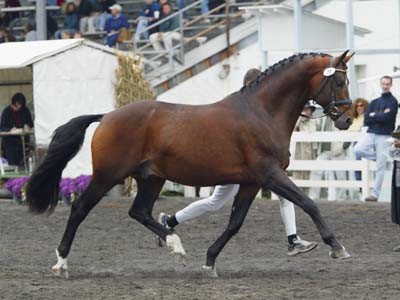 Juventus
1991 16.3 Bay Stallion
Approved: KWPN, GOV, ISR
Frozen Semen Only
A stallion with amazing bloodlines and the performance record and offspring to back it up.
Juventus's dam, Aphrodite is also the dam of Ex Libris (by Elan xx) who was a successful performance and breeding stallion, winning his Performance Testing in Germany and siring Carl Hester's Olypmpic mount, Escapado.  Ex Libris daughters have become great broodmares and he is the damsire of Rubinero (by Rubenstein) and De Libris (by De Niro). 
Juventus's sire Dublin produced 2 Approved sons, including Juventus. Dublin was winner of his 100 day test in Holland in 1988 and is by Ulft x Lucky Boy. Ulft is sire of Olympic Ferro.
As for his own performance, Juventus started his career by being named Champion foal at Brabant in 1991 and then went on to be Reserve Champion at his stallion test. He received 9's on his walk, trot, canter and trainability and a 10 on character. Iron Spring Farm imported him to the USA and from there he performed well up to Intermediare I, and holds the distinction of sweeping all his classes at Dressage at Devon, including Grand Champion, not once but twice within five years.  He has produced over 200 offspring for Germany and Iron Spring that are still competing today up to Grand Prix and his GP son Partous was even imported to the USA for a young rider in 2012. 
Juventus has produced a handful of successful foals for Cornell's teaching/breeding program out of a variety of mares, with the shining star being FJ Ramzes (out of a Rampal daughter), a 2011 gelding, who has been named to the U.S. Equestrian's Dressage Development program with trainer Lehua Custer.  Juventus foals are known for their beauty, movement and trainability. 
Pedigree
DUBLIN

KWPN

Ulft

KWPN

Le Mexio

SF

Pia

KWPN

Sulana

KWPN

Lucky Boy xx

Julana

KWPN

APHROPDITE

Star, Pref

KWPN

Principaal

KWPN

Formateur

SGLDT

Sweetheart xx

Olga II

KWPN

Juweel

KWPN

Karolien

KWPN