Sports Medicine and Rehabilitation
Equine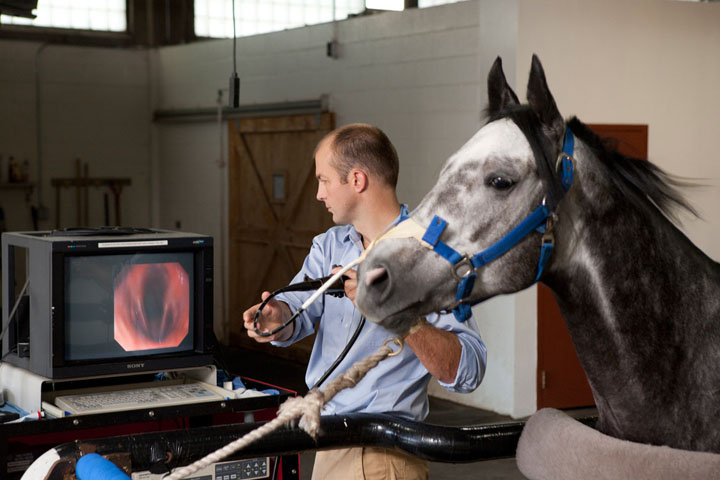 Equine Sports Medicine and Rehabilitation service provides an interdisciplinary approach to diagnosing and treating the underperforming equine athlete. Whether you have a race horse, hunter, show jumper or other discipline, our team of specialists with expertise in musculoskeletal, respiratory, cardiovascular, neurologic and hematological disorders can determine why your horse may be underperforming.
Horses from throughout the northeastern United States are referred to us for evaluation and diagnosis of performance limiting disorders.
Advanced Techniques
Biologic Therapies
Platelet Rich Plasma (PRP).  Platelet rich plasma is a concentration of platelets used to provide growth factors secreted by the platelets to a site of injury.  The growth factors act to enhance healing by improving access of healthy inflammatory cells to the tissue through formation of new blood vessels and connective tissue, and regeneration of skin.
Interleukin-1 Receptor Agonist Protein (IRAP).  IRAP was developed to counteract the effects of the cytokine interleukin-1 produced in sites of inflammation, such as a joint with osteoarthritis.  Specific indications for IRAP therapy in equine surgery are for treatment of moderate osteoarthritis, synovitis or capsulitis, or in horses that do not respond following intra-articular anti-inflammatory medications such as corticosteroids.
Mesenchymal Stem Cell (MSC).  MSCs are defined by their ability to differentiate into multiple cell lines (osteogenic, chondrogenic, and lipogenic) to yield different cell types including tendon, ligament, bone, cartilage, and muscle.  The most common source of MSCs in equine surgery is bone marrow, which may be harvested from the sternum or tuber coxae in the horse.  Other sources of MSCs in the body include umbilical cord blood, amniotic tissue, dental pulp, as well as synovial fluid and the synovial lining of joints in very low numbers.
Bone Marrow Aspirate Concentrate (BMAC).
Shockwave Therapy
Extracorporeal Shockwave Therapy (ECSWT) applies a focused, high-intensity acoustic pressure wave to the treatment area. Studies have shown increased vascularization and up-regulation of cytokines, which may be responsible for increased bone formation and improved healing of soft tissue injuries. ESWT has been applied to treat a multitude of musculoskeletal injuries in horses, including suspensory desmitis, kissing spines, and osteoarthritis. There is an additional analgesic effect, which lasts up to 48 hours in horses following ESWT. For this reason, racing and competition governing bodies set restrictions on use of ESWT during or immediately before competition.
Upper Respiratory Evaluation
We have a high speed treadmill and can tailor an exercise stress test to best challenge your horse and determine a cause of poor performance. Similarly, our over ground endoscope system can be fitted to the horse during a breeze, work out or while jumping to determine dynamic airway disorders under saddle. 
Upper Respiratory Diagnostics:
High definition videoendoscopy of the upper airway (laryngoscopy).
Over ground dynamic endoscopy
Transcutaneous and transesophageal laryngeal ultrasound
Digital radiography
Accurate diagnosis can then be followed by open surgical or minimally invasive laser repair of many conditions.
 
Cardiac and Lower Respiratory Evaluation
High definition videoendoscopy of the lower airway (bronchoscopy).
ECG/EKG assessment  of the heart rhythm at rest, during treadmill stress test and continuous telemetry after work.
Ultrasound of lungs (transthoracic), heart (echocardiography)
In-house laboratory to assess hematologic values, muscle enzymes, heart muscle markers, blood gas assessment.
What to Expect During Your Appointment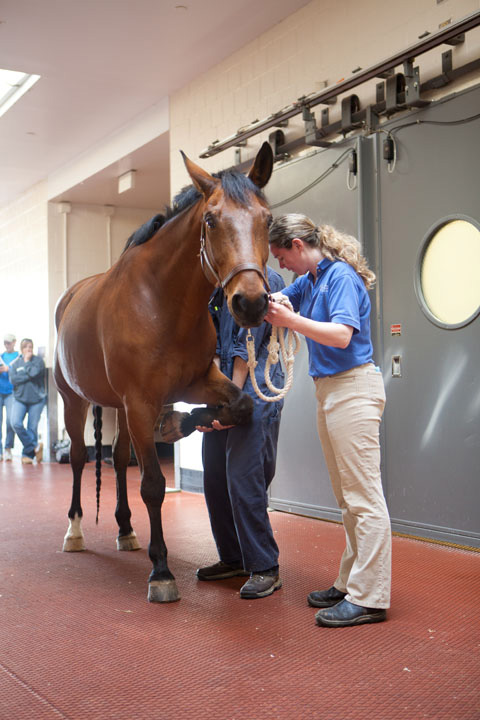 Your scheduled visit to the Equine Sports Medicine Service begins when you pull up to the circular driveway in front of the equine hospital. Please park your vehicle in the driveway, come into the reception area and check in at the front desk. After a small amount of paperwork, our licensed veterinary technician will help you unload and walk your horse to its assigned stall. 

Often times, you may leave your vehicle and trailer right in the driveway but, if the lot is full, the receptionist will provide you with a parking pass and directions to nearby longer-term parking where overnight parking for trucks and trailers is also available.

After your vehicle is parked, a senior veterinarian and veterinary resident ask you questions about the horse's past medical, surgical, travel and vaccination history and current health. They will work together to conduct an examination of your horse looking at the upper airway and for any evidence of disease or previous surgery, and they will use the endoscope to evaluate the larynx at rest. 

After the physical examination, our veterinarians will discuss their findings. Together, you will develop plan for further diagnosis and treatment of your horse. Patients that require surgery or advanced tests will often be admitted to the hospital at the conclusion of their initial appointment. Patients with conditions that do not require hospitalization will be discharged with detailed written instructions and a summary of the exam findings.
Extended Care and Rehabilitation
Opportunity for extended recovery and rehabilitation exists at the Cornell University Equine Park.  The Cornell Equine Park is the "hidden gem" of the College of Veterinary Medicine with 165 acres of green pastures, 62-stall main barn, stallion and broodmare barns, all less than two miles away from the College.  Current layup rates are:
$30.00  Boarding per day only
$50.00  Boarding per day with medicine administration
Share this: