Sports Medicine and Rehabilitation
Equine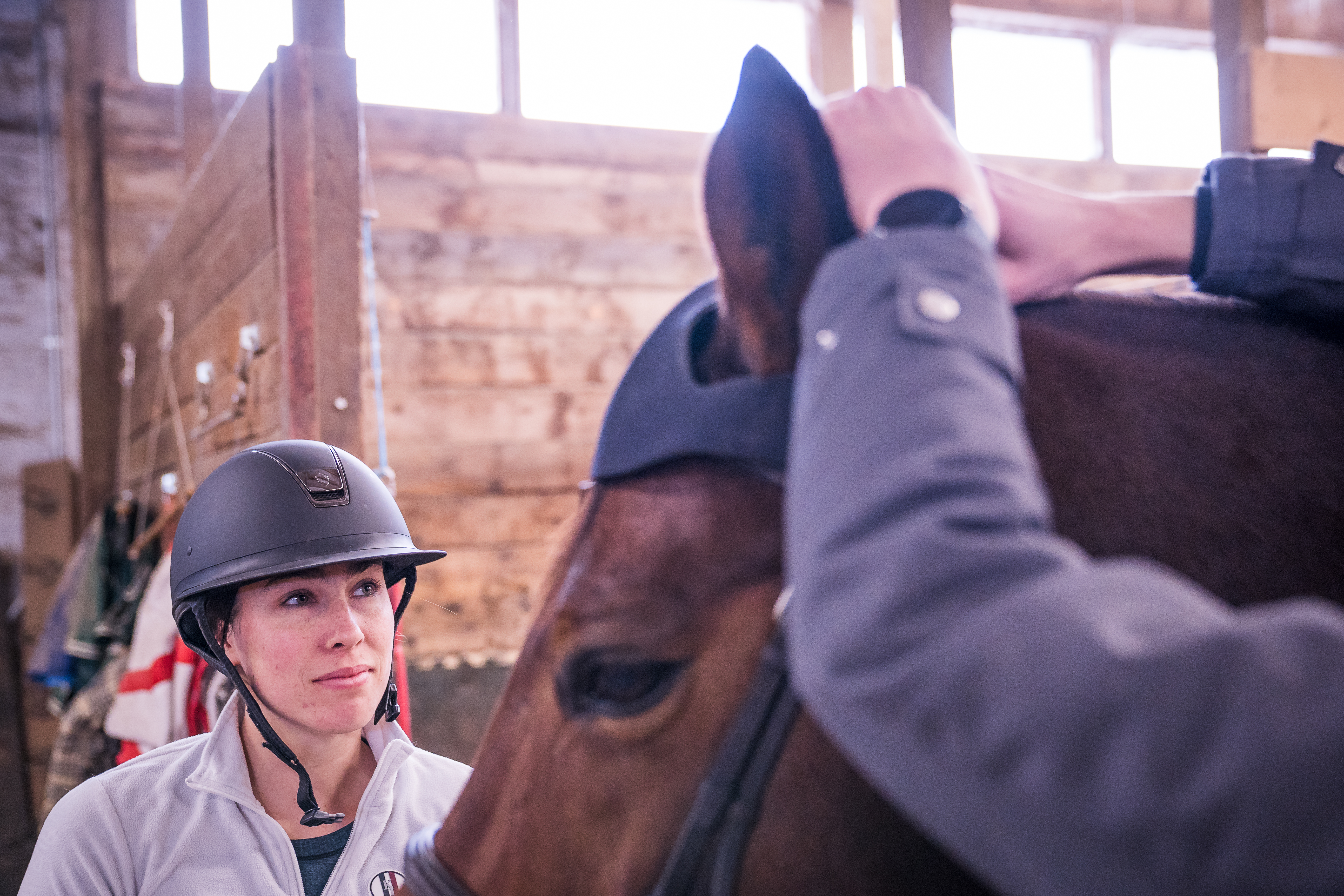 Equine Sports Medicine and Rehabilitation service provides an interdisciplinary approach to diagnosing and treating the underperforming equine athlete. Whether you have a race horse, hunter, show jumper or other discipline, our team of specialists with expertise in musculoskeletal, respiratory, cardiovascular, neurologic and hematological disorders can determine why your horse may be underperforming.
Horses from throughout the northeastern United States are referred to us for evaluation and diagnosis of performance limiting disorders. 
Medical Evaluations
Lameness & Imaging Evaluation
 In addition to a thorough examination by a specialist our service utilizes an Equinosis Q Lameness Locator, with non-invasive inertial sensors, which provides real-time, objective and quantitative results to identify lameness in horses.
The evaluation involves in-hand examination with the option to evaluate your horse under saddle. To be prepared for this option, please have your tack available during the appointment.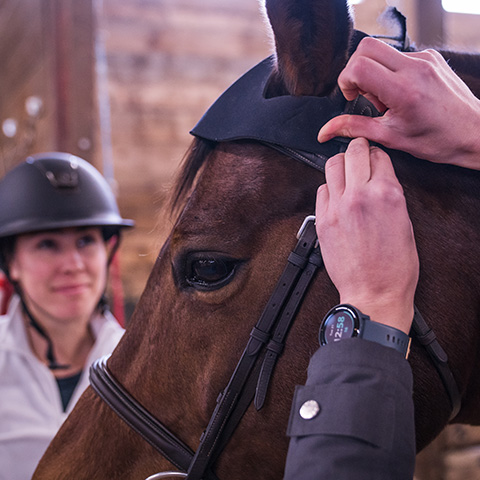 Upper Respiratory Evaluation
A high speed treadmill can help tailor an exercise stress test to best challenge your horse and determine a cause of poor performance.
Similarly, our over ground endoscope system can be fitted to the horse during a breeze, work out, or while jumping to determine dynamic airway disorders under saddle. 
Upper Respiratory Diagnostics
High definition videoendoscopy of the upper airway (laryngoscopy).
Over ground dynamic endoscopy
Transcutaneous and transesophageal laryngeal ultrasound
Digital radiography
Accurate diagnosis can then be followed by open surgical or minimally invasive laser repair of many conditions.
Cardiac and Lower Respiratory Evaluation
High definition videoendoscopy of the lower airway (bronchoscopy).
ECG/EKG assessment  of the heart rhythm at rest, during treadmill stress test and continuous telemetry after work.
Ultrasound of lungs (transthoracic), heart (echocardiography)
In-house laboratory to assess hematologic values, muscle enzymes, heart muscle markers, blood gas assessment.
Rehabilitation Modalities
The Cornell Equine Hospital has many resources available to provide care and treatment for your horse, including:
Biologic Therapeutics
Bone Marrow Aspirate Concentrate (BMAC).
Interleukin-1 Receptor Agonist Protein (IRAP).
Mesenchymal Stem Cell (MSC).
Platelet Rich Plasma (PRP)
Cryotherapy
Extracorporeal Shockwave Therapy (ECSWT)
Laser Therapy
Therapeutic Exercise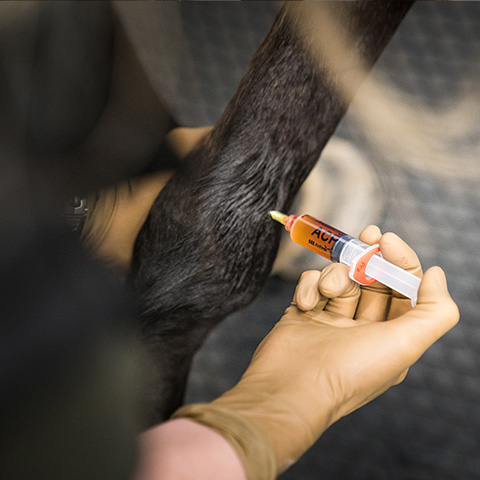 What to Expect During Your Appointment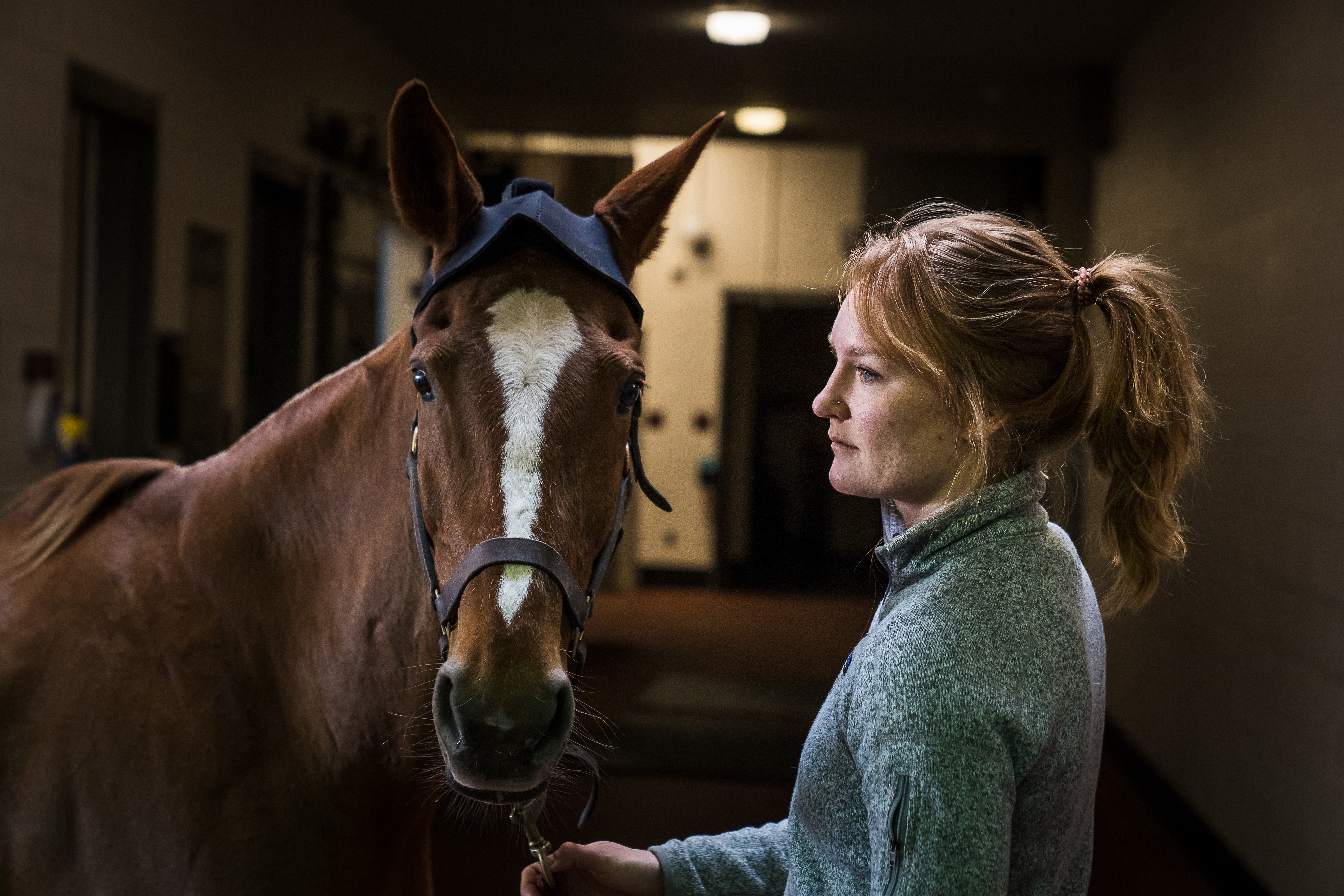 Your scheduled visit to the Equine Sports Medicine Service begins when you pull up to the circular driveway in front of the equine hospital. Please park your vehicle in the driveway, come into the reception area and check in at the front desk. After a small amount of paperwork, our licensed veterinary technician will help you unload and walk your horse to its assigned stall. 

Often times, you may leave your vehicle and trailer right in the driveway but, if the lot is full, the receptionist will provide you with a parking pass and directions to nearby longer-term parking where overnight parking for trucks and trailers is also available.

After your vehicle is parked, a senior veterinarian and veterinary resident ask you questions about the horse's past medical, surgical, travel and vaccination history and current health. They will work together to conduct an examination of your horse.

After the physical examination, our veterinarians will discuss their findings. Together, you will develop plan for further diagnosis and treatment of your horse. Patients that require surgery or advanced tests will often be admitted to the hospital at the conclusion of their initial appointment. Patients with conditions that do not require hospitalization will be discharged with detailed written instructions and a summary of the exam findings.
Post-Operative Care & Extended Rehabilitation
Opportunity for extended recovery and rehabilitation exists at the Cornell University Equine Park.  The Cornell Equine Park is the hidden gem of the College of Veterinary Medicine with 165 acres of green pastures, a 62-stall main barn, and stallion and broodmare barns, all less than two miles from the College.  Horses are welcomed to stay here while receiving extended care and rehabilitative treatments.  Current layup rates are:
$30.00  Boarding per day only, which includes turn out and exercise.
$50.00  Boarding per day with exercise, turn out, post-op bandage changes, and administration of medication.
Additional therapies available such as shockwave, laser therapy, stem cells, and platelet rich plasma.
Press