When tests get tricky: Treatments cannot rely on diagnostic tests alone
Thursday, September 2, 2021 - 9:22am
Using the most technologically advanced test to diagnose an animal might seem like a logical move, but a new commentary paper warns veterinary clinicians and researchers that a diagnosis cannot rely on tests alone.
"As with any laboratory tests, molecular diagnostic tests are only a component of the decision-making process," said Rodman Getchell, Ph.D. '02, assistant research professor and co-author on the paper, published in the latest issue of the Journal of the American Veterinary Medical Association. Co-authors include scholars from the University of Missouri, the American Veterinary Medical Association (AVMA), the University of Pretoria, Iowa State University and Aqueterinary Services, PC.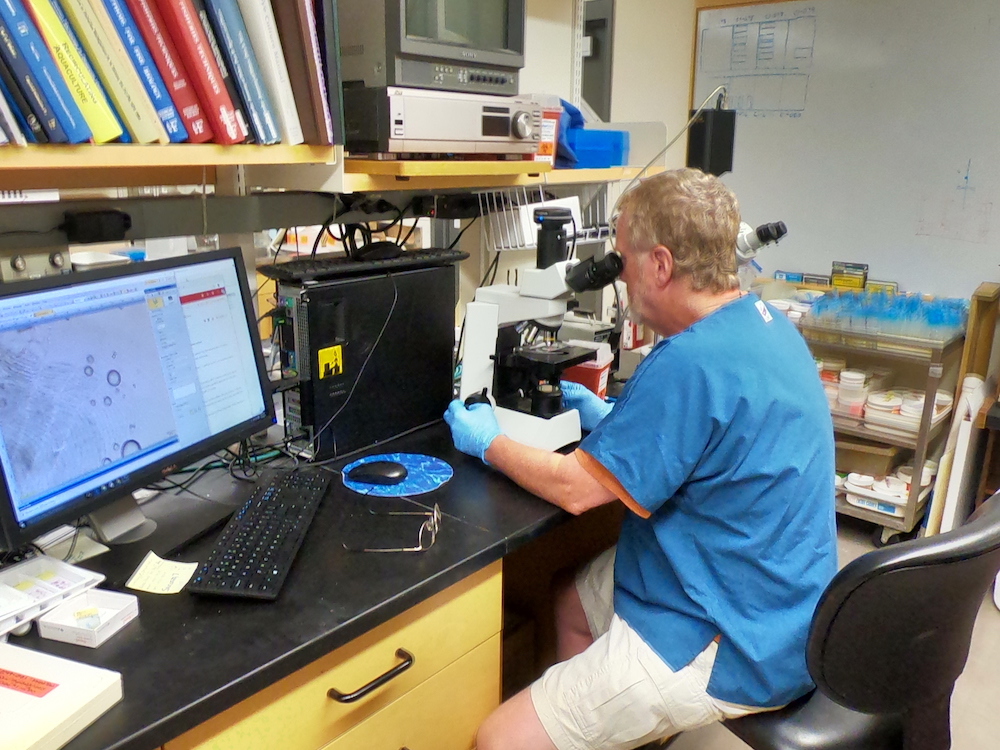 A molecular diagnostic test is used to detect molecular components — including DNA, RNA, proteins and metabolites — that are possessed or expressed by a pathogen or host. Such tests are key to uncovering if it's a virus making a pet lethargic, for example, or confirming that a tick found on the family dog carries the bacterium that causes Lyme disease.
Technological advances create more options for detecting pathogens, diagnosing diseases and can increase response time. The other side of this coin, however, is that too many options can create confusion in selecting the most appropriate test for each situation, as well as in interpreting results.
"A cautious interpretation of molecular diagnostic test results reduces the likelihood of negative impacts on animal health," Getchell said.
He and his co-authors advised that clinicians and researchers match any diagnostic test results with corroborating epidemiological, clinical and gross evidence. In general, test interpretation can be tricky, particularly among regulatory officers who may not have access to veterinary experts.
"There are important differences between diagnostic assays that are standardly used and those that have undergone a validation process," Getchell said. "Even veterinarians straight out of school may not grasp all the nuances of a test result, hence the existence of experts, like the veterinarians Cornell has on the Veterinary Support Services team."
The paper focuses on diagnostic test validation and molecular diagnostic tests in clinical and regulatory veterinary medicine, specifically tests that detect nucleic acid. The authors concluded that selecting appropriate diagnostic tests and correctly interpreting their results requires fully understanding their targets — in particular, the role they play in the pathogenesis of disease, the likelihood and meaning of false positives and negatives, how outside elements factor in, the implications of a positive result, and overall test validation. The paper examines aquaculture, equine, livestock, small animal, zoonotic disease and environmental contamination examples.
"The initial discussions on this topic had been ongoing amongst fish veterinarians and fish health researchers who focus on emerging viral pathogens," said Getchell, a fish health expert who studies emerging fish pathogens. From these initial discussions, members of the AVMA Aquatic Veterinary Medical Committee (AqVMC) decided a commentary would be appropriate, and other members from various fields contributed to diversify the species represented in the publication.
"I valued the great teamwork involved," Getchell said. "Some people would say that aquatic animal medicine is not a major part of veterinary medicine, but clearly members of the AqVMC initiated something important for all of those in this area of medicine."
Next steps for this work in the fish health arena are to incorporate some of the precautions mentioned into what's known as the Blue Book — a guide created by the American Fisheries Society that promotes the development and use of standardized, reliable techniques for the detection, diagnosis and management of certain diseases of aquatic animals.
Said Getchell, "The article is meant to serve as recommendations, a reminder and even a refresher for the readership."
Written by Melanie Greaver Cordova