Student illustrations bring wildlife book to life
Monday, May 2, 2022 - 9:56am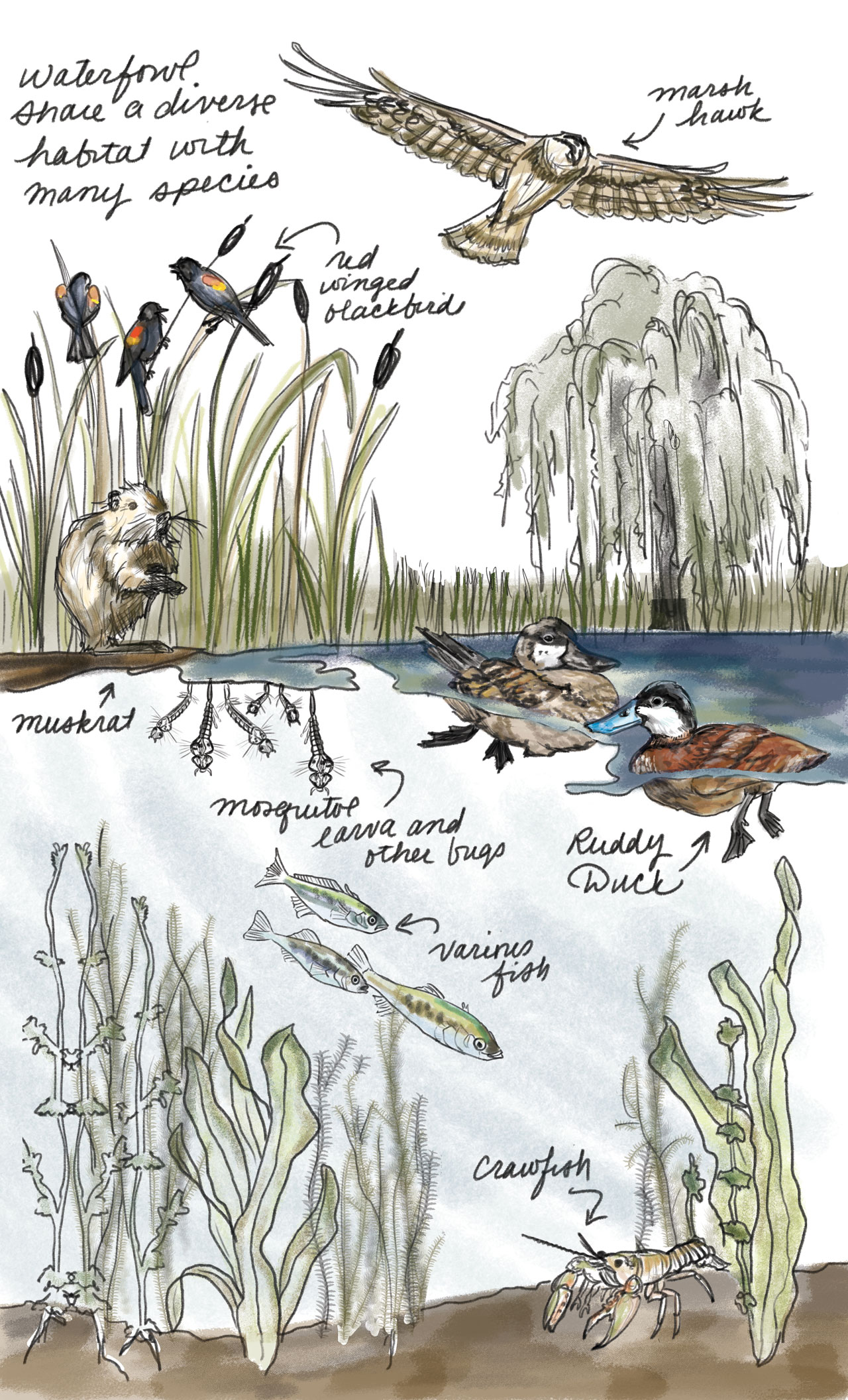 When veterinary student Laura Donohue learned that Cortland Seafood had fresh, whole fish available, she promptly claimed a few and returned home to dissect them on her kitchen table. What resulted — organs, scales and tiny bones arrayed across trash bags and plastic wrap — might be a grisly scene to anyone outside the veterinary profession, but it was illuminating for Donohue. She wanted to see for herself where this fish's spleen sat in relation to its stomach.
The Cornell College of Veterinary Medicine provides its veterinary students with thorough anatomy classes, but Donohue was on a mission for another project. "I was asked to illustrate general lesions in a disease for fish," she says. "And as I was drawing it, I realized I didn't actually understand the relationship between a spleen and the liver and the stomach. Can you see a liver at the same time as the spleen, at the same time as the stomach, or do I have to show it with the liver removed? I needed to look for myself."
Donohue, Class of 2022, is blending her artistic talents and passion for animals in a new wildlife book forthcoming from Johns Hopkins University Press. The book, entitled Wildlife Health and Disease in Conservation, features over one hundred of her illustrations that depict common wildlife disease cycles as well as their social, cultural and economic influences. Except for one art class as an undergraduate, Donohue is self-taught and has been drawing for fun her entire life.
The book's co-editors, Dr. David Jessup, wildlife veterinarian at the University of California-Davis, and Dr. Robin Radcliffe, associate professor of practice in wildlife and conservation medicine at the Cornell College of Veterinary Medicine, invited Donohue to join the project last year.
"When we found out that Laura went to the supermarket, bought fish and dissected them right there on her kitchen table, we knew we had hired the right person for the job," Radcliffe says.
Donohue had originally planned to participate in one of Radcliffe's educational trips to Indonesia in 2020, but due to pandemic restrictions, the trip was canceled. Although Cornell couldn't send her halfway across the world as planned, Radcliffe saw a unique chance to simultaneously provide her with a learning opportunity suited to her needs while breathing multicolored life into his and Jessup's new edited collection.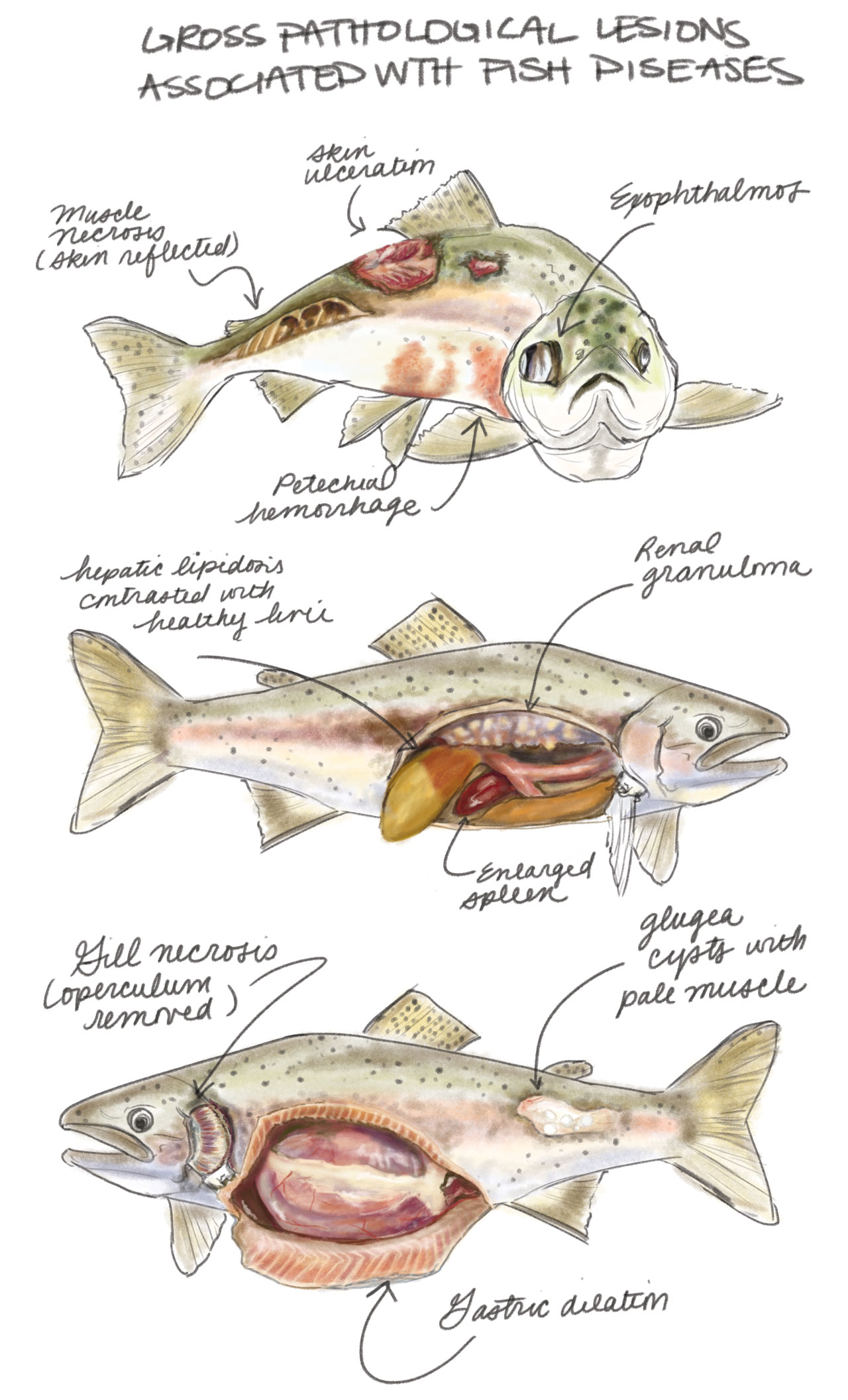 "Art and aesthetics can inspire people to care about and act on serious problems, which we certainly face in regards to One Health and environmental issues," Jessup says.
Donohue's art accompanies each of the 25 chapters, which range from Ebola in endangered mountain gorillas to avian malaria and the extinction of Hawaiian forest birds.
In addition to outlining the disease at hand, each chapter author touches on non-biological factors important to their subject, including the social, financial, legal and political factors at play. "We hope this is done well enough that, along with illustrations, the book will be useful to policymakers and stakeholders who may not have a strong biomedical education, and who can also influence how society deals with health and disease and conservation," Jessup says.
"This is where Laura comes in," Radcliffe adds. "She has been able to capture the disease-risk landscape — all the elements that contribute to a disease and might impact conservation efforts. Maybe for some it's habitat loss or increased transportation, for instance. Laura helped illustrate these ideas and gave the book a really rich visual element."
Case-based learning
Many of Donohue's illustrations show disease cycles in action and the animal systems in each chapter, allowing her to engage with these topics deeply.
"One of the things I love about Cornell is the way we're taught using real-life cases in front of us," Donohue said. "This was an extension of that. I'm a very visual person, and the book was a combination of science, art and learning for me."
Among her favorite chapters to work on was one on waterfowl diseases, authored by Jessup. "I worked with him to revamp the images, particularly related to botulism," Donohue says. "We commonly see a botulism outbreak as a result of flooding, but other ways are tilling or irrigation, which can kill invertebrates or small animals, which can propagate the spores." Donohue's illustration depicts the behavior of ducks as an example, ingesting the toxin and dying off in large numbers.
"Some of my favorite illustrations are the ones that show organs in the body as the bird is going about its daily life," Donohue says. "I draw them as you might see them out in nature. It's a fascinating way to learn the life cycles."
To achieve the artistic effects desired while staying scientifically accurate meant that Donohue was in constant communication with chapter authors. After meeting over Zoom or the phone for a conversation about an author's goals for the chapter, Donohue would sketch out ideas and send them with follow-up questions. She created a WordPress site specifically for tracking and providing feedback on drafts.
"I had to make sure I was on the right track before spending too much time on a sketch, since there were so many to do," Donohue says. "Sometimes I'd share a sketch where one of the animals included was just a box, and they trusted that I'd make them more in depth as we went along."
"Laura was approachable, responsive and welcomed input throughout the design process for my chapter," says Andy Ramey, director of the Molecular Ecology Laboratory at the USGS Alaska Science Center. Ramey authored the chapter "Avian Influenza in Wild Birds," for which Donohue created three custom illustrations, including a frontispiece — essentially a cover image — highlighting research on avian influenza in western Alaska.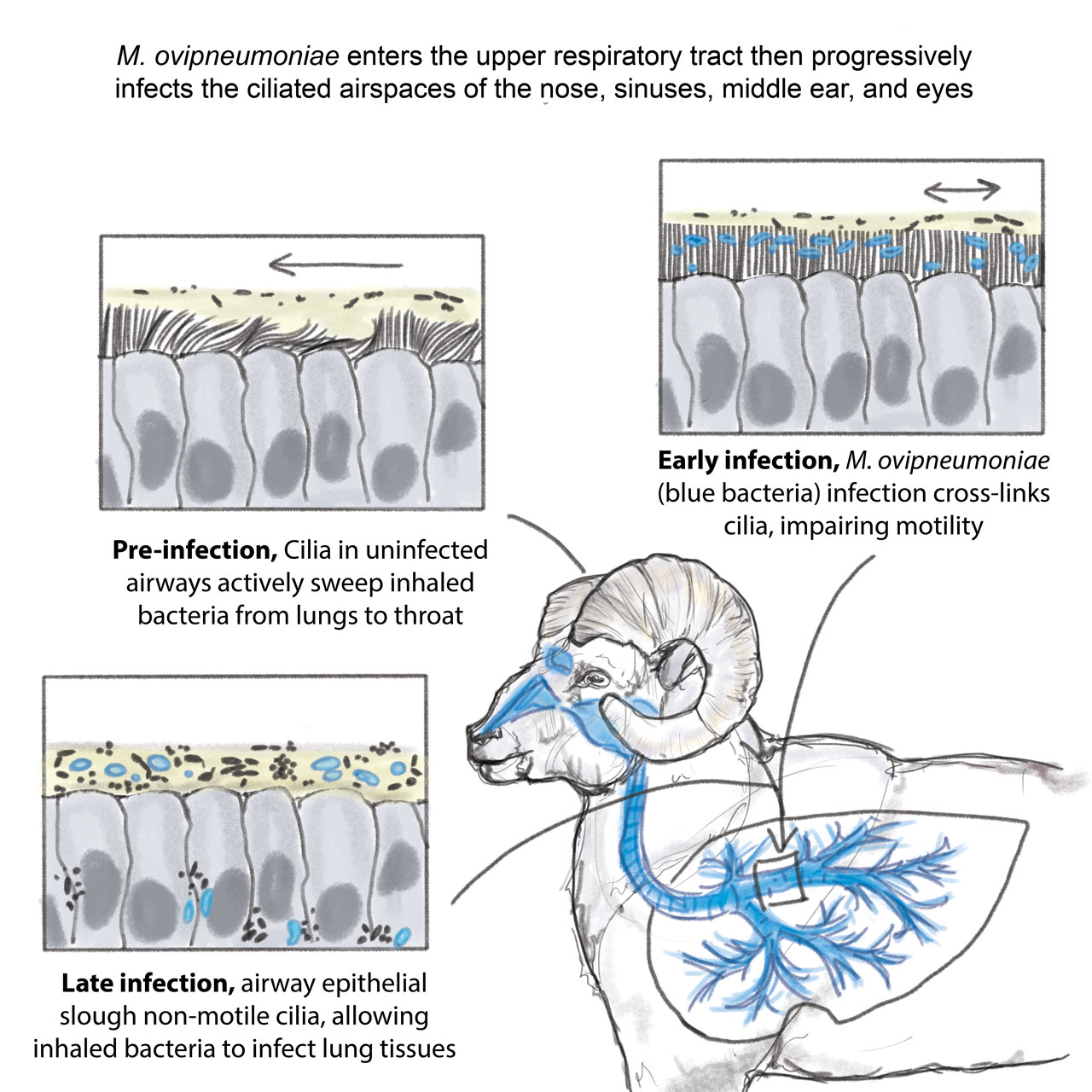 Donohue also illustrated the generalized ecology of influenza-A viruses in wild birds and spillover hosts, as well as some of the common signs and lesions associated with highly pathogenic influenza-A virus infection in wild birds. "She provided vivid and clear examples as to what a person might observe in the field or clinic should they encounter a bird infected with this ecologically and economically important disease," Ramey says.
Jessup was particularly struck by the illustrations of sea otters and bighorn sheep. "The bighorn sheep designs in particular help explain a bacterial pneumonia process that has eluded the understanding of wildlife health specialists for nearly three decades. It's immensely helpful," Jessup says. "Many others show the influence of landscape and environment on wildlife disease or health problems."
"Laura even made challenging concepts such as the evolution of viruses come to life by showing the transition of disease over time as viruses move across both species and geographic barriers," Radcliffe says.
Worldwide impact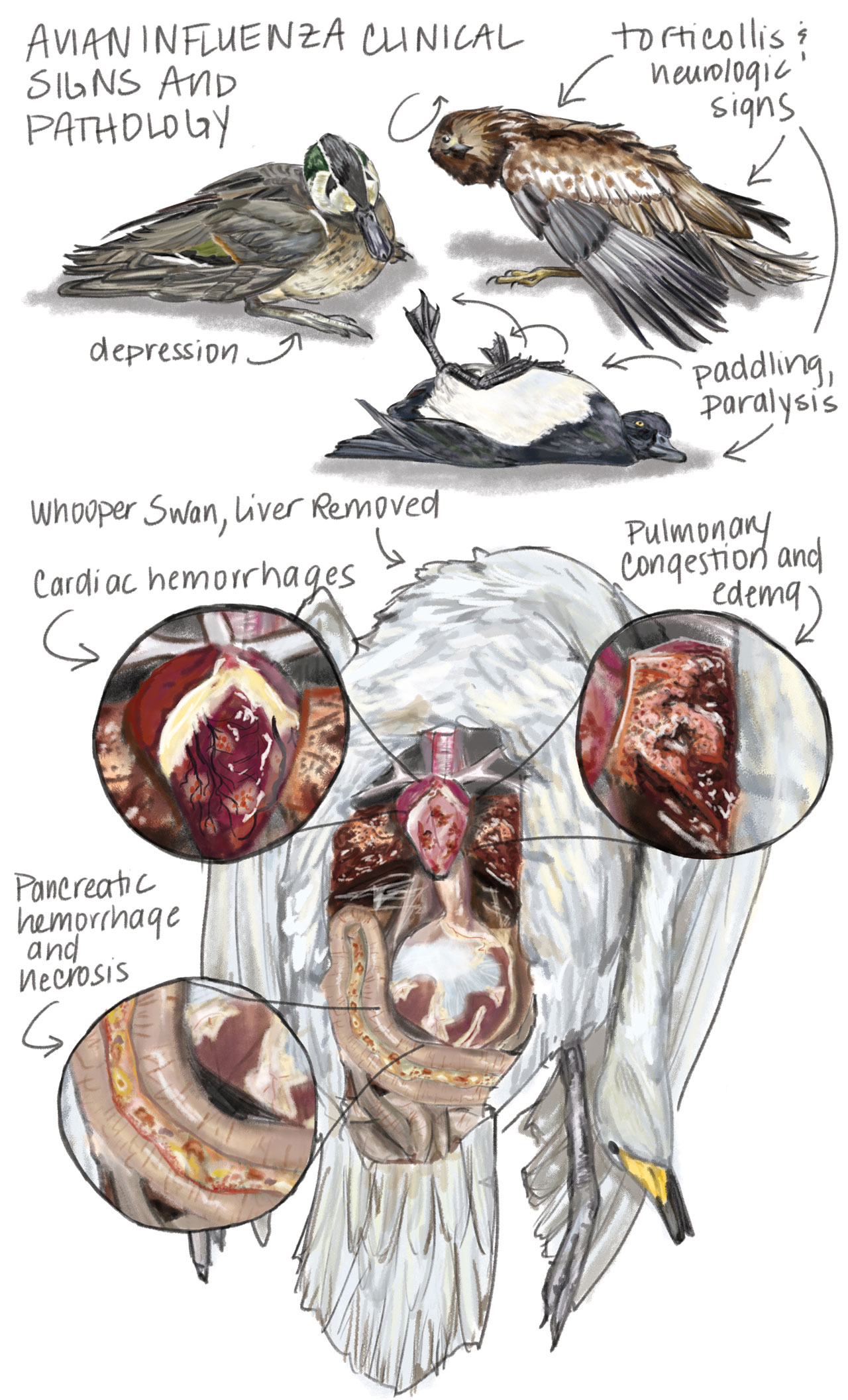 The editors hope that the combination of rigorous science, storytelling and illustration will make the book a useful guide for readers. "We hope it will open the world of wildlife health professionals to a broader audience," Jessup says, "and that it will inspire the current and coming generations to deal more effectively with wildlife health, disease and conservation."
Radcliffe expects that the illustrations in particular will help cement information in readers' minds. "Many of the people who use this in other parts of the world might not be English-speaking, so it can have an even larger impact," he says.
"I'm proud to have worked on this book with the editors and authors," Donohue says. "I feel like I've contributed to the learning that comes from it, not just for myself but for those who will use it out in the world when it's published."
Wildlife Health and Disease in Conservation will be available from Johns Hopkins University Press in 2023. Funding for this project and Donohue's position include Cornell, the University of California at Davis, the Wildlife Disease Association, USDA-APHIS-Wildlife Services, International Wildlife Veterinary Services, the American Association of Wildlife Veterinarians and Veterinarians Without Borders.
Written by Melanie Greaver Cordova