Decoding canine influenza viruses: Veterinary leadership student Lotta Truyen talks research, career goals and family ties to Cornell
Tuesday, August 23, 2022 - 11:17am
Every summer, the Cornell Leadership Program for Veterinary Students welcomes a group of veterinary students to the Ithaca campus for 10 weeks to explore professional opportunities related to their science-based career. The Cornell Richard P. Riney Canine Health Center is proud to provide financial support for one leadership student each year — awarded to a student who shows a dedicated passion and commitment to pursuing research that advances canine health. 
Learn more about this year's recipient, Lotta Truyen, a student at the University of Veterinary Medicine Hannover, who participated in the program and conducted research in the lab of Dr. Colin Parrish, the John M. Olin Professor of Virology at the Baker Institute for Animal Health. 
Where are you from? 
I am currently studying in Hanover, a lovely city in the northern part of Germany, and I have been enrolled as a student of veterinary medicine since October 2018. At the end of this summer, I will have finished the eighth of 11 semesters, which means that I will start in my so called "practical year" with a lot of intern- and externships. 
Originally, I was born in Munich, but because my parents moved away when I was younger, I have spent most of my life in Leipzig, which is located more in the eastern part of the country. 
My family has plenty of animals — a dog called Erich, two sheep (Razka und Anneliese), a goat (Lotte), several chicken (Hildegard, Brunhilde, Gertrud, Isabell and Lieselotte), lots of fishes, snakes, turtles and frogs. I enjoyed spending time with Erich, and when I was younger, I successfully trained him for sport competitions. I also love the chickens, because they do not only lay the most delicious eggs, but also help me to gain new strength after a stressful and exhausting day. I generally like to interact with animals, so I have been horseback riding for a very long time as well.  
Unfortunately, because of my studies I had to move away from my parents' house (and animals), but whenever I am home, I try to spend as much time with them as possible. 
Why were you excited to attend the summer leadership program here? 
There are several reasons: By now, I am quite sure that I do want to go into research, which was my main motivation for applying to the leadership program. My biggest dream is to develop better vaccines against viruses, and I was sure that participating in this program certainly will bring me a little bit closer to my goal.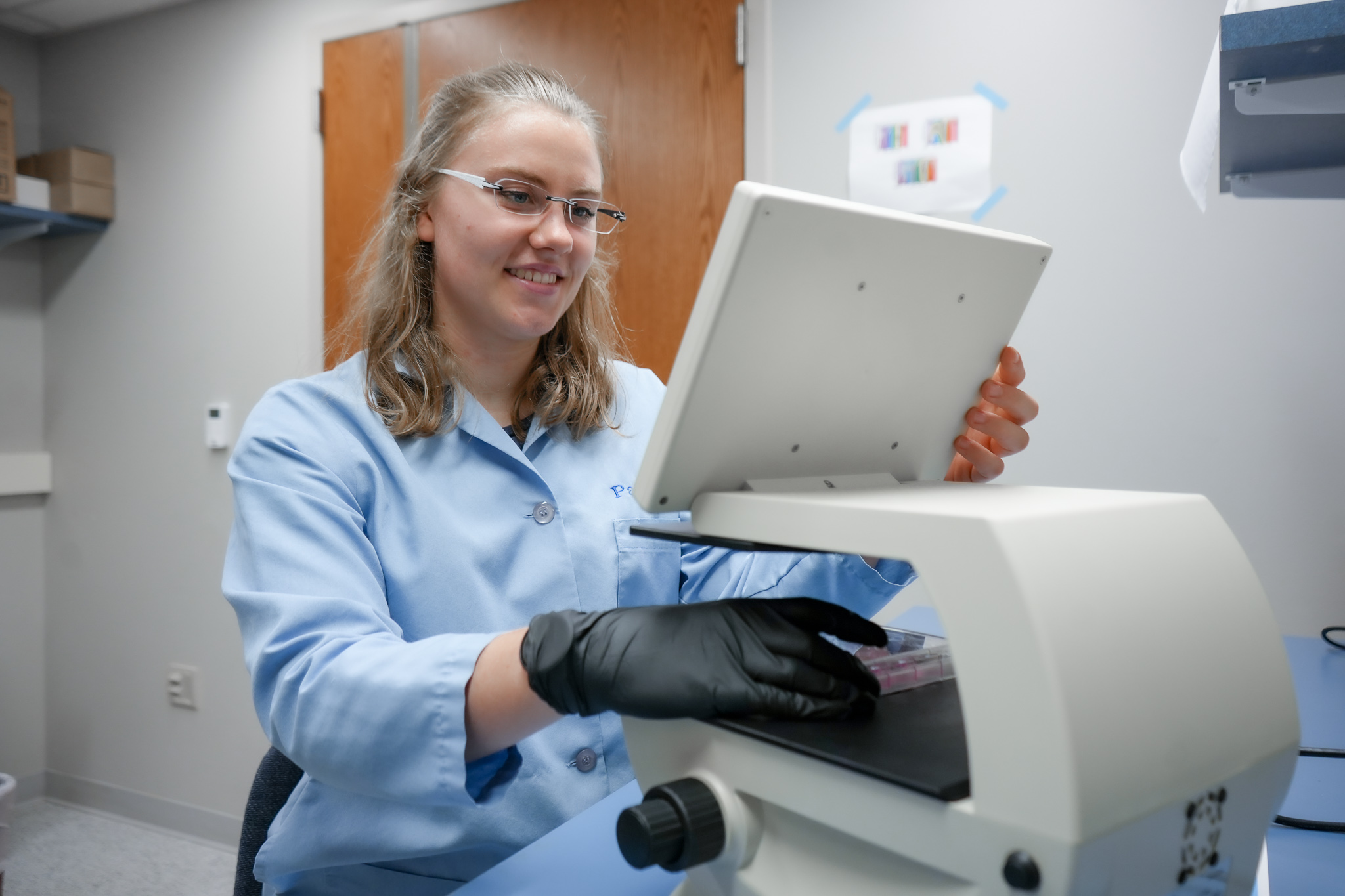 I was convinced (and know now for sure) that this program will boost my career in more than one way: gaining lab experience, learning a lot in and outside the lab, meeting like-minded colleagues, building up a worldwide network and getting insights in different career pathways…and many more!  
Another funny anecdote is that my father (Dr. Uwe Truyen, professor of animal hygiene and animal disease control) did his postdoctoral research between 1991-1993 in the same lab I am currently working in — the Parrish Lab! His stories about the Baker Institute in general and the people I would meet there increased my anticipation for the program as well. 
How has the program helped shape your perception of research and other professional careers?  
This was my first long-term internship in a lab and this experience has given me a great appreciation for research. I had the opportunity to meet so many different and inspiring people, who all talked about their experiences and their career decisions. The program workshops and Q&A sessions really helped me gain insights and allowed me to ask questions, and I found the presenters to be honest and forthcoming with detailed information.  
Personally, I am not 100% sure whether I want to go into academia or industry — talking to people from both career pathways helped me a lot to get a better basis to decide. 
What would you like to do after you graduate?  
Next, I will do a Ph.D. in the field of infectious disease or immunology. Before participating in the leadership program, I always planned to do my Ph.D. in Germany, but after this amazing summer here, I am seriously considering applying for the Cornell Biomedical and Biological Sciences program. After finishing my Ph.D. — who knows what will temp me more: academia or industry… 
Beyond that, I would like to develop vaccines against viruses (or help to do that), not necessarily only for animals. I believe that the idea of "one health" is very important and that only the combined knowledge and skill set of veterinarians, human doctors and other researchers can overcome future (re-) emerging diseases. This is a field I would like to work on. 
What do you think is most important for people to understand about your field of work? 
Canine influenza virus can cause severe diseases in dogs, and there are frequent outbreaks. There have been two canine influenza viruses: the H3N8 virus that originally transferred from horses around 1999 and died out in 2016, as well as the H3N2 canine influenza that is still circulating widely in dogs in the U.S.A. and in Asia. Both viruses cause severe diseases in dogs, with frequent outbreaks, including in the U.S.A. — most recently in 2021 and 2022. 
As influenza viruses frequently cross species barriers, it is not only important to understand how they infect a certain cell, but also to get a feeling for the way they switch between their hosts. This might not only affect other animals, but also humans as well, as they share some of the Sia with the dogs.  
What project did you work on in the Parrish Lab? 
My project is meant to examine the diversity of sialic acid (Sia) receptors across species that may impact canine influenza viruses. The influenza hemagglutinin is responsible for attaching to Sia, which is the first step of the influenza virus infection of the cell.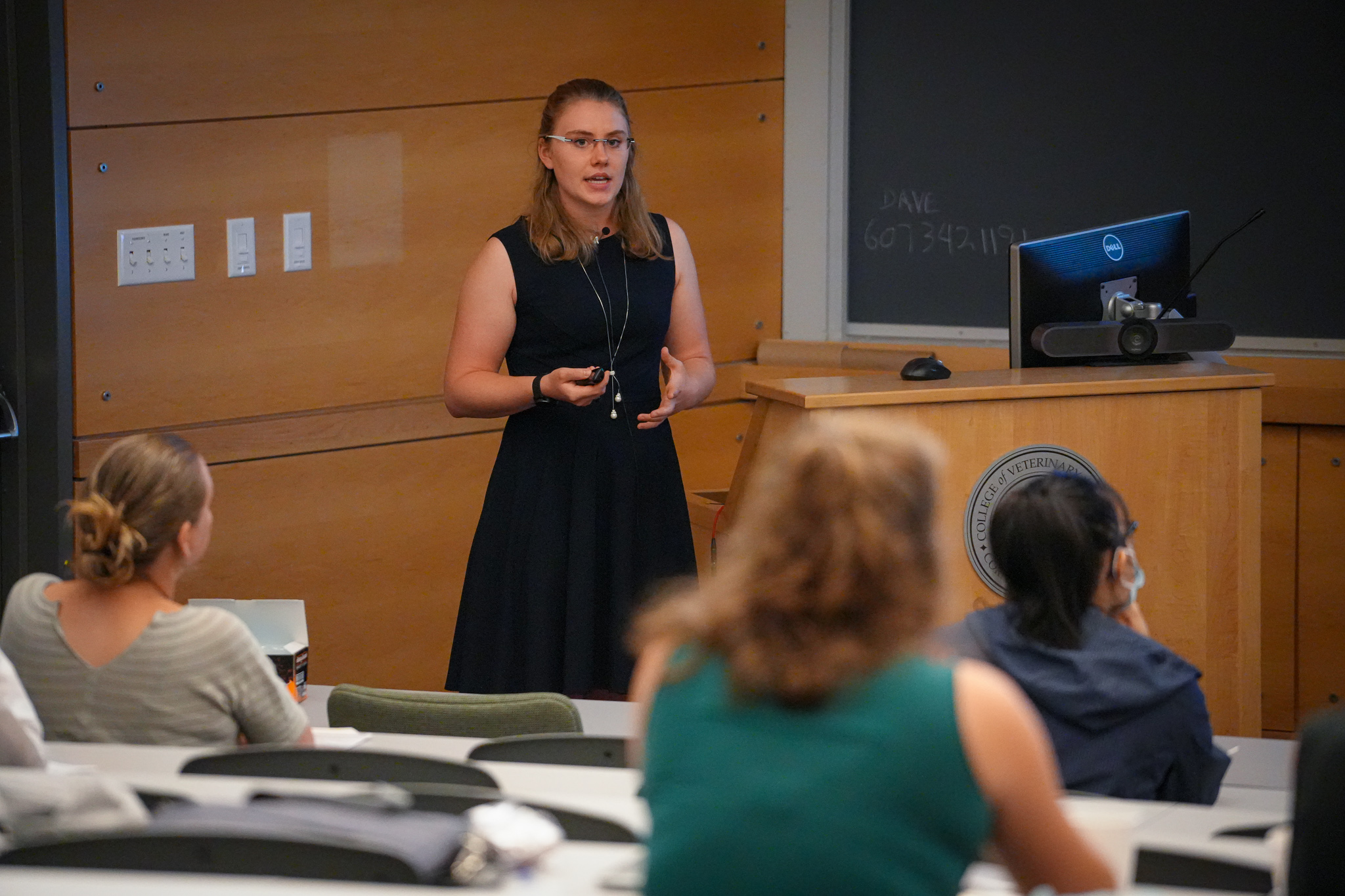 Different species express different Sia (mostly Neu5Gc and Neu5Ac), but because many Western breeds of dogs lack a certain enzyme, they can only express the Neu5Ac form. However, many breeds that originated in Asia express high levels of Neu5Gc, as do other influenza virus hosts, such as swine and horses. In addition, canine parvoviruses also bind to Neu5Gc, but not Neu5Ac, so it appears that this is a host variable for that virus.  
To determine the differential display of Neu5Ac or Neu5Gc, or other Sia forms, I am using a variety of molecular probes of viral proteins which bind Sia. I am using these probes to screen cell cultures of various animals, as well as tissue sections, to determine the display and distribution of the Sia receptors, with particular interest in respiratory tissue and salivary glands.  
What do you enjoy about lab work? 
That you are able to gather the people and equipment around you, to answer (almost) every question you have. Being surrounded by like-minded and smart people, who have the same attitude as you, creates a very enhancing and productive environment. I also love the diversity of the experiments and that you might be able to achieve some new knowledge or skills at the end of day. Furthermore, if you discover or develop something pioneering, it helps more than just one animal or human. 
Outside of the program, what do you like about the Cornell campus and the Ithaca area?  
I really enjoy being at the Baker Institute, sensing the strong community feeling between the people there and collaborating with such great colleagues. I already know that I will miss the little chats during the weekly coffee breaks and the lovely lunch dates with other researchers. Everybody here at Cornell is so open-minded and welcoming, it is really a pleasure belonging to the Big Red family.  
Wandering in between the beautiful buildings on the campus, listening to the concerts on Friday evenings, watching the sunsets on the big hill underneath the chapel, spending time with other students — there are so many good memories, I hardly can talk about all of them! I really love the area and gorges and of course the view from the Hungerford Hill! I love swimming in Cayuga Lake, relaxing in one of the parks or hiking next to some of the waterfalls. There are so many beautiful spots here in Ithaca, I can´t tell you, which one is my favorite! I was really surprised by the quality and taste of the ice cream in the Cornell Dairy Bar — it is soooo delicious!