Breaking Barriers: The Dean's Leaders Program
Written by Lauren Cahoon Roberts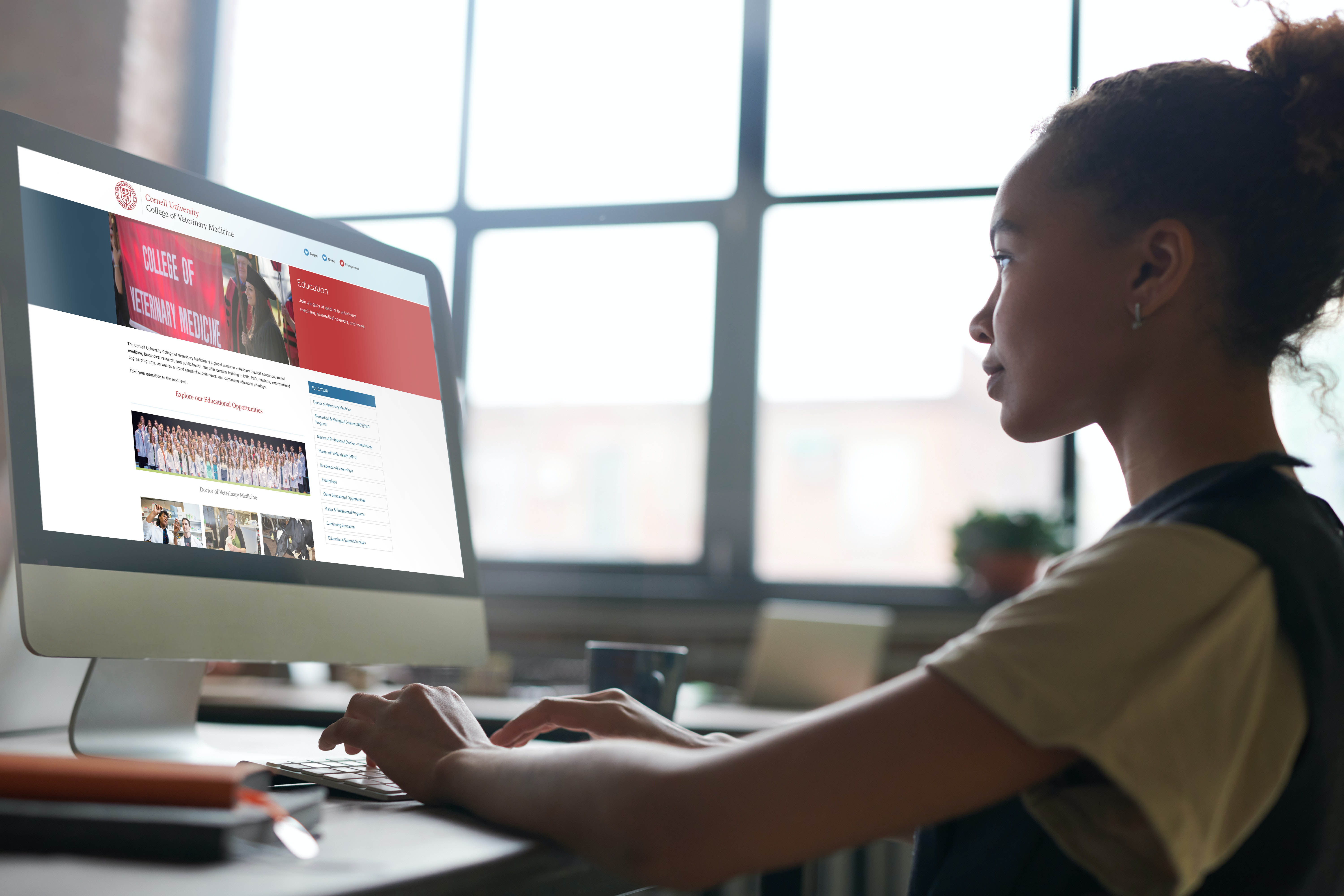 Veterinary medicine is a rewarding profession with countless opportunities to provide meaningful service to society, the public and animal populations. But starting the journey to becoming a doctor of veterinary medicine can be also be overwhelming — the mountains of coursework, demanding exams and overall rigorous standards for academic excellence are challenging.
Yet for some, the journey to get to a veterinary program is just as daunting. Students who are marginalized, historically underrepresented and first-generation university students often lack the opportunity and mentorship to accrue the necessary hours of hands-on animal experience to even apply to veterinary school. For those who do, veterinary college presents additional hurdles: Being culturally, racially, ethnically different from most of their classmates and professors; moving to a remote town without familiar cultural comforts or touchpoints; navigating an academic system that might be unfamiliar to them and their family. These are just a few reasons why individuals from some groups underrepresented in veterinary medicine (particularly Black, Indigenous and Latinx) and first-generation students can face significant struggles while earning their veterinary degree.
"Our college has been active in developing programs to promote diversity and inclusion for many years and can point to important successes. However, there remains much more work to be done," says Lorin D. Warnick, D.V.M, Ph.D. '94, the Austin O. Hooey Dean of Veterinary Medicine. "Part of this work must involve a continued fostering of a diverse college community through recruitment of people from all backgrounds and cultures in both hiring and student admissions."
As part of these recruitment efforts, the Cornell University College of Veterinary Medicine is creating the Dean's Leaders Program, a unique, comprehensive enrichment program for students that are first-generation and underrepresented in veterinary medicine. Thanks to a generous donation from Peter Glassman, D.V.M. '78, and his wife Denise Glassman, the program has its first significant investment. "This is something we've been enthusiastic about from the beginning," says Glassman. "When we heard about the benefits of this program and the population it would serve, it really resonated with us."
Cultivating community
The Glassman's gift of $500,000 has jumpstarted the program, giving Dr. Melanie Ragin, assistant dean of inclusion and academic excellence and head of program, much-needed funding to begin building a team and infrastructure. As soon as full personnel and programming funding is in place, the program can begin to address some of the deeper underlying issues that drive the lack of diversity in veterinary medicine.
For people to succeed at their school or chosen profession, Ragin explains, they need multiple types of assistance that provide a sense of belonging and community. "Reducing tuition through scholarships, while critically important, is just one of several important aspects of the support that's required," she says.
This underlines the importance of psychosocial support — the actions that address psychological and social needs. "The lack of psychosocial support is often correlated with declines in academic performance," says Dr. Lisa Greenhill, senior director for institutional research and diversity with the American Association of Veterinary Medical Colleges (AAVMC). "It's not that they can't perform — it's that the challenges become so great that, for some students, it can be really damaging to their ability to focus academically."
With veterinary medicine still a predominantly white profession, students from under-represented groups face more hurdles. According to recent AAVMC climate surveys in U.S. veterinary colleges, these students are less likely to have a mentor and are more likely to hear microaggressions of all kinds, primarily from their fellow students. "Which makes building connections with your classmates very difficult," says Greenhill. "When those behaviors are going unchecked and no one does anything about them, that breeds a lot of distrust, and makes [under-represented students] less likely to engage with administrators, with faculty … It becomes a very isolating experience, and in some cases, hostile."
Opening paths
The Dean's Leaders Program intends to address these issues. By supporting first-generation and underrepresented students, it will open paths to the profession that have long been difficult for many.
Selected students will receive a stipend for living expenses and to attend a pre-matriculation summer course that will aid in preparing them for veterinary school, with a focus on providing hands-on experiences — to which many underrepresented students lack access.
During their veterinary courses, they will attend monthly workshops and trainings that reinforce community building, well-being support, leadership, personal and professional development. In addition to Ragin and program personnel, faculty and alumni will play a key role in helping students build skills and networks. Students will have stipends to externships and conferences that can crystallize career connections. Program recipients are also expected to "pay it forward" by serving as mentors, tutors and program advisory board members once they reach the second year in the D.V.M. program.
"Often, marginalized, historically underrepresented and first-generation students feel disconnected — even though they may see another student here and there who's like them," says Ragin. "With this program, we're creating targeted, intentional long-term support — from peers, staff and administration — that they can tap into during their entire experience at veterinary school and beyond."
Makenzie Peterson, AAVMC director of well-being, says that programs that aim to increase students' sense of belonging "is a way of operationalizing the values of diversity, equity and inclusion — not to mention well-being." She notes that because graduate and professional education was historically not designed to accommodate gender and racial diversity, along with other types of identity inclusion, intentional efforts must be made to shift those cultural norms, policies and structures. "As society evolves, so must education and the way we create and sustain inclusive learning environments for our students," Peterson says.
Encompassing everyone
The Dean's Leaders Program takes a step toward this evolution, which captured the Glassmans' interest. Alison Smith, director of development, worked closely with the couple to inform them about the program and how a significant gift would impact it, and introduced them to Ragin, who was able to impart her vision for the program's future. "Dr. Ragin really articulated the benefits of the program and the populations it would serve — and all of that resonated with us," says Denise Glassman, noting a system that provides social and emotional wellbeing support, as well as financial support, is crucial.
"Our hope is that by supporting a population of students who might be new to the industry, who haven't historically had mentors or adults who have led them to that industry — that this program will be a seed bed for wider diversity at the university as a whole, and certainly at the veterinary school," Denise Glassman says.
The Glassmans have been mindful of the lack of diversity in veterinary medicine for years. "It comes down to a question of fairness and inclusion," says Peter Glassman. "The field should encompass everyone who wants to contribute to it." Upon opening his practice, the Friendship Animal Hospital in Washington, D.C., Glassman tried to put his beliefs into action, striving to hire Black veterinarians and support staff and achieve a diverse workforce. However, "Having looked around at the industry for a little bit, it was clear that Friendship Animal Hospital was an exception, not the rule," says Glassman. "That diversity wasn't as prevalent as one would have hoped."
Their gift to help launch the program serves as a commitment in solving that issue. "We understand that shifting the longstanding cultural and socioeconomic imbalances in the profession is difficult and will take time," says Denise Glassman.
Time, and, unavoidably — more money. While the Glassmans' gift gives the program a significant leg up in establishing itself at the college, much more support is needed. "With the Glassman's leading gift, the college will be able to get this program off the ground quickly," says Smith. "The support required to sustain it will be significant, and since we envision the Dean's Leaders Program becoming an indelible part of the D.V.M. experience, we are eager to inspire additional donors to contribute to its long-term success."
In fact, the Glassman's gift has already been a catalyst for other contributions to the program.
Ultimately, Peter Glassman hopes that the students who join the program develop the same rewarding relationship with the veterinary profession as he has. "I recognize what a challenge veterinary medicine can be, but it's been a great career for me — rewarding in virtually every sense," he says. "Cornell afforded me the opportunity to be part of an innovative, caring, compassionate community that contributes to the well-being of society. The Dean's Leaders Program opens that opportunity to those who will help create a rich profession that reflects the best of us all." •
If you are interested in joining this effort with a donation to the Dean's Leader's Program, please contact Alison R. Smith, Director of Development, Alumni Affairs and Development, at ars1@cornell.edu.