News Briefs
Reunion 2021 reunites graduates to connect and review a remarkable year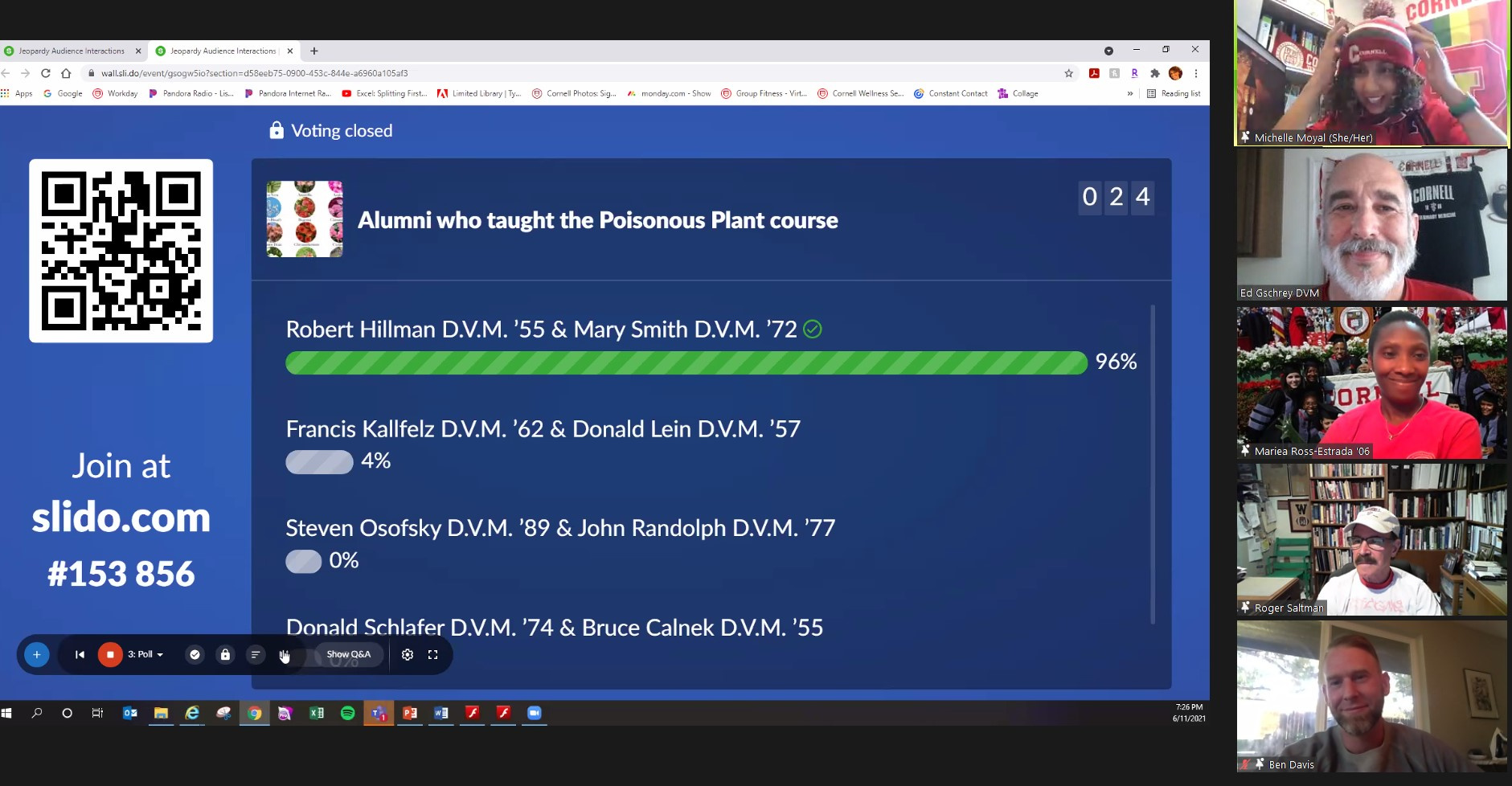 Coming on the heels of an historic year and a pandemic only just on the retreat, Cornell's Reunion 2021 was another all-virtual event. Classes of years ending with 1s and 6s, along with other graduates, were welcomed via Zoom to get up to date on the College of Veterinary Medicine (CVM) and reconnect with classmates.
Lorin D. Warnick, D.V.M., Ph.D. '94, the Austin O. Hooey Dean of Veterinary Medicine, welcomed alumni on Friday and gave an overview of the past year at the college. A chief highlight was CVM's role in reopening the university during the COVID-19 pandemic. "It was a very rewarding contribution for us to make," Warnick said. He also reviewed the education, clinical and research programs at the college, noting how each pivoted and persevered — and are now seeing an uptick in numbers, with more student applicants, higher caseloads and more grants awarded.
Warnick also announced the winners of the two class fundraising competitions, the 25 Club Cup and the Dean's Cup. The 25 Club Cup, which goes to classes that have graduated within the last 25 years and have a 25% or higher participation rate, went to the Class of 1996, with a participation rate of 38%, and the Class of 2006, at 25%.
The Dean's Cup, which goes to classes that have graduated within the last 50 years and have the highest participation rate of all the reunion classes in that group, went to the Class of 1981, whose classmates gave to the college at a participation rate of 65%.
In addition to the dean's update, alumni had a chance to attend History Happy Hour hosted by Corey Ryan Earle '07, and CVM Jeopardy, hosted by Michelle Moyal, D.V.M. '07. Jeopardy was won by Ed Gschrey, D.V.M. '86, and featured classmates Roger Saltman, D.V.M. '81, Mariea Ross-Estrada, D.V.M. '06, and Ben Davis, D.V.M. '16.
Besides the live events, the college also provided several pre-recorded events for alumni to enjoy on their own time, including a Cornell Veterinary College facility tour, recent innovations in education and a tour of the Teaching Dairy Barn. See the CVM reunion page for a full list of recorded events.
Written by Lauren Cahoon Roberts
---
Class of 2021 gets an unconventional send-off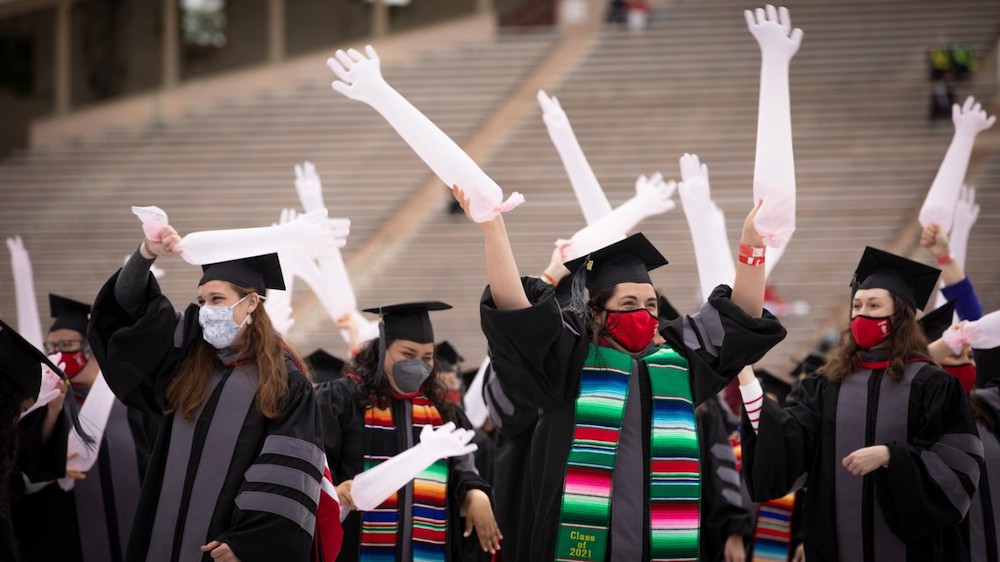 The Cornell University College of Veterinary Medicine Class of 2021 celebrated commencement with unconventional ceremonies that wrapped up an unconventional academic year. The class comprises 107 newly-minted veterinarians with career plans that range from emergency medicine to dairy practices and laboratory animal residencies. Lorin D. Warnick, D.V.M., Ph.D. '94, the Austin O. Hooey Dean of Veterinary Medicine, congratulated the class and wished them well during a small send-off ceremony in Bailey Hall May 26.
"As you take this next momentous step, you're not only starting your careers as new veterinarians, but also doing it at a time of huge adjustment for our country," Warnick said. "The communication abilities, the empathy and service mindset that you've exhibited and practiced during your education here at Cornell will be a very important part of your success during this next phase of your career and throughout your lifetime."
After each taking the Veterinarian's Oath and receiving diplomas, three awards were presented to students for their outstanding scholarship, leadership and care:
The Horace K. White Prize, awarded to the graduate with the highest academic record during their entire veterinary training, went to Lindsay Seewald, D.V.M. '21.
The Malcolm E. Miller Award, awarded to a graduating student who demonstrates perseverance and scholastic diligence, went to Lili Becktell, D.V.M. '21.
The Leonard Pearson Prize, awarded to a student most successfully demonstrating potential for professional and/or academic leadership in veterinary medicine, went to Rachael Strauss '16, D.V.M. '21.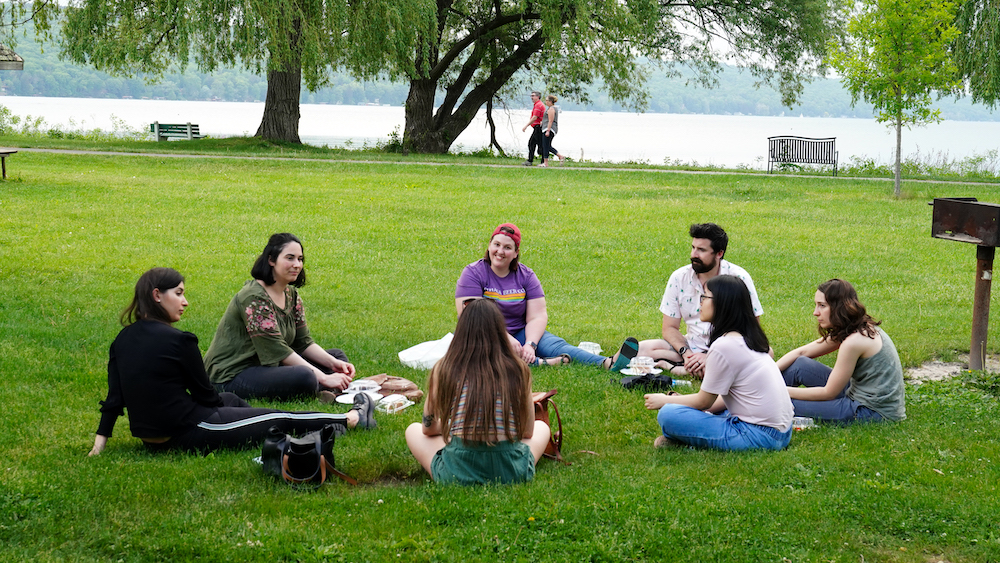 The college also celebrated the graduation of its latest M.P.H. and Ph.D. cohorts. The M.P.H. group recognized its students with an informal picnic at Stewart Park May 25 and an online ceremony May 28. Of its 30 graduates, the program's cohort boasts a range of career plans, which include a health equity analyst, an epidemiologist at NASA, health project leader with the Tompkins County Department of Health and consultant in Washington, D.C. Some also plan to continue their education in human medicine, tropical medicine and in nutritional science.
There were four Ph.D. graduates, two in December and two in May, who are now in postdoctoral positions, working as a scientist at a pharmaceutical research company and as a veterinarian with the New Jersey Department of Agriculture.
Said Warnick, "I want to welcome you as colleagues in the veterinary profession. We're so excited for your future and confident in your success."
Written by Melanie Greaver Cordova
---
Hackett appointed next chair of the Department of Clinical Sciences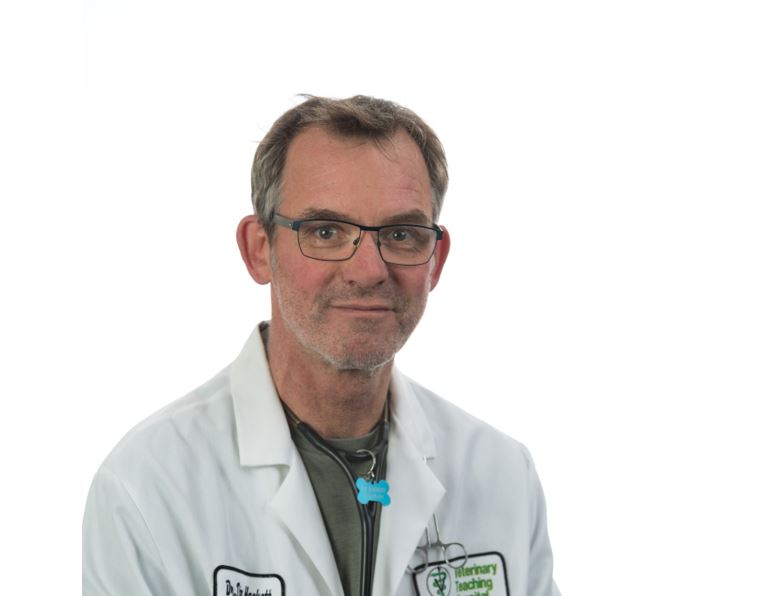 In September, Dr. Timothy Hackett will join the college community as the next chair of the Department of Clinical Sciences at the Cornell University College of Veterinary Medicine.
"This is an important recruitment for the department and for our college," said Lorin D. Warnick, D.V.M., Ph.D. '94, the Austin O. Hooey Dean of Veterinary Medicine. "Tim brings excellent experience as an accomplished faculty member and academic leadership that will be a great asset to the further development of our clinical education, service and research programs."
Hackett joins Cornell from Colorado State University's College of Veterinary Medicine, where he is interim associate dean of the Veterinary Health System and professor of emergency and critical care medicine.
In addition to his administrative duties, Hackett will provide clinical support as a professor of emergency and critical care and will continue comparative research on envenomation and antivenom production. Hackett will be accompanied by his spouse, Dr. Eileen Hackett, who will join the college as a professor of large animal surgery August 1.
Hackett succeeds Dr. Margaret McEntee, who has served as both chair and interim chair of the department since 2010.
Written by Lauren Cahoon Roberts
---
Fortier named new JAVMA/AJVR editor-in-chief, division director of publications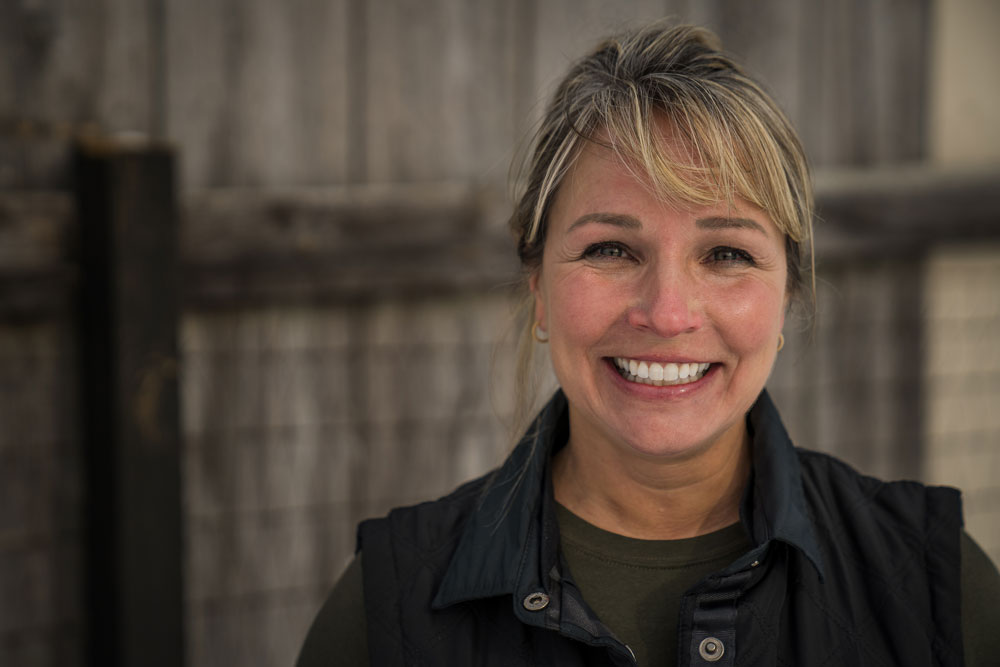 Lisa Fortier, Ph.D. '98, the James Law Professor of Surgery, will become the new editor-in-chief of the Journal of the American Veterinary Medical Association and the American Journal of Veterinary Research effective June 28, the American Veterinary Medical Association (AVMA) announced.
"Throughout her career, Dr. Fortier has distinguished herself as a clinician, scientist, educator and communicator," said Dr. Douglas Kratt, AVMA president. "We are delighted that she will be bringing her expertise as a surgeon, as the author of more than 150 publications and as an editor to her new position leading AVMA's veterinary journals."
"It will be a great honor to join the AVMA and to serve as editor-in-chief of these internationally renowned publications, which are so essential to the practice of veterinary medicine," said Fortier. "My experience as a researcher and editor, combined with my active role as an equine orthopedic surgeon, provides me with a unique viewpoint and a deep appreciation of the challenges facing practitioners today."
Adapted from the AVMA press release
---
Cornell virologist elected president of world's foremost virology society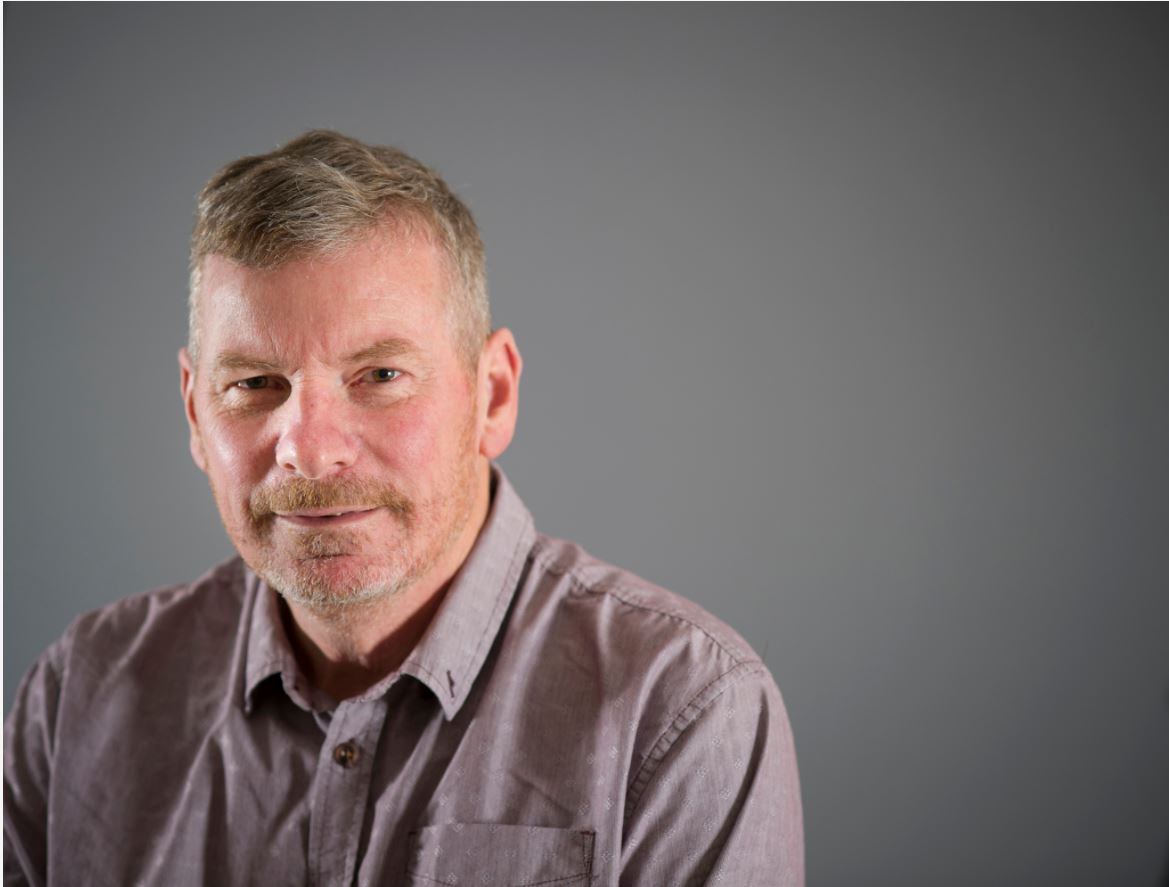 Colin Parrish, Ph.D. '84, the John M. Olin Professor of Virology at the Baker Institute for Animal Health, part of the Cornell College of Veterinary Medicine, has been elected president of the American Society for Virology (ASV). Parrish will take office in July 2021 at the annual meeting and serve a three-year term, first as president-elect, then president, then past-president.
Founded in June 1981 with 500 virologists as charter members, the ASV is the premier society for virology in the world, and its mission is the "advancement and promulgation of knowledge relevant to virology." The first annual meeting was held at Cornell in 1982. The ASV has since grown to a membership of over 2,500 members, making it one of the largest virology societies in the world. 
"I am honored to be nominated as president-elect of ASV," says Parrish. "In my term I will seek to enhance the scope of the society's activities, in addition to helping to coordinate the annual meeting... I recognize the value of ASV's role in making virology a vibrant discipline, and I have tried to support its mission and to pass on to others the support that I have received throughout my career."
---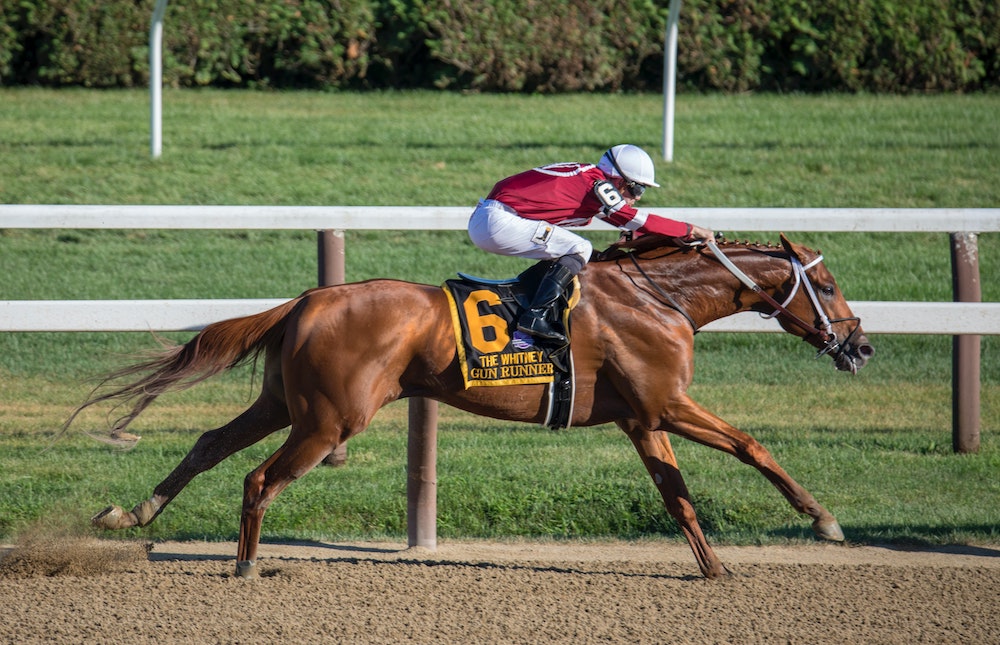 Thoroughbred horses are celebrated across the world for their racing prowess. Unfortunately, they're also susceptible to fractures in the sesamoid bones of the fetlock — commonly resulting in catastrophic breakdowns and subsequent euthanasia.
A new award, established by Jonathan Ferrini '81 at the Cornell University College of Veterinary Medicine, will help support researchers tackling this and other injuries suffered by thoroughbreds on the track.
The primary objective of the Dante and Sharon Ferrini Award for Thoroughbred Horse Racing Studies is to minimize catastrophic injuries that result in euthanasia of thoroughbred horses. Ferrini, a published author of fiction, chairman of the JBF Corporation, a corporate real estate company, and chairman of the Ferrini Corporation, a supply chain research and development company, established the fund in honor of his parents, Dante and Sharon Ferrini, who were thoroughbred horse racing enthusiasts.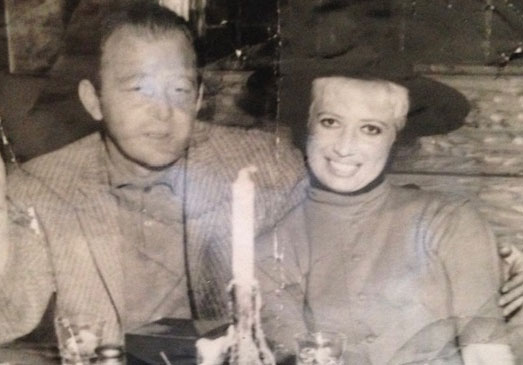 Said Ferrini, "I fondly remember growing up adjacent to magnificent breeding ranches, and my parents taking my sister and I horseback riding. We accompanied our parents to storied tracks, including Del Mar and Santa Anita, where we enjoyed the opportunity to admire the equine athletes up close and personal. My father was an accomplished para mutual handicapper who was mesmerized by the athleticism and beauty of thoroughbreds. He would be proud to know these magnificent equine athletes were cared for through research at the nation's premier veterinary college."
Written by Melanie Greaver Cordova
---
Cornell veterinary class of 2022 celebrates a scaled-back white coat ceremony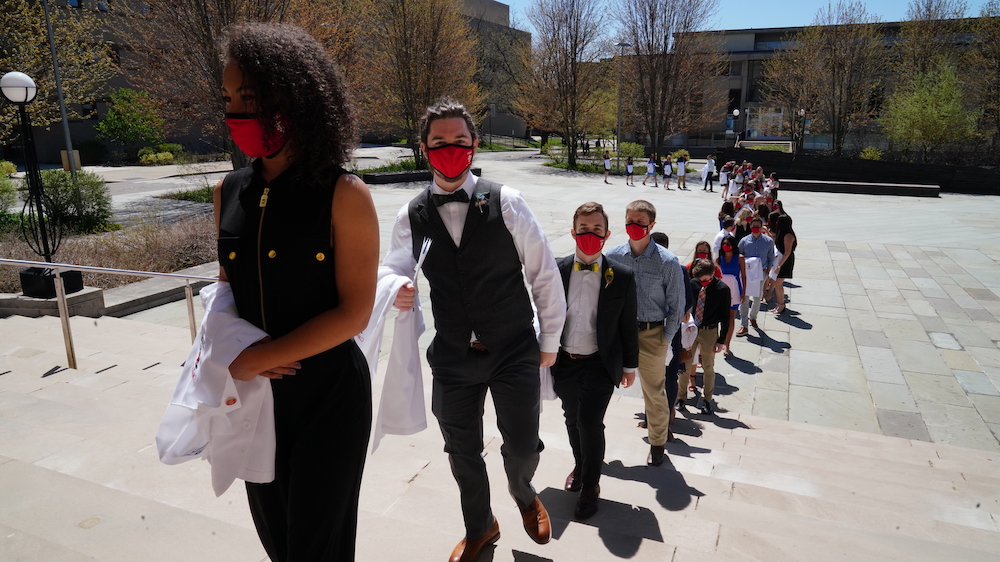 The Cornell University College of Veterinary Medicine Class of 2022 celebrated the college's time-honored White Coat Ceremony in a considerably scaled back event May 1. Only students were allowed to gather in Bailey Hall — the crowds of family and friends that normally accompany the event tuned in to the livestream to offer their congratulations instead.
The White Coat Ceremony came on the heels of vaccine availability to the Cornell community — by late April, 46% of students, faculty and staff working on campus had received their vaccines. Every person in Bailey Hall had been part of Cornell's surveillance testing program and had a recent negative test. There were no handshakes, and masks and social distancing were mandatory. Students also coated themselves, as opposed to having a mentor present to do this as in years past.
Brett Tillou, D.V.M. '04, president of the college's Alumni Association Executive Board, offered congratulatory remarks virtually. This was followed by the virtual keynote address of Sylvester Price, D.V.M. '84, director of therapeutic evaluation at Boehringer-Ingelheim Animal Health. "As a member of the Class of 1984, I know firsthand the work, stress, dedication and focus you've devoted to get to this point," said Price.
Written by Melanie Greaver Cordova
---
In memoriam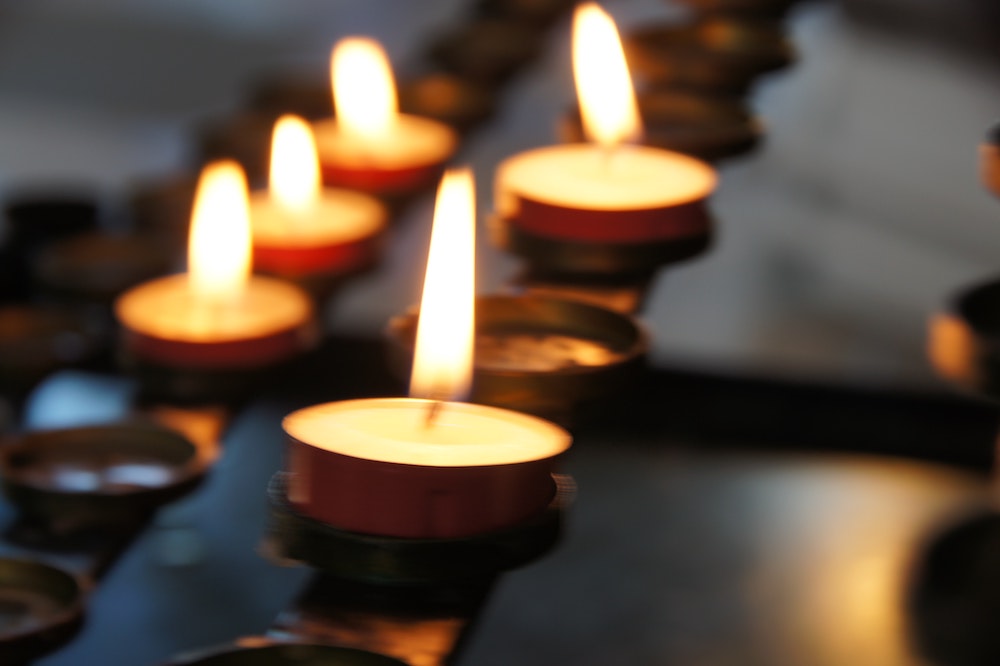 The College of Veterinary Medicine remembers with gratitude those members of our community who have recently passed away.
Allan Ahearne, D.V.M. '57, January 10, 2021
James Breitenstein, D.V.M. '63, December 20, 2020
Donald Buckley, D.V.M. '49, November 24, 2020
Robert Dellers, D.V.M. '54, Ph.D. '54, March 1, 2021
Richard Frank '63, D.V.M. '64, January 24, 2021
Peter Roche Hall, D.V.M. '62, October 6, 2020
Samuel Hutchins, D.V.M. '58, February 10, 2021
Robert Lynk '54, D.V.M. '61, April 13, 2021
Edward Nowak, D.V.M. '66, November 9, 2020
Louis Richard Poggi, D.V.M. '65, date unknown
Edwin Presley, D.V.M. '55, October 24, 2020
Jerald Silverman '64, D.V.M. '66, November 14, 2020
Richard Thoma, D.V.M. '65, September 8, 2020
Ian Wetherly '61, D.V.M. '62, December 11, 2020
Edward Winnick, D.V.M. '52, September 19, 2020 •