Wildlife Health
The Cornell Wildlife Health Lab promotes the health and long-term viability of wildlife populations through the integration of wildlife ecology and veterinary medicine. We are housed within the College of Veterinary Medicine's Animal Health Diagnostic Center (AHDC) and work closely with other laboratory sections to develop and conduct testing for free-ranging terrestrial and aquatic species. The CWHL has expertise in wildlife medicine, disease ecology, pathology, and data analysis and is available to support laboratory clients interested in wildlife diagnostic testing and surveillance.
The CWHL is a member of the Northeast Wildlife Disease Cooperative, a consortium of veterinary diagnostic laboratories providing wildlife diagnostic services, expertise, training, and research support to state and federal wildlife agencies in the region. We maintain strong relationships with partners in human and domestic animal health to address issues common to all under the One Health philosophy.
The CWHL works in partnership with the New York State Department of Environmental Conservation (NYSDEC) through the New York Wildlife Health Program. We provide disease monitoring and surveillance, research projects, staff training, data analysis, and policy guidance to support NYSDEC's mission.
People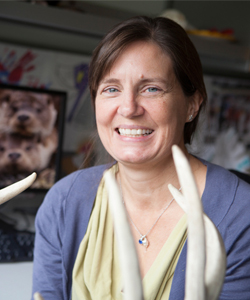 Elizabeth Bunting, VMD
Senior Extension Associate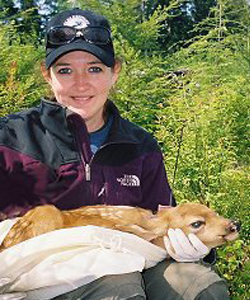 Krysten Schuler, PhD
Assistant Research Professor