Equine Parvovirus Hepatitis
Monday, November 26, 2018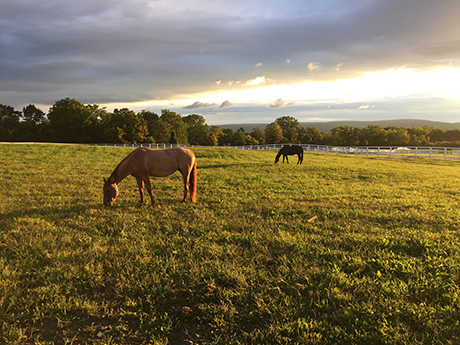 (North America) A novel viral etiology for equine serum hepatitis (Theiler's Disease) has been identified as equine parvovirus-hepatitis (EqPV-H) (Divers et al, 2018). Two epidemiological presentations of EqPV-H are recognized in adult horses; cases either present 4-12 weeks after administration of an equine biologic product (such as tetanus antitoxin or equine plasma) or the cases may occur as small outbreaks lasting 1 or more weeks during warmer months where no biologics were administered.
EqPV-H is hepatotropic and pathogenic but the great majority of recently infected horses (within 4-12 weeks) have non-clinical hepatitis with 2 or more weeks of elevated serum liver enzymes. Clinically affected horses may represent only 1-2% of the infected horses and typically present with clinical signs of lethargy, anorexia, and jaundice, or neurologic symptoms characteristic of hepatic encephalopathy. Mortality of clinically affected horses is nearly 50%. The epidemiology behind equine serum hepatitis outbreaks where no biologics have been administered remains under investigation by Drs. Thomas Divers, Joy Tomlinson and Gerlinde Van de Walle at Cornell University. In addition to transmission by infected blood products, other proposed alternative mechanisms for EqPV-H transfer include insect vector, or possible spread via nasal or fecal shedding from infected horses.
Another recently discovered equine hepatitis virus is non-primate hepacivirus (NPHV), renamed as equine hepacivirus (EqHV). EqHV is phylogenetically the closest known virus to the human hepatitis C virus. EqHV may cause subclinical disease in adult horses with transient mild elevations in liver derived serum enzymes.
Horses with both EqPV-H and EqHV can be healthy carriers with no clinical signs, and could serve as reservoirs for infection of other horses. In an attempt to eliminate the risk of equine serum hepatitis secondary to equine biologic product administration, the USDA Center for Veterinary Biologics has proposed that all licensed equine blood products be tested for EqPV-H and EqHV. The Cornell AHDC offers PCR assays for EqPV-H and EqHV that meet the proposed APHIS Center for Veterinary Biologics regulation for testing of equine origin products. Please contact Cornell AHDC Veterinary Support Services at (607) 253-3900 with any questions regarding the Virology Laboratory's equine hepatitis PCR panels.
The recent report by Divers et al. in the Center for Disease Control and Prevention's Emerging Infectious Disease journal is available to the public at https://wwwnc.cdc.gov/eid/article/24/2/17-1031_article.
Two other articles have been accepted for publication in the Journal of Veterinary Internal Medicine: