How To Send Specimens
Quick Links
Shipping Addresses
Samples shipped through the mail should be addressed to:
Shipping Services
College of Veterinary Medicine
Cornell University
P.O. Box 5786
Ithaca, NY 14852-5786
Samples shipped through a courier service should be addressed to:
Shipping Services
College of Veterinary Medicine
Cornell University
240 Farrier Rd
Ithaca, NY 14853
Samples can also be dropped off in person at the following address:
Animal Health Diagnostic Center
240 Farrier Rd
Ithaca, NY 14853
After you turn onto Farrier Road, take the first right (directly below the staff parking lot). There is a small 3-4 car drop-off parking lane, and the main entrance is located directly in front of this area.
Discounted Courier Labels
Exciting news! We have just launched our new Shipping Labels service. Log in and request labels in just 2 simple steps.
The AHDC offers guaranteed "Priority Overnight" Air labels at discounted rates for both FedEx and UPS shipments of samples to our Laboratory. FedEx and UPS will also make arrangements for regular daily pick-ups at your office. This additional service is offered at no charge by FedEx and for a nominal weekly fee by UPS. Check with your local carrier for details on daily pickups.
Courier labels can be ordered through the ADHC Portal by signing in or registering for an account.
Discount Pricing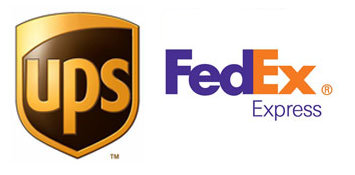 | | |
| --- | --- |
| FedEx Priority Overnight Label | $20.00 |
| FedEx SATURDAY Priority Overnight Label | $30.00 |
| UPS Next Day Air Label | $20.00 |
| UPS Ground Label | $12.00 |
Note: Prepaid courier labels do not expire except for FEDEX electronic labels. Order 20 labels or more and save the $5.00 shipping fee.
Specimen Packaging Requirements
Packing and Shipping Samples
As of January 1, 2007, new Department of Transportation and International Air Transportation Association regulations took effect specifying how clinical samples must be packaged and shipped. We have prepared information sheets, listed below, to assist you with the preparation of your laboratory submissions.
Many of you are already preparing your specimens in a manner that complies with the new regulations. In most cases, compliance is a matter of common sense. There are differences in packaging and labeling requirements for ground versus air shipment. This particularly applies to shipments incorporating dry ice and formalin.
Packaging must be leak-proof.
There must be absorbent material to absorb all enclosed liquids.
Packages need to withstand the ordinary bumps, drops, vibrations and, in the case of air transport, pressure and temperature changes to which they are likely to be exposed.
In some cases, though, triple layer packing is mandatory.
In very rare instances, specially manufactured and rated materials will be necessary.
See the document linked below for specific details or for shipping supplies which will be helpful in getting your specimens to us in good condition and in compliance with regulations.
All responsibility for shipping compliance rests with the individual sending the package (i.e., the shipper). In addition, the couriers can face stiff fines and the temporary loss of use of transport vehicles if they carry leaking packages or if they do not adequately protect their employees. They have the right to question and refuse packages, and are likely to do so if a shipper is known to carelessly package specimens. Even leaking ice packs will not be tolerated. Fines can be imposed on shippers, and instances of leaking packages are reportable to the Center for Disease Control.
The incorporation of any medical sharps in the package, such as syringes with needles, jeopardizes the safety of all package carriers and laboratory personnel. Shipment of these items in laboratory submissions is a violation of Regulated Medical Waste shipment regulations.
We sell shipping materials and have appropriate materials which will assist in compliance with the shipping rules, particularly for the shipment of samples from complete necropsy examinations or multiple animals, such as would be expected from herd testing or referral laboratories.
The most commonly required shipping label is Biological Substance, Category B.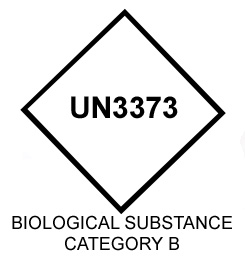 Cold Weather Shipping
Samples transported over the colder months risk being frozen if they are not packed and shipped properly. Even 10% neutral buffered formalin will freeze in harsh winter weather. To prevent samples from freezing, even in insulated containers, add room temperature (unchilled) cold packs to increase the ambient mass. This will reduce the temperature decline during transit, however is not a guarantee against freezing if extended cold exposure occurs. For critical samples that cannot be exposed to extreme cold, consider delaying the shipment or find alternative means to deliver the specimens to the laboratory.
When sending swabs in aerobic transport media, serum and other specimens that should be refrigerated, ensure a cold freezer pack is placed in the same compartment with them. If breakable items are packaged with hard frozen packs, some padding or dividers must be placed between the freezer pack(s) and the breakable items.
Thermal bubble pouches and small thermal mailers are available from our shipping department, along with other shipping supplies provided for your convenience. Please see the diagnostic supply order form.