Cytology
We offer a wide variety of cytology tests depending on the site sampled and the type of sample submitted. See the table below for a list of the cytology tests we offer, the information provided to you for each test and the sample required. See the Sample Submission section for additional information on collecting and submitting samples.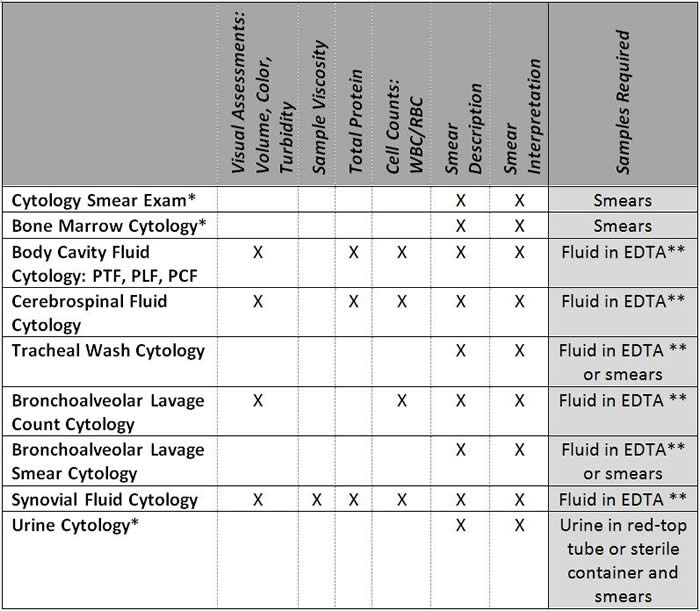 Reported Results
Visual Assessments: Volume, color, turbidity of submitted fluids in which cell counts are performed.
Total Protein: Measured by refractometry for most fluid samples. CSF protein is measured on our automated chemistry analyzer.
Sample Viscosity: A subjective visual assessment of the viscosity of the sample (normal, decreased).
Cell Counts: Includes both a nucleated cell and RBC counts. In most instances this is done using an automated counter. Cell counts of poorly cellular fluids (e.g. CSF, BAL) are done manually by hemocytometer.
Smear Description: A complete microscopic description of the sample.
Smear Interpretation: We will provide you with a cytologic diagnosis where possible or a list of differential diagnoses and additional tests (if indicated) to consider based on the findings.
Notes on Individual Tests
Cytology Smear Exam
This test is appropriate for aspirates from any solid organs or masses and may also be requested when submitting the following fluids:
Fluid from a site other than body cavities, joints or subarachnoid space (such as fluid from a mass).
Fluid from body cavities or joints when volume is insufficient (generally < 0.3 ml) for total protein and cell counts.
Urine. See below for further details on urine cytology.
Urine Cytology
Cytology examination of urine is generally requested to better characterize the morphologic features of the cellular components of the urine (usually epithelial cells). Submit urine for cytology as a cytology smear exam on the cytology submission form and specify the method of collection (i.e. voided, cystocentesis or via catheter). Cells (leukocytes and epithelial) degrade rapidly in urine, thus, to facilitate interpretation, please submit 2 or more unstained slides (line smears preferred) of the urine sediment along with the urine (uncentrifuged portion). We recommend that all urine cytologies submitted without a recent urinalysis should be accompanied by a urine sample and a routine urinalysis should be requested on the cytology submission form (use 'Other diagnostic tests requested' to the right of the Clinical Summary field) for the best interpretation of results.
Bone Marrow Evaluation
A recent CBC (within 24 to 48 hours) is needed to interpret the findings of bone marrow aspirates. All bone marrow samples without a recent CBC should be accompanied by an EDTA blood sample and a CBC should be requested on the cytology submission form (use 'Other diagnostic tests requested' to the right of the Clinical Summary field). If unable to submit EDTA blood for a complete CBC, please submit 2-3 freshly made, air-dried, unstained blood smears for a blood smear exam.