Supplies
The AHDC Shipping department maintains an assortment of supplies for your specimen needs. 
Styrofoam Mailers
Pre-assembled Box Mailers for Specimens
Specimen Cups; Sterile (95 kPa) and Fecal
Histopathology supplies; slide cassettes and mailers
Blood Collection Tubes
Media: Amies, Trichomonas, viral, Anaerobic, Para-Pak, Ear Notch, Lepto
Blood Culture Bottles
Click here for a full list of diagnostic supplies and shipping materials to meet your specimen needs. See QMPS Supplies for additional Quality Milk supplies and materials.
Frequently Asked Questions
How long will it take to receive my supplies order?
Generally, your order will take up to 24 hours to prepare and depart the AHDC loading dock. All supply orders are shipped UPS ground. Faster service is available for an additional fee. Call our Shipping dept at 607-253-3935 for more information on getting your supplies faster. The UPS map below will reflect standard ground transit time.
Note: The AHDC is located in the yellow section of the map.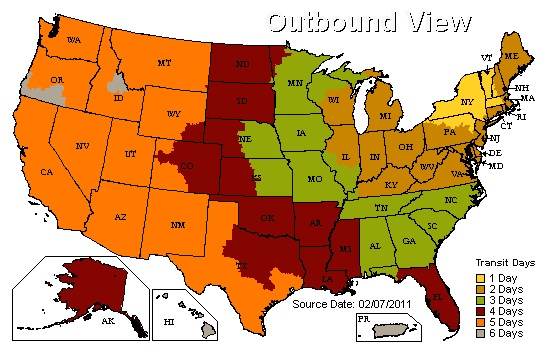 How much does it cost to ship my Supply order?
Shipping charges are based on the total USD amount of the order placed.
* All supply orders are shipped out UPS Ground.
| | |
| --- | --- |
| Total Order Amount (US) | Shipping Fee |
| < $80 | $10.00 |
| $80 - $200 | $15.00 |
| $200 - $400 | $20.00 |
| $400 | $50.00 |
Additional services are available for an additional fee:
| | |
| --- | --- |
| Next Day Delivery | Add $8.00 |
| 2nd Day Delivery | Add $6.00 |