Danielle Buttke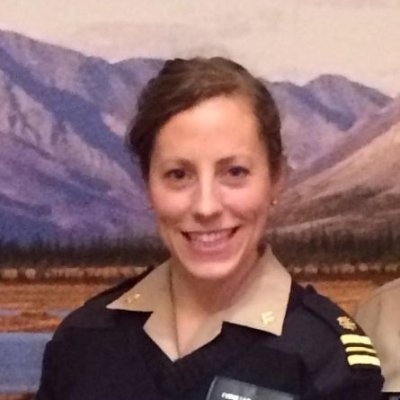 Danielle Buttke
Field of Comparative Biomedical Sciences
Faculty Mentor: Dr. Alexander Travis
Current Position: One Health Coordinator at National Park Service in Fort Collins, Colorado
Brief Biography
Danielle grew up on a small dairy farm in rural South Dakota and received her BS in ecology and political science from the University of South Dakota. Her PhD thesis was the investigation of the influence of membrane microdomains and, specifically, the ganglioside GM1 in ion channel function and cell signaling using mammalian sperm during fertilization as a model. Danielle's focus was with large animals, with a primary interest in public health, vector-borne disease, and livestock systems in developing countries and a background in habit management and mapping. She also expressed a strong interest in conservation and teaching.
Danielle Buttke had worked as an Epidemic Intelligence Service Officer for the Centers for Disease Control and Prevention in Atlanta, GA. She was one of only 84 Epidemic Intelligence Service officers, with her work taking her around the world. Click on the provided links below to get a glimpse of what Danielle has been up to since graduating.
Investigating Liver Disease in Ethiopia
Blood from Yosemite workers could advance research
Epi-Aid Investigations
Education
PhD, Comparative Biomedical Sciences, Cornell University, 2010
DVM, Cornell University
BS in Biological Sciences from University of South Dakota, Vermillion
Publications & Presentations
1: Buttke DE, Castle K, Wild M, Wong D, Higgins C, Hilaire L, Sorhage F, Cherry B. Translating one health into practice. J Am Vet Med Assoc. 2014 Feb 15;244(4):405-6. PubMed PMID: 24624487.
2: Cohen R, Buttke DE, Asano A, Mukai C, Nelson JL, Ren D, Miller RJ, Cohen-Kutner M, Atlas D, Travis AJ. Lipid modulation of calcium flux through CaV2.3 regulates acrosome exocytosis and fertilization. Dev Cell. 2014 Feb 10;28(3):310-21. doi: 10.1016/j.devcel.2014.01.005. PubMed PMID: 24525187; PubMed Central PMCID: PMC3947087.  
3: Buttke DE, Sircar K, Martin C. Exposures to endocrine-disrupting chemicals and age of menarche in adolescent girls in NHANES (2003-2008). Environ Health Perspect. 2012 Nov;120(11):1613-8. doi: 10.1289/ehp.1104748. Epub 2012 Aug 13. PubMed PMID: 23124194; PubMed Central PMCID: PMC3556609.  
4: Buttke DE, Wolkin A, Stapleton HM, Miranda ML. Associations between serum levels of polybrominated diphenyl ether (PBDE) flame retardants and environmental and behavioral factors in pregnant women. J Expo Sci Environ Epidemiol. 2013 Mar;23(2):176-82. doi: 10.1038/jes.2012.67. Epub 2012 Jul 4. PubMed PMID: 22760441.  
5: Buttke DE. Toxicology, environmental health, and the "One Health" concept. J Med Toxicol. 2011 Dec;7(4):329-32. doi: 10.1007/s13181-011-0172-4. PubMed PMID: 21818691; PubMed Central PMCID: PMC3550177.
6: Selvaraj V, Asano A, Buttke DE, Sengupta P, Weiss RS, Travis AJ. Mechanisms underlying the micron-scale segregation of sterols and GM1 in live mammalian sperm. J Cell Physiol. 2009 Mar;218(3):522-36. doi: 10.1002/jcp.21624. PubMed PMID: 19012288; PubMed Central PMCID: PMC2692964.
7: Asano A, Selvaraj V, Buttke DE, Nelson JL, Green KM, Evans JE, Travis AJ. Biochemical characterization of membrane fractions in murine sperm: identification of three distinct sub-types of membrane rafts. J Cell Physiol. 2009 Mar;218(3):537-48. doi: 10.1002/jcp.21623. PubMed PMID: 19006178; PubMed Central PMCID: PMC2706022.  
8: Selvaraj V, Buttke DE, Asano A, McElwee JL, Wolff CA, Nelson JL, Klaus AV, Hunnicutt GR, Travis AJ. GM1 dynamics as a marker for membrane changes associated with the process of capacitation in murine and bovine spermatozoa. J Androl. 2007 Jul-Aug;28(4):588-99. Epub 2007 Mar 21. PubMed PMID: 17377143.  
9: Buttke DE, Nelson JL, Schlegel PN, Hunnicutt GR, Travis AJ. Visualization of GM1 with cholera toxin B in live epididymal versus ejaculated bull, mouse, and human spermatozoa. Biol Reprod. 2006 May;74(5):889-95. Epub 2006 Feb 1. PubMed PMID: 16452464.  
10: Selvaraj V, Asano A, Buttke DE, McElwee JL, Nelson JL, Wolff CA, Merdiushev T, Fornés MW, Cohen AW, Lisanti MP, Rothblat GH, Kopf GS, Travis AJ. Segregation  of micron-scale membrane sub-domains in live murine sperm. J Cell Physiol. 2006 Mar;206(3):636-46. PubMed PMID: 16222699. 
Share this: